Muhyiddin's corruption charges: Opposition calls it political witch hunt but this should not deter Anwar's anti-graft crusade, say analysts
SINGAPORE — It is inevitable that opponents of Malaysian Prime Minister Anwar Ibrahim who are charged with corruption would call it a political witch hunt, but this should not deter him from continuing his anti-graft crusade, said analysts.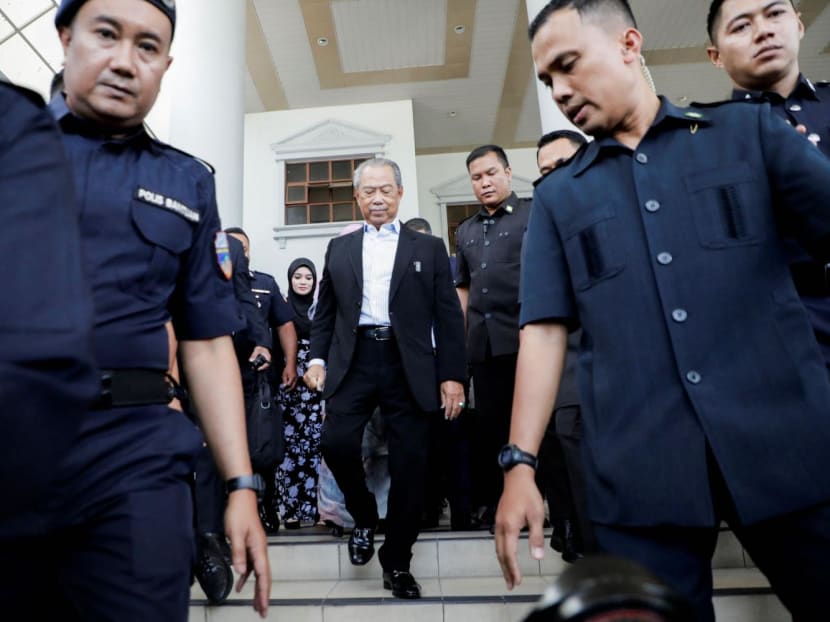 Political analysts said it is inevitable that political opponents of Malaysian Prime Minister Anwar Ibrahim who are charged with corruption would call it a political witch hunt
However, they felt that he should press on with his anti-corruption mission
This is because it has been one of the key tenets of his long political campaigning
How the public perceive these charges, against the backdrop of other controversial moves made by his administration, remain to be seen
The charges, though, would affect the opposition block ahead of the six state elections
SINGAPORE — It is inevitable that opponents of Malaysian Prime Minister Anwar Ibrahim who are charged with corruption would call it a political witch hunt, but this should not deter him from continuing his anti-graft crusade, said analysts.
They were speaking to TODAY on Friday (March 10) after Mr Anwar's rival Muhyiddin Yassin became the second former Malaysian prime minister to face bribery charges.
Muhyiddin was the third from his Bersatu party being charged with corruption, barely a hundred days after Mr Anwar assumed office. The others were party information chief Wan Saiful Wan Jan and Adam Radlan Adam Muhammad, a division deputy chief.
"This is political persecution," the Bersatu party president and chairman of the opposition bloc Perikatan Nasional said, as reported by The Star. "Those in the unity government are afraid of Perikatan Nasional."
Besides the actions against Bersatu, others such as the appointment of Mr Anwar's daughter as his adviser earlier this year and the home ministry's decision to allow the United Malays National Organisation (Umno) to bar contests for its top two posts in the upcoming party elections became fodder for the government's critics.
On these, political analysts pointed to how the current unity government comprised uneasy bedfellows, and it was noted from the start that certain compromises contrary to Pakatan Harapan's pledge of clean governance may have to be made to ensure its longevity. 
CHARGES 'NOT SURPRISING'
At a Kuala Lumpur sessions court on Friday, the prosecution alleged that Muhyiddin abused his position as prime minister to receive bribes of RM232.5 million (S$70 million) in a bank account belonging to Bersatu.
Muhyiddin pleaded not guilty to all four counts of abuse of power and two counts of money laundering.
Muhyiddin and his party have faced graft investigations since losing the national election in November, with the party's bank accounts frozen by the Malaysian Anti-Corruption Commission and two leaders charged with bribery.
Without commenting on the merits of the case, analysts who spoke to TODAY concurred that this did not come as a surprise, for a few reasons.
Ms Ariel Tan, political analyst from S Rajaratnam School of International Studies (RSIS), said: "A lot of money was apparently spent during the recent general election campaign by various parties. It is not surprising that the source of those funds would be of interest."
Dr Oh Ei Sun, a senior fellow with Singapore's Institute of International Affairs, said that after former premier Najib Razak was sentenced to jail for corruption in relation to the 1Malaysia Development Berhad (1MDB) high-profile case last year, "nothing comes as a surprise anymore" when high-ranking political leaders are being taken to court.
Mr Adib Zalkapli, director at advisory firm Bower Group Asia, said: "The implication is that politicians and public office holders have to be cleaner than clean." 
The political observers said that it remains to be seen whether the public would see these latest graft charges as in line with Mr Anwar's long declared mission to cleanse the government of corruption, or if they would be compared to other political prosecutions that happened in the nation's history.
For example, then Parti Islam Se-Malaysia member Mohamad Sabu and Democratic Action Party parliamentarian Lim Guan Eng were among those arrested under the Internal Security Act during Dr Mahathir Mohamad's premiership in the late 1980s.
It was also during Dr Mahathir's rule when Mr Anwar was first charged and later jailed for sodomy, a move widely seen as politically motivated.
Referring to the recent anti-graft charges, Ms Tan, who is a senior fellow and coordinator of the Malaysia programme at RSIS, said: "A key determinant of how these would be perceived would be how the courts decide, in view of evidence produced and arguments made."
Agreeing, Dr Oh said that the mainstream narrative is that the 1MDB case is a genuine case of corruption, given that there were investigations and prosecutions by other jurisdictions.
Dr Serina Rahman, associate fellow at Iseas-Yusof Ishak Institute, said that the charges would likely "deepen views" on both sides of an already polarised electorate.
Regardless, the recent charges against Muhyiddin could not come at a worse time for the opposition.
"Whether the case against the former prime minister is strong or not, it is definitely a major disruption for Bersatu and Perikatan Nasional parties as six state elections are just months away," Mr Adib said.
IMPACT OF OTHER CONTROVERSIAL MOVES
Mr Anwar's administration already began on a rocky note when his coalition made peace with erstwhile political foes Umno to form the government.
Since then, some of its actions had given its opponents ammunition to criticise the leadership.
Mr Anwar's daughter and former parliamentarian Nurul Izzah was appointed as a senior adviser, which drew allegations of cronyism, before she was reappointed to another role.
Late year, Mr Anwar, whose party had long pledged to stand for freedom of speech, asked the police to investigate those who allegedly defamed him. Mr Anwar also filed defamation suits against some political opponents.
Dr Oh and Mr Adib both said that using public resources to "go after" political critics cannot be justified, echoing criticisms voiced out by others.
Earlier this week, Malaysia's home ministry decided to grant a regulation exemption to Umno, which allowed the party president and deputy president posts to remain uncontested in this year's party elections.
The two posts are held by Malaysia's current Deputy Prime Minister Ahmad Zahid Hamidi and Defence Minister Mohamad Hasan, respectively.
On the home ministry's exemption for Umno, Ms Tan said that the damage may be "greater for the Umno leadership than for Prime Minister Anwar, although their fate seem to be intertwined for now". 
"For the prime minister, retaining Umno's support is of critical importance to his political survival. For the Umno leadership, it now appears to be ever more beholden to the government."
She added that whether these developments would affect their supporter base could soon be apparent.
"The six state elections that are to be held by July are close and their results would be a good indicator of how the voters view the Pakatan Harapan-Barisan Nasional cooperation," she said.
Dr Oh said that the various controversies have ruffled feathers, but the likely top-most concern in electorates' minds is the rising "green wave" — or conservatives versus more progressive voters. 
It would be near impossible for Mr Anwar and his administration "to make everyone happy", he added.
Dr Serina from Iseas-Yusof Ishak Institute is of the view that improvements in terms of "transparency, honesty and integrity" are necessary.
"But it needs to apply to all sides. Investigations of all politicians regardless of allegiance is the only way to prove that it is not selective persecution," she said.
Dr Oh, too, believes that Mr Anwar should stick to his guns and press on with his oft-mentioned mission of ridding the country of corruption.
"Those who support the opposition side will always claim it as a political prosecution, regardless," Dr Oh said.
"But if Mr Anwar lets up on his anti-corruption pursuit, his core supporters would be the one attacking him and saying, 'We elected you to reform this country, and you're going slow (on this agenda)'?"