Nalanda to give out postgrad degrees for the first time in 800 years
India's Nalanda University will etch a milestone in its annals on Aug 27 when the institute of higher learning holds a convocation ceremony for its students for the first time in 800 years.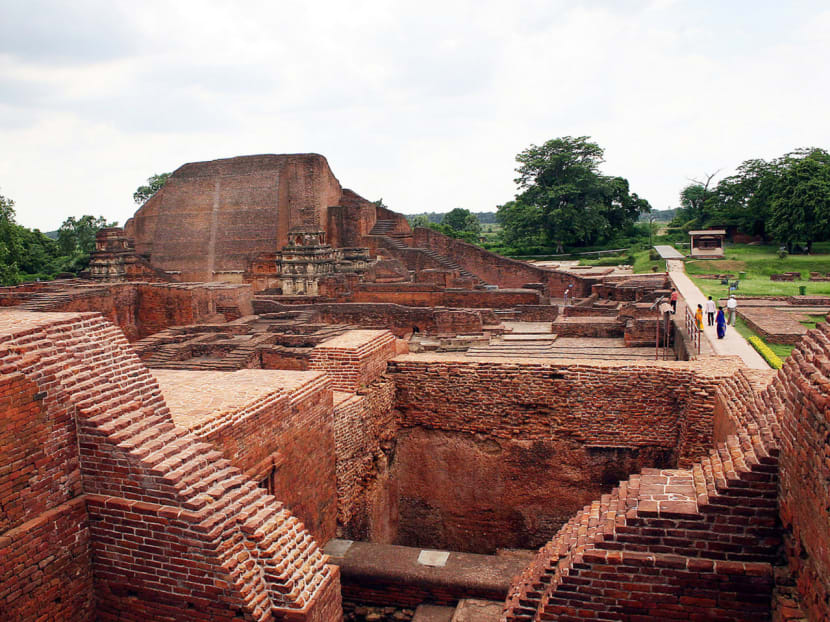 India's Nalanda University will etch a milestone in its annals on Aug 27 when the institute of higher learning holds a convocation ceremony for its students for the first time in 800 years.
It had already made history when it opened its doors to students in 2014, with Singapore playing a huge part in its revival and continuing to work closely with the institution today.
The ceremony, which will be attended by Indian President Pranab Mukherjee, will see five graduates from the School of Historical Studies and eight from the School of Ecology and Environment Studies receiving their postgraduate degrees.
"This is historically the first batch of students graduating from Nalanda after a gap of 800 years," said Professor Anjana Sharma, Nalanda University's former founding dean for academic planning to TODAY in an interview.
"It will be very moving for us. We aim to empower our students to discover within themselves their latent capabilities and help them find the capabilities, nurture, polish and make them come to fruition. They will be the best ambassadors for the university."
Nalanda University was one of the world's oldest universities and it is believed to even predate Al Azhar University in Egypt, Italy's University of Bologna and Oxford University in the United Kingdom.
Construction of the ancient seat of learning, which was also a Buddhist monastery, began in 5th century AD. It came to an end in the 12th century when it was destroyed in 1193AD by the invading Turkish army. The university in the state of Bihar, India, was revived in 2010 after it was first mooted at the 2006 East Asia Summit. It received its first batch of students in 2014.
The new Nalanda, a postgraduate research-intensive university, now sits on a 184ha site bordering the Rajgir hills, about 16km from the site of the old Nalanda ruins.
Nalanda also looks forward to receiving its first intake for the School of Buddhist Studies, Philosophy and Comparative Religions next month, with about 40 to 50 students. The school aims to foster critical thinking and explore the wider cultural and historical context of Buddhism in relation to other philosophical and religious traditions.
"This is an inter-disciplinary and multi-faith school so there is a wider social historical context which will be touched on," said Prof Anjana.
SINGAPORE CONNECTIONS
Singapore has been at the forefront of Nalanda's revival, and Prof Anjana said Singapore had floated the Nalanda proposal in 2006 and shared it with the Indian government because the city state "recognises the pan Asianism" of the university. The proposal was then taken up by the central government of New Delhi and, in a rare partnership, both the central and state governments worked together to make the revival of Nalanda a reality.
Concrete steps towards the realisation of Nalanda were taken in 2009 when Mr George Yeo, former foreign minister of Singapore, and Nobel Laureate Prof Amartya Sen inaugurated the Nalanda-Sriwijaya Centre (NSC) at the Iseas-Yusof Ishak Institute in Singapore. The goal was to develop the "Nalanda idea" of building for contemporary Asia an appreciation of Asian achievements and mutual learning.
Professor Wang Gungwu, an eminent historian and chairman of the Iseas-Yusof Ishak Institute, and Mr Yeo, serve as founding members of Nalanda University's governing board. The latter is currently chancellor of the university, having succeeded Prof Amartya in 2015. The Buddhist Lodge of Singapore has also contributed S$10 million for the design and construction of the university's library.
Prof Anjana said renowned Singaporean architect-planner Dr Liu Thai-Ker is designing the library, working closely with Indian counterpart Rajeev Kathpalia and Vastu Shilpa Consultants to ensure the library reflects the ethos of Nalanda, which stressed man living in harmony with man and nature.
On top of that, there are robust faculty and student exchanges between the university and Iseas-Yusof Ishak Institute.
"We began and continue to build (our relationship) brick by brick. There will be a system in place to ensure a long relationship that will always be maintained," she said.
Impressed with Singapore's conservation plans, Prof Anjana said there are plans to work with the Republic's museums and heritage centres. "The way heritage conservation and management is done in Singapore is, frankly, quite remarkable, with great attention to people and their sensitivities and we would like to work with these organisations," she added.