News analysis: What new Malaysian PM Anwar Ibrahim's familiarity with Singapore, his personality could mean for bilateral ties
SINGAPORE — Despite being out of government leadership for some years, Malaysia's new prime minister, Mr Anwar Ibrahim, is a familiar figure to the Singapore Government, said political observers.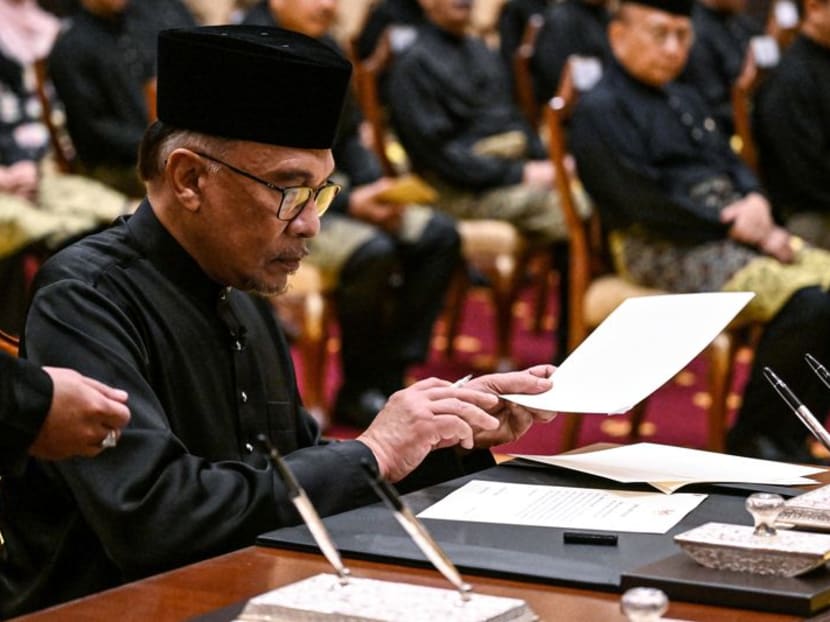 Political observers said that despite being out of government leadership for some time, Mr Anwar Ibrahim is familiar with Singapore and bilateral issues between both countries
He will be preoccupied with domestic issues and is unlikely to raise hot button bilateral issues in his first year, they said
Political observers attributed the spate of bilateral issues in 2018 to former Prime Minister Mahathir Mohamad's personality, rather than Pakatan Harapan's stance or Mr Anwar
However, they believe that Mr Anwar's "brittle" coalition could pose challenges for him to pass legislation, including those relating to bilateral relations
SINGAPORE — Despite being out of government leadership for some years, Malaysia's new prime minister, Mr Anwar Ibrahim, is a familiar figure to the Singapore Government, said political observers. 
They also do not expect hot button issues between the two countries, such as the water agreement which entitles Singapore to draw water from Malaysia and the High Speed Rail project, to be raised in the coming months given that Mr Anwar is likely to be preoccupied with domestic issues. 
And if bilateral issues do come up eventually, the experts said that Mr Anwar will probably address them in the background, rather than openly as did former prime minister Mahathir Mohamad. 
On Friday (Nov 25), Prime Minister Lee Hsien Loong called Mr Anwar, who was sworn in on Thursday, to congratulate him on his appointment and invite him to visit Singapore soon.
In a Facebook post the same day, Mr Lee said that he has known Mr Anwar "for several decades" and that he looked forward to working with Mr Anwar and the new government to further strengthen the bilateral relationship between both countries.
In comments posted on his Twitter page, Mr Anwar said that Singapore and Malaysia "share many commonalities, intertwined history and very close and active people-to-people connections". 
He added that he looked forward to meeting Mr Lee at the earliest opportunity and working together to elevate bilateral relations between both countries. 
Mr Anwar's ascension to prime minister marks the first time he holds a top post in the Malaysian government since he was sacked as deputy prime minister under Dr Mahathir's Barisan Nasional (BN) administration in 1998.
Mr Anwar's coalition, Pakatan Harapan (PH), ended six-decades of BN rule and came to power in 2018 after Dr Mahathir joined his coalition.
However, Mr Anwar was then serving a jail term for sodomy but he was soon released from prison after getting a royal pardon following PH's historic victory. 
His most recent stint in the Malaysian government was brief, having served as a Member of Parliament (MP) after winning the by-election in Port Dickson in Oct 2018. He did not hold any ministerial post in the PH administration which collapsed in March 2020. 
A 'SEASONED LEADER'
Political analysts said that although Mr Anwar has been out of the government for some time, he likely remains well versed with bilateral issues between Singapore and Malaysia given frequent meetings between officials on both sides.
Associate Professor Bilveer Singh from the political science department at the National University of Singapore (NUS) said that Mr Anwar is "a seasoned politician" and is familiar with Singapore, having recently visited the country in 2018 shortly after PH came to power.  
Mr Anwar had visited Singapore in September 2018 to deliver a lecture at the Singapore Summit on the importance of bilateral relations between Singapore and Malaysia. Mr Lee had also visited Mr Anwar in Kuala Lumpur, Malaysia in May the same year.
Likewise, political scientist Meredith Weiss said that she did not expect Mr Anwar's absence from government to hamper bilateral relations as he will have advisors on hand. 
She called Mr Anwar "a known quantity for Singapore" with a "fundamentally compatible foreign policy orientation".
"He'll be good for western foreign investment in Malaysia, which will ultimately benefit Singapore," said Dr Weiss, a visiting senior fellow at Singapore's S Rajaratnam School of International Studies.
DOMESTIC ISSUES TO PREOCCUPY NEW ADMINISTRATION
In the months after PH came to power after the last general elections in 2018, several bilateral issues between the two countries cropped up. At the time, the administration was led by Dr Mahathir.
Aside from deferring the Kuala Lumpur-Singapore High Speed Rail project, Dr Mahathir said he would renegotiate the water agreement with Singapore.
In December that year, Malaysia's government announced its intention to take back control of airspace that Singapore had managed since 1974. Both countries also became embroiled in a dispute over Singapore's territorial waters off Tuas in October 2018.
Addressing the issues of the High Speed Rail project and water agreement at a dialogue during the Singapore Summit in September 2018, which was reported by The Straits Times, Mr Anwar had said that Dr Mahathir was firm on these contracts and it was not sensible to create problems between the two countries.
Political analysts said that there is unlikely to be a repeat, attributing the spate of issues that were raised in 2018 to the personal stance of Dr Mahathir, rather than Mr Anwar or the policy stance of PH.
Mr Anwar will also be preoccupied with domestic issues this time around, given the uncertain economic outlook, they added.
Mr Anwar had told the media on Friday that his primary focus would be to alleviate the cost of living.
Assoc Prof Singh said that unlike in 2018, the geopolitical situation now is also more fraught. 
The new government will have to deal with several issues including economic instability, the Ukraine war and US-China trade tensions, he added.
Even if bilateral issues crop up, political observers said Mr Anwar would probably try to keep difficult issues "quietly in the background" as much as possible rather than resort to "megaphone diplomacy".
The latter refers to when countries negotiate bilateral issues through public statements.
"Unlike Dr Mahathir, I don't think he'll aim to provoke," said Dr Weiss.
In terms of potential areas of cooperation, Assistant Professor Elvin Ong from the political science department at NUS said that there could be some motivation for both countries to work closely to resolve the upheaval in Myanmar with the Association of Southeast Asian Nations as this is an issue that affects all countries in the region. 
'BRITTLE COALITION' COULD POSE PROBLEMS FOR BILATERAL RELATIONS
However, the makeup of his government could pose some challenges for bilateral relations, said analysts. 
When approached, retired senior diplomat Bilahari Kausikan referred TODAY to his Facebook post on Thursday which said that the unity government is held together "by nothing more than the naked self-interest" of component party leaders. 
"A weak Malaysian government is never good for Singapore and I cannot see this as a strong government. The coalition is rife with internal contradictions," wrote Mr Bilahari, who was permanent secretary in the Ministry of Foreign Affairs and now chairs the Middle East Institute at NUS.
"We should wish them well but prepare for the worse," he added. 
Assoc Prof Chong Ja Ian from NUS' political science department similarly pointed out that Mr Anwar is leading a "diverse and potentially brittle coalition".
This could make it challenging for Mr Anwar to pass certain pieces of legislation through, including those that may affect bilateral ties, said Assoc Prof Chong.
Assoc Prof Singh said that the presence of BN in the unity government could potentially result in the Pedra Branca territorial dispute being resurrected, given that it has been raised by the previous BN administration.
However, he added that he did not think the dispute was a priority issue for the new Malaysian government.
Malaysia had announced its intention in October this year to continue legal action in the International Court of Justice on the issue of sovereignty over the island.