Ofo, pioneer of China's bike-sharing boom, is in a crisis
BEIJING — Brilliantly simple, emission-free solution to the problem of urban congestion? Or the maddening height of venture-backed technology hubris?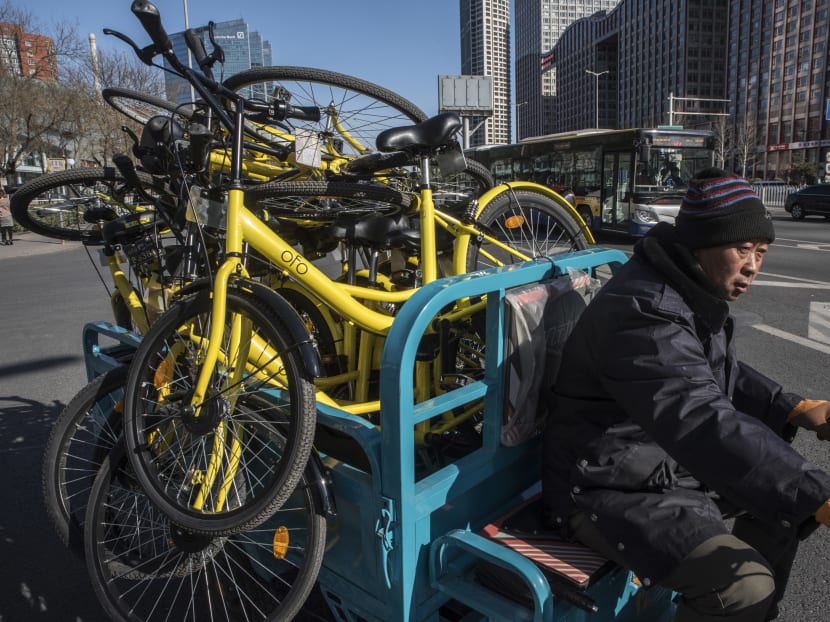 BEIJING — Brilliantly simple, emission-free solution to the problem of urban congestion? Or the maddening height of venture-backed technology hubris?
Dockless rented bicycles swept into Chinese cities two years ago. Their arrival inspired a wave of similar mobility experiments around the world, even as city dwellers in China bemoaned the sight of candy-coloured bikes heaped in unholy piles on their sidewalks.
Now, one of China's leading bike startups, Ofo, is facing serious financial problems. Its founder is on a government blacklist for unpaid bills. Millions of riders who placed deposits are demanding their money back. And the business model used by many of China's tech firms — spend furiously to acquire new users, worry about profits later — is showing its limits.
The run of Ofo customers seeking refunds appears to have started last week. Doubts about the company's financial health had swirled for months. People said on social media they were unable to get refunds on deposits of US$15 to US$30, which they put down to rent Ofo's bumblebee-yellow bikes. (The company's Chinese nickname translates as "Little Yellow Bike.")
But according to state media, one user posted on social platform Weibo last week that he had quickly gotten a refund after writing an email to Ofo — in English.
The post touched off outrage about the apparent differences in the way the company was treating Chinese people and foreigners. It also set off a rush among other Ofo users seeking refunds.
"Ofo's user base is large, so there is a possibility that the number of applications for deposit refunds will soar," the company said late Monday (Dec 17) in a statement posted on Weibo. "Please be patient. We promise that deposits will be refunded according to the proper procedures. To all users, please don't worry!"
The statement appears only to have made people worry more.
Many customers used the Ofo app to apply for refunds and joined a queue that had climbed to nearly 12 million people by Thursday.
In an email to employees on Wednesday, Ofo's founder, Dai Wei, acknowledged that the company had been under financial strain all year.
"I thought countless times about cutting operating capital to pay back some of users' deposits and debts to suppliers, and even about dissolving the company and filing for bankruptcy," Mr Dai wrote. An Ofo spokesman did not respond to requests for comment.
Hundreds of people have also shown up at Ofo's Beijing headquarters this week.
On Thursday, the company's fifth-floor office was filled with police officers and shouting customers. Two women were crying.
Mr Zhang Wei, a migrant worker, had come to the office Monday seeking a refund and had left without it, missing a day of work in the process. Mr Zhang, 27, showed up again Thursday morning and wound up angrily kicking an Ofo employee.
After being taken to the local police station and released, he returned to the Ofo office. He finally managed to persuade an employee to transfer him the amount he had put down, around US$30.
By then, he had spent a total of around US$15 to travel to and from Ofo's offices by subway and taxi. But he said it was worth it.
"It was never about the money," he said. "I just needed to vent."
Ms Liu Jingyi, a student from the northern city of Xi'an, had forgotten about her Ofo deposit until she saw people talking about it on Weibo last month.
Ms Liu, 23, said she was not optimistic that she would get her money back.
"Look at how many shared bikes there are now," she said. "I always felt that these cash-burning business models would have to end sooner or later."
When the history of the current go-go era in China's tech industry is written, Ofo's rise and fall may serve as a prime example. In bike rentals, ride hailing, food delivery and more, a good business idea attracts a swarm of copycats. Cutthroat competition ensues. Many companies and investors get burned.
Mr Dai founded Ofo in 2014 while studying at Peking University. Cities like New York, London and Paris had long had programs for renting bicycles for short time periods. But those programs required riders to return the bikes to docks fixed to the ground.
Ofo and another Beijing startup, Mobike, realised that by equipping bikes with GPS and digital locks, commuters could use their phones to rent bikes, freeing them from fixed docks. That would keep bikes circulating and available wherever people needed them.
Almost overnight, the streets of China's cities started to resemble a kind of bicycle free-for-all. Imitators sprouted by the dozen, and other startups angled to find the next big thing in sharing: umbrellas, basketballs, cellphone power banks, even concrete mixers.
Investment poured in. China's tech giants, including Alibaba and Didi Chuxing, put money into Ofo. Eventually, the startup raised US$2.2 billion, according to Crunchbase. State media hailed bike-sharing as one of China's "new four great inventions," putting it and high-speed rail, e-commerce and smartphone payments on the same plane as paper, movable type, the compass and gunpowder.
But it did not take long for the fever to become madness. Vandals set two-wheelers ablaze and heaved them into rivers and canals. Whispers abounded about rental companies hiring people to destroy rivals' bikes or dump them in out-of-the-way places.
Beijing and other cities decided they had had enough, and blocked startups from adding more bikes to their streets.
Financial pressure started building as well. As long as new riders kept signing up, cash kept flowing in the form of deposits. But it has been expensive for the companies to replace damaged stock, and to hire workers to haul bikes all day from low- to high-demand locations.
In April, Mobike was acquired by Meituan-Dianping, a food-delivery giant whose financial resources could help it continue to subsidise cheap bike trips.
But Ofo has had trouble lately raising money from investors, Mr Dai said in his letter this week. The company withdrew from several overseas markets, including the United States, this year just months after entering them.
Mr Dai, who said just last year that Ofo had ballooned to more than US$2 billion in value, was recently added to an official blacklist of credit defaulters.
According to a government database, he and Ofo's parent company owe a total of US$7.8 million related to various contract disputes. Being on the list means Mr Dai can be blocked from booking fancy hotels or flying first class.
Ofo's bikes still have their fans in China. Ms Bi Wenwen, a 38-year-old entrepreneur in Shanghai, applied for a deposit refund in November. She does not expect to receive it, but she said she would still use Ofo in the meantime.
"It provides a lot of convenience," Ms Bi said.
Mr Wang Jinzhi applied for a refund from Ofo two weeks ago. But he has already lost all confidence in the sharing economy.
Mr Wang, a 28-year-old financial analyst in Beijing, lost the US$500 deposit he paid a high-end car-sharing company after the company folded. He also failed to get his deposit back from Bluegogo, another bike-rental startup.
"Actually, I didn't have much confidence right from the beginning," Mr Wang said, about the sharing economy. "So many similar companies fighting against one another."
In the end, he bought his own bike. THE NEW YORK TIMES