Once inward-looking, Joko Widodo casts himself as a global statesman
BALI — Four months after Russia invaded Ukraine, President Joko Widodo of Indonesia tried to engineer detente.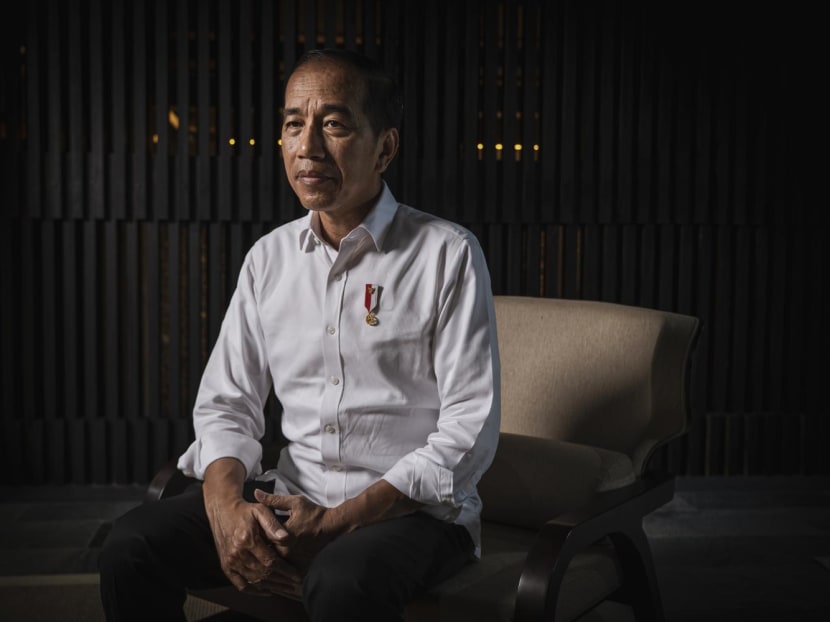 BALI — Four months after Russia invaded Ukraine, President Joko Widodo of Indonesia tried to engineer detente.
He travelled to Ukraine to meet with President Volodymyr Zelenskiy, offering to bring a message to President Vladimir Putin of Russia. Then, he flew to Russia, where he urged Mr Putin to start a dialogue with Zelenskyy.
Beneath the calls for peace, Mr Joko had another pressing issue: Russia had blocked wheat shipments and restricted the exports of fertiliser. Ukraine is Indonesia's second-largest source of wheat, inflation was soaring, and Indonesian farmers were complaining about the rising price of fertiliser.
In the end, Mr Joko did not make great breakthroughs, except for pressuring Mr Putin not to block food and fertiliser supplies. But at home, the trip was well received, with front-page stories lauding Mr Joko for being the first Asian leader to travel to Russia and Ukraine since the war began, and suggestions from his supporters that Mr Joko should earn the Nobel Peace Prize.
In many ways, Mr Joko is an unlikely geopolitical emissary. For most of his eight years in office, his foreign policy strategy has been about delivering concrete gains for the 276 million Indonesians at home, focusing mainly on tourism and investment deals.
But this year, the stakes are higher. Mr Joko has pinned his legacy on economic growth and is well aware that the war in Ukraine could derail his gains, as he nears the end of his second and last term in office. This week, he is chairing the Group of 20 summit of global leaders, which he described in an interview with The New York Times as perhaps the "most difficult" one yet, given the broader political climate.
After much back-and-forth, Mr Putin has finally said he is not coming, according to Russian state media. Mr Joko said the Russian president told him that he would come only if "the conditions" were right. For a time, it seemed like Western leaders would boycott the summit if Mr Putin did show. Tensions between the United States and China are at their highest in recent years.
Mr Joko, by background and inclination, is not a foreign policy president. A soft-spoken man with a self-effacing manner, Mr Joko upended politics in Indonesia when he was elected president in 2014. In him, the middle class saw the promise of a new beginning, the first president with no connections to the Jakarta elite or the military.
A former furniture exporter, Mr Joko runs his administration like a business. In his first year, he told his civil servants to focus on "down to earth" diplomacy, instructing them to increase investments and exports. Diplomats were assessed based on their "deliverables" and were told to conduct trade fairs and bring in more tourists.
When Mr Joko was newly elected in 2014, his foreign policy advisers had to convince him that it was important to show up at his first G20 summit.
"He was more practical," said Mr Meidyatama Suryodiningrat, president of Indonesia's national news agency, LKBN Antara. "He was like: 'OK, why should I attend a meeting of 20 heads of state when we're just sitting around really doing nothing?"
In the interview with the Times on the Indonesian island of Bali, where the G20 is set to take place, Mr Joko said his priorities back then were domestic stability and growing the economy.
"Foreign policy is an extension of the situation at home," he said.
Mr Joko has never attended a meeting at the United Nations. Asked why, he said with a laugh, "Because I like real and concrete results." He added that he sends his foreign minister, Ms Retno Marsudi, regularly to the UN and is in regular contact with UN Secretary-General António Guterres.
"It's a missed opportunity for Jokowi himself," said Dr Dewi Fortuna Anwar, a research professor at the Indonesian Institute of Sciences, adding it was important for Indonesia to "be counted". But, Dr Dewi Fortuna said, "He doesn't care; he doesn't have an ambition to play to the global stage."
A result is that Indonesia, under Mr Joko, has become much more insular.
Under Mr Joko's predecessor, Mr Susilo Bambang Yudhoyono, Indonesia used to be seen as the de facto head of the 10-member Association of Southeast Asian Nations and played a crucial role in establishing various institutions and norms around democracy and human rights.
By contrast, Mr Joko has focused on domestic priorities.
He becomes animated when talking about nickel investments and Indonesia's plans for reforestation, rattling off numbers from memory, while his foreign policy answers are more stilted and scripted.
A 2021 survey of some 3,000 Indonesians showed that the majority wanted the government to focus on jobs and the economy and keeping citizens safe overseas. Indonesia's economy is set to grow around 5.4 per cent this year. He is polling close to 70 per cent, on track to become the most popular Indonesian president ever when he leaves office.
Mr Joko is famous for his hands-on approach — what is known in Indonesia as blusukan — and is often seen personally inspecting toll bridges and roads, dressed in his trademark white shirt, sleeves rolled up, and black sneakers. He recently stood in the driveway of a Bali hotel, watching official cars drive through as part of rehearsals for the G20.
When asked why he felt the president of Indonesia had to assess diplomatic protocol, Mr Joko said he was concerned about "not only the macro but also the micro". He then talked about how he curbed inflation in October by telling the country's mayors, chief regents and governors to cover the costs of the transportation of rice and chili from the producer to the consumer.
"This means detail," Mr Joko said. "Not only micro, but details, and going to the spot of the problem."
During his second term, Mr Joko has shown a little more interest in global affairs by conducting several shuttle diplomacy trips to places that had generated news interest back home. In 2018, he travelled to a Muslim Rohingya refugee camp in Bangladesh's Cox Bazaar.
During his trip to Ukraine, Mr Joko's Instagram account showed him visiting an apartment complex in the city of Irpin that had been attacked by Russian forces. His wife, Ms Iriana, was photographed embracing a Ukrainian woman at an endocrine treatment and research centre.
Skeptics said Mr Joko was merely engaging in what is known in Indonesia as pencitraan, translated as the politics of image-building, and noted there was often little follow-up from these trips.
"Between those two theories — is it just for the 'gram, or is it to achieve that more substantive global public good," said Mr Aaron Connelly, a senior fellow of Southeast Asian politics at the International Institute for Strategic Studies in Singapore. "I think the greater evidence is that it was the former."
Mr Joko often sees foreign policy in transactional terms, and he has sought countries that would help him achieve his goals. Infrastructure is a signature legacy, and he found a willing partner in China to help him deliver.
Throughout his time in office, Mr Joko travelled to China five times. China is now the second-largest investor in Indonesia after Singapore, investing US$5.2 billion in the first nine months of this year, more than double what the United States has put in.
Mr Joko's detractors say he has resisted criticising Beijing because of these ties. His administration has sunk hundreds of foreign fishing boats that have been accused of poaching, though very few from China.
Asked if he found it hard to criticise China, Mr Joko said: "Indonesia wants stability."
He said he was "very worried" about the escalating tensions between the United States and China and that he had conveyed this message to Mr Xi Jinping, China's top leader, and President Joe Biden. He said he hoped the talks between both leaders in Bali could lower tensions.
"If not managed, it can lead to open conflict or even war," Mr Joko said.
When he was in Moscow, Mr Joko said talking about peace with Mr Putin was "very difficult," so he switched to food security. Mr Putin used that opportunity to discuss increasing investment and tourism. As Mr Joko left, the bombings on Ukraine intensified.
"I had thought that if it came from a country that Russia is comfortable with, it would have some impact," said Indonesia's former ambassador to the United States, Mr Dino Patti Djalal, who had urged that Mr Joko seek confirmation from Mr Putin that he would not occupy Ukraine. "He didn't achieve much."
Mr Joko said his trip to Russia resulted in a shipment of wheat being released from Odesa to Istanbul and that he had spoken to Mr Putin multiple times after the trip, most recently on Nov 1.
In Bali, Mr Joko could soon find himself in the uncomfortable position of heading a summit where a third of the attendees would be castigating Mr Putin. Indonesia has never called out Russia for the invasion.
Many experts say popular support in Indonesia for Russia was most likely a major reason for the silence. Much of it stems from disinformation, widespread sentiment that Russia has been hemmed in by Nato and a general feeling of opposition to the West.
During his hourlong trips between his home in Bogor and the capital of Jakarta, Mr Joko said he reads all the comments on his social media accounts, a barometer of sorts for public sentiment. He said he was aware of the support for Russia online and that Indonesia has made its position clear by signing onto the UN resolution on the war.
"We're not a country that does megaphone diplomacy," said Mr Suryodiningrat, the news agency president.
Reflecting on his trip to Russia and Ukraine, Mr Joko said his goal was for peace and a humanitarian mission, "especially to prevent the food crisis".
Noting that the country's constitution mandates that Indonesians "must participate in the peace of the world," he said, "Indonesia wants to keep contributing, to be part of the solution to bridge differences."
This article originally appeared in The New York Times.