Port Dickson by-election: Voter turnout critical to Anwar's stature
SINGAPORE — Retiree Samy Lim will be sitting out of the Port Dickson by-election next week. This is after he cast his vote with enthusiasm during the Malaysian General Election a mere five months ago.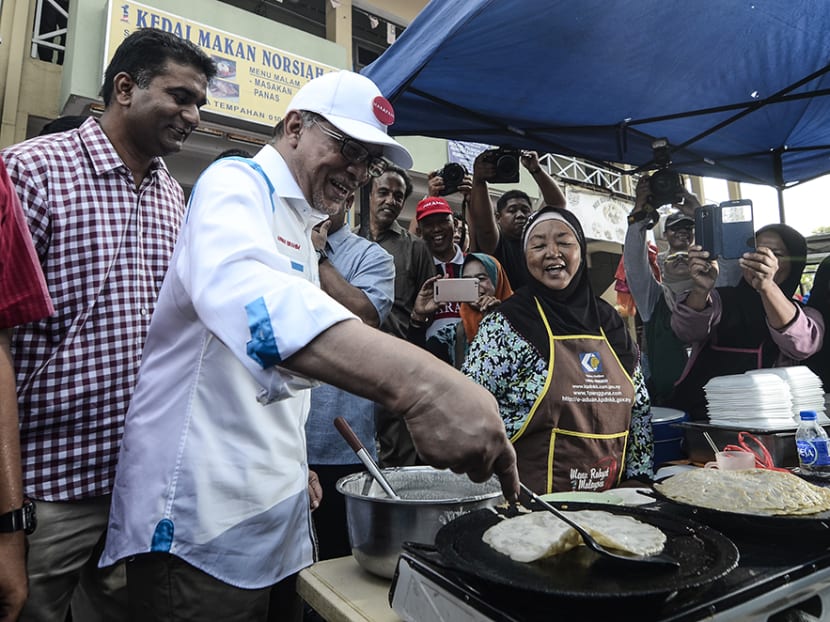 SINGAPORE — Retiree Samy Lim will be sitting out of the Port Dickson by-election next week.
This is after he cast his vote with enthusiasm during the Malaysian General Election a mere five months ago.
"It's a bit too soon for another election. I don't see what's the rush. Things have hardly settled down and we have to go and vote again," said the 82-year-old.
Marketing executive Ng May San, too is having second thoughts whether to go back to her hometown to cast her vote.
The 40-year-old is currently residing in Kuala Lumpur, some 96km from the seaside town of Port Dickson in the state of Negeri Sembilan.
"I voted for change on May 9 (General Election) but I am not sure if this is the right move... There are so many changes and reforms that need to be done and I feel (Pakatan Harapan candidate) Anwar could assist in that first rather than rushing to stand in a by-election," said Ms Ng.
A no-show by voters like Mr Suresh and Ms Ng on October 13 will hamper ruling PH coalition's efforts to ensure that its candidate, Datuk Seri Anwar Ibrahim, wins the parliamentary ward with a decisive majority over his opponents.
Mr Anwar, who just returned to public life after years of incarceration, has been named PH's prime minister-in-waiting but needs a seat in Parliament to legitimise his position should Prime Minister Mahathir Mohamad step down for him during this term, as promised.
Incumbent lawmaker Danyal Balagopal Abdullah gave up his seat to aid Mr Anwar's return to Putrajaya, sparking criticism from the opposition that it is a waste of economic resources.
Mr Anwar's Parti Keadilan Rakyat (PKR), a multi-racial party, has traditionally done well in mixed wards such as Port Dickson. The resort town has been a PKR stronghold since the 2008 general election.
There have been claims that Mr Danyal, a political greenhorn, was fielded earlier this year as a seat warmer for Mr Anwar.
The retired naval officer is said to have received RM25 million (S$8.34 million) to step down. He has denied the allegations.
PH is framing the by-election as a referendum for Mr Anwar and a low turnout will affect his mandate as the country's future leader.
The coalition has targeted a 60 per cent turnout, an ambitious figure considering that the last three by-elections since the May 9 General Election — Sungai Kandis, Seri Setia and Balakong — were all marked by exceptionally low voter turnouts, below 50 per cent. Many have put this down to voter fatigue.
PH leaders are also worried that voters are taking the upcoming polls lightly since Mr Anwar is considered a shoo-in, despite the crowded field.
He is going up against six others, including former Negri Sembilan Chief Minister Mohd Isa Abdul Samad, Parti Islam Se-Malaysia's (PAS) Nazari Mokhtar and independents that include his former aide Mohd Saiful Bukhari Azlan.
Tellingly, Mr Anwar has urged voters to turn up at the ballot boxes in force, instead of assuming he will emerge victorious.
"'Anwar will win', I do not want it to be this way. We go down and we make sure everyone votes. I will be ashamed if I win but win narrowly," he said at a rally last weekend.
Mr James Chin, the Malaysian-born director of the Asia Institute at the University of Tasmania, said Mr Anwar "must win" with a majority of 12,000 to 14,000 votes.
"Otherwise, he will not look like a heavyweight when he enters Parliament," he noted.
This being said, the scenario of a low turnout or slim majority would not be a total disaster for Mr Anwar, said Dr Lim Teck Ghee, the director of the Centre for Policy Initiatives in Kuala Lumpur.
"It will be seen by many as a clear political setback but his (Anwar's) backroom boys and other supporters will rationalise it," he said.
"The current political reality is Anwar already has one hand on the premiership and the PD election outcome won't affect his hold on it."
RALLYING VOTERS
The PH campaigners are cognisant of the size of their task.
"It will be tough (to get people to come out and vote) although it is held on a Saturday. Some may find it difficult to return, some may feel it is a walkover for Anwar or some may be dissuaded from the long queue at voting centres to go and vote," said PKR's communications director Fahmi Fadzil.
In the meantime, the various component parties have been active on social media, engaging voters and keeping them updated about Mr Anwar's activities.
During house-to-house campaigning, PH has also tried to cajole voters to persuade their children and relatives outside the constituency to return to vote.
Lukut assemblyman Choo Ken Hwa said one of PH's key messages is to highlight the enormity of the occasion. (Lukut is one of the five state seats under the ward).
"We have a call centre staffed with volunteers to call voters to encourage them to come out and vote," said Mr Choo, who is from the Democratic Action Party, one of the component parties under the ruling coalition.
Their core message? Anwar will be Malaysia's eighth Prime Minister and the first prime minister elected from Negeri Sembilan.
This translates to more economic opportunities for the resort town of 75,212 voters that depends heavily on the tourism money but many locals complain it only comes alive during weekends and public holidays.
A silver lining may lie with an independent citizens movement that has helped voters to return to their hometowns to vote in the historic May 9 national polls.
UndiRabu is offering help to Port Dickson voters who are outstation by subsidising their travel expenditure. It will be offering RM50 (S$16.66) for land travel within Peninsula Malaysia, while those taking flights will get RM100.
For those traveling back from Singapore, Sabah or Sarawak, there is a flat rate subsidy of RM200.
"We want to ensure whoever wants to return to vote have a chance to do so. To us, every vote counts," UndiRabu co-founder Alzari Mahsar told TODAY.