President Xi's strongman rule raises new fears of hostility and repression
BEIJING — President Xi Jinping's efforts to indefinitely extend his rule as China's leader raised fresh fears in China of a resurgence of strongman politics — and fears abroad of a new era of hostility and gridlock.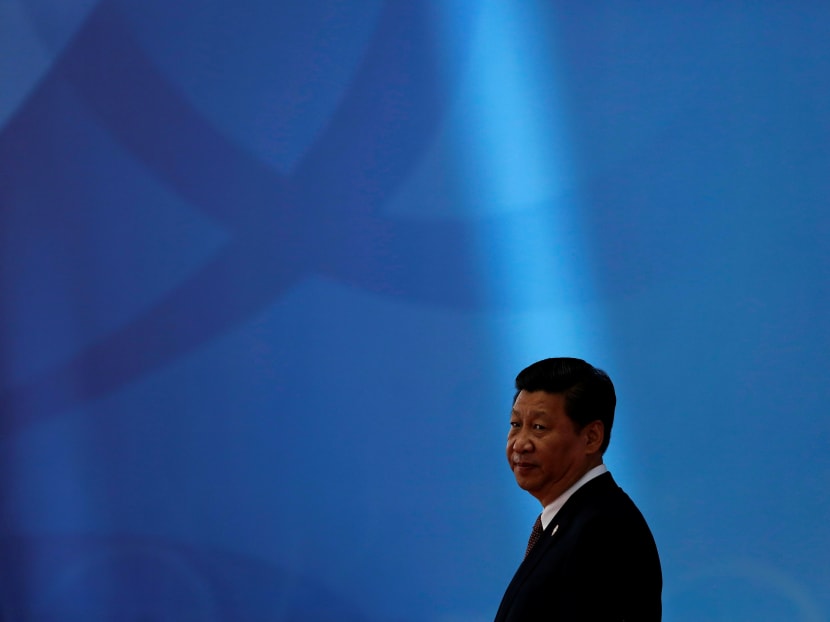 BEIJING — President Xi Jinping's efforts to indefinitely extend his rule as China's leader raised fresh fears in China of a resurgence of strongman politics — and fears abroad of a new era of hostility and gridlock.
Mr Xi, who has been president since 2013, has tried to cultivate an image as a benevolent father figure who is working to promote China's peaceful rise.
But the ruling Communist Party's decision to change China's Constitution and open a path to a third term for Mr Xi heightened a sense of resentment in China among academics, lawyers, journalists and business executives.
Many have watched warily as Mr Xi has used his power to imprison scores of dissidents, stifle free speech and tighten oversight of the economy, the world's second largest.
Mr Wu Qiang, a political analyst in Beijing who is critical of Mr Xi, said the change to the constitution would turn Mr Xi into a "super-president."
"He will have no limits on his power," he said.
Government censors rushed to block criticism of the decision.
Internet memes depicted Mr Xi as an emperor and showed a portrait of Mr Xi replacing Mao's hallowed image in Tiananmen Square.
Another repurposed an ad for Durex condoms, adding a tag line — "Twice is not enough" — to poke fun at the idea of Mr Xi angling for a third term.
The party's move comes as Mr Xi has proclaimed an era of China's greatness, when the country, he says, will take what he see as its rightful place as a top global power.
Already, it is establishing military bases in the Western Pacific and Africa, building infrastructure across Asia, parts of Europe and Africa, and running what Mr Xi hopes will be the world's No. 1 economy within two decades or sooner.
"China feels it is on the road to great power status and they want to perpetuate the trajectory they are on," said Mr David Finkelstein, director of China Studies at CNA, a research institute in Arlington, Virginia.
Some analysts outside China said they worried that allowing Mr Xi one-man rule might worsen an increasingly tense relationship between the United States and China.
After years of efforts by the US to engage China on issues from market reform to climate change to human rights, the Trump administration turned on Beijing in December and called China a strategic competitor in its first national security document.
Washington policymakers are preparing plans to impose tariffs on some Chinese imports, limit Chinese investments in the US, particularly in technology, and spend more on the US military to sustain its big advantage over the People's Liberation Army.
In congressional testimony earlier this month, FBI Director Christopher Wray described China as "not just a whole of government threat but a whole of society threat."
Mr Trump may well see Mr Xi's consolidation of power as part of a global trend toward increasingly influential leaders, in which he might include himself along with Mr Xi and Mr Vladimir Putin, the Russian leader, said Mr James Mann, the author of "The China Fantasy," which contradicted the popular view that increasing prosperity would lead to political liberalisation in China.
"I'm guessing he will not deplore the lack of democracy in China, because that's the sort of thing he rarely if ever does," Mr Mann said of Mr Trump.
Mr Mann also said Mr Trump might not have much problem with what Mr Xi had accomplished.
"Over the past 14 months in office, Trump has almost never voiced the sort of support for our constitutional system that has been a staple in the statements of past presidents," Mr Mann said.
"He does not respect the dignity or integrity of political opponents. He does not express support for the independence of the courts or the freedom of the press."
So if anything, he said, "I think Trump is probably jealous."
From Mr Clinton to Mr Bush to Mr Obama, the prevailing belief was engagement with China would make China more like the West.
Instead, as Mr Mann predicted, China has gone in the opposite direction.
Professor Shi Yinhong, an international relations expert at Renmin University in Beijing, said Mr Xi likely did not care how the world would interpret his designation as a potential ruler in perpetuity.
With an unlimited term in office, Mr Xi would almost certainly be in office beyond 2024, the year Mr Trump would leave the White House if he won a second term.
"This objectively makes him stronger than Trump, who has no reason to like the change," Prof Shi said.
At home, Mr Xi will likely have considerable support for a third term, the result of a yearslong campaign to sideline political rivals and limit dissent.
And nationalists cheered the decision, describing Mr Xi as a singular force who could restore the glory of the nation.
But as the news spread, readings of Hannah Arendt, who wrote about the evils of totalitarian rule, and passages from George Washington, who retired after two terms as president, were discussed on social media in Chinese legal circles.
Mr Douglas Paal, a China expert at the Carnegie Endowment for International Peace, said the sudden move, before Mr Xi even starts his second term next month, suggested that things were not "normal" within the Communist Party.
"This looks like forced marching, not normal order, so something is going on," Mr Paal said. "Xi is winning, but it will take sleuthing to find out what. These are not ordinary times."
A series of visits by senior Chinese officials to Washington in the past month to try and persuade the Trump administration to slow down plans to introduce punitive measures that could result in a trade war had failed, Mr Paal said.
"This could get complicated when controversial US initiatives meet unconventional times in China," he said.
Still, Mr Xi is popular in many areas — his fans affectionately call him "Uncle Xi" — and his brand of folksy nationalism wins accolades, especially in rural areas.
Experts said Mr Xi would likely benefit from the perception in China that the rest of the world is chaotic.
"With a population amazed at the incompetent mess in much of the rest of the world, and intoxicated by nationalism, for Xi to effect this change will be seen as reasonable," said Prof Kerry Brown, an expert on Chinese politics at King's College, London.
Mr Xi's assumption of unfettered power may not work out the way he thinks, said Mr Peter Jennings, executive director of the Australian Strategic Policy Institute, and a former senior Australian defence official.
"The risks to his personal fortunes are huge," he said. "What if the People's Liberation Army decides he should be cut loose?" And, he added, "What if growth slows more than expected?"
If Mr Xi comes under pressure at home or abroad, he could become unpredictable, and even dangerous, Mr Jennings said. The reach for more personal power could be the start of his downfall.
"The West can take no comfort in that because Xi's situation means he may take more risks in the South China Sea or over Taiwan," he said. "He has nothing to lose and everything to gain by engaging in more Putin-like brinkmanship."
Moreover, he added, "Where does one ever see the 'president for life' model end well?" THE NEW YORK TIMES