Prince Harry says memoirs written to combat 'spin and distortion'
LONDON— Prince Harry said Sunday (Jan 8) he decided to publish his memoirs to defend himself against years of tabloid spin, as British television aired his first interview on the book's explosive revelations.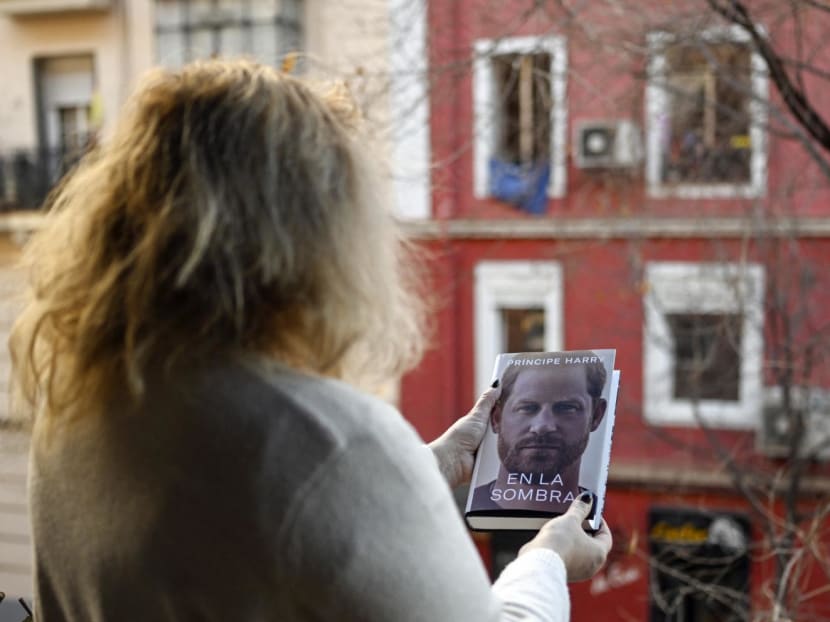 LONDON— Prince Harry said Sunday (Jan 8) he decided to publish his memoirs to defend himself against years of tabloid spin, as British television aired his first interview on the book's explosive revelations.
"Thirty-eight years. 38 years of having my story told by so many different people with intentional spin and distortion felt like a good time to own my story and be able to tell it for myself," he told British channel ITV.
But the fallout from the 38-year-old's revelations has cast doubt on his future in the royal family.
Although the Duke of Sussex's ghost-written book "Spare" officially launches Tuesday, its contents were widely leaked after it was mistakenly put on sale early in Spain.
"I fled my home country with my wife and my son fearing for our lives," Prince Harry told British channel ITV of his move to California two years ago, referring to the British media as "the antagonist".
He repeated accusations of the royal family being "complicit" in hostile tabloid reports about him and his wife Princess Meghan.
The book includes an allegation that his brother Prince William, the heir to the throne, attacked him during a row about Princess Meghan; an account of how he lost his virginity; an admission of drug use; and a claim he killed 25 people while serving in Afghanistan.
British media reported Sunday that the book had deeply hurt William and the boys' father, King Charles III, but that the monarch wanted to reconcile with his son. The palace has not issued any official reaction.
The ITV programme "Harry: The Interview" featured the prince reading extracts from the audiobook of his memoirs, which he narrates himself.
In one, he tells movingly of how his father broke the news of the 1997 death of his mother princess Diana in a car crash to his "darling boy".
'CRIED ONCE'
Prince Harry revealed he only "cried once" after Diana was killed and said he felt guilty at being unable to express grief while greeting crowds of mourners whose hands were wet with tears.
He also talked about later going to see the route Diana's car took before the crash, asking a driver to take him through the road tunnel in Paris at the same speed.
"I've been asked if I want to open up another inquiry," Prince Harry said of Diana's death. "I don't really see the point at this stage." 
But he admitted he still had lingering questions.
The book focuses on his combative relationship with Prince William, saying his elder brother physically attacked him as they argued over Meghan.
"I saw this red mist in him", Prince Harry told ITV. "I want reconciliation, but first there has to be accountability."
The prince dismissed media reports he and Princess Meghan had at first got on well with Prince William and his wife Kate.
Tabloid description of the couples as the "Fab Four", he said, "was something that the British press created".
Prince William "never tried to dissuade me from marrying Princess Meghan, but he aired some concerns", Harry added.
CRITICISM OF CAMILLA
The prince also criticised Prince Charles's second wife and now Queen Consort.
In the book, he wrote that after Princess Diana's death, Duchess Camilla "began playing the long game: a campaign aimed at marriage and eventually the crown".
Details appeared in media of private conversations that "could only have been leaked" by Duchess Camilla, Prince Harry alleged.
"I love my father, I love my brother, I love my family. I will always do," Prince Harry stressed in the interview, saying he hoped a reconciliation would "100 percent" happen in the future.
"I don't think my father or brother will read the book. I really hope they do," he added.
The Sunday Times earlier quoted an unnamed friend of the brothers as saying William "won't retaliate" over the book, but "he's anxious and he's sad". 
Another unnamed friend told the newspaper that Prince William "is staunchly protective of his own family, and he's not just going to roll over."
The Sunday Telegraph broadsheet quoted sources close to King Charles as saying the king saw a reconciliation with Harry as the "only way out of this mess", however.
Prince Harry will not have a formal role in Charles's coronation this year which he is expected to attend, The Sunday Times reported. AFP