Prince Harry's memoirs expose deepening feud with future king William
LONDON — The latest revelations by Prince Harry have shone a glaring light on his fractured relationship with his elder brother Priince William, with whom he was once close.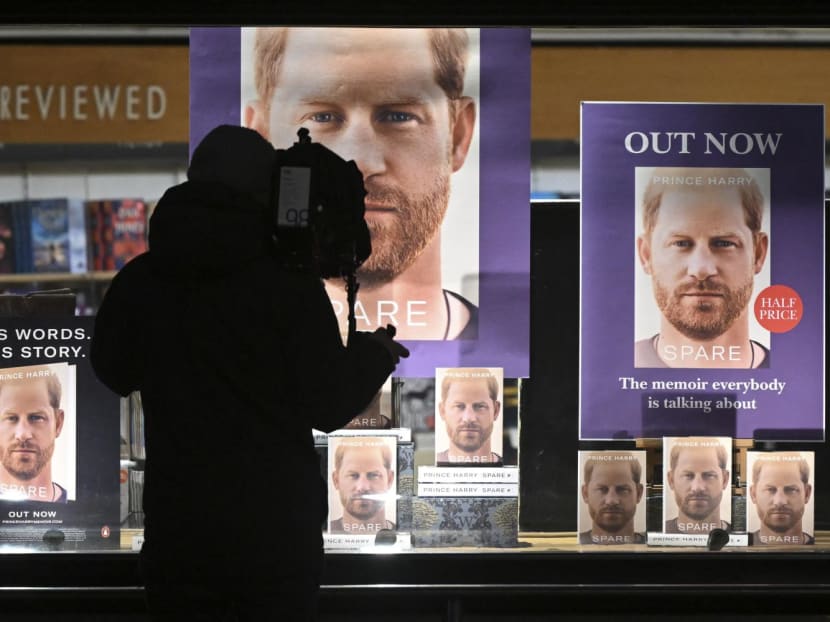 LONDON — The latest revelations by Prince Harry have shone a glaring light on his fractured relationship with his elder brother Priince William, with whom he was once close.
 
While heir-to-the-throne Prince William has not reacted publicly, the United Kingdom (UK) media assessed that their feud had become so bitter it was unclear how the brothers could ever reconcile.
 
In interview excerpts and media leaks from his upcoming memoirs "Spare", Prince Harry said the brothers had always had a competitive relationship but had fallen out over his relationship with Princess Meghan, the American former television actress whom he married in 2018.
 
Prince Harry told Britain's ITV television that he wanted his brother back, but the royals were treating him and Princess Meghan as "villains".
 
The Guardian reported a claim in Prince Harry's memoirs that Prince William had attacked him as they argued in 2019, grabbing him by the collar, breaking his necklace, and causing him to fall and break a dog bowl.
 
Prince Harry wrote that his brother lashed out after calling Princess Meghan "difficult", "rude" and "abrasive".
 
"I saw this red mist in him," Prince Harry told ITV.
 
This sharply contrasts with Prince William's measured public persona.
 
" Prince Harry paints a picture of a hot-tempered future king, and one capable of losing control, which is very much at odds with Prince William's public profile," The Guardian left-leaning broadsheet wrote.
 
"It will be an accusation that William will find hard to shake off: he will always be the prince who attacked his brother," wrote The Times.
 
Fellow right-wing broadsheet The Daily Telegraph wrote that Prince Harry was "seemingly intent on destroying Prince William".
In Prince Harry and Meghan's Netflix documentary series, aired last month, he accused William of screaming at him during a 2020 family summit to discuss the couple's planned departure to north America.
 'ARCH-NEMESIS'
The latest claims include that family members briefed against him, and Prince William warned him to "slow down" his relationship with Princess Meghan.
Prince Harry referred to Prince William as his "beloved brother and arch-nemesis", an ABC presenter said in an interview excerpt.
"There has always been this competition between us, weirdly," Prince Harry told the US channel. 
 
"I think it really plays into or is played by the 'heir/spare'."
The Mirror tabloid wrote that royal sources suggested Prince William would be "devastated" by the book.
Royal commentator Robert Jobson likened their rift to that between King George VI and his elder brother, the former king Edward VIII, following his 1936 abdication to marry US divorcee Wallis Simpson.
"Princes William and Harry's spectacular fallout will, in my view, never be healed, leaving him effectively exiled, too," Mr Jobson wrote in The Sun.
'SAD' 
Born just two years apart and sent to the same schools, Prince Harry, 38, and Prince William, 40, shared the trauma of the death of their mother, Lady Diana Spencer, in 1997.
The image of the young boys, then aged just 15 and 12, walking together behind her coffin at her funeral aged 15 and 12.
Prince Harry's memoirs reveal their nicknames for each other — Willy and Harold — and describes them as "nomads" who "cared for each other". 
The brothers begged their father not to marry his long-term lover Camilla, Prince Harry wrote. She has now become Queen Consort.
Both joined the military and long presented a united front, speaking together on issues such as mental health. 
Prince Harry appeared to have a warm relationship with Prince William's long-term girlfriend and now wife, Catherine.
 
But their ties frayed following Prince Harry's wedding to Princess Meghan. UK tabloids focused criticism on Princess Meghan, reporting accusations she had bullied staff.
Prince Harry decided to quit royal duties and move to California, since then only returning for brief visits.
In the couple's 2021 Oprah Winfrey interview, Prince Harry said the brothers were on "different paths", calling Prince William "trapped" in the royal system.
King Charles III, according to The Guardian excerpt, pleaded with his sons to end their feud at a secret meeting after his father Prince Philip's funeral in April 2021.
"Don't make my final years a misery," Prince Harry quoted his father as telling them.
Asked what their mother Lady Diana would think about the brothers' being at loggerheads, Prince Harry told ABC: "I think she would be sad."
"They were so young when they lost their mother, but at least they still had each other, and now it seems they don't even have that," The Guardian wrote. AFP