Race on for new Malaysian PM: A look at the different scenarios
KUALA LUMPUR — The race is now open for Malaysia's third prime minister in as many years, following Mr Muhyiddin Yassin's resignation on Monday (Aug 16).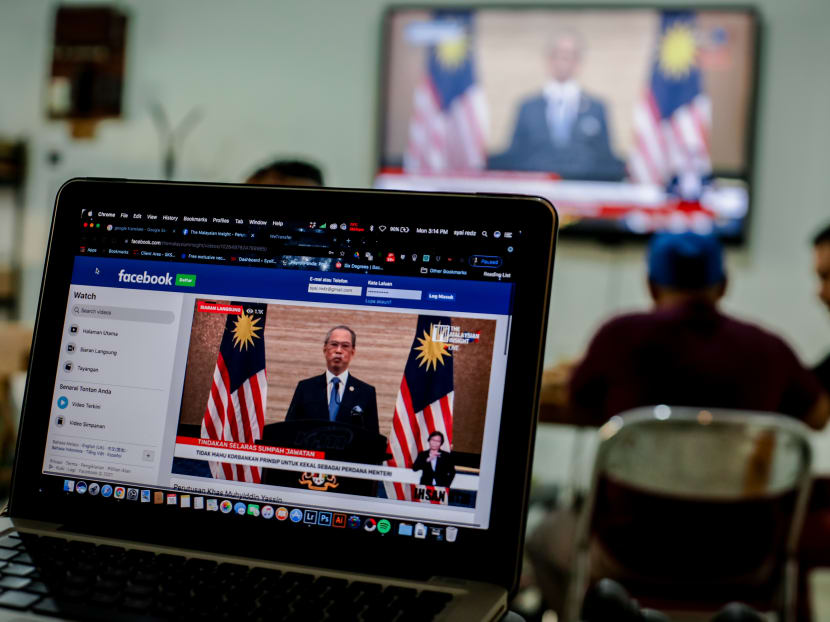 KUALA LUMPUR — The race is now open for Malaysia's third prime minister in as many years, following Mr Muhyiddin Yassin's resignation on Monday (Aug 16).
Although he has stepped down after losing his parliamentary majority, the king has consented to appointing him as caretaker prime minister until a new head of government is chosen.
As yet, there is no successor in sight as parties continue negotiating a replacement who will command the support of the Dewan Rakyat's 220 MPs.
The simple majority needed is 111.
The Malaysian Insight looks at four possible scenarios and what they entail.
Scenario 1 – Tengku Razaleigh Hamzah or Ismail Sabri Yaakob
Under this scenario, support would come from Perikatan Nasional (PN), which has 50 MPs, Gabungan Parti Sarawak (18), MCA (2), MIC (1), four independents (Julau, Tebrau, Kuala Langat and Ranau), PBS (1) and the two Umno (38) factions.
This formula is the same as the support of 115 MPs for PN under Mr Muhyiddin.
Whether it will be Kelantan prince, Tengku Razaleigh Hamzah, or Umno vice-president Ismail Sabri Yaakob depends on ongoing negotiations.
While the Pagoh MP will no longer be prime minister, it will be largely status quo as the government parties are the same.
Scenario 2 – Anwar Ibrahim variation #1
The PKR president could be prime minister if all 105 MPs in the opposition support him, plus the 15 Umno MPs led by party president Ahmad Zahid Hamidi who pulled support from Mr Muhyiddin.
The composition of current opposition MPs are: Pakatan Harapan (88), Pejuang (4), Warisan (2), Parti Sarawak Bersatu (2), Upko (1), Muda (1) and one independent (Simpang Renggam).
With Mr Zahid's 15, it will give Mr Anwar 120 MPs, which is 20 more than the PN bloc.
However, this is unlikely to happen as Mr Zahid had promised the Umno general assembly earlier this year that it would never support Mr Anwar or go into government with DAP.
Also, Pejuang under Dr Mahathir Mohamad has so far remained adamant it prefers a National Advisory Council to run the country rather than join the race to name a new prime minister.
Scenario 3 – Anwar Ibrahim variation #2
This time, it would take Bersatu's 31 MPs to join forces with the opposition bloc's 105, to support Mr Anwar with a total of 136 lawmakers.
But this is even more unlikely given the hostilities between Bersatu and PH, which the former toppled last year after breaking PKR by pulling out 10 of its MPs.
And within the opposition, Mr Anwar's support from Dr Mahathir's Pejuang is still lacking.
Scenario 4 – Muhyiddin Yassin again
In this scenario, Bersatu with 31 lawmakers will have to agree to ditch Barisan Nasional (BN), GPS, and PAS – and go with the opposition bloc's 105 MPs, for a total of 136 MPs.
How possible is this?
Given all the talk about confidence and supply agreements, there is a slim chance PH might agree to partner with Bersatu again, despite the betrayal in last year's "Sheraton move".
After all, last Friday, Mr Muhyiddin did try a last-ditch attempt to offer reforms in exchange for support to opposition MPs ahead of a confidence vote in Parliament next month.
His olive branch was rejected, but in days to come as parties ramp up negotiations, what happens next is anyone's guess.
A breakdown of MPs in the coalitions or parties and factions are as follows:
PH (88), PN (50), Umno 23 (led by Mr Ismail Sabri Yaakob), GPS (18), Umno 15 (led by Mr Ahmad Zahid Hamidi), Warisan (8), Pejuang (4), PSB (2), MCA (2), MIC (1), Muda (1), PBRS (1), Upko (1), PBS (1), independents (5)
PH: DAP (42), PKR (35) and Amanah (11)
PN: Bersatu (31), PAS (18) and STAR (1)
For the purpose of this article, the BN coalition (42) has been broken into the two Umno factions, one led by Mr Ismail (23) along with MCA (2), MIC (1) and PBRS (1), and the other led by Mr Zahid (15).  THE MALAYSIAN INSIGHT