Running for mayor to fight Spain's rural exodus
ALLEPUZ (Spain) — Mr Ignacio Martinez never imagined becoming mayor, but when he saw the struggles of his mountain village in northeastern Spain, he and his friends decided to run for office in the 2015 elections.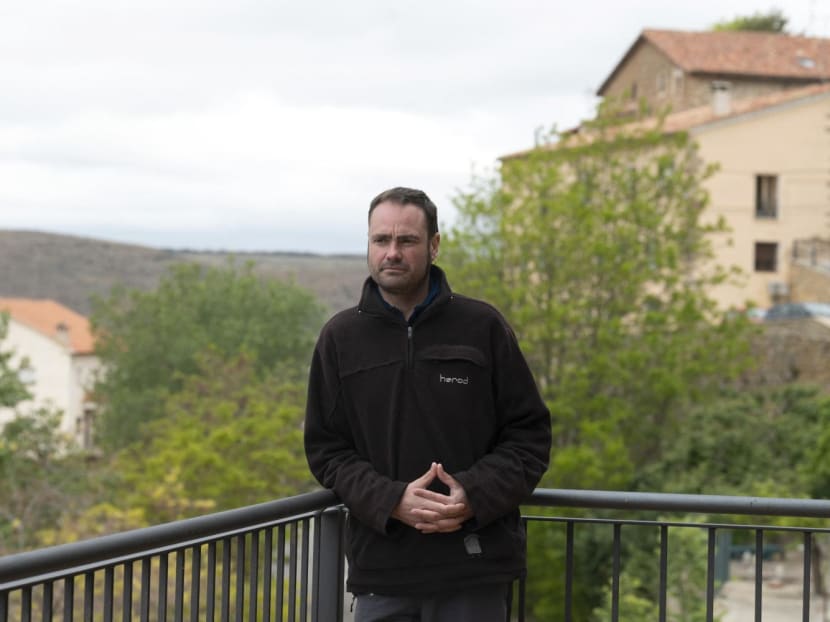 ALLEPUZ (Spain) — Mr Ignacio Martinez never imagined becoming mayor, but when he saw the struggles of his mountain village in northeastern Spain, he and his friends decided to run for office in the 2015 elections.
"There was a sense of paralysis in the village. The school had shut several years before and that caused a lot of sadness," said Mr Martinez, a cereal farmer who was 32 when he became mayor of Allepuz in Aragon, a region often described as ground zero for rural depopulation in Spain. 
Like many in sparsely-populated rural Spain, Mr Martinez could not just stand by and watch his village and its 114 residents dwindle as older residents died off and others left seeking work. 
"Many villages are on the verge of demographic collapse, a level of abandonment from which there's no return," he told AFP, saying running for office "just felt like the right thing to do".
With campaigning in full swing ahead of Sunday's (May 28) local and regional polls, Spain's political parties have rolled out fresh pledges to attract rural voters, from better internet and public transport to social housing or grants for families relocating to villages. 
But the campaign has drummed up little enthusiasm among rural voters in Teruel, Aragon's most sparsely-populated province, with fewer than 10 residents per square kilometre, one of the lowest rates in Europe. 
"Just before the elections, everyone offers a lot, then they just forget us," said Mr Calvo, 74, who didn't give his first name, as he waited for the daily bread delivery. With no shops, villagers rely on local traders to deliver fresh food. 
"The village is promoting housing, which is essential if families are to come. But if there's no work," he shrugged. 
'SCHOOL OPEN = VILLAGE ALIVE'
In small villages, candidates often don't want to be associated with a particular party, like Mr Martinez, with locals quick to say they'll vote for people they trust rather than any political faction. 
"I choose people. I don't care which party they're running for. If they inspire confidence, I'll vote for them," said Ms Carmen Igual, a 56-year-old potter. 
"When you're in such a small place, the parties just disappear and you vote for a person you know is going to work," agrees 69-year-old Francisco Esteban inside a packed roadside bar where dozens of locals are tucking into huge plates of bacon and eggs.
"It's true elections are always associated with political parties, but when you live in such a small place, there comes a moment when you have to get involved," said Ms Gloria Blanc, the 56-year-old mayor of Monroyo, a hilltop village with 312 inhabitants.
"I had no interest in being a lawmaker, I only wanted to work for my village." 
Now stepping down after eight years, Mr Martinez said the highlight of his term was reopening the school, which "was a surprise because we knew practically nothing about municipal politics". 
On a wall by the main road, someone has spray-painted the words: "School open = village alive".
"We are becoming fewer and fewer residents, but as long as there's a school, there's a future," said Mr Calvo.
EMPTY SPAIN MAKES ITS MARK
The term "empty Spain" emerged in 2016 in reference to five regions covering half of Spain's territory, but home to just 15 per cent of its population. 
One is Aragon, which has 1.3 million residents, but a population density of just 27.8 inhabitants per square kilometre, regional figures for 2022 show. 
In 1999, locals set up Teruel Existe! (Teruel Exists!), an organisation to fight depopulation in the province, and two decades later, it ran for election, winning a seat in parliament and putting empty Spain on the map.
Its success has inspired a new party called Espana Vaciada — Empty Spain — which is running in the May 28 polls and the year-end general election as "the voice of all those who've been forgotten".
"People who live in the rural world don't really believe there can be a change to reverse depopulation. But it's possible," said Ms Lidia Diaz, head of the Spanish association against depopulation (AECD).
"There needs to be a national pact (involving all of Spain's parties) and laws need to be changed, but that can't be done from behind a desk," she said. 
"Decision-makers needed to ask those of us living in rural areas what we need... because in some villages, they may need industry, while in others they need powerful fibre-optic broadband." AFP