South Korea says halt to US drills may be needed to help denuclearisation talks
SEOUL — A halt in joint military drills with the United States may be necessary to expedite talks on North Korea's denuclearisation, South Korea's presidential office said on Wednesday (June 13).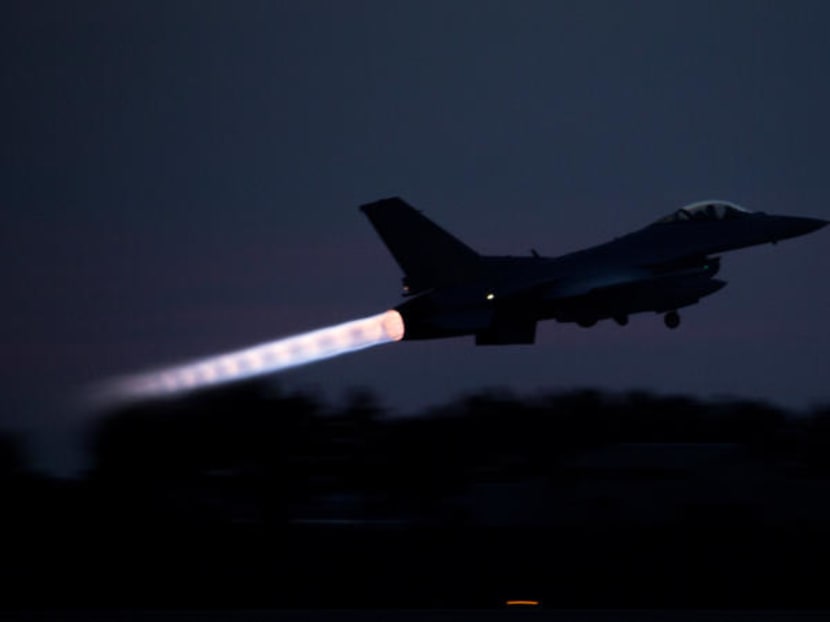 SEOUL — A halt in joint military drills with the United States may be necessary to expedite talks on North Korea's denuclearisation, South Korea's presidential office said on Wednesday (June 13).
At a news conference after a historic meeting with North Korea's leader Kim Jong-un in Singapore on Tuesday, US President Donald Trump said he would halt what he called "very provocative" and expensive military exercises the US stages regularly with South Korea. 
Asked by reporters about this on Wednesday, Blue House spokesman Kim Eui-kyeom suggested that this was a possibility Seoul would consider to assist denuclearisation negotiations with North Korea.
"We believe there is a need to consider various ways to further promote dialogue as long as serious discussions are being held between the United States and North Korea for the denuclearisation of the Korean Peninsula and establishment of peace," he said, noting however that it was still not clear what Mr Trump meant by "war games".
"For now, there still is a need to find out the exact meaning and intention of President Trump's remarks," he added. 
North Korea has long insisted that it would not relinquish its nuclear weapons programme unless the US removed its "hostile policies."
The North has cited military drills between the US and South Korea as a prime example of American hostility, calling them rehearsals for invasion. Washington and Seoul have always dismissed such accusations as propaganda.
"We will be stopping the war games, which will save us a tremendous amount of money, unless and until we see the future negotiation is not going along like it should," Mr Trump told a news conference in Singapore on Tuesday.
"Under the circumstances we are negotiating a comprehensive and complete deal. It is inappropriate to have war games."
He added in a tweet on Wednesday: "We save a fortune by not doing war games, as long as we are negotiating in good faith - which both sides are!"
There was some confusion over precisely what military cooperation with South Korea Mr Trump had promised to halt.
The US-South Korean exercise calendar hits a high point every year with the Foal Eagle and Max Thunder drills, which both wrapped up last month. Another major exercise is due in August.
The US maintains about 28,500 soldiers in South Korea, which remains in a technical state of war with the North after the 1950-53 Korean War ended in a truce not a peace treaty.
Mr Trump's pledge to end joint exercises with South Korea without explicit concessions from North Korea to lower the military threat posed by Pyongyang took South Korean and US military officials by surprise.
"President Trump said something the United States' commander in chief should not say to its ally," said Cheon Seong-whun, an analyst at the Asan Institute in Seoul.
"It's a great insult to all South Korean soldiers who have been training for the alliance. He sees everything in terms of money but there are values other than money in an alliance." 
South Korean officials have been open to the idea of readjusting the exercises to help persuade North Korea to denuclearise.
They delayed them this year to encourage the North to participate in the Winter Olympics in the South in February.
But the South Korean government has always considered the American military presence and joint drills an integral part of its security in the region, regardless of the North's nuclear intentions.
Many South Koreans and Japanese fear that North Korea and China will turn talks over denuclearising the North into regional disarmament negotiations aimed at undermining the American military influence in North-east Asia.
Officials from South Korea and Japan were expected to discuss the issue when US Secretary of State Mike Pompeo arrives in Seoul later on Wednesday.
He is scheduled to meet South Korean President Moon Jae-in early on Thursday and then hold a trilateral meeting with Foreign Minister Kang Kyung-wha and Japanese Foreign Minister Taro Kono.
Japan's Minister of Defence Itsunori Onodera said that, while North Korea had pledged denuclearisation, no concrete steps had been taken and Japan would not let down its guard.
"We see US South Korean joint exercises and the US military presence in South Korea as vital to security in East Asia," Mr Onodera told reporters. "It is up to the US and South Korea to decide about their joint exercises. We have no intention of changing our joint drills with the US."
Japan, along with China, is expected to bear much of the initial costs of North Korea's denuclearisation but would only start shouldering costs after the International Atomic Energy Agency restarts inspections, Japanese Chief Cabinet Secretary Yoshihide Suga told reporters.
US Republican Senator Lindsey Graham said Trump's reasoning for halting the exercises was "ridiculous".
"It's not a burden onto the American taxpayer to have a forward deployed force in South Korea," Mr Graham told CNN.
"It brings stability. It's a warning to China that you can't just take over the whole region. So I reject that analysis that it costs too much, but I do accept the proposition, let's stand down (on military exercises) and see if we can find a better way here."
Speaking in Beijing, Chinese Foreign Ministry spokesman Geng Shuang said he hoped all parties could "grasp the moment of positive changes" on the peninsula to take constructive steps towards a political resolution and promoting denuclearisation.
"At this time, everyone had seen that North Korea has halted missile and nuclear tests, and the United States and South Korea have to an extent restricted their military actions. This has de facto realised China's dual suspension proposal," he told a daily news briefing.
"When it comes to Trump's statement yesterday that he would halt South Korea and the United States' military drills, I can only say that China's proposal is indeed practical and reasonable, is in line with all sides interests and can resolve all sides concerns."
China, North Korea's main ally, last year proposed what it calls a "dual suspension", whereby North Korea suspend nuclear and missile tests, and South Koreaand the United States suspend military drills. AGENCIES