South Korea declares war on 'fake news,' worrying Govt critics
SEOUL — South Korea announced a sweeping crackdown on "fake news" on Tuesday (Oct 2), calling it "a destroyer of democracy." Conservative critics of the government, however, cried foul, accusing it of trying to impede freedom of speech.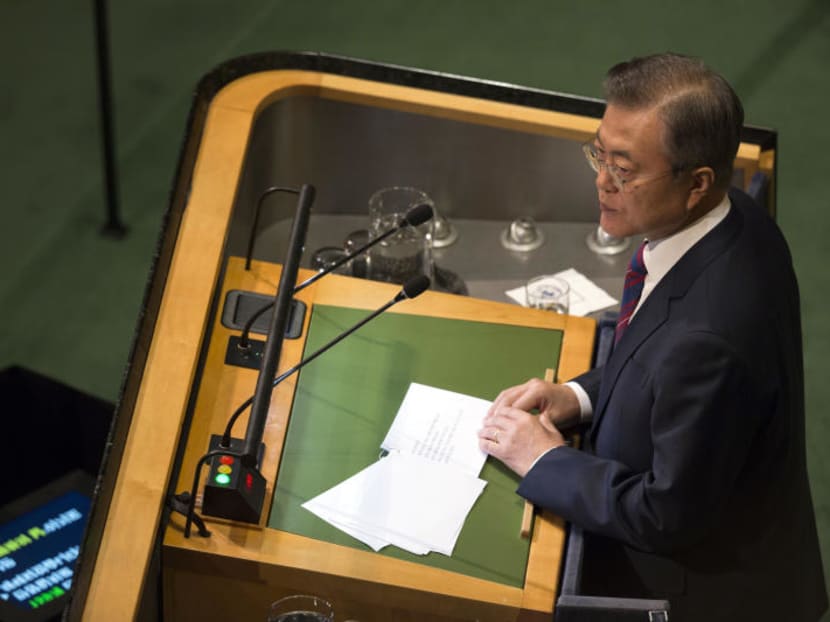 SEOUL — South Korea announced a sweeping crackdown on "fake news" on Tuesday (Oct 2), calling it "a destroyer of democracy."
Conservative critics of the government, however, cried foul, accusing it of trying to impede freedom of speech.
Speaking at a cabinet meeting, Prime Minister Lee Nak-yon said that fake news had spread so widely in South Korea that it was stymying not only citizens' privacy but also the country's national security and foreign policies, including its relations with North Korea.
Mr Lee did not offer examples. But he was furious last week after he visited Vietnam for the state funeral for its president, Tran Dai Quang.
While in Hanoi, he visited the stilt house of Ho Chi Minh and wrote in the visitors' book at the compound that he felt "humble" before the "great" Vietnamese leader. South Korea fought against his Communist forces alongside the Americans during the Vietnam War.
When the photograph of Mr Lee's tribute was reported in South Korea, conservative critics called him a "commie" on social media.
Some even falsely suggested that Mr Lee made the tribute not to Ho but to Kim Il-sung, the founder of North Korea and the grandfather of its current leader, Kim Jong-un. Mr Lee has called the misinformation "vicious."
"Fake news is a public enemy hiding behind the cover of free speech," he said Tuesday. "We can no longer turn a blind eye to it."
Mr Lee ordered the police and prosecutors to investigate and punish those who "generate fake news with malicious intent and systemically spread it."
He also told the Korea Communications Commission, a government regulatory agency, to act on online media sources that serve as "avenues for fake news."
Mr Lee encouraged government agencies to report fake news to the law enforcement authorities for investigation. He also called for a new law regulating such information, which some lawmakers in his Democratic Party had already been advocating.
Opposition lawmakers denounced the government's move as an attempt to silence criticism, especially YouTube videos used by conservative critics to attack the progressive government of President Moon Jae-in, whom they often call a North Korean stooge. Progressives have long criticised those channels as a main source of inaccurate and unfair information.
"They can already punish distribution of false information under the existing laws," Mr Park Dae-chul, a legislator affiliated with the conservative opposition Liberty Korea Party, said in a statement.
"I cannot help suspecting that this is an attempt to crack down on right-wing podcasts. They want to shut down the voices the government doesn't want to hear."
Mr Moon took power last year after Park Geun-hye was impeached as president and ousted on corruption and other criminal charges. While in office, Park was also widely accused of plotting to silence her critics.
Now, Mr Moon faces the same accusations.
After he took power, defectors from North Korea asserted that TV and cable channels feared hiring them as commentators because they tended to accuse Mr Moon of ignoring human rights abuses in North Korea while eagerly negotiating with it.
Lawmakers in his party have introduced a bill that would ban defectors and other anti-North Korean activists from sending negative leaflets via balloon into the North without government permission.
These balloons carry leaflets that contain Christian messages and bitter criticism of the North's leader, Mr Kim, often calling him a "bloody pig." North Korea has lashed out, calling the sending of such fliers an act of hostility.
When Mr Moon met Mr Kim in Pyongyang last month, they agreed to cease all hostilities along the border.
In an interview with Fox News last week, Mr. Moon vehemently denied that his government was muzzling North Korean defectors or undermining free speech.
"Probably South Koreans have never enjoyed the freedom of speech as much as they do now," said Mr Moon, who argued that even "fake news" was overflowing "without restraint" in news and social media.
In the World Press Freedom Index compiled by the human rights group Reporters Without Borders, South Korea was ranked 43rd of 180 countries this year, rising 20 notches from last year.
"The election of Moon Jae-in, a human rights activist and former political prisoner, as president has been a breath of fresh air after a bad decade in which South Korea fell more than 30 places in RSF's World Press Freedom Index," the group said.
"Nonetheless, structural problems remain. The system of appointing managers at the public broadcasters needs to be revised in order to guarantee their independence."
It also criticised the country's anti-defamation laws, under which statements deemed not in the public interest can result in imprisonment: up to three years for statements that are true and up to seven for those considered false. THE NEW YORK TIMES