Taps run dry, and sweltering Malaysians run out of patience
PERLIS — In all his 76 years, Perlis resident Sharif Saad has never felt so hot. The taxi driver bathes five to six times a day, and keeps his three fans switched on the whole day in his village house that has no air-conditioning.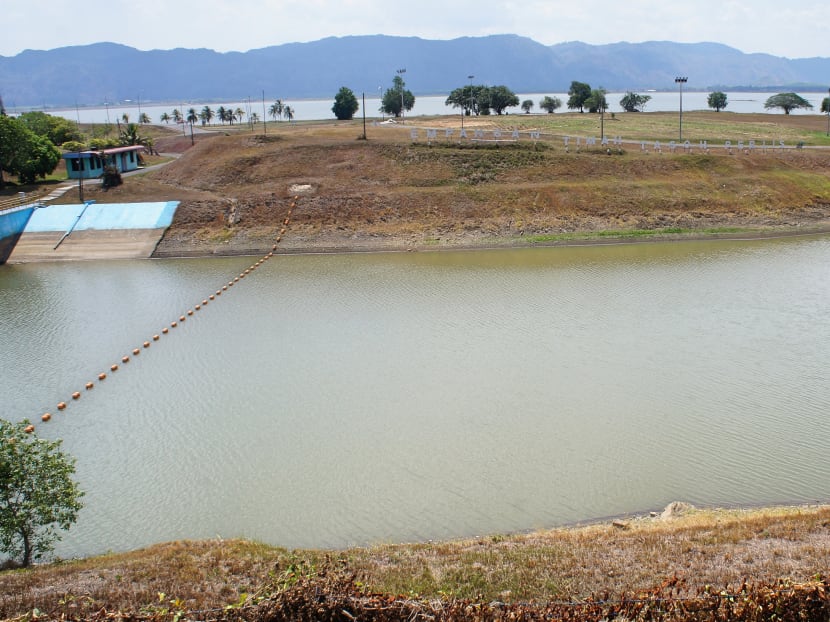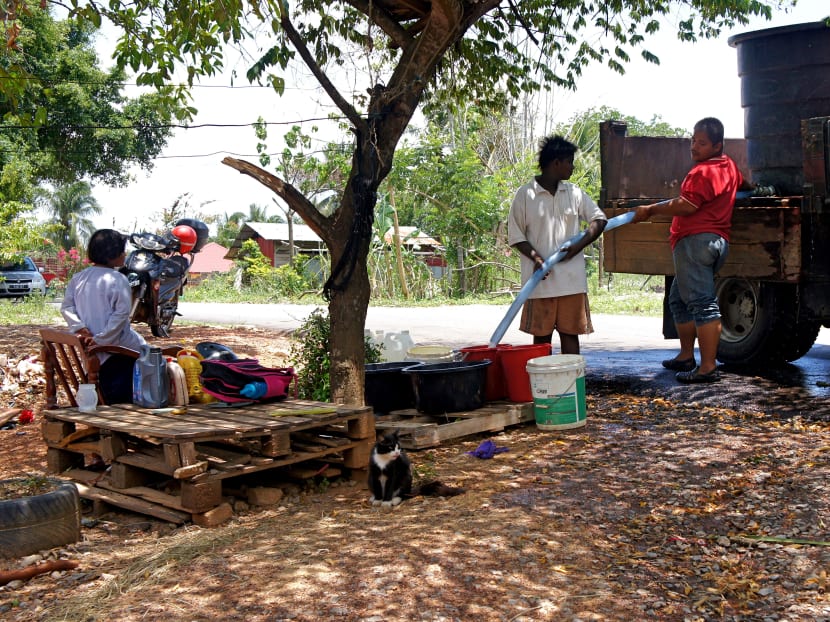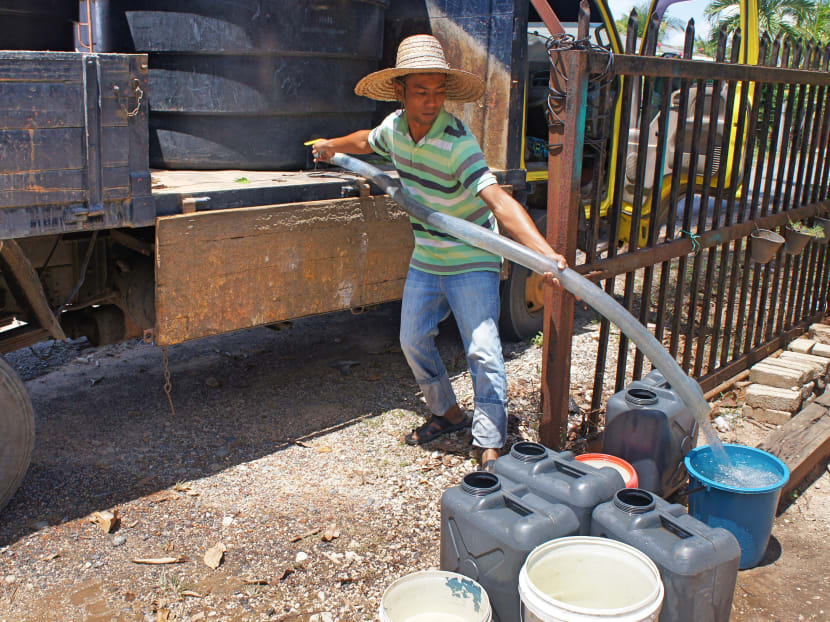 PERLIS — In all his 76 years, Perlis resident Sharif Saad has never felt so hot. The taxi driver bathes five to six times a day, and keeps his three fans switched on the whole day in his village house that has no air-conditioning.
To cope with the sweltering, almost suffocating, heat, he also wraps himself in a wet towel to cool off during the day and even at night to help him sleep.
"The towel would be dry in just two or three hours," he said.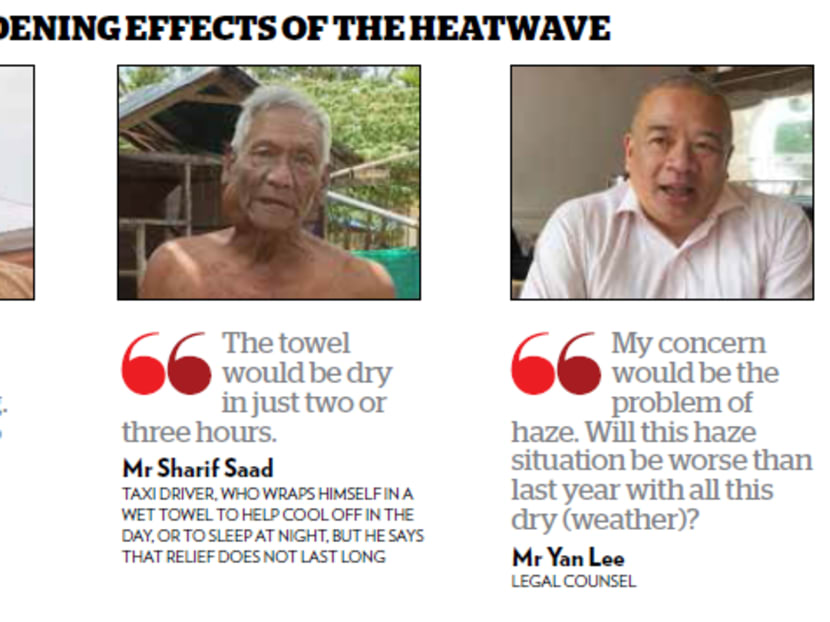 Many Malaysians are struggling to live in this sauna – a prolonged heatwave engulfing northern states – that is caused by the Super El Niño phenomenon. Temperatures have soared to 38 and 39°C on some days.
The Malaysian government warned over the weekend that the hot and dry weather, started in January, could stretch to September, resulting in depleting water reserves, more forest fires and worsening haze.
TODAY visited three northern states - Perlis, Penang and Kedah - that have been bearing the brunt of the unbearable heat last week, and interviewed residents, farmers and officials to find out how they have been adjusting to the searing temperatures. Many were frustrated yet seemed resigned to their scorching fate, while also concerned about the impact on their livelihood and living environment.
Mr Sharif's home in Kampung Kolam in Padang Besar, Perlis, near the Malaysia-Thai border is now undergoing water-rationing.
Located on higher ground, the water pressure is too low to send water there.
Since April 16, after the area's Timah Tasoh Dam water level dropped to a dangerously low level of 26.2m, residents have had to wait with their pails for water to be delivered to their front gates by lorries sent by state water supplier Syarikat Air Perlis.
"This is the first water-rationing in the village since it was established 37 years ago," said housewife Mariyana Mansor.
"Many were caught unprepared and didn't have large containers to collect and store water. Even the hardware shops nearby have run out of stock."
Yet, not all residents are aware of the need to conserve water, she said, despite the authorities constantly sending out messages, via mobile phones and radio announcements, to remind residents not to waste water.
Mrs Mariyana, 41, said it was tedious not having enough water.
"If I need to do the laundry, I wait for the water pressure to improve. If it gets too troublesome to cook, my family eats out," she told TODAY.
But there were times when her home ran out of water, like last Wednesday when her youngest child skipped school due to insufficient water for bathing.
The heat is disrupting education. Schools in Perlis had closed a few times last month due to the heatwave. Last Friday, Perlis schools were again ordered by the Education Ministry to close after the temperature exceeded 37°C three days in a row.
"Kids are getting ill. Some have complained of itchiness, migraine and nausea. It is just too hot," added Mrs Mariyana.
Primary school teacher Aizat Faizal, 29, who teaches in Kuala Perlis, said his school had stocked up bottled water for pupils to buy should they need extra water.
Many outdoor and after school programmes were disrupted by the hot weather, he said, adding: "PE (physical education) classes can only be held until 10am. Extracurricular activities in the afternoons are all conducted indoors now.
"Fans are not good enough anymore and we need air conditioning. This is climate change."
The weather is also affecting crops. University students Mohd Rohafizan Mohd Hanapiah and Mohd Arif Ibrahim, both 21, sell mangoes at a roadside stall during their current semester break.
"It is difficult to get rain. That is why the harum manis mangoes grow well here. They need a hot climate to grow, but not this hot," said Mr Rohafizan, who studies plantation management.
"This time, the temperature is too high, so the harum manis season is disrupted, making the fruit more expensive."
It is not the first time for such scorching heat, he added, pointing out that temperature in Perlis reached 40.1 degrees Celsius in 1998 when El Niño last hit Malaysia.
What worries residents and farmers this time is how fast the state's only dam is drying up.
When the dam's water level dropped to 26.78m late last month, it was then the lowest level it had been since it started operating in 1992. Two weeks later, it dipped to 26.2m, triggering the water-rationing exercise. Over this past weekend, the water level has dropped further to 26.19 m, Bernama reported, compared to the normal level of 29.1m. The critical level is 25m.
In neighbouring Kedah, which is dotted with rice fields, many farmers were still waiting to start seeding their fields that had all dried up in the heat.
Kedah rice farmer Abdul Talib Taib, 64, keeps up to date on the dwindling water supply from watching the news.
"We hear all sorts of reports on television – that the dams have no water in Perlis, Kedah, Perak. So it is not possible to start planting. People need water to drink so they cannot give us water for the fields," he said.
However, the rice planting season in Kedah is on schedule despite the heatwave and water supply woes, said Mr Othman Aziz, chairman of the Muda Agricultural Development Authority (Mada), an agency that promotes rice production and increasing the income of farmers.
The water for irrigation had been released in three stages – on March 30, April 9 and 19 – for over 100,000 hectares of rice fields in Kedah and Perlis, he told TODAY.
"There is no problem. The water for irrigation comes from the Muda, Pedu and Ahning Dams. They have about 60 per cent capacity, which is 900 million cubic metres (MCUM) of water," he said.
"It is more than enough, as one planting season needs only 500 MCUM and 300 MCUM has been released."
Meanwhile, bracing for hot and dry days to drag until later this year, Penang has suspended all irrigation activities last week for its water supply to go to domestic consumers.
This is bad news for rice farmer Ho Wing Fook, 56, who lamented that his fields are "all dried up". All he can do now is hope for heavy rains.
Penang relies on the Muda River, which flows out of Kedah, for 84 per cent of its water supply.
Authorities in Penang had expressed worries in recent weeks following reports that Kedah's Beris and Muda Dams, which release water to sustain the Muda River water level, were to last for 30 and 50 days respectively.
Penang residents are not overly worried for now. The absence of water-rationing plans could mean that there is no immediate concern about water supply at this time, said Mr Yan Lee, 53, a legal counsel.
But he has another fear.
"My concern would be the problem of haze. Will this haze situation be worse than last year with all this dry (weather) ... will there be more burning?" he said, citing the bad smog situation that hit Penang and other states last year following forest fires and burnings in Indonesia.