Taiwan bubble tea chains face backlash in mainland China after Hong Kong franchises 'express support for protesters'
HONG KONG — Popular Taiwanese bubble tea chains are facing an angry backlash from mainland Chinese consumers after some of their franchises in Hong Kong appeared to express support for the anti-government protests that have swept the city.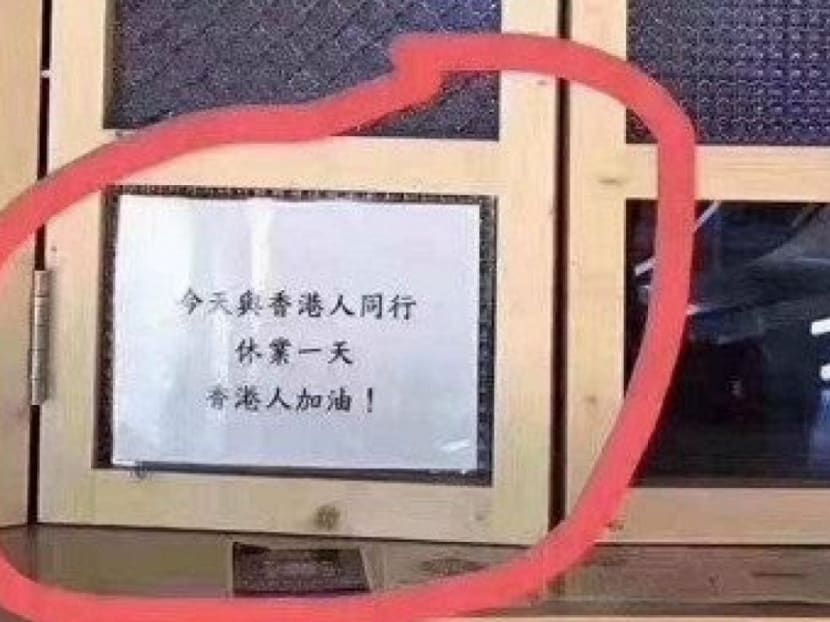 HONG KONG — Popular Taiwanese bubble tea chains are facing an angry backlash from mainland Chinese consumers after some of their franchises in Hong Kong appeared to express support for the anti-government protests that have swept the city.
Pictures of a branch of Yifang Taiwan Fruit Tea that closed during Monday's (Aug 5) citywide strike went viral on Weibo, the mainland's most popular social media network, because of a notice in its window that read: "We are closing the business for a day with the rest of Hong Kong. Hongkongers, add oil!" — a popular phrase adopted by the protesters. It is not known which of the city's 20 branches was shown in the photo.
"Yifang Taiwan Fruit Tea, I don't know if you're joking or whether this is deliberate. If it is intentional, then I will never drink your tea ever again in my life," wrote a Weibo user in a post on Wednesday that gained more than 24,000 likes.
Other users boasted of putting the brand on their personal blacklist of Taiwanese brands suspected of supporting independence for the island.
Other Taiwanese bubble tea chains have also been dragged into the latest controversy – particularly CoCo Fresh Tea & Juice.
A photo of a receipt apparently issued by the CoCo franchise in the city's Wan Chai district, dated June 16 – a day when two million people took to the streets to protest against a proposed extradition law – also featured the phrase "Hongkongers, add oil!" and generated a further round of social media outrage.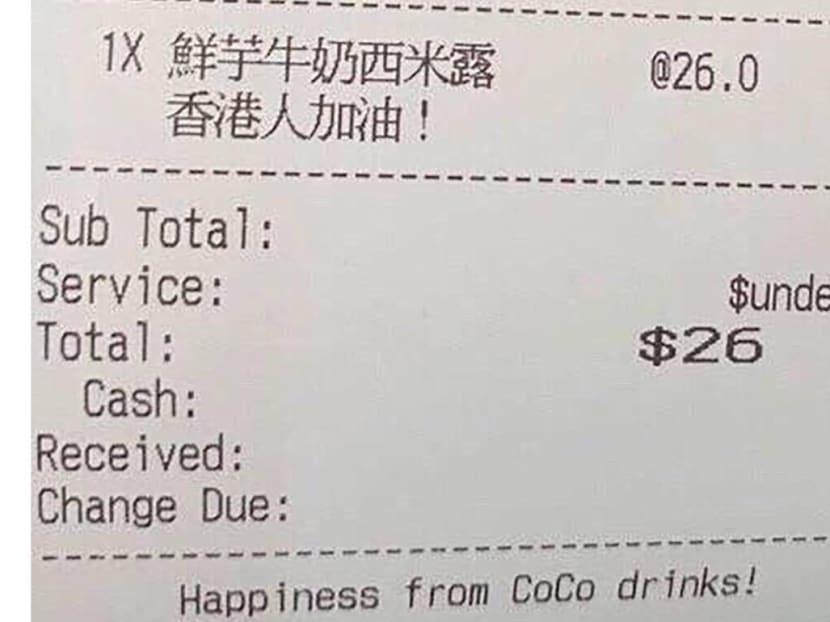 A third Taiwanese chain, Gong Cha, was also singled out despite no evidence that its franchises in the city have expressed any views on the ongoing protests.
But mainland internet users complained that its website lists Taiwan, Hong Kong and China as a separate territories – a regular bugbear for Beijing, which insists Taiwan is an integral part of China.
There are more than 200 Yifang stores in mainland China, and its distributor there tried to address the complaints by putting out a statement on its official Weibo account condemning the protests, which have been denounced in state media for undermining the country's sovereignty.
"We resolutely safeguard 'one country, two systems' and opposite violent strike action," the statement said. "Yifang Fruit Tea stores will continue to operate."
But a number of the chain's franchises in Taiwan and the firm's official Hong Kong operation then issued their own statements distancing themselves from the comment.
"Yifang Taiwan Fruit Tea Hong Kong does not operate any Weibo account, our official social media accounts are only Facebook and Instagram," a notice posted on Facebook on Monday evening read. "The statement posted online this afternoon has nothing to do with the Hong Kong official distributor.
"We must clarify here that Yifang is a Taiwanese brand, and that the operation and management of all its Hong Kong branches are always represented by Hong Kong people.
"The Hong Kong general distributor respects the individual political positions of the various branches, and strongly believes that Hong Kong is an inclusive, free and open place."
In Taiwan, the company also distanced itself from the Weibo statement — which in turn risked a backlash from its local customers — saying it was a "non-political brand" that wanted to focus on selling fruit tea drinks.
Even Taiwanese President Tsai Ing-wen weighed in on Tuesday, saying "natural fruit teas are certainly the best out of all of them, but they don't taste good if they are flavoured with politics".
Meanwhile, a joint Facebook statement signed by six Yifang branches in Taipei and Kaohsiung on Monday said they "oppose one country, two systems" and "fully support Hong Kong citizens who are bravely resisting the totalitarian government's unreasonable treatment".
One country, two systems is the governance model used in Hong Kong since the former British colony was handed back to China in 1997.
The system technically preserves the semi-autonomous city's remaining privileges, including rule of law and freedom of speech, but mass social unrest during the current anti-government protests and the 2014 Occupy Movement have highlighted widespread public anxiety over its limitations in the face of Beijing's tightening control.
The Hong Kong anti-government protests and protesters' increasing demands for universal suffrage have been met with broad support in Taiwan.
A number of foreign brands have also found themselves caught in a tug of war between Hong Kong and mainland customers since the start of the protests.
The Japanese sports drink Pocari Sweat has been widely praised by Hongkongers and featured prominently in some protests after it pulled advertising from a local television station accused of pro-China bias — a move that in turn triggered calls for a boycott on the mainland.
But another Japanese brand — the restaurant chain Yoshinoya — has been targeted by Hongkongers over the pro-establishment views expressed by the boss of the holding company that runs the chain's operations on the mainland.
CoCo and Gong Cha did not respond to requests for comment. SOUTH CHINA MORNING POST