As tensions with US worsen, Europe courts new partners
NEW YORK — United States President Donald Trump is inciting a trade war, undermining NATO and painting Europe as a foe. It's no wonder, then, that the European Union is looking elsewhere for friends.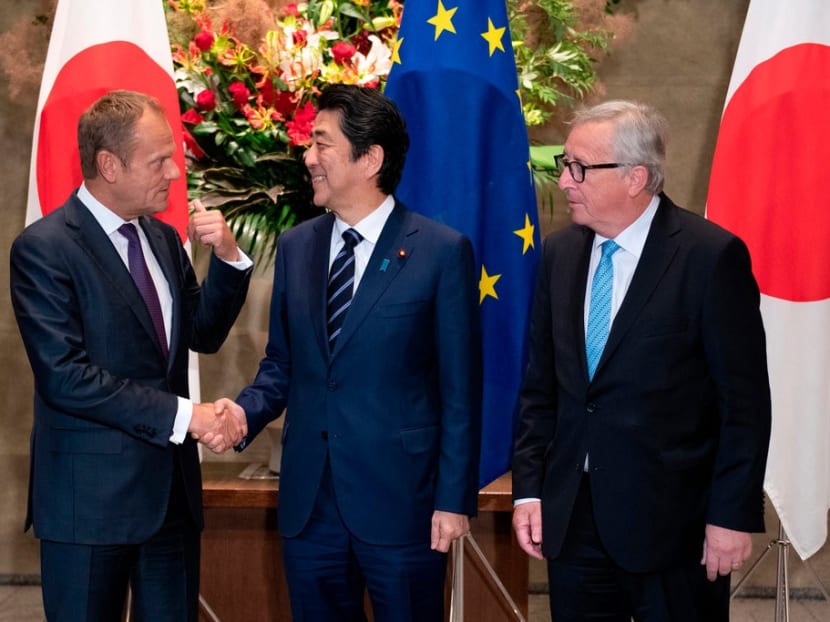 NEW YORK — United States President Donald Trump is inciting a trade war, undermining NATO and painting Europe as a foe. It's no wonder, then, that the European Union is looking elsewhere for friends.
On Tuesday (July 17) in Tokyo, it signed its largest trade deal ever, a pact with Japan that will slash customs duties on products like European wine and cheese, while gradually reducing tariffs on cars.
The agreement will cover a quarter of the global economy, and is the latest in a string of efforts either concluded or in the works with countries like Australia, Vietnam and even China.
The deal with Japan — and the others being negotiated — point to a more assertive Europe, one that is looking past the frosty ties with the United States, and even the upcoming withdrawal of Britain from the bloc.
In recent months, European Union leaders have voiced ever more confident rhetoric in favour of free trade, refusing to back down in the face of the threat of tariffs from Washington and instead aggressively courting new relationships.
But no matter how many barriers to international commerce the European Union manages to tear down, its leaders will not change one economic fact of life: The United States remains the Continent's largest trading partner. There is no escaping the damage from Mr Trump's campaign against imports like cars and steel.
"The United States is the one big market," said Mr Holger Schmieding, chief economist at Berenberg, a bank based in Hamburg. The other accords, he said, are "damage limitation rather than compensation."
European officials began intensifying efforts to strike trade agreements with other countries after Mr Trump's election delivered the coup de grâce to negotiations on a far-reaching deal with the United States.
Negotiators from both sides of the Atlantic had worked intensively since 2013 to eliminate tariffs and harmonise regulations for products likes cars and pharmaceuticals. The talks stalled during the end of the Obama administration and were postponed indefinitely at the end of 2016.
Europe did not stand still, continuing instead to pursue other deals.
While the president was threatening to rip up the North American Free Trade Agreement, the European Union was putting the final touches on a free-trade pact with Canada. It took effect late last year.
Europe also reached a deal in principle with Mexico to update an existing free-trade agreement, one that should be finalised by the end of the year. Accords with Vietnam and Singapore are going through the final stages of approval.
Negotiations are also in progress between the European Union and a long list of countries that includes Australia, Chile, Indonesia, New Zealand, Tunisia and the so-called Mercosur countries — Argentina, Brazil, Paraguay and Uruguay. The European Union and India have restarted talks that stalled in 2013.
"It has been a very busy month," Ms Cecilia Malmstrom, the European commissioner for trade, said in June after returning from a visit to Australia and New Zealand.
Trade deals take years to negotiate and work on the most recent pacts started before Mr Trump was elected. The talks with Japan began in 2012. But Mr Pascal Lamy, former director general of the World Trade Organisation, said that the European Union's diplomatic offensive "fits the notion that you don't need the US to do open trade."
The European Union is even negotiating with China. European officials share the Americans' wariness about Chinese intentions. And they do not want to become dependent on China, even though it is on track to surpass the United States as Europe's largest trading partner in the coming years.
Still, they are taking a different approach. Washington is threatening Beijing with tariffs that could encompass nearly all of China's imports into the United States, as a way to bring the country to heel.
Officials in Brussels, by contrast, are negotiating an agreement that would give their companies more control over investments in China, for example by allowing them to own their operations outright rather than requiring them to work with local partners.
China's ability to cozy up to the European Union is limited, however, by the mistrust that has marked the two powers' recent relations.
They have sparred over whether sales of Chinese-made solar panels in Europe amounted to dumping. At a meeting last year, they failed to issue a joint statement on climate change because they disagreed on whether China should be considered a "market economy." The designation would entitle the country to preferential treatment before the WTO.
Last week, Ms Angela Merkel, the German chancellor, met in Berlin with Mr Li Keqiang, the Chinese premier. They watched as Chinese and German companies signed numerous cooperation agreements. One will allow BASF, the German chemical producer, to spend US$10 billion building a wholly owned plant in southern China.
That deal also underscores how slow China has been to open up, though.
"There has been a big shift in the messages coming back from European companies based in China, who used to be a strong pro-China lobby but now are very critical," said Mr Mark Leonard, co-founder and director of the European Council on Foreign Relations.
After China, Japan is the European Union's second-biggest trading partner in Asia. The agreement signed on Tuesday in Tokyo by Mr Shinzo Abe, Japan's prime minister, and the European Council president, Mr Donald Tusk will eliminate 1 billion euros, or US$1.2 billion, in tariffs that European companies pay per year.
Once the treaty takes effect in 2019, it will lead to an increase in trade of 16 percent to 24 per cent, according to estimates from the European Commission, the executive arm of the European Union.
Regional producers of food products, which are subject to especially steep tariffs in Japan, are expected to be the biggest beneficiaries. Japanese carmakers will also benefit from a reduction in tariffs that have helped prevent Toyota from being anywhere near as big in Europe as it is in the United States.
"It's a light in the increasing darkness of international politics," Mr Tusk said of the trade agreement. "I'm absolutely sure you know what I mean."
It's a big deal for Mr Antonio Fagundo, chief executive of Masaltos, a small shoe company in Seville, Spain. The business, founded by Mr Fagundo's parents, sells shoes that look like normal footwear but add several inches to the wearer's height.
The new trade pact will eliminate levies that add 50 per cent to the price of Mr Fagundo's shoes in Tokyo. That will make it easier for Masaltos to compete with local products.
"We are going to be able to grow much more quickly," said Mr Fagundo, who sold about 500 pairs of shoes in Japan last year — a significant number for his small company. He expects that number to double once tariffs disappear.
That, and growth in other export markets, will allow Masaltos to add three workers to its existing staff of 13, Mr Fagundo said. That may not sound like much, but the city needs all the jobs it can get. The region is still recovering from an economic crisis that began a decade ago.
Mr Fagundo is watching Mr Trump, however, with concern. "I don't know why he's doing it," Mr Fagundo said of the president's trade war.
Mr Trump, after placing levies on steel and aluminum from the European Union, is poised to put tariffs on imported vehicles — a measure that could cost the European Union economy hundreds of billions of dollars.
The European Commission has already responded to Mr Trump's steel and aluminum tariffs by penalising American products like motorcycles and orange juice. There will be more retaliation if the auto tariffs take effect, Ms Malmstrom, the trade commissioner, has said.
By opening up new markets, Europe wants to at least lessen the blow. But Mr Schmieding of Berenberg estimated that, if the European Union succeeds in negotiating a spate of trade deals, they would add up to maybe one-third of the American market. Trade between Europe and Japan is only one-fifth of Europe's trade with the United States.
Mr Fagundo, the shoemaker from Seville, also sells his products to American customers online and has not had any problems yet. But he is hedging his bets.
"If the United States becomes more difficult," he said, "we have to focus on Asia." THE NEW YORK TIMES