Thailand's most polarising family rises again before election
BANGKOK — For nearly two decades, the military and conservative establishment in Thailand has sought to keep former Prime Minister Thaksin Shinawatra and his supporters out of power.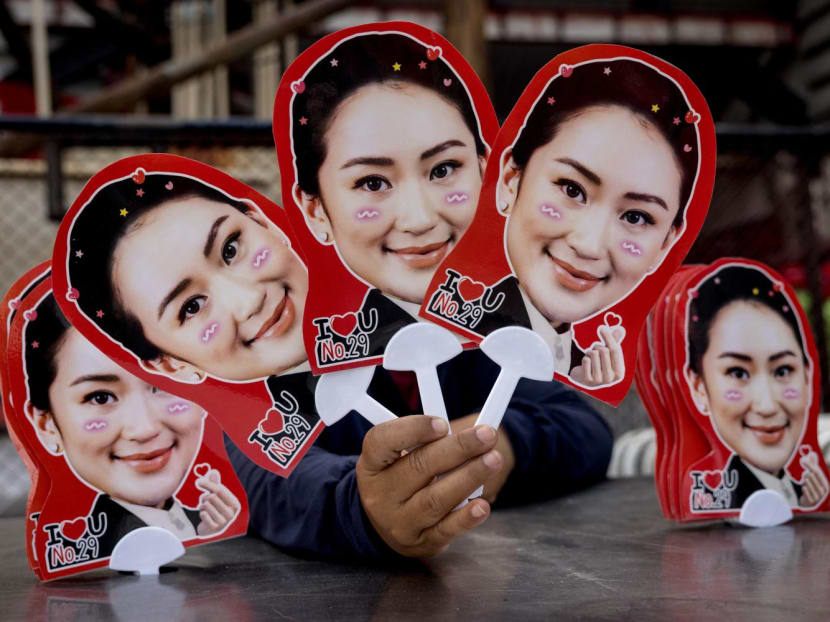 BANGKOK — For nearly two decades, the military and conservative establishment in Thailand has sought to keep former Prime Minister Thaksin Shinawatra and his supporters out of power.
Mr Thaksin, a populist politician and a business tycoon, was ousted in a coup in 2006 before he fled the country. Several years later, his sister succeeded him as prime minister and then suffered the same fate.
Now, conservatives are watching warily as his political party looks set to dominate next month's election. The party's star campaigner is Ms Paetongtarn Shinawatra, Mr Thaksin's youngest daughter and a strong contender for prime minister.
With a formidable last name but little in the way of political experience, Ms Paetongtarn, 36, has revived the prospect of her father's return from exile and the resurgence of the most politically polarising dynasty in Thai politics.
Critics have tried to seize on her family's past scandals — and on her current pregnancy, eight months along — but she has galvanised crowds during campaign events and fueled nostalgia for her family's legacy.
Ms Paetongtarn's rise has stirred concerns that if she were elected, Thailand might return to the political instability that characterised the terms of her father and aunt, both of whom faced opposition from the military.
Questions have dogged her campaign: What are her credentials besides her family name? Would she prioritise ending her father's exile?
Mr Jatuporn Prompan, a longtime ally of Mr Thaksin's, now estranged, said the candidacy of his daughter is a reflection of "how Mr Thaksin thinks, that he doesn't trust anyone but his family."
"She will face tremendous pressure from the opposition, be scrutinised and criticised," Mr Jatuporn said. "Mr Thaksin shouldn't do this to his children."
It remains unclear if Ms Paetongtarn, a deputy CEO of a family-run hotel management company, will ultimately get the top job. Pheu Thai, the party founded by her father, has named two other candidates for prime minister in addition to her: A real estate mogul and a former attorney general.
It is likely that the 250-member military-appointed Senate, which ultimately votes for the prime minister, would resist choosing the daughter of a longtime nemesis. She also faces a challenge from the Move Forward Party, a progressive party that has appealed to the young.
But there is no disputing that Mr Thaksin's political brand continues to be a force to be reckoned with in Thailand, even 17 years after he went into exile abroad.
Since 2001, the political parties he founded have consistently won the most votes in every election. (Pheu Thai is the third incarnation of Mr Thaksin's party after the previous two were dissolved.)
Many Thais still recall fondly his populist agenda, in particular his US$1 (S$1.34) health care programme and the disbursement of loans to farmers when he was prime minister from 2001 to 2006.
"The whole sense of caring for the poor and the downtrodden and the ability of Thaksin to communicate in a simple Thai language to the 47 million Thai people — the have-nots — there has not been any Thai politician that has been able to give an alternative," said Mr Kasit Piromya, a former foreign minister who later became an outspoken critic of Mr Thaksin's.
But that same popularity made Mr Thaksin, 73, a threat to the conservative establishment: A nexus of Thai royalists; the wealthy and the military; and the Thais who support them.
His political rivals have consistently accused him of trying to overthrow the Thai monarchy.
Prime Minister Prayuth Chan-o-cha — the general who seized power from Mr Thaksin's sister in a 2014 coup and has ruled the country since as a staunch royalist — walked out of a news conference in January when a reporter tried to ask him about the possibility of Mr Thaksin's return.
"Don't talk about that person," he said. "I don't like it."
Despite Mr Thaksin's political misfortunes, he remains one of Thailand's wealthiest people, with a net worth in 2022 of about US$2.1 billion.
Ms Paetongtarn has said there are "no plans" for her father, who lives mostly in Dubai, to return to Thailand, although Mr Thaksin has said previously he would "definitely return" this year.
Ms Paetongtarn's press team declined to make her available for an interview with The New York Times.
Some Thais are frustrated that Mr Thaksin's possible return has once again become an election issue, for his popularity is not universal, particularly among younger voters.
Accusations of corruption dogged Mr Thaksin's second term in office.
In 2006, there were months of protests in Bangkok after reports that his family had netted US$1.9 billion from the tax-free sale of their stake in Shin Corporation, a vast telecommunications conglomerate run by the family, to Singapore's Temasek. The unrest culminated in a coup that year.
In 2008, Mr Thaksin fled to England, saying he could not get a fair trial on a series of corruption charges; he was later sentenced to a total of 12 years in prison.
In 2013, Mr Thaksin's sister, Yingluck, who had become prime minister in 2011, proposed an amnesty bill to pardon people who committed offenses during the turmoil after the 2006 coup. This triggered violent protests.
After another coup in 2014, Ms Yingluck fled Thailand in 2017, shortly before she was to appear in court on negligence charges over a rice subsidy scheme.
The country has become more polarised in the years since Mr Thaksin and his sister left.
The split between the "red shirt" pro-Thaksin protesters from the rural north and the "yellow shirt" anti-Thaksin faction made up of royalists and the urban elite remains.
A new political divide has also emerged — one that runs along generational lines.
In 2020, tens of thousands of mostly young protesters gathered in the streets of Bangkok, calling for democratic reform, and, most surprisingly, checks on the monarchy's power, a previously taboo subject in a country where criticism of the institution can lead to a maximum 15-year prison sentence.
Once a stable ally of the US, Thailand has moved closer to China under the military junta that ousted the Shinawatras.
The country reported the slowest economic growth in Southeast Asia last year compared with other major economies in the region.
Many Thais blame Mr Prayuth, who is trailing in the polls.
Echoing Mr Thaksin's populist policies, Pheu Thai has pledged cash handouts and an increase in the minimum wage to US$18 a day from the current average of US$10.
Known widely by her nickname, "Ung Ing," Ms Paetongtarn is the third child of Mr Thaksin and Ms Potjaman Na Pombejra, who divorced Mr Thaksin in 2008.
As a little girl, she shadowed her father while he campaigned and played golf.
She graduated with a degree in political science from Chulalongkorn University and then studied international hotel management at the University of Surrey in England.
In a 2022 television interview, Ms Paetongtarn recalled the day the army launched the coup against her father, when she was 20.
She was studying with a friend when her mother called and told her to come home: "The tanks are out."
"Confused, I thought to myself: 'What is a tank?,'" Ms Paetongtarn recalled. She said she cried and feared for the safety of her family.
"The country needs to move forward," she said in the same television interview.
Mr Thaksin said his daughter was drafted into politics after people said that "they wanted to see a Shinawatra family representative as a force in the party."
They had asked for a volunteer, "and Ms Paetongtarn answered the call," he told Nikkei Asia, a Japanese news outlet.
Mr Nattawut Saikua, director of the "Pheu Thai Family," said he believes in Ms Paetongtarn's potential, citing her ability to galvanise crowds.
"She will succeed" with the help of advisers, he said in an interview.
It remains unclear if Ms Paetongtarn's campaign will resonate among Thai youths.
Last month, during a Pheu Thai rally, youth activists asked if Pheu Thai would amend the law that criminalises criticism of the monarchy.
Two activists present at the rally, Ms Tantawan Tuatulanon and Ms Orawan Phuphong, said the group asked Ms Paetongtarn to mark on a board if she agreed that the law, known as Article 112, should be abolished.
According to them, Ms Paetongtarn told the activists: "I don't want to participate in this activity."
Then she walked away.
This article originally appeared in The New York Times.