Is this thing on? A look back at political hot mic moments
NEW YORK — What happens when politicians are caught saying impolitic things?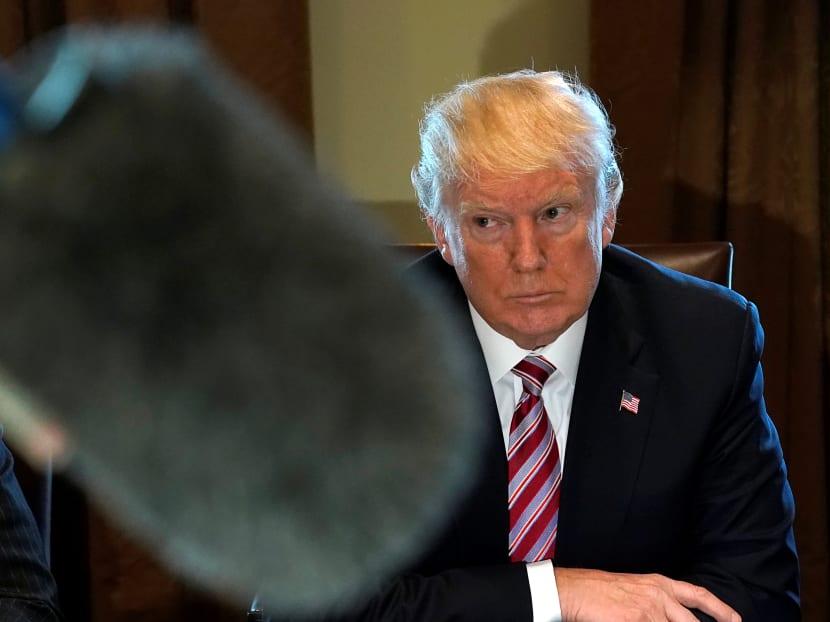 NEW YORK — What happens when politicians are caught saying impolitic things?
This week, Prime Minister Justin Trudeau of Canada appeared to become the latest in a long line of world leaders who say how they really feel in private company, only to realise later that their remarks have been recorded and transmitted across the globe.
While at a NATO anniversary celebration in London, Trudeau spoke to a close circle of notable figures, including President Emmanuel Macron of France, Prime Minister Boris Johnson of Britain and Prime Minister Mark Rutte of the Netherlands.
In a video of the conversation that went viral, Trudeau can be overheard making a reference to President Donald Trump's affinity for news media attention.
"He was late because he takes a 40-minute news conference at the top," Mr Trudeau said of the American president.
Some of the group's members were seen laughing and smiling in the video, but later distanced themselves from it. Mr Trump had planned to tout his foreign policy accomplishments at the meeting, but his visit was overshadowed by the recorded encounter. He then called Mr Trudeau "two-faced" and returned to Washington earlier than expected.
In a notable hot mic moment of his own, Mr Trump was recorded making vulgar comments about women while filming a segment for "Access Hollywood" in 2005.
But before the Instagram era, when media outlets controlled the airwaves, a salty remark or an unscripted comment could take days to surface, if it ever did. Now that smartphones are always rolling, and social media offers people more ways than ever to tune in, "off the record" comments feel like a thing of the past.
Let's roll the tape.
'WE BEGIN BOMBING IN FIVE MINUTES' (1984)
As tensions mounted between the United States and Russia during the Cold War, President Ronald Reagan prepared for a regular weekly radio broadcast. But while testing the microphone, the president went off script.
"My fellow Americans," he began, "I am pleased to tell you today that I've signed legislation that will outlaw Russia forever."
"We begin bombing in five minutes," he said.
CBS and CNN considered the remarks "off the record," and did not publish them.
But other outlets, including The New York Times, printed the president's remarks, and some on their front pages. The Kremlin was not amused and called the remarks "unprecedentedly hostile."
High-ranking officials and strategists winced that the president had undone months of delicate diplomatic talks with the Kremlin, while also touching off uneasiness among Western Europeans and damaging his political reputation at home.
A 'MAJOR LEAGUE' JERK FROM THE TIMES (2000)
During a campaign rally in Naperville, Illinois, Mr George W. Bush was seen smiling and waving to the crowd from a stage as the band's joyful tune concluded.
Mr Bush leaned toward his running mate, Mr Dick Cheney, and nodded to a reporter in the crowd. His mic was on.
"There's Adam Clymer," he said, "major league asshole from The New York Times."
To which Mr Cheney replied, "Oh yeah, he is, big time."
Television stations and newspapers pounced on the tidbit, deriding Bush's language as "undignified." (The Times, and other outlets, did not publish the actual vulgarity at the time.)
Bush did not apologise. According to Mr Clymer's obituary, a Bush campaign spokesman said Mr Bush had been upset by "very unfair" coverage by Mr Clymer.
WAR AND PEACE, AND DIET COKE (2006)
Six years later, Mr Bush's folksy language was on display while he was munching on a roll at a lunch with fellow world leaders at the Group of 8 summit in St. Petersburg, Russia.
A live microphone picked up unfiltered comments in which he blended banal conversation about birthday gifts and his preference for Diet Coke with matters of war and peace.
At one point, Mr Bush offered a blunt critique of how the United Nations might resolve the continuing conflict between Israeli troops and Hezbollah guerrillas in Lebanon.
"The irony is, what they really need to do is to get Syria to get Hezbollah to stop doing this" stuff, and it's over, Mr Bush was heard saying to the British prime minister, Mr Tony Blair — using a stronger word than "stuff."
After some time, Mr Blair became aware that gleeful journalists could be listening in and switched off the microphone.
BENJAMIN NETANYAHU IS A 'LIAR' (2011)
While at the Group of 20 summit meeting in Cannes, France, Mr Nicolas Sarkozy, the French president, confided in President Barack Obama that he could no longer bear Mr Benjamin Netanyahu, the prime minister of Israel, and went on to call Mr Netanyahu a "liar" in a private conversation that turned out not to be private.
"You're fed up with him," Mr Obama said. "But I have to deal with him even more often than you."
A group of French reporters sitting in a separate location had plugged headphones into devices that were transmitting simultaneous translations, and reported what they heard.
The moment came at a delicate time, just hours before a significant report on Iran by the International Atomic Energy Agency was to be released, and amid heightened tensions among France, Israel and the United States over the Palestinians' request for recognition as a state.
'AFTER MY ELECTION I HAVE MORE FLEXIBILITY' (2012)
At a nuclear summit in Seoul, South Korea, a confident Obama leaned in for a one-on-one moment with President Dmitri A. Medvedev of Russia.
Both had struggled to find common ground amid strong objections in Russia to the American plans for a missile defense system based in Europe.
"This is my last election," Mr Obama could be heard saying. "After my election I have more flexibility."
Mr Obama apparently felt sure he would win, and he did. But in the immediate aftermath of the exchange, the White House scrambled to clarify Mr Obama's remarks for the press beating down their door. Republican challengers also seized the moment.
Mr Newt Gingrich, who was running for Mr Obama's job, told CNN, "I'm curious: How many other countries has the president promised that he'd have a lot more flexibility the morning he doesn't have to answer to the American people?" THE NEW YORK TIMES