#trending: Woman in US finds S$421 hidden in thrift shop handbag with note about infidelity and a dying wish
PHILADELPHIA, PENNSYLVANIA  — A woman from Philadelphia in the United States has set the social media world abuzz with a video describing how she found US$300 (S$421) hidden in a handbag she bought at a Salvation Army thrift store for US$6.99, along with a tantalising note.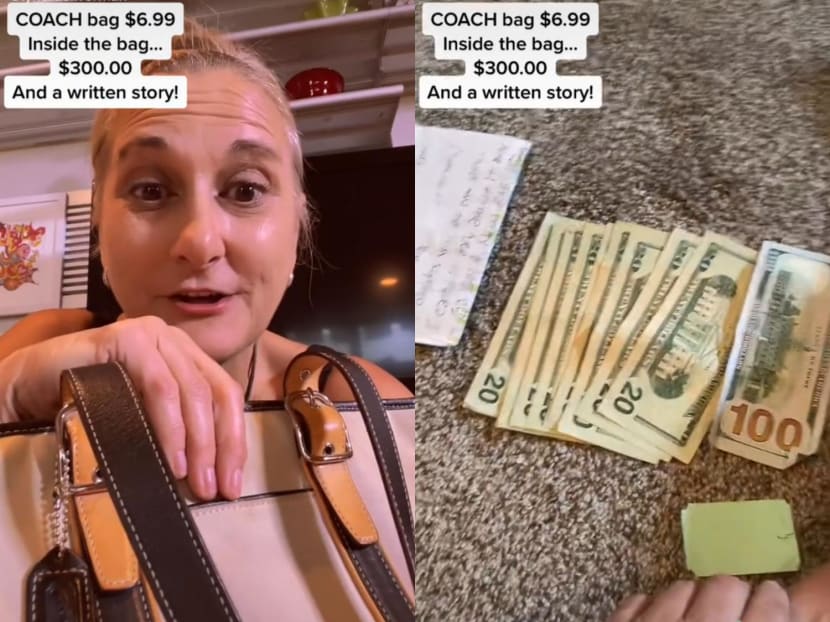 PHILADELPHIA, PENNSYLVANIA  — A woman from Philadelphia in the United States has set the social media world abuzz with a video describing how she found US$300 (S$421) hidden in a handbag she bought at a Salvation Army thrift store for US$6.99, along with a tantalising note.
In a video uploaded on the video-hosting platform TikTok, Ms Lynora Silverman, who goes by the handle "marthainfused", also relates how she found a note with the cash, telling an intriguing story of why the surprise jackpot came to be there.
The note from a woman who identifies herself only as Martha read: "I have three children. They will give my things to goodwill when I die. So I am putting their inheritance inside all my favourite things."
Ms Silverman, 56, believes Martha may still be alive, and she is on the hunt to find her.
She said that she bought the Coach bag at the local Salvation Army thrift shop, where donated second-hand items are sold to raise money for the charity.
Showing the stained interior of the bag, the massage therapist said that she was just starting to clean it up when she discovered an envelope filled with the money hidden under the bottom lining of the bag.
The note, written on an envelope containing the money, said that the bag was "given" to Martha years ago by her husband's girlfriend, but under rather awkward circumstances.
Martha wrote: "Actually, I came home early from a visit to my parents' house in Connecticut. She must have left quickly because she forgot her bag and shoes." 
She also said that she started using the bag every day, and had always wondered if her husband noticed that it belonged to his mistress. 
Concluding her letter, the mystery woman wrote: "I am giving it away because my kids don't want it. So, go buy yourself a new bag. Love, Martha."
The TikTok video has garnered nine million views and 1.9 million likes since it was uploaded on July 8.
TikTok users flooded the comments section with expressions of support and amazement at Martha's actions. 
One top comment read: "Tea from beyond the grave."
Another remarked: "Martha is the level of petty I aspire to be", while many others dubbed her a "queen", "legend" or "G.O.A.T" (greatest of all time).
The designer brand behind the bag, Coach, also chimed in, declaring the woman "an icon".
While one user likened the situation to a "mini Hallmark movie", referring to the entertainment channel that specialises in romantic movies, another joked that a "home wrecker" could be watching the video and saying, "Hey, there's my bag".
Many social media users also urged Ms Silverman to return to the thrift store to check if Martha had left anything else. 
In a video uploaded a day later, Ms Silverman shared her suspicions that Martha could still be alive.
"That story sounds to me like she is still alive. Almost like she's giving her stuff away while she's alive," she said.
"Or did she stash all the stuff, all the money in all of her favourite things before she died because she knew her kids would give it away?"
The Philadelphia resident later returned to the Salvation Army store in a quest for answers and was told by an employee that Martha had last been seen in December last year.
A few days later, Ms Silverman was alerted to a comment on her original viral video in which another woman claimed to have found a similar message in her thrift store purchase. 
In her latest update, Ms Silverman said that the woman had found a box belonging to Martha at an unspecified thrift store but did not want to be identified.
A letter was found inside a plastic container filled with glasses and shredded paper.
The letter begins with the same premise: That Martha is hiding notes and money because her children will donate everything when she dies. However, the woman apologises that this particular donation box did not include any money. 
Ms Silverman reads the letter aloud in the video: "I never did meet a stranger, so I hope you don't mind my sharing the tale with you. I may go and lose my mind, so I better get this off my chest before I do." 
Martha stated that her husband, whom she identified only as "Rufus" was a "player" and would get "all kind of crazy when a set of legs walked into the room".
She said that his brother "Willy" had the same reaction to women. She said that Rufus was close to his brother and was overcome with grief when he died. 
Martha goes on to describe a heartbreaking story of how she discovered that her husband had impregnated his brother's widowed wife and that she agreed to help care for her.
"After (the baby) was born, with a DNA test to confirm Rufus was the daddy, she ran along, leaving us to raise that little boy as our own," she said. Martha and her husband later had two daughters of their own.
"I held onto the DNA papers until now," Martha wrote, adding that she kept the papers in a drawer with everyone's birth certificates.
Fearing that her children might find them, Martha said that she shredded them but felt unable to throw them away.
"So I decided to use it as packing," she wrote.
"That DNA test is helping to protect these fragile glasses like it did protecting my husband's poor mama from shame and protecting our son's relationship with his daddy. Because even though Rufus is long gone, he lives on strong in our boy."
She then concludes the letter with a request for the recipient to discard the shredded paper on her behalf.