#trending: Chinese cosplayer claims she was detained by police for wearing a kimono
SUZHOU, CHINA — In a video that went viral on Chinese social media over the weekend, men in what looked like police uniform can be heard shouting at a young Chinese woman dressed in a Japanese kimono, who is apparently in the midst of a cosplay photoshoot in Suzhou.
A video that went viral on Chinese social media over the weekend showed what looked like policemen shouting at a young woman dressed in a traditional Japanese costume.
According to the woman, who is a cosplayer, she was hoping to recreate a scene from a manga along Huaihai Street in Suzhou. The street is commonly referred to as Suzhou's "Japanese Street" and is home to many Japanese establishments.
She later wrote about the incident on social media. She said she and her photographer friend were surrounded by police and taken away.
This is not the first time a Chinese person has been criticised or berated for wearing a Japanese costume. Similar incidents have been captured on video and posted on social media.
SUZHOU, CHINA — In a video that went viral on Chinese social media over the weekend, men in what looked like police uniform can be heard shouting at a young Chinese woman dressed in a Japanese kimono, who is apparently in the midst of a cosplay photoshoot in Suzhou.
They then took her and her companion away.
The clip has reignited an age-old debate amongst netizens about the social faux pas of wearing a kimono in China, where many still bear grudges against Japan for its invasion of the country during World War II.
According to the woman, who later shared her experience online, her "capture" happened on Huaihai Street, Suzhou, Jiangsu in China last Wednesday (Aug 10).
Huaihai Street is commonly referred to as Suzhou's "Japanese Street". Home to many Japanese establishments, it was remodelled after the Dotonbori area in Osaka, Japan and even used to have kimono rental shops for visitors to take photos with.
However, after much online controversy, these kimono rental shops have shut down and the Japanese Street has become much more "deserted", said one user on Chinese media platform Sohu.
It was at the street that the cosplayer said she intended to "recreate the scene of Ushio and Shinpei carrying takoyaki (Japanese octopus balls) at the end of the Summer Time Rendering manga", dressed in a casual summer version of the kimono which is better known as a yukata. 
"When (I) went with the photographer to queue for takoyaki, I got surrounded by the police and then taken away," she explained in a Weibo post on Sunday.
In the video, a man in a blue uniform is heard yelling: "If you come here wearing hanfu (Chinese traditional clothing), I wouldn't say this. Right? But you are wearing a kimono, as a Chinese.
"You are a Chinese! Are you Chinese?"
The woman responds calmly: "I want to ask if you can raise your voice at me like this."
When he replies in the affirmative, she then asks for the reason.
"On suspicion of picking quarrels and provoking trouble, okay?" snaps the officer. "Well then, you can both come with us."
The video comes to a chaotic end as the officers grab them by the arms and lead them away. Another video taken by a passer-by shows them being escorted off by a group of about 10 men in blue uniforms.
CHINESE NATIONALISM 'OUT OF CONTROL'?
"I really don't know where his logic came from?" said one Weibo user, referring to the man in uniform in the video. "Last year, people in hanfu went (to Huaihai Street) to deliberately cause trouble ... Which one is more likely to be 'picking quarrels and provoking trouble'?"
Another agreed that cosplay should not warrant such a response, saying: "Anyway, (you) won't wear it every day to go out. And cosplayers don't wear it because they think it looks good, but to dress up as anime characters that they like."
Chinese Twitter users referred to the incident as "the second Cultural Revolution", with one exclaiming: "(We) don't even have the right to choose what to wear! (It's getting) more and more scary."
On Reddit, international netizens chimed in as well, saying that "the nationalism in China is at an all-time high" and "spiralling out of control".
"They should go after all the people wearing French and Italian designer clothing too," remarked one top comment. "Gucci bag? Yep traitor. Off to jail with you."
"You miss the point," responded another user. "Anything about Japan is demonised in China, including Japanese towns and cars."
One Reddit user agreed, but added that the cosplayer should not have been taken away.
"As a Chinese, I really hate people wearing Japanese traditional clothes in China, but these policemen have no right to arrest the girl just for that. What a shame!"
But beyond the anti-Japanese sentiment, one Chinese YouTube user noted: "The point is not what clothes you wear, the point is 'picking quarrels and provoking trouble' — this pocket crime can be used on anyone, for any reason."
According to the South China Morning Post, the vaguely-worded criminal charge is widely known in China as a catch-all offence or a "pocket crime", used by authorities against all manner of activists and dissidents.
Though the incident occurred last Wednesday, it was not until last Friday (Aug 12) that it began to make waves online, starting with the cosplayer's own post on Qzone, a popular social networking site known as QQ空间 in Chinese.
"(They) took photos of me, confiscated my cosplay outfit, deleted the photos I had shot and even asked me to write a 500-word reflection," she wrote. "I feel like I have no dignity right now."
Speaking of her love for multiculturalism, including Japanese, European and traditional Chinese cultures, she asked: "Is it wrong for me to like anything?"
She said that the police also thoroughly examined the contents of her mobile phone, called her photography school to instruct them to "educate" her, and "threatened" her not to post about the incident online.
"If this post gets removed, I wouldn't be surprised. I can only say I'm really very disappointed, it turns out I never had the freedom to dress or the freedom of speech."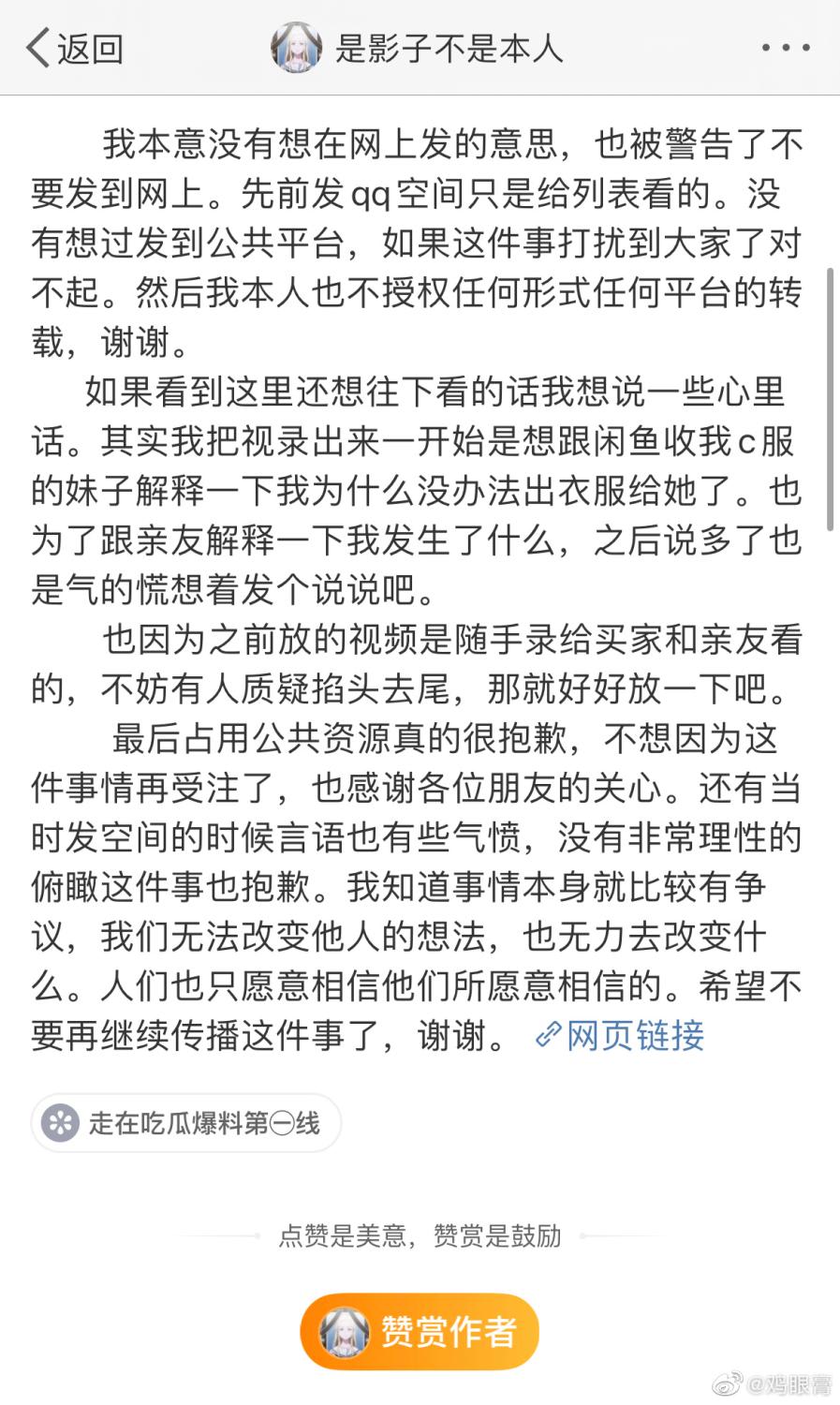 Another netizen then shared the Qzone post to Weibo where it blew up on Sunday (Aug 13), prompting the cosplayer to pen another two explanatory posts on the microblogging site.
In them, she elaborated on the incident, claiming that she and her companion had been detained for about five hours after being escorted away and were only allowed to leave at 1am the following day.
"If this is what you want to hear, I can also say it to you," she wrote. "Sorry, I shouldn't have ignored public sentiment and walked the streets in Japanese clothing, this is wrong and dangerous behaviour.
"For having hurt our national sentiment, I'm very sorry."
She then said that she had initially not intended to post about the incident on any public platform, and had only posted it on Qzone for her close contacts.
ACCUSATIONS OF 'STIRRING UP NATIONALIST SENTIMENT'
Despite her wishes, the hashtag "女子街头穿和服拍照被警方带走" or "woman on street wearing kimono to take photos taken away by the police" on Weibo has been viewed over 260 million times and generated more than 32,000 discussions.
With Monday coincidentally being the anniversary of Japan's WWII surrender, many Weibo users began to question the nature of its virality, suggesting that it had not surged to the top of the real-time Hot Search List (HSL) organically.
"Every time the anniversary comes around, there must surely be a delicate and innocent girl wearing a kimono on the HSL," one said sarcastically.
"Everyone, just wait, there will be more in September (during the anniversary of the Mukden or 9.18 Incident, during which the Japanese invaded Manchuria) ... What started on Aug 12 suddenly landed on the top of the HSL at 5pm today (Aug 15)."
The post gathered over 13,000 likes and 1,300 comments, most of them in agreement and speculating that the publicising of the incident was deliberately done to "stir up nationalist sentiment".
Last year, a woman was also turned away from a Covid-19 testing site in Xiamen for wearing a kimono, with volunteers telling her off and asking her to come back after changing her clothes.
This woman was later found to be an employee of a nearby Japanese restaurant, where the staff dress in kimonos. One hashtag on the topic was viewed more than 340 million times on Weibo, sparking similarly intense discussions online.
Earlier in February this year, a Chinese tourist wearing a kimono in Dali city in Yunnan province was similarly berated by security guards at a tourist site, who refused to let her enter.
"Have you forgotten the Nanjing Massacre?" asked one guard.
Other tourists joined in, calling her "a scum of society".
On Weibo, the cosplayer wrote: "I do not wish to be noticed because of this incident ... At the time I posted (the Qzone post), there was also some anger in my words, and I'm very sorry for not being completely rational about this.
"I know that this matter is inherently controversial, and we cannot change other people's minds ... People are only willing to believe what they want to believe.
"Finally, (let us) warmly celebrate the 77th anniversary of Japan's defeat and surrender ... let our motherland become even stronger, let our people be able to live in a peaceful and stable world forever!"