#trending: Chinese Harvard student decides 'not to learn English anymore'
A video by a Harvard student from China has gone viral after she went on Weibo to say that she does not want to learn English anymore.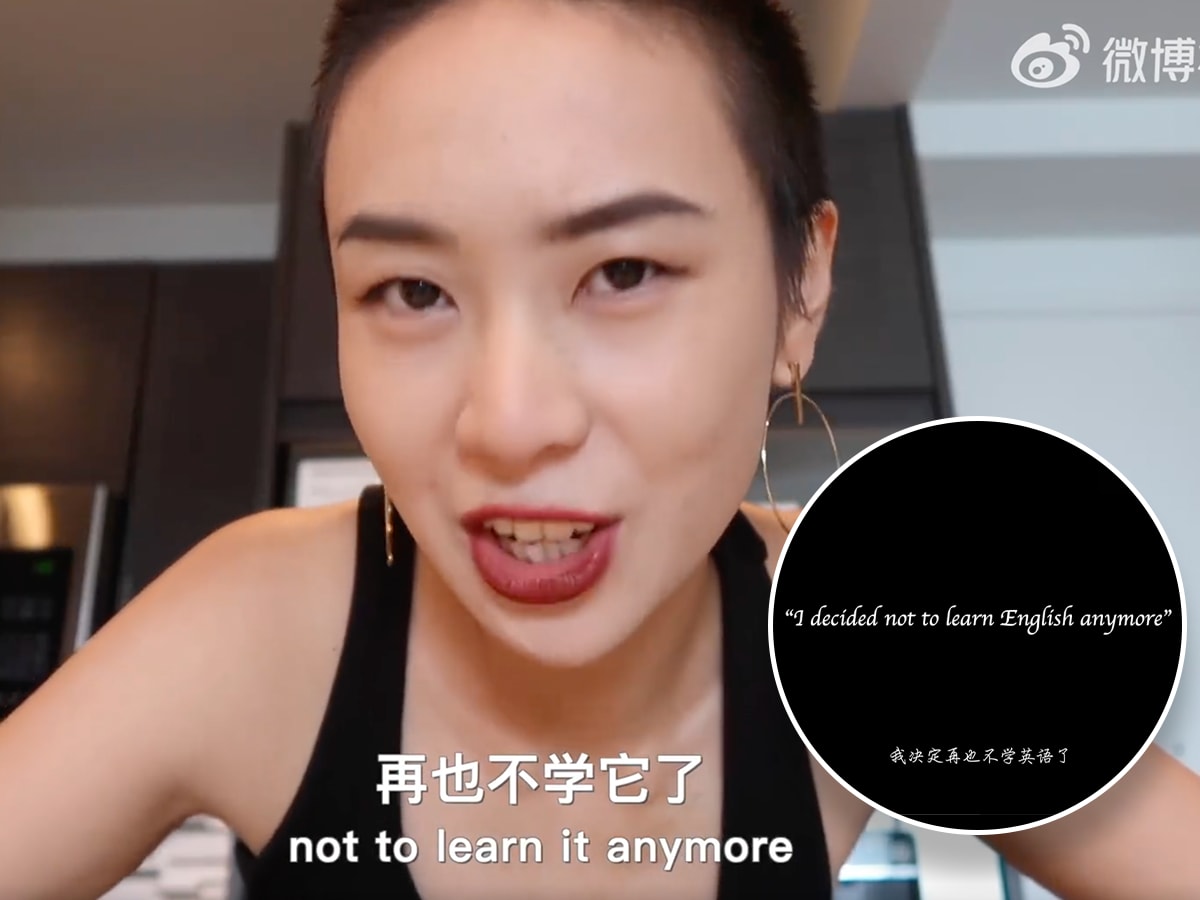 A video of a Chinese Harvard student explaining why she decided "not to learn English anymore" went viral on Weibo
She announced that she would no longer actively try to learn English but would rather treat English as a tool of communication
Some online users felt that she was speaking from a place of privilege, but others could relate to her struggles of trying to learn the language
CHINA — A video of a Chinese Harvard student explaining why she decided to abandon her efforts to master the English language has gone viral on Chinese social media platform Weibo. 
In the seven-minute video posted on Sept 1, a 24-year-old content creator, who goes by the username "Tatala", made a bold statement: "I decided not to learn English anymore."
The video, which has already received 5.2 million views on Weibo, was submitted as an assignment for a Harvard language and equity course. That explains the high-brow quotes from research papers peppered throughout the video. 
On Weibo, the video has also received 121,000 likes, more than 110 million views and the hashtag "When You Decide Not to Learn English Anymore" (#当你决定以后不学英语).
Speaking fluently in English, the education major explained that she had always been a hardworking English student growing up. 
However, she was never fully confident of her English language abilities. 
In one instance, when she was aged 15, Tatala had asked her middle-school friend from the United Kingdom what the difference was between ham and turkey. 
Her friend burst out laughing and told her mother who explained to Tatala, as if she were a child: "Ham is oink oink. Turkey is cluck cluck cluck."
Tatala took offence at this. "I just didn't know the vocabulary. It's not that I'm too stupid to recognise animals." 
The incident spurred Tatala to study English even harder in high school since she felt that she had been made fun of because she was not good at English.
She continued to struggle with the language, feeling like she could "only read, but not comprehend" as an international student in Australia, surrounded by native English speakers.
Then came a moment of epiphany. Tatala took a course called "Women in Chinese Literature" where all the reading material had been translated from Chinese to English.
"I read the Chinese version — three chapters an hour — and my Australian classmates read the English version — one chapter a day. Some of them reported the course being too hard and some dropped out, because they did not understand the context behind the words. But that's what I felt for every single class here."
Tatala then understood the real issue. The problem was not in the prowess of her English language abilities, but rather the inability to understand the cultural contexts that went with using the language. 
That was why she has resolved not to continue to pursue the cultural identity behind English.
"Even if I am just not perfect at English, so what? This is my second language. This is the lingua franca I was pushed to learn. No matter how well or how bad I speak English, I will have my voice," Tatala concludes in her video.
'PRIVILEGED' ENGLISH SPEAKER
Online users were split in their reactions to Tatala's vlog. Some felt that she was coming from a place of privilege, while others could relate to her struggle.
Some people pointed out that the Ivy League student has reached a level of English proficiency to discuss her struggles with culture and language hegemony, whereas many others are still struggling to reach her level of proficiency. 
One Weibo user said: "It's a bit like telling a salary man that I have decided not to work anymore while having a net worth of over 100 million." 
Another said: "The vlogger has already reached 8.5 (band in the International English Language Testing System), applied to Harvard, and can basically live comfortably in an English-speaking country. Of course, there is no need to learn."
On the other hand, Tatala's video has struck a chord among many native Chinese speakers who have learnt English as a second language. 
A user on Shanghai-based video-sharing platform Bilibili said: "Thank you, Tata. As an international student, I am still (not) very (confident) in the language, even though I have been abroad for eight years… I always reflect on and blame myself for not speaking better, but forget that I can speak Mandarin and Cantonese, and I have also learned English."
One Weibo user said: "Yes! I agree! Language is always a tool, the most important thing is to express oneself and one's culture through it… the ultimate goal is to gain a broader self-world, rather than becoming someone else or the so-called 'native speaker'."
Another Weibo user summarised the feelings of many: "The blogger decided to give up trying to integrate, but the title was that she was no longer learning English…This has nothing to do with college students who can't even pass the fourth or sixth levels."