Umno's push to pardon Najib puts Pakatan in dangerous waters, analysts say
KUALA LUMPUR — Umno's insistence on a royal pardon for disgraced former prime minister Najib Razak could cost new ally Pakatan Harapan (PH) in looming elections, with analysts predicting the latter would have to react to preserve support.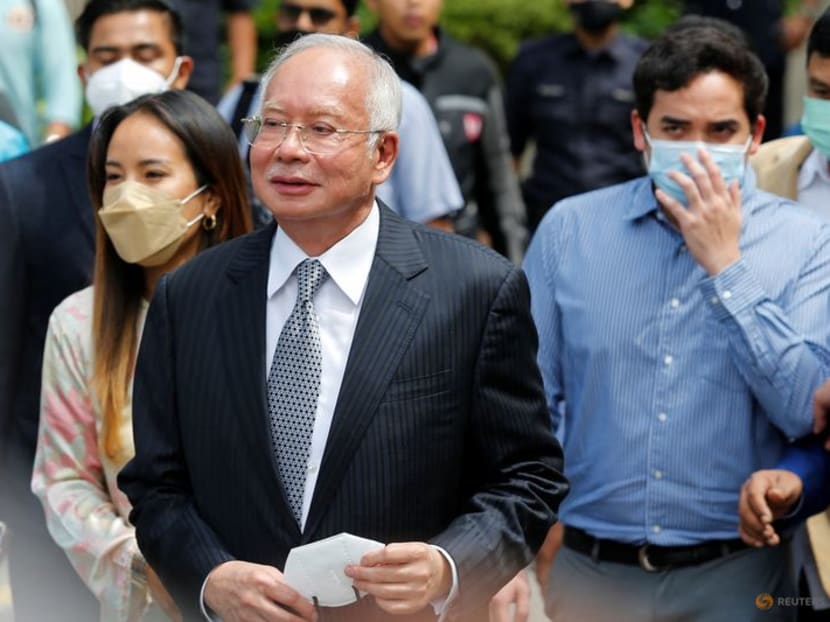 KUALA LUMPUR — Umno's insistence on a royal pardon for disgraced former prime minister Najib Razak could cost new ally Pakatan Harapan (PH) in looming elections, with analysts predicting the latter would have to react to preserve support.
Despite Prime Minister Anwar Ibrahim's attempts to distance himself from the bid, the analysts predicted that voters who backed PH in last year's general election would be unsettled unless the PH chairman made clear he disagreed with Umno's plan to petition Malaysia's King.  
Mr Anwar has been coy about the matter when pressed by reporters, denying that his role on the Pardons Board evaluating Mr Najib's application to the King would lead to conflict, and saying it was Umno's prerogative to appeal for the royal pardon that Najib was constitutionally allowed to seek.
The move is likely political "posturing" on Umno's part to placate the still-influential faction behind Najib and keep the party stable, said Mr Shazwan Mustafa Kamal, associate director at Vriens and Partners, a risk consultancy.
Still, pushing to free the former Umno leader whom the courts have indisputably found guilty of corruption could potentially erode not only the support Umno enjoyed as part of a coalition whose popularity mostly relied on promises of reform and fighting graft, but also of its allies.
"In truth, the pardon for Najib serves as an inflection point for the unity government under Prime Minister Anwar Ibrahim.
"The Umno leadership faces potential backlash should it not exhaust all options to free Najib; and at the same time, should it do so, there is a potential backlash to Anwar's Pakatan Harapan coalition," Mr Shazwan said.
The backlash could manifest itself in protest votes as early as the six state elections set to be called by the end of June, including in Negeri Sembilan, Selangor and Penang that are under PH control.
The three others are in Kedah, Kelantan and Terengganu that are governed by PAS, the strongest component of Perikatan Nasional, which swept most of the federal seats in the northern and east coast states in a surprise showing that rattled rivals.
Comprising PAS, Bersatu and Gerakan, PN won 73 parliament seats in the 15th general election, the second-most by a single political bloc after PH.
RIVAL AMMUNITION 
Much of that support was from conservative Malay and swing voters who would have voted Umno but were disillusioned by the corruption scandals plaguing its leaders, according to analysts.
Buoyed by its strong performance, PN's national leaders have expressed confidence about replicating the coalition's GE15 performance in the six state elections and gaining territory from PH even in its three stronghold states.
Some political observers have shared similar assessments, suggesting the only way Mr Anwar and the ruling coalition could thwart PN was either by managing the economy better or nailing down corrupt politicians.
Since the new government took office last year, several businessmen and politicians, including PN chairman and former prime minister Muhyiddin Yassin, have been charged with corruption and money laundering, nearly all of whom were from or linked to the Opposition.
Mr Shazwan suggested that should Umno succeed in getting Najib pardoned, it could reinforce claims of selective prosecution and undermine Anwar's reform credentials.
"While Anwar and his PH coalition attempt to distance themselves from Umno's actions, the move will ultimately be viewed as a decision that was potentially sanctioned by Anwar as such a critical decision will unlikely not be deliberated within the unity government's political leadership," he said.
"This, in turn, may hurt Anwar's reformist credentials, as well as anger supporters who may switch votes to PN for the upcoming state election or simply not vote."
Mr Hafiz Noor Shams, a former aide to PH's first finance minister Lim Guan Eng, said in a blog post that while compromises between Umno and PH should be expected since they were allies, pardoning Najib would be a "red line" that, if crossed, would risk alienating their power base.
"Pardoning Najib Razak, in my mind, is a red line in any compromise between Pakatan and Barisan. (First) he and his supporters have not expressed any remorse. In a society where corruption is still rampant, examples must be set so we can begin to reset our morals. To free an unremorseful man is the wrong message to send in pursuit of a moral society.
"Two, it opens Pakatan Harapan to partisan attacks from PAS and their allies. So far, Perikatan Nasional, Bersatu especially, have been crippled. They are now in search of an issue to rejuvenate their political fortune. They have tried to make EPF withdrawals as a rallying point.
"They have not been successful there," Hafiz said.
PAKATAN DILEMMA
PKR lawmaker from Johor, Mr Hassan Abdul Karim echoed the views, suggesting concerns about the possible political impact of Najib's pardoning on PH's image is present among Mr Anwar's own party members.
Mr Hassan warned Mr Anwar that his coalition would be punished in the state elections if Najib were to be pardoned and the corruption charges against current Umno president Ahmad Zahid Hamidi, dropped. The case involving the latter has been postponed again, and he has also secured the permanent return of his passport.
Dr Oh Ei Sun, Najib's former political secretary and now a senior fellow at the Singapore Institute of Foreign Affairs, said the controversy could force PH supporters to choose between compromising or abstaining from voting in protest, with the risk of surrendering state power to PN.
"If PH supporters were to punish PH for this by for example not coming out to vote, then they are essentially handing over not only the state governments but the federal government, too, to PN, as MPs now supporting Anwar will definitely have a change of heart when they see the tide is turning in favour of the other side," he said.
Still, the Pardons Board decision could go against Najib. And there is still uncertainty about how Umno leaders plan to go about the process, which can be complex.
Najib is also still on trial for corruption and abuse in other cases linked to the multi-billion-ringgit 1MDB scandal, and consequently still at risk of further convictions that would not be affected by his current pardon application. MALAY MAIL