In an unforgiving sport, they minister to hearts and souls
LONDON — The work is done over a quiet cup of coffee, in the privacy of the physiotherapist's room, or through a brief chat on the touchline after training. It might be no more than a quick text message or email, asking if everything is OK.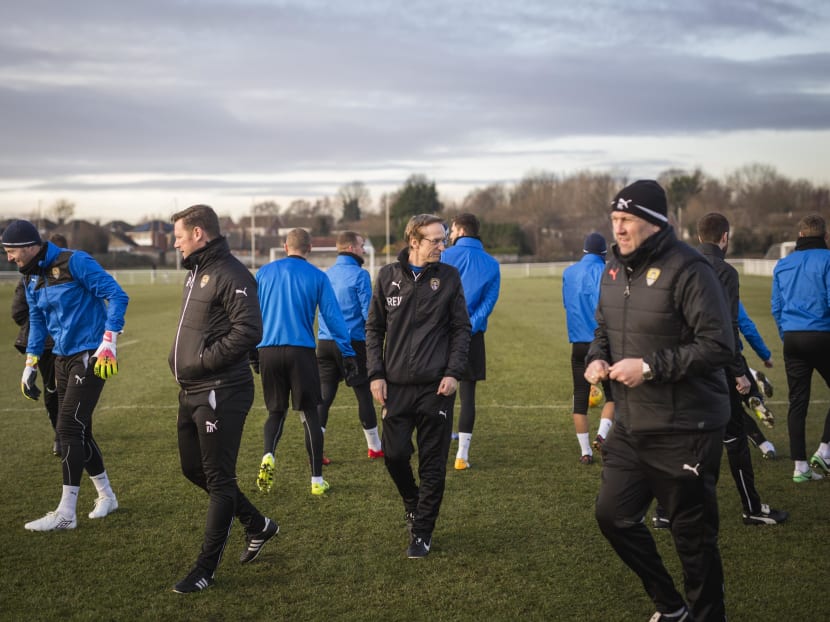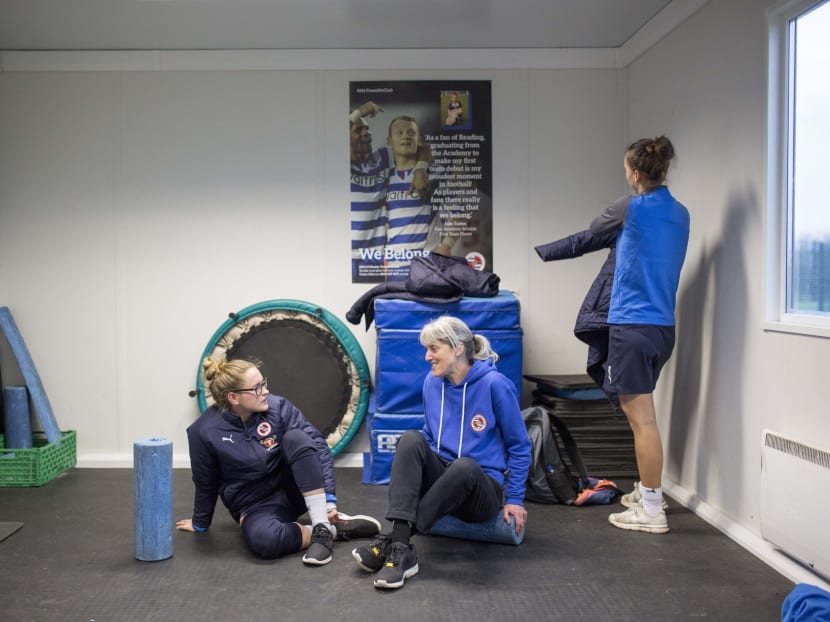 LONDON — The work is done over a quiet cup of coffee, in the privacy of the physiotherapist's room, or through a brief chat on the touchline after training. It might be no more than a quick text message or email, asking if everything is OK.
It is supposed to take just one day a week, but in reality it means being on call, 24/7, even years after the work has supposedly ended.
It is entirely voluntary, and wholly unpaid. It can be sad and troubling: dealing with addictions and pain, fear and death. But it can be joyous, too: helping with births and marriages, healing wounds and building relationships.
Most often, though, it is simply being there: a shoulder to cry on and an ear to bend, the one person in the relentless, ruthless environment of professional soccer who is not concerned with how well you are playing or how many goals you have scored. It is why many players, and so many teams, treasure the discreet presence of a club chaplain.
According to Sports Chaplaincy UK, a charity that places chaplains with teams, some three-quarters of England's professional clubs have someone in the post, either an ordained minister or a layperson.
Though their backgrounds and beliefs come from a variety of Christian denominations, they work according to Sports Chaplaincy's credo to be available to people of every faith, and to those with none.
Much of the chaplains' work cannot be characterised as religious. They are not there to proselytise, but simply to support, helping players, staff members and even fans of their clubs deal with problems professional and personal. It sounds, at first, a little like the role of a psychologist.
"The difference is that a psychologist is employed by a club to produce better performances," said Mr Peter Amos, the chaplain at Barnsley for two decades. "A chaplain is a volunteer whose duty is to support the players as people."
It is not a glamorous role, and not a high-profile one. It can, however, be crucial, particularly to young men and women under intense pressure on and off the field.
"One thing that has always struck me is how vulnerable players can be," said Mr Andy Barrowman, the chaplain for Southampton of the Premier League. "They are vulnerable simply because they spend all of their time pretending they are not. I tell them that when they see me, they do not have to pretend anymore."
Reverend Liam O'Boyle
Notts County
At the start of every season, the Reverend Liam O'Boyle sends a letter to all of Notts County's players, from the first team to the academy. It tells new signings, and reminds established faces, of the role the chaplain fulfills at the club.
"I let them know I'm here to offer friendship and support to them and their families, whenever they need it," Rev O'Boyle said.
For the players who are not religious, he offers a confidential, independent sounding board; for those who are, there is the chance to tap into the network that Rev O'Boyle, a vicar in the Church of England, has among all faith groups in Nottingham.
"Because of the community work we do in the church, I'm very fortunate to know a lot of churches, mosques and temples in the city," he said. "It means I can help players who are not from the city to find somewhere to fulfill their faith needs.
"It can be difficult, for example, for a Muslim player to go to Friday prayers, because of the training schedule, or for a Christian player to attend church on a Sunday if we have a game that day. We can help with that, to let them know what times things are. We can put them in touch with imams or ministers who can help, or with players at other clubs in similar situations."
Helping players establish those links in a new city, Rev O'Boyle believes, is crucial, regardless of whether they are religious.
"The nature of football — especially where we are, in League One and League Two — is often short-term contracts," he said. "The players are often living in a hotel. Their wives and children might not come with them. It can be a lonely time.
"Then there are injuries and insecurities to deal with: You can be a favorite of one manager and not the next. It's best not to bottle feelings up in situations like that. We're there to be a confidential listening ear, or someone to offload to."
Angy King
Reading Women
Every Monday and Thursday evening, for six months, Ms Angy King took a seat in the trailer that serves as the changing room for the Reading women's team. The players would start to arrive 45 minutes or so before training. Ms King would watch, listen, show an interest. "Starting to build relationships is key," she said.
She knew, at least, that the players wanted her there. A layperson — rather than an ordained minister — Ms King had been invited by the team manager one evening to speak with the squad. The players would then "decide if they wanted a chaplain," she said.
After training, several of the team's senior players sought her out and told her the squad was unanimous. She was more than welcome.
Ms King knew she needed time — and a light touch — before the players might be prepared to share their concerns and their anxieties with her, but she believed even in those quiet first few months of sitting and listening, she could still have an effect.
"I've read studies that suggest the presence of a chaplain can make a difference without saying anything," she said. "Just being aware that someone is there helps."
Three years on, those relationships have been established. Over coffee, the players and Ms King would talk about the sorts of things the manager, perhaps, does not have time for: whether they should stay in college, for instance, or problems at home.
Ms King now serves as the chaplain to Reading's development teams, spending much of her time with the parents of children hoping to make a career in soccer. In her experience, the women's game can be considered more supportive than the men's.
"It's a generalisation, but maybe men are less inclined to talk," she said. "The women in the team are really good at sharing with one another. They support each other."
Peter Amos
Barnsley
In more than 20 years as a club chaplain, Mr Peter Amos has only once agreed to pray with a player immediately before a game. He was reluctant to do so, but the player was persistent. Eventually, Mr Amos agreed.
"He went on and had the worst game you can imagine," Mr Amos said.
A retired Baptist minister, Mr Amos makes no secret of the fact that he "wants people to come to faith," but his approach in soccer is discreet. Religion is not, and cannot be, front and centre.
"I try not to be in your face about it," he said.
Mr Amos has found, though, that soccer is a more accepting place for faith now than it was when he took the position at Barnsley in 1996. He had initially been unsure of whether he would want the role; he had to be asked three times to take it.
"I did not want to start something I could not do justice to," he said.
The environment he found then, he said, was significantly more "laddish" than it is today.
"We maybe had one guy who was a nominal Catholic," he said. "Now I find that players talk about it much more openly. That part of players' lives is acknowledged. There is not the same embarrassment. There is a greater respect of the need for support, whether that is psychologically or spiritually."
Mr Amos sees his work "more as an industrial chaplaincy," offering support to staff members at all levels of the club for whatever personal issues they face. But at one point he held regular Bible study and prayer meetings.
"We had about 14 who attended regularly," he said. "People came from other teams in the area, like Doncaster Rovers and the two Sheffield clubs, as well as Barnsley."
Neil Durling
Tonbridge Angels
A few minutes before Mr Neil Durling's first game with Tonbridge Angels — a club based in Kent, south of London — he ran into the club's manager in the stadium tunnel. He introduced himself and explained that he was the team's new chaplain.
"Oh," came the reply. "And what are you going to do, then?"
When Mr Durling, a minister at a local Baptist church, took the post, the idea of a team in English soccer's semi-professional seventh tier having a chaplain — even an unpaid one — was seen as "something of a luxury," he remembered. "Nobody was sure what I would do."
Five years later, the answer is a little of everything. Mr Durling helps lay out the cones at training on Tuesdays and Thursdays. He walks around the field on match days — "offering a prayer," he said — and goes inside to greet referees and their assistants.
"Nobody ever talks to them," he said.
But during the game, his focus switches from the couple of dozen players to the few hundred people who are watching.
"I do a circuit of the ground," he said. "At our level, with our crowds, it's a good chance to speak to people. I sit and stand in a few different places, and chat to a few people.
"Some grab me and say they'd like a coffee. Others tell me if their son is ill, their Dad has just died, about problems at home. Often, they're people who wouldn't consider going to church."
Mr Durling sees matches as a time when church can come to them. THE NEW YORK TIMES