Vegan pork in Hong Kong, impossible burgers in Singapore: how investors grew fat on Asia's fad for mock meat
HONG KONG — Hong Kong entrepreneur David Yeung is encouraging people to eat less meat to help save the earth. The trouble is, too many love their meat, especially pork.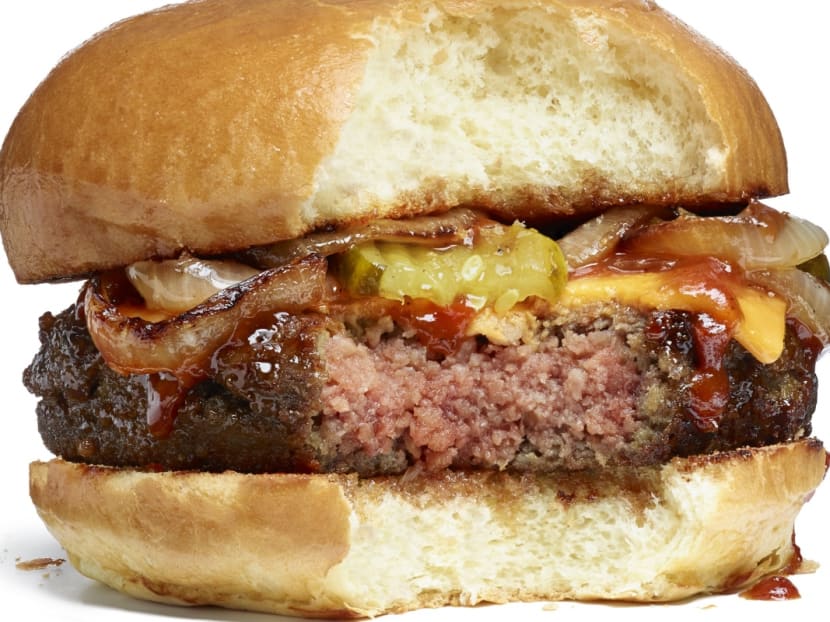 HONG KONG — Hong Kong entrepreneur David Yeung is encouraging people to eat less meat to help save the earth. The trouble is, too many love their meat, especially pork.
Now he thinks he has something that might persuade them – a meat substitute which he says looks, feels and tastes like the real thing.
Chefs have begun using his product, Omnipork, to turn out Shanghainese soup dumplings, sweet and sour pork, as well as tan tan noodles, gyozas and meatballs.
"From vegans to meat eaters, professionals and home chefs have been amazed by Omnipork's versatility, applicability, and ease-of-use in all sorts of cooking. They love how it enables them to make some of the most common Asian comfort and family dishes," says Mr Yeung, one of the investors in a US$2.5 million (S$3.4 million) venture to develop a pork substitute in 2016.
Pork accounts for nearly 40 per cent of global meat intake, the Food and Agriculture Organisation of the United Nations (FAO) says. China is currently the world's largest pork market, representing around half of global demand, according to a 2017 report by DBS Bank.
The FAO projects that Asian countries such as China, the Philippines, Thailand and Vietnam will continue to increase pork consumption on a per capita basis.
Vegetarianism is long established across Asia, and "temple cuisine" features mock meat made from wheat-based gluten and prepared to look like fish, shrimp, and meat. To many non-vegetarians who enjoy their meat, however, mock meat is just fake meat. Many will not touch the stuff.
Read also
Environmental advocate Mr Yeung, 42, the co-founder and CEO of social venture Green Monday, says his pork substitute is made from shiitake mushrooms, soy protein, pea protein and rice to achieve a more meaty texture and flavour.
He is part of a new wave of entrepreneurs and investors in Asia who are in an R&D race to create meat substitutes that can convince meat eaters to switch to plant-based alternatives.
In the last six years, they have pushed out beef, chicken, pork and seafood substitutes that can be turned into everything from hamburgers to fish fillet and Hainanese chicken rice.
Their efforts tap into concerns over food security, the environment, outbreaks of animal diseases such as Avian flu and African swine fever and questions about how to feed the world's burgeoning population.
A recent report in the medical journal The Lancet says that adopting a diet with more plant-based foods and fewer animal-source foods and improving food production will "improve health and avoid potentially catastrophic damage to the planet".
Ms Michelle Teodoro, global food science and nutrition analyst at London-based market research firm Mintel, says the plant-based meat trend is happening at a time when people are also concerned about the environmental impact of raising and eating animals, and horrified by the mistreatment of animals reared through industrial farming.
"The Asian market, with its big population, growing middle class and increasing meat consumption, has investors licking their lips with anticipation," she says.
For enterprises with the right new fake meat products, there is big money to be made.
The global meat substitutes market was worth US$4.1 billion in 2017 and is expected to nearly double in value to US$7.5 billion by 2025, with the Asia-Pacific region projected to grow at the highest rate in terms of value (9.4 per cent) from 2018 to 2025, according to Allied Market Research.
WHAT'S SIZZLING
Investors have taken note. Singapore's state-owned investment company Temasek Holdings led a US$75 million investment in meat substitute firm Impossible Foods, which is also bankrolled by the likes of Microsoft co-founder Bill Gates, Hong Kong tycoon Li Ka-shing's Horizons Ventures and Open Philanthropy Project, an investment fund led by Facebook co-founder Dustin Moskovitz.
Impossible Foods, founded in the United States by Stanford biochemist Patrick Brown, launched in Hong Kong last year, and produces the Impossible Burger.
The meatless patty is made mostly of water, plant protein and soy leghemoglobin, or "heme", which gives the product its meaty colour, texture and aroma. The company debuted its new Impossible Burger recipe in January at CES 2019 and won top prize at the annual consumer electronics expo.
Impossible Foods plans to sell a plant-based alternative to ground beef in supermarkets by the end of the year.
Its main rival, Beyond Meat, was introduced in Hong Kong by Green Monday in 2017 and has attracted investment from Mr Gates, Hollywood actor Leonardo DiCaprio and Tyson Foods — the world's second-largest meat producer. It announced plans to file an initial public offering on the Nasdaq in November 2018.
Read also
Beyond Meat's bestseller is its Beyond Burger, which has a red-meat appearance and bleeds beet juice. The Los Angeles-based company also sells plant-based chicken strips, beef crumble and sausages.
Its products are available at 10,000 retailers in the US, 350 Tesco Stores in Britain and at fast food chains A&W in Canada and Carl's Jr. Beyond Meat announced on Tuesday, March 5, that Beyond Beef – its ground beef substitute – would be available in grocery stores this year.
There are hundreds of millions of vegetarians in Asia who thrive mostly on lentils, tofu and beans as sources of protein. Mock meat products made of seitan — wheat gluten — and tofu are often high in MSG, sodium and additives.
The plant-based food start-ups promise a wider range of vegetarian choices even as the United Nations projects the world's population to soar to 8.6 billion in 2030 and 9.8 billion in 2050.
Ms Daisy Tam, Hong Kong food security researcher and assistant professor of the department of humanities and writing at Baptist University, says the plant-based food trend taps into growing awareness of sustainable development.
"People are becoming more health conscious in general, and 'good food' movements have really taken hold especially in cities," she says.
IN VOGUE
Landscape architect Euphenia Wong started her "Hong Kong Vegetarian Mom" Facebook page with vegetarian and vegan recipes and restaurant reviews in 2013.
"It's in vogue to become vegetarian," she says. "People have started to get more choices — they're fancy and trendy. The restaurants are so nice as well. It's like a fashion thing."
Wong was an avid meat eater before she gave birth to their son six years ago. She says she began relating her son to baby animals and could not bear to harm them, so she stopped eating meat and switched to a mostly vegetarian diet.
Read also
"I became flexitarian not for religion but for health and compassion for animals. I think I've got to protect them like I protect my son," she says.
In her view, the Taiwanese have perfected the art of producing meat substitutes from tofu and wheat gluten, but the Americans have had a head start in making meat substitutes that are more like real meat.
RACE TO THE TABLE
In the race to the table by the plant-based food start-ups, Beyond Meat is already making its presence felt. Its products are available at about 120 stores and restaurants in Hong Kong and Macau.
The company launched in Singapore in August 2018 and plans to expand to 50 new international markets including Taiwan and South Korea this year.
Impossible Foods made a splash in April 2018 by partnering high-profile Hong Kong chefs such as Ms May Chow, Asia's best female chef in 2017, and Mr Uwe Opocensky, of the Uwe and Beef & Liberty restaurants, to launch the Impossible Burger, its flagship food item, in the city.
At restaurant Little Bao, Ms Chow serves a "Chinese burger" with the Impossible patty topped with black pepper glaze, fuyu mayo and lemon kombu coleslaw sandwiched between two fluffy white buns, for HK$118.
At Beef & Liberty, Mr Opocensky adds a Thai twist to the Impossible Burger and serves a grilled patty in a golden bun with chilli, coriander, mint, basil, spring onion, soya mayonnaise, garlic and crispy shallots for HK$137.
The Impossible Burger is available at more than 100 restaurants across Hong Kong and Macau, and more than 188,000 have been sold since April.
The company launched in Singapore on March 7, debuting at eight restaurants including Bread Street Kitchen by Gordon Ramsay, and Privé Orchard.
Social entrepreneurs in Asia, such as Mr David Yeung and Singaporean Ricky Lin, have received recognition for their efforts in promoting a green and healthy lifestyle. But their choice to pursue the making of mock meat was driven by business considerations.
"We never could have anticipated that the launch of Omnipork would coincide with the outbreak of African swine fever," Mr Yeung says. The result was a sudden rise in interest in his product.
"I'm sure a lot of that spike comes from the general public, not just vegetarians and vegans."
In Singapore, Mr Lin and his team at Life3 Biotech — a food technology start-up from the National University of Singapore — began researching and developing plant-based food alternatives in 2015.
Mr Lin, who comes from an average income background, says he pursued food science research so his family could eat healthier and his company aims to keep its products as affordable as possible.
"It is not right to undermine the health interests or requirements of the poorer masses," he says.
Veego, an award-winning plant-based protein that tastes like chicken, will be available in supermarkets and restaurants in the first half of this year.
"Healthier chicken is very expensive. We know that this is not sustainable and this is why we want to develop an alternative for the Asian market," Mr Lin says.
The company is also developing plant-based seafood that has a prawn-like texture, which will be available in the second half of this year and he is focused on appealing to the Asian market.
"Nobody knows Asia as well as Asians do. We need people who understand Asian taste buds to create these products," Mr Lin says.
LET THEM EAT TOFU
Although Mr Lin is looking at ways to keep his products affordable, most of the new plant-based meats are currently too pricey except for the well heeled.
For now, the less well off who want to adopt a meatless diet will probably stick with traditional plant protein, such as tofu and legumes, or less expensive mock meats.
Read also
"I still rely heavily on Taiwanese meat substitutes for day-to-day eating," says Ms Wong, the flexitarian mum.
She pays HK$39 (S$6.75) for a pack of 15 meatball substitutes, which is enough for two meals. Choosing Beyond Meat would cost her twice as much, HK$79 for two burger patties.
A McDonald's cheeseburger costs HK$13.
But the start-ups believe plant-based meat will become more affordable, and prices will drop with greater economies of scale and supply chain efficiency. Omnipork's Mr Yeung, who is also an investor in Beyond Meat, says: "This is an evolution that absolutely will happen. Consumers are going to see more and more affordable healthy natural food in the market."
Mr Yeung says a survey commissioned by Green Monday in 2016 found that 22 per cent of Hongkongers were actively reducing meat in their diets.
He expects more to come around as awareness of the negative effects of meat consumption grows, and people realise the effects a change in their diet can have on the environment and sustainability.
"Given the response and the reception we've had in Hong Kong and Singapore, we expect that this change will definitely happen in Asia," Mr Yeung says.
MEAT YOU ON THE OTHER SIDE
Even then, it might still prove a challenge to persuade the meat-eating masses to change. As disposable incomes rise in Asia, consumption of meat and seafood goes up as well and, in fact, eating meat is regarded by some as a badge of rising affluence.
Asia's meat and seafood consumption is projected to rise by 78 per cent by 2050, according to a 2018 report by Asia Research & Engagement, a Singapore-based consultancy firm.
Ms Jackie Lee, 23, a marketing executive at Hong Kong food and drinks group Dining Concepts, tried going meatless for almost a year for ethical reasons, but gave up.
"While there are vegetarian options, and sometimes even vegan choices, it's hard to share dishes," she says. "No matter how supportive your friends are, you still feel left out and an obstacle every time you go out to eat."
It got too hard to resist meat while eating in a group sharing multiple dishes of meat and a dish of vegetables. "Now that I eat meat again, I don't mind ordering something that's made with plant-based alternatives just for the sake of curiosity, but I would never order it as my main," she says.
Ms Charmaine Cheung, 45, chef and owner of restaurant Charmaine in Shanghai, is not impressed with the new mock meats despite reviews that they look, taste and feel like the real thing.
"If you have something that's pretending to be meat, then you're always pretending. It never works," she says. "When I do vegetarian meals, I really do vegetarian meals – veggies are veggies."
Ms Cheung, who grew up in Los Angeles, says US beef is irreplaceable. "Burgers, prime rib and steak are all in my blood," she says.
"The flavour is just so intense, I really live for it. I eat less meat now, so when I have it I must have the best." SOUTH CHINA MORNING POST