As wages go up, Japanese women reckon with a vast pay gap
TOKYO — As Japanese companies offer their heftiest wage raises in decades, women in the world's third-largest economy are hoping it won't take as long to close the vast gap in pay with men.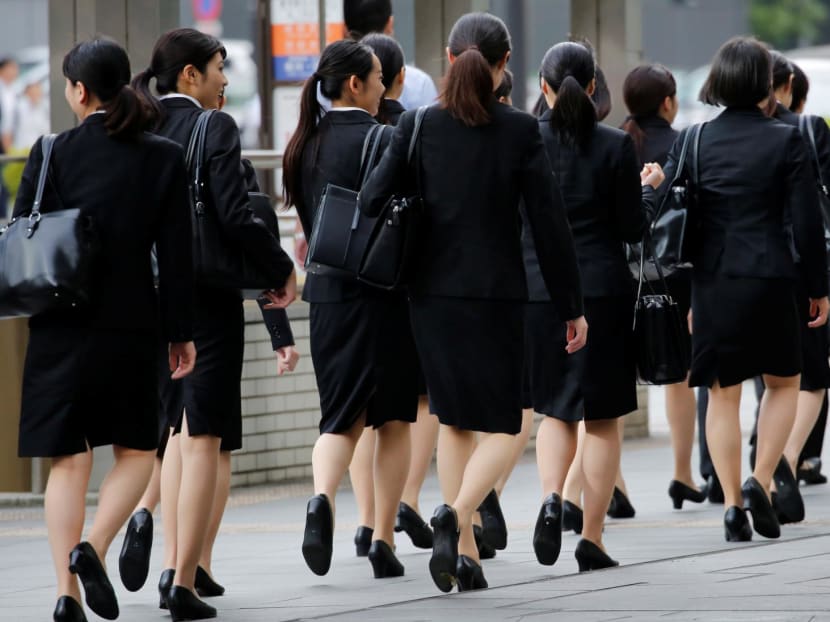 TOKYO — As Japanese companies offer their heftiest wage raises in decades, women in the world's third-largest economy are hoping it won't take as long to close the vast gap in pay with men.
Wages have hardly budged since the late 1990s due to years of deflation and stop-start growth. But it's even tougher for women, who make around 78 per cent of what men earn.
That gender wage gap is the worst among the Group of Seven nations and almost double the Organisation for Economic Co-operation and Development (OECD) average.
Much of the problem, experts and government officials say, is the lack of career advancement.
When Kasumi Mizoguchi joined a top trading firm out of university in 2015, she was dismayed by the gender disparity in a rigid human resources system that classified employees as either "career track" or "non-career track". Non-career workers, who were all women, did the administrative work.
While Ms Mizoguchi was hired on the career track, she left after two years, frustrated, and now works at an advertising and design firm in London.
"Hierarchy was one of the bigger reasons that I left — just feeling that you don't matter, that you don't have a say," she said.
Only 9.4 per cent of managers are women, according to research firm Teikoku Databank, despite women accounting for around a third of full-time workers. The government wants to increase the ratio of women managers to around 30 per cent by 2030, a decade later than it previously targeted.
The percentage of women in senior executive roles is higher, at 13 per cent.
There are signs of improvement. Under disclosure rules introduced last year, bigger companies are required to report their wage gap annually. From this year they will have to disclose more information in regulatory filings, and in some cases disclose the ratio of women in management positions.
The government makes the information available online, allowing job seekers to scrutinise potential employers.
"The fact that companies have to disclose puts pressure on them," said Akiko Kojima, a specialist at The Japan Research Institute. "It is meaningful, but it is not enough. If companies just disclose the data but don't increase the number of women managers, the gap won't narrow."
BIG STAKES
The issue is critical for Japan's economy, experts say, to help address a chronic labour crunch as the population shrinks.
While women's labour force participation has increased in recent years following the "Womenomics" reforms of former Prime Minister Shinzo Abe, more than half of all women work at non-permanent jobs, according to government data. Those positions tend to have fewer benefits, lower pay and shorter hours.
When women leave the workforce to have children, they often return to a lower-paying position, or a part-time job.
Chika Sasaki, a manager at a Tokyo-based wholesaler, said there were too few women in leadership positions at her office, and too few working mothers like herself.
"Almost all of the people in senior management are men. That's why I think there's a difference in salaries between men and women," Ms Sasaki said, declining to name her employer.
"I don't think they care about it too much. I'm a manager but I don't have anyone who is a role model."
TALENTED WOMEN
Brokerage Daiwa Securities Group Inc in 2005 started a programme to help female employees after its then president realised too many talented women were struggling to balance their careers and families.
It extended maternity leave to three years and took measures to promote re-hiring women.
In 2009, four women were among the 13 employees promoted to senior managing director that year, one of whom has since joined the board.
The firm made a deliberate decision to promote several women at once so they could work together if they received pushback from male colleagues, according to Chiharu Mori, director of Daiwa's diversity and inclusion promotion office.
"We are trying to address all kinds of gender gaps, not just about pay, but everything," Ms Mori said.
Daiwa encourages employees to leave the office before 7pm and has made paternity leave mandatory, rare measures in Japan.
So far it has been difficult for ESG investors — who are increasingly concerned with the gender gap — to engage with many Japanese companies on the issue, said Tomohiko Sano, head of Japan ESG research at JPMorgan Securities.
Those that do disclose tend to already be high performing companies, he said.
"It's hard for investors to convince companies about the benefits of these efforts," he said. REUTERS