What Asean did right: Compromise
The Association of Southeast Asian Nations (Asean) has again come under criticism, this time for failing to refer in a joint communique to the recent judgment by the Permanent Court of Arbitration on competing claims in the South China Sea.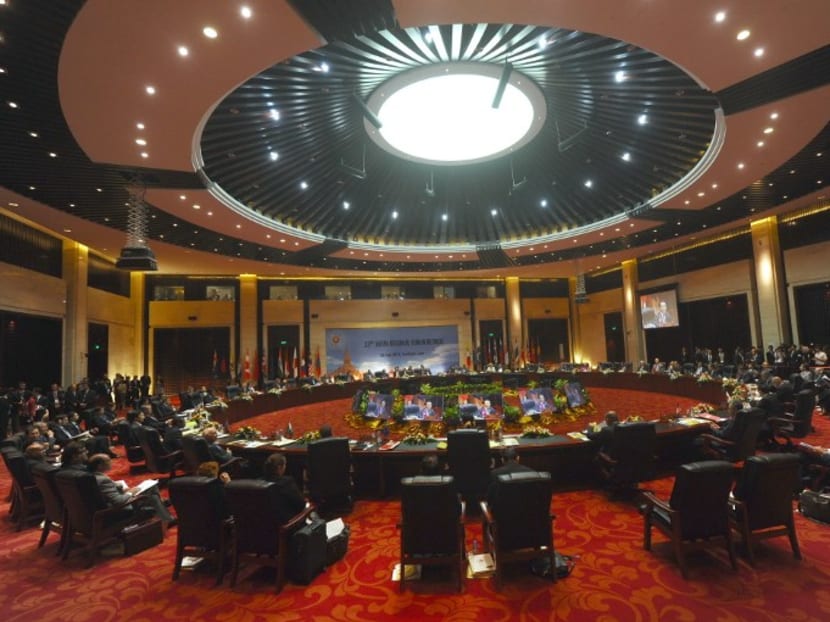 The Association of Southeast Asian Nations (Asean) has again come under criticism, this time for failing to refer in a joint communique to the recent judgment by the Permanent Court of Arbitration on competing claims in the South China Sea.
Cambodia has been singled out as the Asean member which blocked consensus during the Asean foreign ministers' meeting in Laos.
In contrast, the United States and its principal allies in the region — Japan and Australia — issued a joint statement openly chiding China for its reclamation and military activities in the contested seas, and called on Beijing and Manila to abide by the tribunal ruling which invalidated China's expansive claims in the strategic waterway.
In view of these developments, some observers have voiced concerns about Asean unity and its capacity to act on key security issues, called for action against the Hun Sen government and suggested changes be made to the decision-making process in Asean so that statements can be issued even without the agreement of all 10 members.
But on many counts, the widespread criticisms of Asean are wrong-headed.
Asean, in fact, reached a good compromise in a difficult situation. What it has done has helped the situation more than if, as critics wish, the group had issued a statement that was harsh on China. Here's why.
First, Asean's statement was not silent on the South China Sea issue.
It contained references to key principles such as preserving freedom of navigation and overflight, and the peaceful resolution of disputes, and urged for a binding code of conduct to manage the South China Sea issue.
In another statement issued after the group's dialogue with China, there was a call to "peacefully solve territorial disputes through negotiation in accordance with international laws, including the United Nations Convention on the Law of the Sea".
While there was no explicit mention of the court decision, let no one doubt that a message was delivered to Beijing — clearly, even if not loudly. This is the essence of quiet diplomacy — a tool that Asean has traditionally used, and with better effect on this occasion than just weeks ago when the two sides met in Kunming.
What would a stronger statement achieve? The criticism voiced by the US and its allies has been met with outright rebuttal by China. Beijing has now announced joint patrols with Russia.
The US will continue with its freedom of navigation patrols. But this tactic depends not on the force of principle, but the force of the American naval presence. If Asean had voiced similar protests without military heft, its words might risk sounding hollow.
ROOM TO MANOEUVRE
Second, the primary responsibility to deal with the issue lies with China and the Philippines, which brought the case to the court. Consider how Manila responded.
In the past, when Asean was stymied from siding with the Philippines against China, the previous Aquino government openly expressed disappointment. On this occasion, Manila more readily accepted the group stance.
Being somewhat detached from the court proceedings undertaken by his predecessor, President Rodrigo Duterte has an opportunity for a new approach to reach a compromise. Trumpeting the court decision too stridently might not help but rather hinder flexibility.
Much also depends on the attitude of Beijing towards negotiations, coming after a court decision that it did not expect and now derides.
Given domestic expectations, no Chinese leader can be seen to be weak and capitulate to Asean, let alone the Philippines.
In this setting, Asean's statement gave space for the two governments to manoeuvre towards potentially more conciliatory positions.
Asean processes are far from perfect and, even with the Asean Charter, there are gaps and inefficiencies. But on what basis are there calls after these meetings for Cambodia to be chastised or to change the consensus principle in Asean decision-making?
The consensus approach helps to manage the diversities and differences among the 10 members of the group. It gives assurance to small states that their views will be taken into account. Another system for decision-making could be easily dominated by larger countries.
Those who seek to understand and support Asean cannot call for unity when it suits them and discard it when it doesn't.
There is a balance between wanting to preserve Asean unity and trying to make the group better able to act on key issues.
Centrality for Asean is often talked about but often not well understood. It is remarkable that this group could convene key meetings when there are so many major powers with interests in the region as well as other middle powers like India, Australia and South Korea.
This role demands that Asean does more than provide the venue and deal with logistics. Centrality means that Asean must also be expected to set an agenda that includes key and even sensitive issues, and steer substantive discussions.
The acceptance and indeed trust of major powers is essential for this, and Asean needs to maintain or even help build up trust among the different major powers.
To be central, Asean must be a fair interlocutor on key issues but not take on an adversarial tone. In this context, the approach Asean took in the last week is not a signal of failure.
It was rather a balance between many different considerations, including unity within the group and maintaining the trust of so many different major powers.
Even as some continue to urge stronger words and action, Asean must continue to seek to strike that balance in new ways that are both principled and practical.
About the author: Simon Tay is chairman of the Singapore Institute of International Affairs and Associate Professor at the National University of Singapore Faculty of Law.