What Najib's 'I'll be back' is all about
KUALA LUMPUR — Najib Razak may be getting a warm welcome at his public sessions of late, but this does not mean he will make a comeback as prime minister, said Umno leaders and political analysts.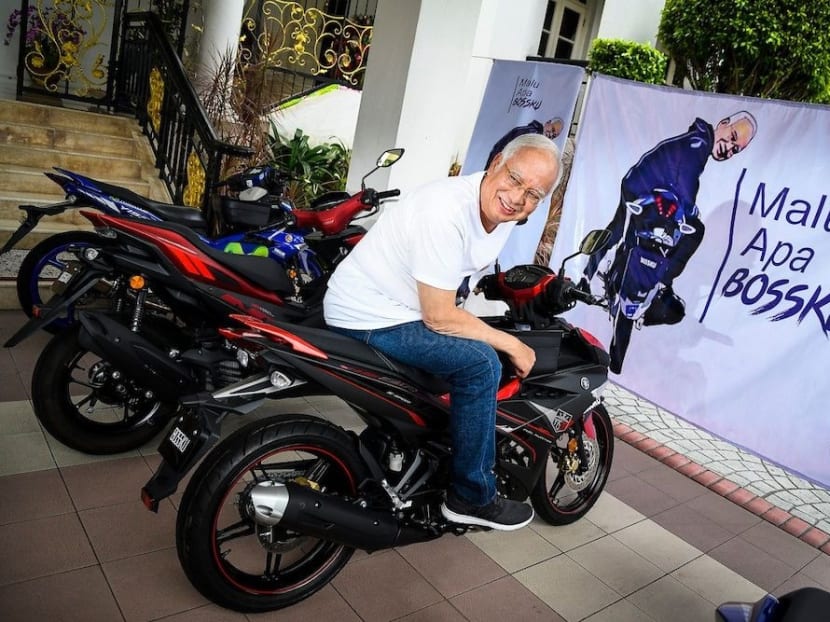 KUALA LUMPUR — Najib Razak may be getting a warm welcome at his public sessions of late, but this does not mean he will make a comeback as prime minister, said Umno leaders and political analysts.
Party leaders said Umno itself should not make the mistake of reading too much into Najib's recent declaration that he will return as it has other priorities.
Instead, the Barisan Nasional lynchpin should focus on its revival and revamp, including building cooperation with PAS for the next general election.
"Let's win a general election first. We do not need to say who will be the prime minister candidate. We should be more focused on Umno's collaboration with PAS. That is the main agenda," said Umno Supreme Council member Armand Azha Abu Hanifah.
Najib, at an event in Kuala Terengganu last weekend, declared "I will be back!" to a crowd that gave him "an extraordinary welcome".
It was one of the former prime minister's events in an unofficial tour to meet ordinary folk at eateries, low-cost flats and other places since adopting the "Malu Apa, Bossku" (What's there to be ashamed of, boss) slogan as part of his personal public relations drive.
Armand said Umno members should neither misunderstand Najib's remark nor let it cause divisions in the party.
He said Najib was likely expressing hope that Umno and BN would retake federal power, rather than referring to his desire to become prime minister once more.
"As for who becomes PM, that's for the party to decide."
But, he added, Najib has a role to play in helping the Umno and PAS top leadership solidify political cooperation, especially in the four opposition-controlled states – Perlis and Pahang under BN, and Kelantan and Terengganu under PAS.
Last week, Umno acting president Mohamad Hasan said a plan on cooperation in these states will be tabled next month by the technical committees headed by a vice-president each from Umno and PAS.
"At the grassroots level, we are working on building closer relationships. At the higher level, we see that the leaders can develop a greater understanding (between the parties)," said Armand, adding that Najib can help the Umno leadership in this regard.
USEFUL INFLUENCE, CHARM
Despite not holding party posts other than Pekan division chief, Najib has the influence and charm needed to explain issues to the people, said Johor Umno treasurer Md Jais Sarday.
He said Najib's PR blitz is not only a "phenomenon", but actually effective in explaining criticism of the Pakatan Harapan government to the people on behalf of Umno.
The former Umno president is helping the party gain support from those disappointed with the ruling pact, said Jais.
However, he acknowledged that this does not work on everyone.
"I support the 'Malu Apa, Bossku' movement. But, we don't assume that the support Najib receives is complete. There are still those who have their own thinking, that Najib has other problems and that he is problematic, especially with the 1Malaysia Development Bhd issue."
Najib is facing 42 corruption, criminal breach of trust and money laundering charges related to funds allegedly stolen from the state investor.
After delays in his trial involving former 1MDB subsidiary SRC International, the Federal Court on Wednesday dismissed an application by his lawyer to defer the hearing yet again, and ordered that it start soon, with the high court to fix the dates.
Najib's SRC International trial was initially set to begin on February 12, but his legal team filed four appeals on interlocutory matters and sought court approval to stay his corruption trial, pending the outcome of the appeals.
WHO ELSE IN UMNO? 
Despite the looming trial, political observer Ahmad Atory Hussain said no one should dismiss a comeback by Najib – even as prime minister.
After all, Dr Mahathir Mohamad is now prime minister for a second time, said the former Universiti Sains Malaysia lecturer.
More importantly is the fact that there appears to be no other leader of Najib's stature, his criminal charges notwithstanding, in Umno.
If BN defeats PH in the next general election, Najib may be in the running for prime minister should no other leader step up.
"Within BN now, who is more qualified than Najib? Tok Mat (Mohamad)? Ahmad Zahid Hamidi? Khairy Jamaluddin? At the moment, no one," said Atory.
He added that Najib is engaging people who are disappointed with the PH government and those who no longer enjoy the incentives and aid dished out by the previous administration.
"These people have stopped looking at Najib's cases, and are looking at how he seems to be championing their welfare."
Universiti Malaya's Dr Awang Azman Awang Pawi said Najib may continue to be well-received as a people's representative with his moves to rebrand his image as a leader who mingles with and listens to the low-income group.
But regarding becoming prime minister again, the baggage from Najib's court cases is too much of a political liability, said the Malay socio-cultural studies expert.
"His political credibility is tarnished even though he has not yet been convicted by any court." THE MALAYSIAN INSIGHT