What Prayuth can learn from a Thai rock star
While Thai Prime Minister Gen Prayuth Chan-o-cha is busy asking questions, rocker Toon Bodyslam has been credited as the man who reunited Thailand, who made people leave their differences behind and come together in goodwill.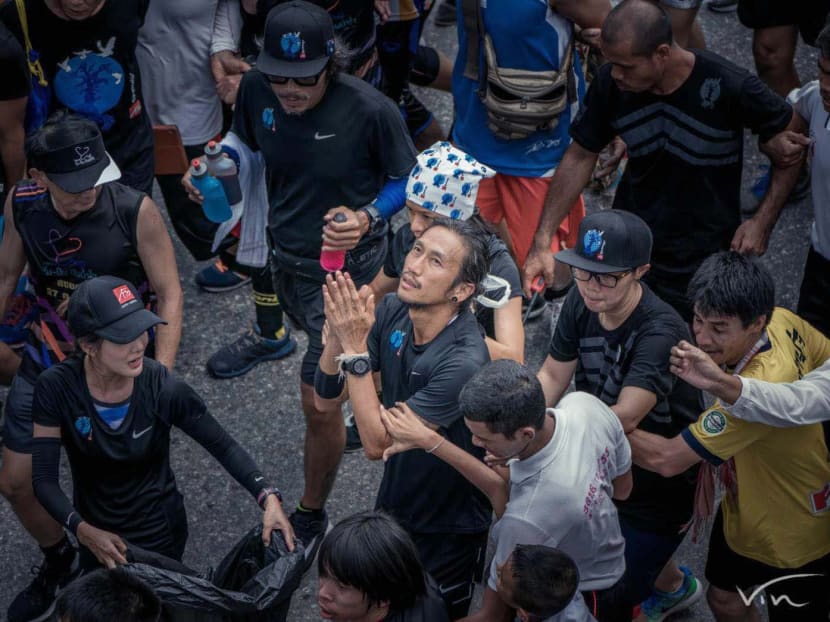 While Thai Prime Minister Gen Prayuth Chan-o-cha is busy asking questions, rocker Toon Bodyslam has been credited as the man who reunited Thailand, who made people leave their differences behind and come together in goodwill.
The rock star is on a charity run from Yala to Chiang Rai – covering 2,191 km over 55 days - to raise fund for 11 state hospitals.
In doing so, he has not only achieved what the military regime could not despite its three years in power but he is also displaying qualities that will haunt the regime, especially PM Gen Prayuth if he stays on.
As Toon keeps running, the superstar shows he is not winning people's hearts just because of his celebrity status and his willingness to sweat it out over an impossibly long distance in the cause of public health. Instead, rocker Toon, whose real name is Artiwara Kongmalai, has shown he can inspire people from all walks of life with his humble behaviour and respectful attitude.
Toon may have become a phenomenon, hailed as a "hero" in many social circles but he has not held himself above anyone. At least in public, Toon has urged people to look beyond him to appreciate doctors and nurses who work hard to save people's lives.
Where possible, he has taken the time to personally greet sick people, senior citizens and children who lined crowded streets to meet him. He cheered them up and encouraged them to fight on.
This behaviour has made Toon Bodyslam the best-loved and most-admired man in the country at the moment.
Toon's behaviour and demeanour embody the qualities many seek in a leader, and they are in complete contrast to those being displayed by the military regime, Gen Prayuth in particular.
An irritable man, the PM often plays the blame game, criticising others for whatever problems the government faces. Since he must have considered leading the coup an act of sacrifice that could have cost him his life, Gen Prayuth seems to hold himself in higher regard than others for this "selfless act".
Probably because of the superior attitude, he often behaves in a holier-than-thou fashion. He frequently berates members of the media for failing to publish good things about his government.
He also constantly reminds the public that he and his government are saviours of this conflict-torn country full of problems that past governments ignored.
Indeed, the PM's many interviews, speeches or weekly television addresses may be summarised in a single theme: Nothing works in this country except him and his government.
It's true that unlike do-gooder Toon Bodyslam, Gen Prayuth is running the country, not a charity campaign. He must maintain peace, security and a functioning government. It's not in his job description to have to please everyone.
But of course, the PM does not have to be so condescending as to turn pomposity that borders on vulgarity in numerous cases into a hallmark of his government.
Nobody knows whether Toon Bodyslam is as courteous and humble as has been seen during the charity run campaign. The whole thing could be a public relations stunt or a carefully crafted public persona.
Gen Prayuth, meanwhile, could argue that he is all about sincerity. He is a military man so he acts and speaks like one -- no niceties nor terms of endearment, just complaints, commands and orders.
If he does not like career politicians, journalists or farmers who keep asking for help from the government, why can't he say so publicly?
No matter what lies behind this behaviour and attitude, what remains indisputable is that Toon's qualities are the ones that work in winning people's approval.
As Gen Prayuth resorts to the old trick of asking questions apparently to pave the way for his next step along his political roadmap, he should be aware that the time and usefulness of the military government as a coercer has come to an end.
The PM's grumpy, temperamental and loose-tongued public persona is losing whatever charm it may have once had. With Toon showing the public qualities that are desirable for leaders, the PM's volatile traits will become a bigger liability. His outbursts, odd stunts at photo ops and constant reminders that the country owes him for staging the May 22 coup will just seem ever more clownish.
Instead of posing seemingly pretentious questions about whether the regime should throw its support behind a political party in the next poll, the PM should ask himself if he and his regime are still fit to be in a leadership role in the next stage. That would be a more relevant question.
ABOUT THE AUTHOR:
Atiya Achakulwisut is a columnist, Bangkok Post.