When Vietnamese man meets North Korean woman: A 31-year tale of forbidden love
HANOI — She was a lab assistant at a fertiliser factory on North Korea's east coast.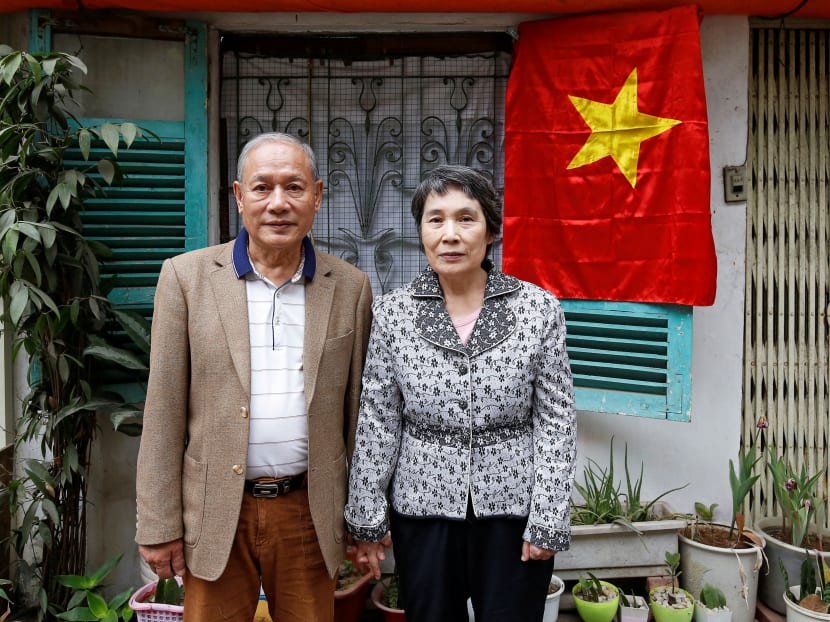 HANOI — She was a lab assistant at a fertiliser factory on North Korea's east coast.
He was one of some 200 Vietnamese students sent to North Korea to study in 1967 during the Vietnam War, as the South-east Asian state hoped that they would gain the skills needed to rebuild the country once the war was over.
They met in 1971 while he was interning at the factory where she worked.
"She looked so pretty, I naturally wanted to approach her," retired chemical factory designer Pham Ngoc Canh, 69, told TODAY in his small Soviet-era apartment nestled in Vietnam's capital of Hanoi.
"I did not have any plans, and could do nothing except to surrender the order of my heart."
Except there was one problem: The North Korean regime forbids its citizens from marrying foreigners.
So Mr Canh spent the next 31 years navigating around various obstacles to keep his love affair with North Korean Ri Yong-hui alive.
Their epic love story almost went untold if not for the media attention on Hanoi — the venue for the second summit between North Korean leader Kim Jong-un and US President Donald Trump. The Vietnamese capital is also where Mr Canh and Mdm Ri now live.
Before news emerged on Thursday (Feb 28) that the summit had failed to result in a denuclearisation agreement, Mr Canh had held hopes that, disarmament aside, the talks would eventually lead to a "more open" North Korea.
"It would be much easier for her (Mdm Ri) to travel to North Korea and back," said Mr Canh.
HE WROTE TO KOREAN DICTATOR
Almost half a century has passed, yet Mr Canh still remembers the days when he courted Mdm Ri, who is a year older.
Like when he snuck into her lab one day and asked her if she had a boyfriend (she said no).
Or when he gave her a handkerchief he had bought in Beijing as a present, along with his photograph, and asked if he could visit her home (she said yes).
They were so deeply in love by the time he had to return to Vietnam in 1973 that Mr Canh wrote a letter addressed to North Korea's founding leader, Kim Il-sung, asking for her hand.
Mr Canh showed the letter to Mdm Ri, who read it, then burnt it immediately. She told him he must wait for the right time.
"I had to carefully watch the DPRK-Vietnam relationship to find the right time to solve my private affair," he said, referring to North Korea by its acronym.
"The whole process was challenging, similar to our national revolution. Our Vietnam had to go through 30 years of defending our motherland. My revolution for love took 31 years — one year more."
Separated and lovesick, they continued writing letters to each other, but kept their correspondence a secret from his friends and family. "If you tell other people, they can neither help you nor support you. Sometimes, they can stop you," Mr Canh said.
They did stop communicating for two years after the start of the Cambodian-Vietnamese War in 1978, as it was a sensitive period and Mr Canh was afraid that any appearance of information transfer might put Mdm Ri's life in danger.
While the war ended in 1989, Korean-Vietnamese relations soured after that.
Still, Mr Canh found a way to keep his relationship with Mdm Ri alive.
In 1990, he formed a "friendship club" between Vietnam and North Korea. Three to four times a year, he would organise events involving the North Korean embassy in Hanoi.
In 1996, he went to North Korea briefly to work as an interpreter. But before that, he asked Hanoi's North Korean embassy if he could see Mdm Ri.
"I was so hopeful, coming to DPRK bringing many gifts for her, her mother and her sister," he said. "I also brought with me two traditional lacquer paintings as gifts to Mr Kim Il-sung and his son, Mr Kim Jong-il."
He did not manage to see Mdm Ri on that trip, but received a gift from the Kims in return — a jade green teapot set, a rare gesture that drew the envy of Koreans at the embassy.
With the warming of ties, he continued making contributions to North Korea, such as raising 7,000kg of rice in donations when the country was gripped by a famine in the late 1990s.
He kept a record of his contributions and, sometime in the 2000s, he attached it to his request to marry Mdm Ri, which he submitted to the North Korean authorities.
Were the North Koreans angered by his request? "Their first reaction was positive. They sympathised with my case," Mr Canh said.
His request was approved in 2002 and it came in the form of a letter from the North Korean embassy in Hanoi, addressed to Vietnam's Ministry of Foreign Affairs. The letter said: "The DPRK approves of the marriage.
"After the marriage, they will have the full right to choose where they want to live."
Mr Canh travelled to Pyongyang to fetch the woman he could finally call his wife.
When they met, they did not exchange many words and only held hands.
"At the beginning, all I felt was butterflies," said Mr Canh.
"Now that we are finally together, I feel an overwhelming sense of peace."