Why China waited for Trump to leave to open the door to its financial sector
BEIJING — There was one reason why China waited until United States President Donald Trump had left town to drop its bombshell about the financial sector — to send a message.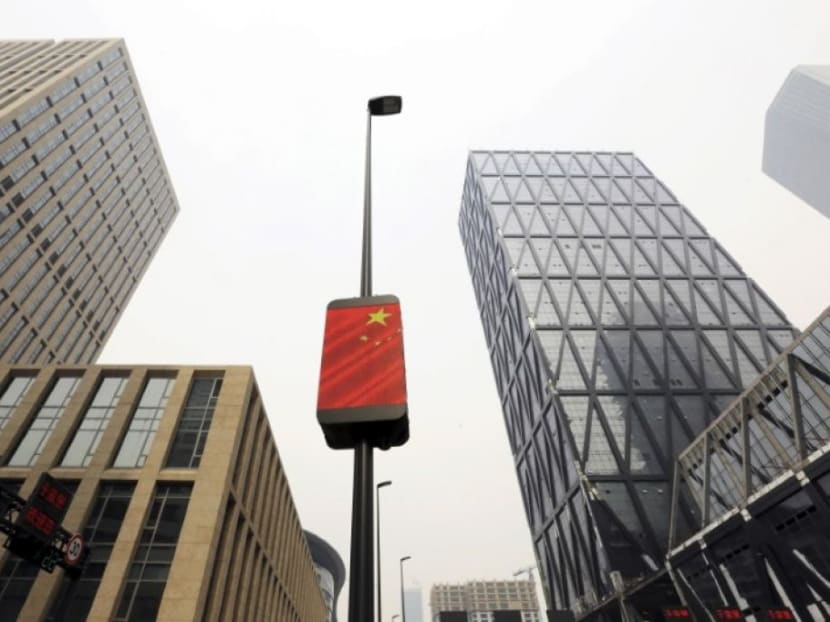 BEIJING — There was one reason why China waited until United States President Donald Trump had left town to drop its bombshell about the financial sector — to send a message.
Beijing wanted to stress that it was opening the market wider on its own terms and not bowing to the US or European pressure, analysts said.
Just hours after Mr Trump left the Chinese capital for Vietnam on Friday (Nov 10), vice finance minister Zhu Guangyao announced that China would remove the cap on foreign ownership in Chinese banks and asset management companies (AMC), raise the lid on investment in securities houses and further open up the financial sector in the next three to five years.
A US business representative in Mr Trump's trade delegation said the announcement came at a "surprising" time, given that it was not included in the unveiling of a record US$253 billion (S$344 billion) in deals signed by companies from the two countries late last week to underscore Beijing's efforts to appease Washington.
Despite Wall Street lobbying for at least a decade for offshore institutions to have greater access to China's financial market, Mr Trump and the US State Department did not even know the announcement was coming, Bloomberg quoted sources as saying.
Observers said the timing suggested that Beijing was doing so to emphasise its own timetable.
Renmin University foreign affairs specialist Jin Canrong said the decision to raise the caps was nevertheless a big concession to the US.
"It aims to address market access, one of the three core problems Trump has lashed out about along with the trade imbalance and lack of intellectual property protection," Mr Jin said.
"It's a big present to Trump. But China doesn't want to give the impression it did so for Trump, because it has to consider domestic reverberations amid mounting nationalism."
China removed some limits on foreign financial institutions operating in China in the 2000s after it joined the World Trade Organisation (WTO).
But foreign firms remained marginal players in the country's rapidly expanding financial market and have been frustrated by ownership caps — no more than 20 per cent in a bank or AMC and 49 per cent in securities, fund management and futures companies.
Foreign business groups have long lobbied the central government to relax its grip, but it was not until this year that China vowed to take action to counter a contraction in foreign investment.
Renmin University finance professor Zhao Xijun said Beijing had been concerned that opening the sector could hinder financial security.
Prof Zhao said China still worried about stability but needed a deeper financial market and the involvement of foreign players to advance a more pressing agenda. That agenda included the "Belt and Road Initiative", the internationalisation of the yuan and the construction of an international financial centre in Shanghai.
Mr Shi Yinhong, a foreign affairs adviser to the State Council, said China was set to open up the financial sector sooner or later, for its own good.
"While China did not promise anything on the North Korea issue, it chose to promise opening up moves in the financial sector," Mr Shi said, referring to Mr Trump's trip. "It may appear to be a concession, but actually China is acting on its own."
Mr William Zarit, chairman of the American Chamber of Commerce in China said he was keen to see the details of the decision.
"Opening up the financial sector in particular could greatly improve the allocation of financial resources and support China's future development. These restrictions, and many others yet to be addressed, have been hindering economic activity in China for far too long," Mr Zarit said.
The European Union Chamber of Commerce in China hailed it as "an encouraging step" albeit late.
"It is difficult for foreign firms that have already built up strong positions in the industry to capitalise on these changes in the same way that domestic Chinese firms can," the chamber said.
Mr Andrew Collier, managing director of Orient Capital Research in Shanghai, said many foreign financial institutions would be eager to invest in China — but only modest amounts of capital at first.
"There's not enough information about real control over domestic Chinese operations for them to be willing to stake large amounts of capital. They will test the waters, first," Mr Collier said.
"There's lots of concerns about financial stability, control over intellectual property, including proprietary trading systems, and adherence to global norms on compliance." SOUTH CHINA MORNING POST