Why China's ammunition factories are being turned over to robots
BEIJING — Robots could treble China's bomb and shell production capacity in less than a decade, according to a senior scientist involved in a programme that is using artificial intelligence to boost the productivity of ammunition factories.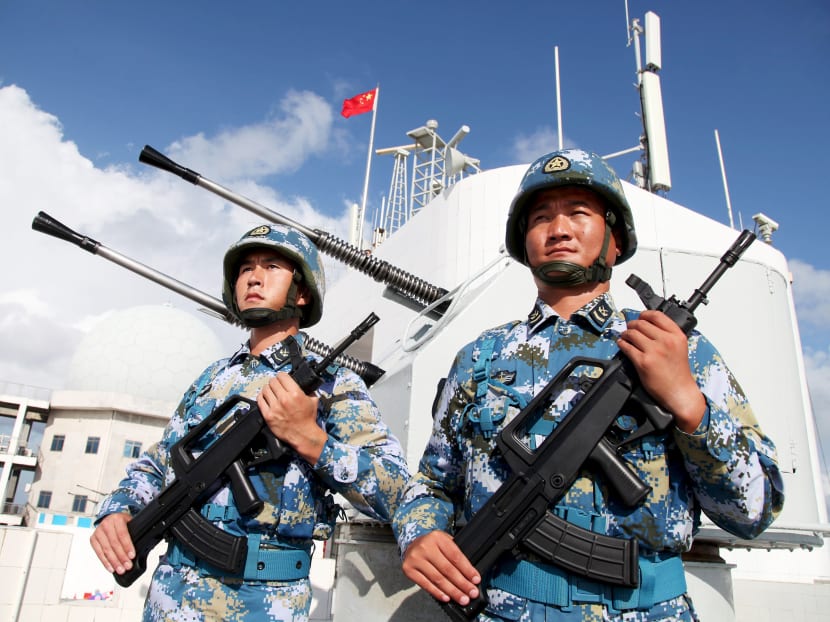 BEIJING — Robots could treble China's bomb and shell production capacity in less than a decade, according to a senior scientist involved in a programme that is using artificial intelligence to boost the productivity of ammunition factories.
Mr Xu Zhigang, a researcher with the Chinese Academy of Sciences' Shenyang Institute of Automation and a lead scientist with China's "high-level weapon system intelligent manufacturing programme", told the South China Morning Post that about a quarter of the country's ammunition factories had replaced many workers with "smart machines" or begun to do so.
The robots, with man-made "hands and eyes", could assemble different types of deadly explosives including artillery shells, bombs and rockets, he said. They could also make more sophisticated ammunition such as guided bombs, equipped with computer chips and sensors, that could carry out precision strikes.
They were five times as productive as a human worker, Mr Xu said, but logistical factors such as the supply of raw materials meant the overall productivity boost would fall between 100 and 200 per cent "at a minimum" once all China's ammunition factories were upgraded in the next decade.
"It's not like our nation is gearing up for a war and filling its armouries at breakneck speed," he said.
China has embarked on an ambitious military modernisation drive that is developing new fighter jets, strategic bombers and warships. Designed to protect Chinese investment and influence around the globe, it will require a modernised ammunition supply chain.
But Mr Xu said a more basic reason for the use of robots was that ammunition factories were running out of workers.
"However high the salary offered, young people are simply not interested in working in an army ammunition plant nowadays," he said.
State-owned arms manufacturers set up between 20 and 30 ammunition factories on the mainland over the past six decades, most of them in sparsely populated, remote locations such as mountainous regions and deserts due to safety and secrecy concerns.
Some still operate much as they did in the early years of the People's Republic, with workers wearing masks and gloves exposed to toxic chemicals as they assemble dangerous pieces by hand.
There have been some serious accidents at ammunition factories in recent years, causing an unspecified number of deaths and injuries, according to research papers published in Chinese academic journals.
Robots were introduced to solve the safety and labour supply problems, Mr Xu said.
One bomb assembly line that used to have more than 100 workers now had only three after a recent upgrade, he said.
They stayed in blast shelters, with one worker overseeing the production process via an array of control consoles and the two others tending to tasks that were too difficult for robots, such as connecting fine, loose wires inside a bomb.
The bomb-making robots differed from conventional industrial robots in many ways, Mr Xu said. Their mechanical arms, for instance, drew energy from compressed air instead of electric motors to avoid static electricity.
"One spark could lead to a huge explosion and reduce the plant to a crater," he said. "The risk of fire was our biggest challenge. It hung over my head like a sword."
Besides reducing the risk of death or injuries, robot bomb makers had other advantages over humans.
They could, for example, weigh a mixture of explosives precisely and press the powder into a warhead with just the right pressure to achieve the optimum density needed to produce the highest possible yield on denotation.
It would take a human worker years to acquire such skills, Mr Xu said, "and the machines never get tired" because they were designed to run full-throttle, non-stop for months.
Professor Huang Dexian, from Tsinghua University's department of automation and a member of an expert panel advising Beijing on robotic applications in manufacturing, said robots with properly written machine-learning algorithms could analyse the moves of skilful, experienced bomb makers and come up with new approaches to produce high-quality products.
In recent years, even factories in developed coastal areas had found it increasingly difficult to hire workers, and the labour shortage in ammunition factories could soon pose a threat to China's national security, he said.
"The robots can free workers from risky, repetitive jobs in the bomb-making process," Prof Huang said. "It will create new jobs such as control optimisation, hardware maintenance and technical upgrades. It will give us a stronger, healthier, happier defence workforce."
Mr Xu said the programme had also led to the use of robots in other defence industry sectors, from the delicate assembly of photoelectric surveillance devices for military aircraft to the manufacturing of large, high-powered diesel engines for military vehicles.
He said China's use of robots in defence manufacturing was probably less advanced than in Western countries such as the United States, but it was hard to be sure because what went on inside ammunition factories was usually a closely guarded secret.
According to promotional videos released recently by American facilities such as the McAlester Army Ammunition Plant in Oklahoma, the largest production base for conventional bombs in the US, some dangerous steps such as pressing explosives into warheads are performed by machines but other work is still done by hand. SOUTH CHINA MORNING POST