Work has changed. So must its designs.
NEW YORK — Mr Ben Watson was in his happy place.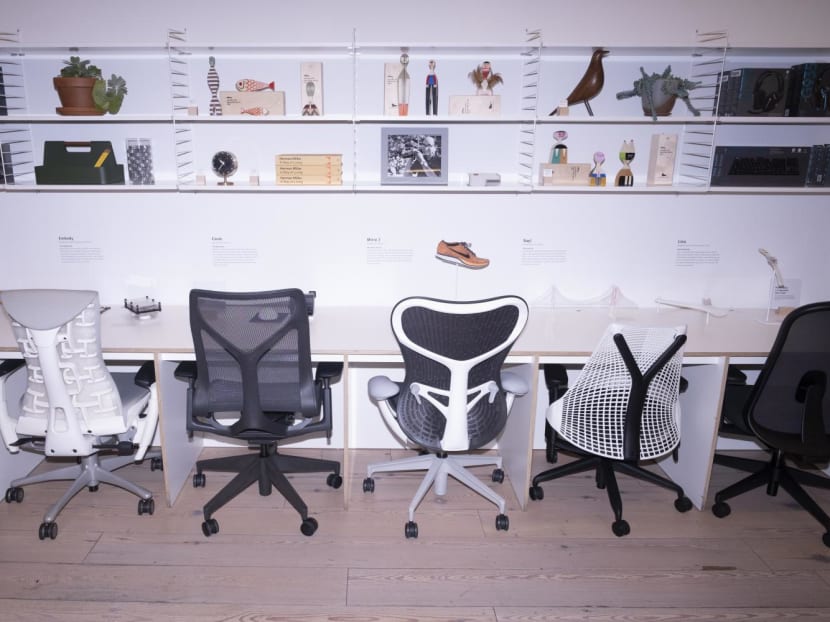 NEW YORK — Mr Ben Watson was in his happy place.
Sitting in the showroom that doubles as an office above the Herman Miller flagship store on Park Avenue South and 21st Street in New York, Mr Watson was enmeshed in groups of employees taking meetings and salespeople schmoozing clients surrounded by the nearly 100-year-old brand's signature modern desks, tables and chairs.
"I don't know what the situation is in your world — perhaps less of it is spent in offices?" Mr Watson, the 57-year-old president of Herman Miller, said to me, the formality of his buttoned-up chambray shirtjacket, white shirt and tie offset by his bare feet in black Birkenstock sandals. "But it's awesome to see folks spending time together here, our customers coming in, looking at things, thinking about what their world could or should look like next."
Shortly after he said this, the din around us grew louder, and we moved into a glass-walled conference room. This shift in location seemed anathema to the president of a company that invented the open-plan office in the 1960s. But Mr Watson complied.
Things are definitely changing at Herman Miller. In May 2021, amid the profound shifts in the office furniture business, and as the economy was battered by the coronavirus pandemic, the company acquired one of its biggest and best-known rivals, Knoll, another Midwestern purveyor of sleek, modern furnishings and textiles, for US$1.8 billion (S$2.4 billion).
This deal created the world's largest office furniture company, MillerKnoll. Though the individual brands will remain separate, this entity now controls both companies, as well as more than a dozen others. In addition to his new post-merger role as president of Herman Miller, Mr Watson was also named chief product officer of this larger organization, MillerKnoll.
"The condition, the moment we're in now, is the most intense one that I've ever been in, in my career in furnishings," Mr Watson said, referring to the ways the pandemic has catalysed a profound shift in people's relationships to work, space and the office.
This statement holds particular weight considering his near-lifelong career in the industry. Though his father was an electrician for the Federal Aviation Administration and his mother was a nurse and a homemaker, during his childhood in the Upper Peninsula of Michigan, they reupholstered their neighbours' button-tufted furniture in their basement as a "side hustle."
Choosing a path distinct from his four older siblings, all of whom are engineers, Mr Watson majored in visual and environmental studies at Harvard, and wrote his senior thesis on La Chaise, designed by Charles and Ray Eames. He worked on the product team at Knoll, and he was the vice president for American sales and marketing and then global marketing director at Vitra, and worked as CEO at Moroso before joining Herman Miller, which is based in Zeeland, Michigan, 13 years ago.
"I'm here to reiterate, we're not living on Easy Street here in the furnishings realm," Mr Watson said.
This is no understatement. Overall, the category contracted globally by 12 per cent in 2020; as people fled offices for fear of contagion, corporations closed or drastically reduced spaces, and cancelled or delayed orders for furnishings. Retail sales of home office equipment — direct to consumer — increased as people reconfigured bedrooms, basements, closets and countertops to accommodate working from home. Many people splurged on these purchases, using their savings from practices they had curtailed or eliminated, like traveling or eating out, during the pandemic.
Herman Miller's retail sales increased by 60 per cent from 2019 to 2021, according to the company. Those sales rose to 24 per cent of its overall sales, up from 15 per cent, even as its total sales fell by 4 per cent.
The Herman Miller Eames lounge chair and ottoman — an icon of bentwood, mid-century design that costs US$4,000 to US$10,000 — had its best sales year on record in 2021. Originally sold in 1956, the Eames lounge chair is in the permanent collection of the Museum of Modern Art and has been seen prominently in the homes and offices of fictional characters, including television therapist Frasier Crane and billionaire superhero Tony Stark.
Findings published in May from a CNBC-Momentive Workforce Survey of about 9,200 American workers showed that almost two-thirds were working fully in person, nearly one-quarter were working in some hybrid situation and just over 1 in 10 were working fully remotely. This is a major shift from a year ago, when twice as many people were fully remote and nearly 10 per cent fewer were working only in person. As conditions, contagion and corporate expectations continue to change, a significant portion of the population awaits clarity as to what work may look like in this new paradigm.
The Herman Miller Group was more diversified before the merger, with numerous distinct brands already under its corporate umbrella, including upscale furniture retailer Design Within Reach, desktop ergonomics company Colebrook Bosson Saunders, luxury textiles producer Maharam and health care furnishings manufacturer Nemschoff. Knoll was far more focused on contract office furnishings and systems sales, and thus more vulnerable to a significant dip in demand.
The decline in the category hit Knoll hard, causing its revenue to fall 13 per cent in the first year of the pandemic, according to the company, and triggering an escalating series of layoffs, salary and benefit freezes, and closures of production facilities. This may have facilitated the merger. "Certainly the condition we're in right now made it a prime time," Mr Watson said of moving forward with the merger.
According to MillerKnoll statements, combining the companies' operations is expected to yield US$100 million in savings. This raises questions concerning pricing and quality. It also creates something of a monopoly on the legacies of the iconic designers associated with the two flagship brands, which read as a who's who of high modernism: At Herman Miller, these include George Nelson, Isamu Noguchi, Ward Bennett, and Charles and Ray Eames; at Knoll, it's Mies van der Rohe, Eero Saarinen, Frank Gehry, Harry Bertoia, Maya Lin and the company's co-founder Florence Knoll.
Perhaps most important, the merger announcement worried some in the design community that these companies' spirit of unconventionality could be hampered by their union.
"There is maybe a possibility that merging and becoming less competitive among themselves might slow down innovation, make them kind of reinforce what they're already working with," said Ms Elise DeChard, the owner of End Studio, a 4-year-old architecture and design office in Detroit that focuses on residential, commercial and adaptive reuse projects.
Yet the pioneering histories of these companies are so intertwined as to make their amalgamation strangely inevitable. "I guess my reaction initially was, like, wow, I'm surprised someone didn't think of this before," said Mr Andrew Blauvelt, the director of the Cranbrook Art Museum.
He noted that both companies were trailblazers in the creation, production, distribution, and sale of modern designs in the pre-World War II era. Both hit their stride in the post-war boom, with the more ready availability of raw materials and the rise of corporate modernism and the corporate campus. And, while they varied somewhat in approaches — with Herman Miller producing slightly more organic work, and Knoll slightly more rigidly geometric — both worked with a like-minded cadre of designers.
The depth of this connection is not at all coincidental. "They're subscribing to the same school, they're subscribing to the same philosophies, because they literally all went to the same school," Mr Blauvelt said.
That school was the Cranbrook Academy of Art. Founded in 1932, the campus — which included a private lower and upper school, a science museum and an art museum — was designed by Eliel Saarinen, an ingenious Finnish modernist who also ran the academy. (I graduated from the upper school.)
The school attracted top modern talent from around the world. In the late 1930s, this included Bertoia, Knoll, Eero Saarinen (Eliel's son) and the Eameses, who met and married on campus. (Bertoia made their wedding rings.)
"They were all friends," Mr Blauvelt said. "They all knew and worked with one another. So it was a kind of supergroup of students who were really developing these ideas about modern design." The first experiments with bent plywood, a signature material and process in modern furniture, took place between Eero Saarinen and the Eameses at Cranbrook during this time.
"So they collaborated on their furniture designs, but then they became associated with the two different companies," Mr Blauvelt said. "Charles and Ray Eames designed exclusively for Herman Miller, and Eero Saarinen designed exclusively for Knoll. They remained lifelong friends, but they were also competitors because they were developing different projects. So it was a very friendly competition, but very much a competition."
This notion of rivalry between these entities has not been a factor for Mr Watson — in his life, or in the merger. "That's never been in my DNA," he said, as we perused the flagship's ground-floor showroom. He pointed out some of his favourite Herman Miller pieces, ones that he and his partner have in their personal collection, in their apartment in the West Village and in their cottage overlooking Lake Michigan in the resort town of Saugatuck, near the company's headquarters. These included the largest available Isamu Noguchi pendant lantern, a Ward Bennett I-beam side table and a Neil Logan Lispenard sofa covered in charcoal alpaca velvet.
"So, I've always had a Knoll Saarinen table in my kitchen," he said. "The DNA is from the exact same thread. It's traveled slightly different places, but the respect is universal on both sides."
In fact, he approaches the companies' shared values, and the opportunities they present, with an almost religious fervour. This befits the president of Herman Miller, a company founded by Dutch Calvinists who became proselytizers for the glories of Modernism, and whose core corporate tenets Watson referred to, laughingly, as "the Ten Commandments." One of them, he noted, overtly aligning with Mr Blauvelt's sentiment about the merger, is "inevitability."
For Mr Watson, aligning these brands will include overseeing the design and fabrication process of all the prestige enterprises in the MillerKnoll portfolio.
He does not see this as a challenge that requires a resolution of each brand's individual sensibility into a whole. Moreover, with his deep connection to the history of both brands, he sees himself as a near-reverent steward, and very much wants to protect their individual legacies.
"All of the brands that are in the collective are distinctive, own their own position, own their own product portfolio and are responsible ultimately for their success," he said. He invoked the LVMH Moët Hennessy Louis Vuitton model: a consortium of premium brands, housed in independent maisons, with unified support and visions of excellence.
This simplifies his mission but doesn't shrink it. He still must help reconcile the enormous global shift in the furnishings category, in a world embroiled in conflict and economic turmoil, and constrained by significant supply chain issues.
"The office that we once knew, the corporate office, is probably dead," Mr Blauvelt said. "But taking its place is going to be the domestic version of that office. I think that pivot is for how to think about home in the office, but also the office at home. So the reciprocity between those two spheres I think is going to be important for both companies."
In the past, when dynasties were in deep conflict, or sought to consolidate power, the solution was often nuptial, even among close relatives. So it was no surprise that Watson referred to the merger, the union — or reunion — of Knoll and Herman Miller's foundationally shared yet branching genetic helixes as "a marriage."
"The iconic nature of the two brands, in some ways, had merged in a lot of people's heads already," Watson said.
There is even a history for this union. "We found out, as we started poking around the Cranbrook archive, a merger was contemplated as far back as 1975," Mr Watson said. "I don't know why it was not consummated at that time, but it wasn't the first time it was thought about."
There is hope among a younger generation of designers that this bond will yield precocious and audacious offspring, capable of addressing our seismic contemporary tectonics.
"Cranbrook really does feel like a school of thought," Ms DeChard said. "It's this palimpsest of avant-garde design, one on top of the other, throughout history. And Knoll, and Herman Miller and some of these furniture pieces are all part of that legacy."
As the companies merge and move into their new future, she wants to see a return to this spirit, instead of a retrenchment. "More pushing the envelope," Ms DeChard added. "More avant-garde. This is where they started. And now it feels like they're sort of sticking with the classics, as opposed to the wild experimentation that got them to where they became classic."
To this end, Watson is working hard to chart a course into the unknown. "There's a fantastic illustration from Charles Eames," he said. "A bubble diagram, some might call it today, that demonstrates that the answer to a problem is locatable when you sketch out all of the constraints. Those might be from supply chain, those might be from war, those might be from lack of labor." If you map out all the constraints, he said, it shows you the areas left in which to discover resolution.
He feels confident that Herman Miller, and MillerKnoll, will come to the right conclusions about furnishing workspaces in our current and future moments, because they are design-centric operations. This sailing forth while avoiding constraints sounds an awful lot like faith, like evangelizing for design as a means of resolution.
"I think every great designer is an optimist," Mr Watson said. "Maybe optimist is different than zealot, but maybe they're awfully close. You've got to believe that a better future is possible."
This article originally appeared in The New York Times.