Yishun fatal assault trial: 'My family's life has improved so much' with 'sad' death, says accused
SINGAPORE — A retiree who, along with his stepson, is accused of causing grievous hurt to a man they regarded as a stalker became emotional in court as he described his numerous attempts to get the police to intervene.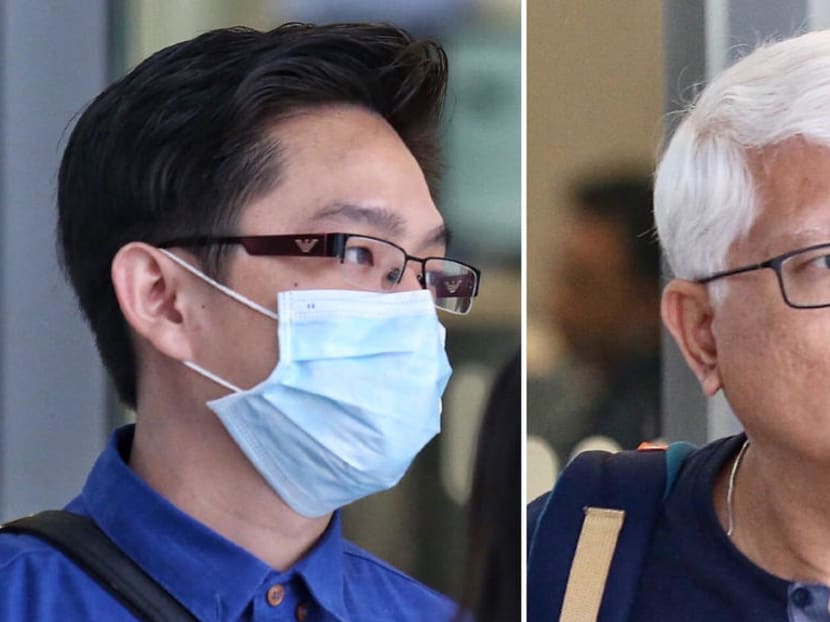 SINGAPORE — A retiree who, along with his stepson, is accused of causing grievous hurt to a man they regarded as a stalker became emotional in court as he described his numerous attempts to get the police to intervene.
Lawrence Lim Peck Beng, now 58, is accused of aiding his stepson Ryan Xavier Tay Seet Choong, now 24, in assaulting Shawn Ignatius Rodrigues, 26, so violently that he died at the scene.
The court has heard that Tay and Rodrigues knew each other from their time as altar boys at the Catholic Church of Our Lady Star of the Sea in Yishun in 2006, but after the friendship soured, Rodrigues constantly pestered Tay and his family.
Rodrigues, a full-time national serviceman, died near a lift landing of Block 279, Yishun Street 22, from traumatic asphyxia with a head injury on July 9, 2016.
Lim's alleged involvement in the assault was sitting on Rodrigues' buttocks and restraining his legs after Tay had scuffled with Rodrigues.
Taking the stand for the first time on Thursday (March 12), Lim told the court that he had tried several peaceful methods to prevent his family from being harassed by Rodrigues, though they often came to nothing.
"We had peace in our neighbourhood and our home as long as I had lived there," Lim said in response to questions from his lawyer Ang Sin Teck.
"This peace was taken away from us when Shawn started coming to harass us multiple times in the day. Disturbing this peace. Banging on our door late at night. Not once, several times."
"Numerous times, he has been harassing us. Causing unrest. Inflicting fear in the neighbourhood, especially (for) my family.
"He also had physical contact with my wife and I couldn't do anything about it," Lim said, his voice breaking as he became emotional and wiped his eyes.
The court was told that Rodrigues had allegedly molested Lim's wife, and also allegedly strangled one of his elderly neighbours and punched another.
Lim testified that each time Rodrigues appeared, he would ask about Tay's whereabouts.
"His voice was always monotonous and always (said) the same thing — 'I want to see Ryan (Tay). I want to see Ryan'."
This continued, even on the days Tay was not at home.
POLICE REPORTS, MEDIATIONS AND A VISIT TO AN MP
Lim said that the family had tried to ignore Rodrigues when he first started harassing the family.
"But as time went on, it slowly escalated from text messages, to visiting our flat, to even peeping into our flat from the adjacent block," he said.
"I remembered once when he came to visit Ryan, I spoke to him nicely and asked, 'Shawn, why are you doing this?' I thought using reason may help to stop him (from) harassing our family, keeping him from our home. But I am afraid it was to no avail."
Eventually, the family made 59 police reports against Rodrigues. "We thought the police could help us, that is why we kept making police reports," Lim said.
Mr Ang asked: "Can you tell us what were the results of these police reports?"
"None whatsoever," Lim replied. "They (the police) told us each time Shawn appears, just make a report and (they) will come. But never once was he apprehended or questioned. By the time they arrived, he had already disappeared and went into hiding."
Referring to an incident where an elderly neighbour was punched in the eye, Lim said he questioned the police about why they were not taking action against Rodrigues.
"What did they say? 'We were not present. He cannot be arrested.'"
Lim said that engaging in mediation sessions, in which neither parties came into contact with each other, did not help either.
He elaborated that he and his wife — Tay was never present — would see the mediator first before Rodrigues and his mother took their turn.
He recalled that Rodrigues was told never to disturb Lim and his family. "Shawn accordingly said 'for now' and the mediator said, 'No. Forever.'"
Rodrigues did not heed this advice, he said. Lim recalled returning home from one mediation session only to find Rodrigues waiting for them.
"My wife and I went to see… our Member of Parliament (MP), (but) Mr Shanmugam was not around," he said, referring to a meet-the-people session with Law and Home Affairs Minister K Shanmugam, who is MP for Nee Soon Group Representation Constituency.
"He appointed one of his lawyers to meet us, take down our statement… As far as I know, nothing was done … (Rodrigues) kept coming back."
Lim recounted an incident in which Rodrigues had even managed to locate him and his wife while they were out celebrating a family lunch without Tay in another location in Yishun.
He said he had no idea how Rodrigues had managed to find them, only that he kept asking for his stepson.
GREW FRUSTRATED
Lim admitted he was irritated and had thrown a chair in Rodrigues' direction to shoo him away.
Before his cross-examination, Deputy Public Prosecutor (DPP) Chong Kee En told Lim that he should advise the judge if he became emotional.
Lim admitted that he was very annoyed with his frustrating encounters with Rodrigues.
He told the court how he once grabbed a can of insecticide and sprayed it in Rodrigues' face. "He stood there, without moving at all."
He also recalled chasing Rodrigues away with a small fire extinguisher the family kept at home, and hitting him with a baseball bat.
DPP Chong grilled Lim about his ability to recall what he saw on July 9, 2016 when Tay fought with Rodrigues. The prosecutor repeatedly wanted to know what Tay's body position was relative to Rodrigues, who was lying prone on the floor after being allegedly assaulted by Tay.
Lim reiterated each time that he had poor eyesight and he could not recollect the specifics. Furthermore, he had a pain in his leg.
"I was focused on getting to Shawn to restrain him. In helping Ryan, I was trying to restrain Shawn. As far as I am concerned, I was not focused on what Ryan was doing."
On Wednesday, the court heard during Tay's testimony that he had allegedly stamped on Rodrigues' shoulder, punched his face and head many times, forcefully pushed his face to the ground and pressed his knee on Rodrigues' back for about 20 minutes.
Earlier on Thursday, Lim read out a statement he gave to the police. "To me, it seems that justice was not served and if something had been done, this incident may not happen.
"When Ryan and I were restraining (Rodrigues), we did not intend to serve justice to him or teach him a lesson. It was unfortunate that he passed away.
"Though I'm saddened… one life is gone, my family's life has improved so much. We don't have to worry about any harassment or disturbance. There is peace in the neighbourhood."
The trial continues.