61-year-old grandma training army recruits: She outruns young men, gets gold awards for IPPT
SINGAPORE — A sea of shirtless male recruits doing push-ups and sit-ups to the latest hip-hop or "dangdut" tunes on a weekday afternoon is not an unusual sight at the Basic Military Training Centre on Pulau Tekong.
SINGAPORE — A sea of shirtless male recruits doing push-ups and sit-ups to the latest hip-hop or "dangdut" tunes on a weekday afternoon is not an unusual sight at the Basic Military Training Centre on Pulau Tekong.
What is unusual is the person leading the group: A 61-year-old grandmother, whose job is to turn these fresh-faced recruits into hardy soldiers and who can outrun these young men.
Platoon commander and First Warrant Officer (1WO) Margaret Leon is the oldest serving female officer in the Singapore army. 
She has trained some 1,800 recruits cumulatively from seven cohorts since she volunteered to serve as an instructor at the centre last year. And she has no plans to retire anytime soon, even though 55 is the retirement age for Singapore Armed Forces (SAF) warrant officers.
Her secret to keeping fit? A daily routine of exercise.
She wakes up as early as 5am to check if the recruits have gone for breakfast. Then she goes for a short run around the perimeter of the camp, completes static exercises and returns just in time for the morning physical training.
On weekends when she is not on duty, she has a "slower routine" which comprises a long walk around the neighbourhood where she lives and some static exercises at a fitness corner in the estate.
1WO Leon said cheekily: "These boys like to challenge me sometimes, and they always try to outrun me. But everytime I take up their challenge, I always win."
She also has the goods to show for it: She has been getting the gold award for the individual physical proficiency test (IPPT) every year in the last 43 years that she has served in the army.
And she still gets to enjoy her favourite mutton biryani and fried carrot cake occasionally.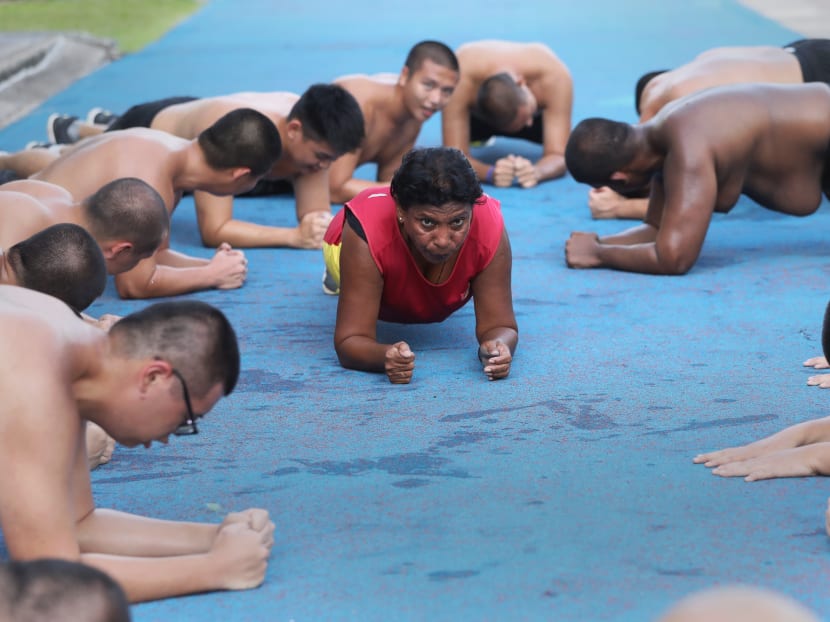 On Thursday (Nov 28), as she walked across the training ground, scanning the recruits to find her platoon, those who walked past her were greeted with some roughhousing and her wide toothy grin.
She told TODAY that her recruits always joke about feeling old — something they say when their bodies are aching after training.
"I will always say, 'If you are old, I'm ancient. Look at me, I'm a grandmother!" she said with a laugh.
Full-time national servicemen Lim Cheng Zhe and Muhammad Nur Rafizan, both 21, admitted that she was "way fitter" than the recruits under her care and that includes them.
Recruit Rafizan said: "Sometimes when I go on runs, I will be panting but she will steadily run beside me and be talking at the same time."
He added: "She's there with us on most of our physical training sessions. She will (do drills) with us, run with us, and she will lead our entire platoon for the jog."
Recruit Lim said that the hardest part of training for him is the running, and whenever he slows, 1WO Leon would always say: "You can do this. It's one or two more laps. Keep going."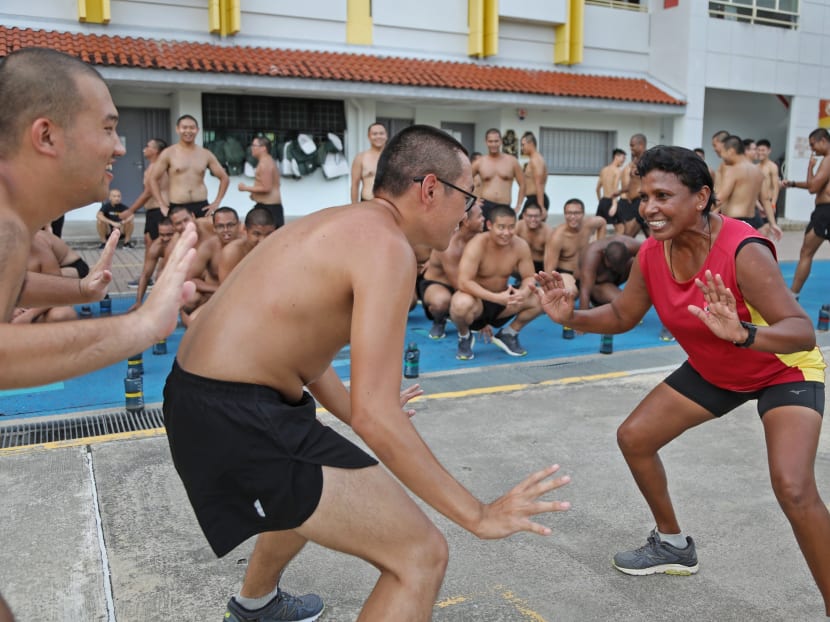 A MOTHER FIGURE
Joining the army at a young age because she was drawn to the regimental life, 1WO Leon has taken on many roles: A military clerk, a signal specialist, an instructor at the officer cadet school and company sergeant major.
In the time she was there, she met her husband — a fellow warrant officer — and they have a son aged 39 and a grandson who just turned two.
On what keeps her going, she said that it is the joy of meeting recruits.
"When they enlist, they become my children because their parents trust us (to take care of them), so I treat them like my own sons."
However, 1WO Leon said that there are times when she needs to be stern and makes sure that her recruits are drilled to be good soldiers. "I say to them, 'Your mother scolds you, right? So Madam also scolds you to put you on the correct path'."
That has earned her nicknames such as "ma", "mother" or "mother goose".
Indeed, she is the person recruits go to when they are unwell or injured, or when they need someone to talk to.
"They'll wash their (injured) hands and all I have to do is put a plaster (on the wound) for them and they will feel good," she said.
She also has five tissue boxes in her office just in case there is a water parade — and she is not talking about the practice of ensuring recruits drink enough water to hydrate themselves.
"This is just in case they cry. And they do cry, usually because they can't take the training," she added.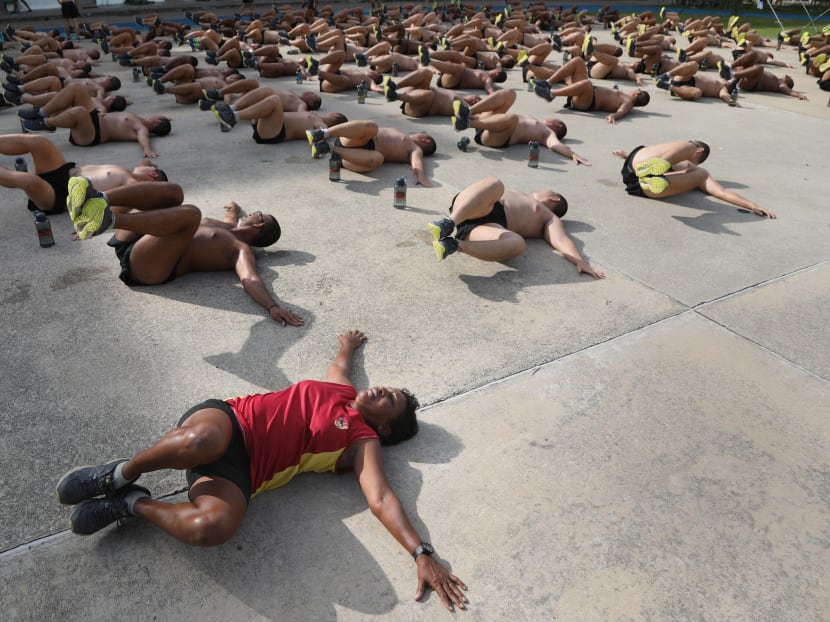 Surrounded by young people at the Basic Military Training Centre, she has picked up somewhat on the latest music genres and songs that they listen to these days.
She neither knows the titles of the songs nor the singers but enjoys listening to them anyway. 
"When we do exercises at the static stations, we put on music for (the recruits) and when certain songs come up, the boys will always tell me, 'Madam, this is a happening song'," she said with a laugh.
On how long she will continue serving, she said that her options are open and she will stay as long as her service is required. Her contract will end in 2021, when she turns 63.
"When my husband retired, he wanted me to retire, too. But I said no, I still have some fire burning inside me."
She added: "I still have the heart to do this. You must have the heart to do what you want to do."