$1.30 Pulut Hitam, Tau Suan & Other Desserts At New Hawker Stall In Maxwell Food Centre
Two-month-old MS Dessert Shop offers good-value treats in the CBD.
Pro makan tip for folks who've returned to their offices in the Central Business District: MS Dessert Shop is a newish hawker stall in Maxwell Food Centre selling comforting Chinese desserts like tau suan (sweet mung bean soup) and pulut hitam for $1.30 a bowl. Pair it with a $2.50 claypot of soupy bak chor mee from neighbouring stall Ah Gong Minced Pork Noodle, and you can have a complete meal for under five bucks.
The two-month-old stall is owned by two bubbly – but media-shy – forty-something lady bosses. "Don't need lah!" one of them exclaims emphatically in Mandarin when we ask her to pose for a photo, pushing another bowl of dessert into our hands, urging us to take a photograph of that instead. They also declined to be named. How refreshing.
All photos cannot be reproduced without permission from 8days.sg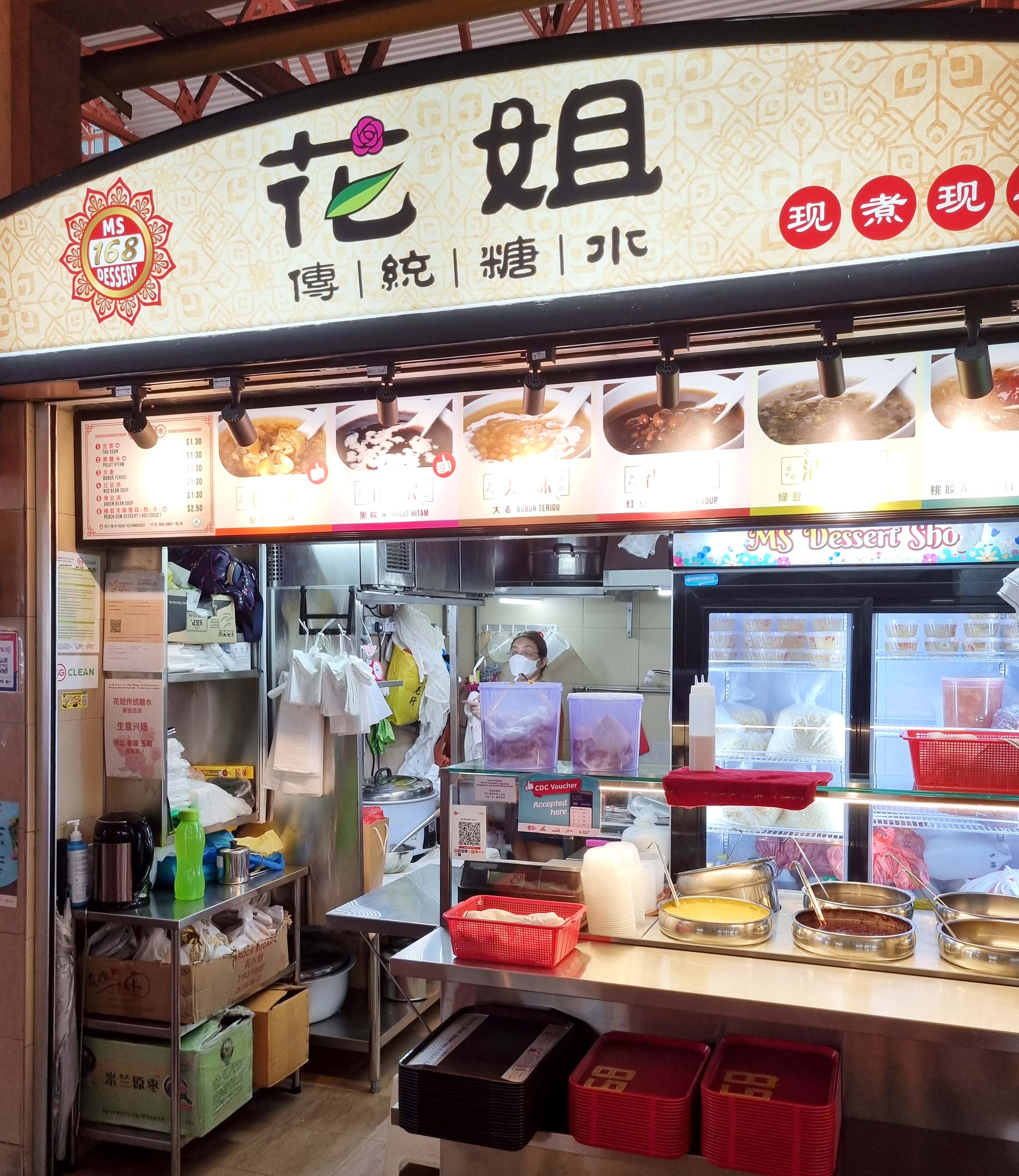 Veteran dessert hawkers
Eventually, both the towkays reveal that they have some experience in the hawker biz. One owns another dessert shop selling peanut soup (she declines to name which one) in Chinatown Complex Food Centre that's been open for "around two years", while the other worked on and off as a hawker's assistant selling desserts, before opening her own stall in Bedok. Thereafter, the friends decided to partner together and open MS Dessert Shop – the MS in the name refers to 'miss' for the two lady bosses (though the both of them are married).
Office crowd not yet back in full force

While the ladies do the cooking in the morning and pop by from time to time, they leave the day-to-day running of the shop to an assistant at the stall. The hawkers tell us that they're selling the bowls at a lower price to appeal to older folks in the area, as well as those "less willing to spend" during the pandemic. They hope to make up for the slimmer margins with a higher sales volume.

Despite working from home no longer being the default from January 1 this year, the hawkers add that "the hawker centre is still rather quiet". "Most of the office workers are only coming back to office two or three times a week, so it's still not very crowded," the hawker says, estimating that they sell "250 to 300" bowls a day.

Tau Suan, $1.30

Five out of the six items on the menu — including bubur terigu (a coconutty wheat porridge dessert), green bean and red bean soup — are priced at $1.30 each. We opt for the warm tau suan, which the hawkers say is their most popular item. The sweet, sticky soup is a little too starchy, but the generous bits of mung beans suspended within add some welcome bite, while a whiff of pandan and some crunchy you tiao keep things from getting too jelak. Decent. The bowl is slightly smaller than what you'd usually get at an average dessert stall, but fair value given the price and location. Meanwhile, a bowl of green bean soup fortified with seaweed (albeit a larger portion) starts from $2 at Authentic Hong Kong Delights, another dessert stall we've featured in the same hawker centre.

Peach Gum Dessert, $2.50

This is a pricier treat thanks to the more expensive ingredients in it, as well as its larger portion. Believed in traditional Chinese medicine to have cooling properties, collagen-rich peach gum comes from the resin of the Chinese peach tree. It's slow-cooked with dried longan and wolfberries, yielding a not-too-sugary, slightly herbal bowl of soup spotted with chunks of gelatinous peach gum. Quite refreshing.

MS Dessert Shop is at #01-68 Maxwell Food Centre, 1 Kadayanallur St, S069184. Tel: 9229-9220. Open daily, 9am – 8.30pm. More info via Instagram.

All photos cannot be reproduced without permission from 8days.sg