14-year-old Malaysian actress reveals boyfriend she met on app; draws flak from netizens who think she's too young to date
Some also said that her boyfriend looks to be "20 plus" years old, making the relationship extremely inappropriate.
Malaysian actress Qistina Raisah, 14, recently shared a TikTok, which compiled clips and pics of her on dates with her boyfriend.
Spoiler alert: Netizens did not take well to the vid. At all.
The teen first revealed that she once had a two-year long crush on someone, which went unreciprocated. 
However, she was able to move on from her crush and started using an online dating and networking app, where she got to know her current boyfriend.
In her vid, she included a clip of herself and her boyfriend on an ice-skating date and selfies of themselves on several occasions.
She also proudly announced: "We celebrated Hari Raya together during our very first meeting."
According to netizens, her boyfriend looked to be "20 plus" years old.
Many felt that they "had too big of an age gap" and opined that she was "too young to be dating at only 14 years old".
Large age gap aside, if the netizens' guesstimate of Qistina's boyfriend's age is to be believed, it would also make the relationship very strange, not to mention illegal.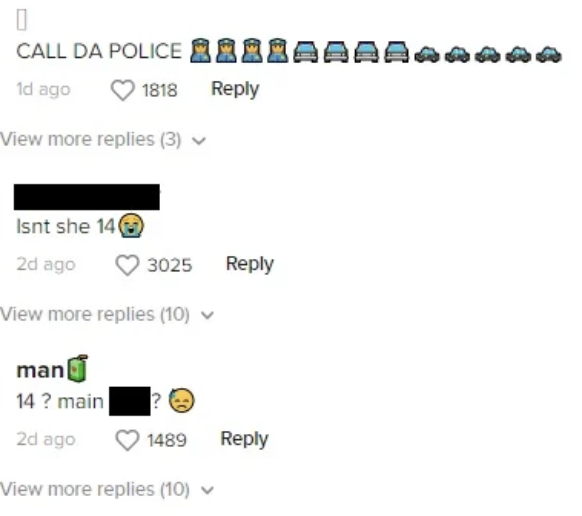 Netizens were left very shocked by the clip
"The thing is you're not even 18. Someone should've called[ed] the cops on her bf for dating a fr***** minor," read one comment on her IG page.
Others also emphasised Qistina's young age.
Qistina has since turned off the comments function on the TikTok, likely due to the backlash it has received.
Although most of Qistina's followers were shocked by the short vid, others also noticed that she was "heavily promoting" the dating app. It led them to suspect that the video could have been staged, and she was paid for it.
As of press time, Qistina has yet to address any comments, nor has she clarified the veracity of her relationship.
Photos: Qistina Raisah/ Instagram, Qistina Raisah/ TikTok