3 months after 'quitting' for good, Reimondo Congee hawker back with new stall
The serial hawkerpreneur who told 8days.sg he was leaving the F&B biz permanently to "focus on repaying my debts" is back selling congee, wonton mee & more.
When Reimondo Congee founder Raymond Tan, 35, closed his congee and wonton mee stalls back in May and June this year, the disheartened hawker told 8days.sg that he was leaving the F&B industry for good and returning to his former job as a car mechanic. His reasons for the decision back then were inconsistent business and the stressful long hours as a hawker. But in a twist of events, Raymond is making a comeback with a new stall next week.
Set to open on 18 September at Foodgle, a food court on ITE College West's Choa Chu Kang campus that's open to the public, Raymond's new stall is a combination of his three previous F&B concepts – namely Reimondo Congee, Sure Come Back Wanton Mee and Western-Asian fusion joint Super Supper. Spanning over 1,000 sqft, the spacious stall, which used to be a Burger King outlet, does not have an official name ("the stalls here do not have signboards," he explains). Instead, familiar logos from his previous ventures are prominently displayed on the menu boards.
No part of this story or photos can be reproduced without permission from 8days.sg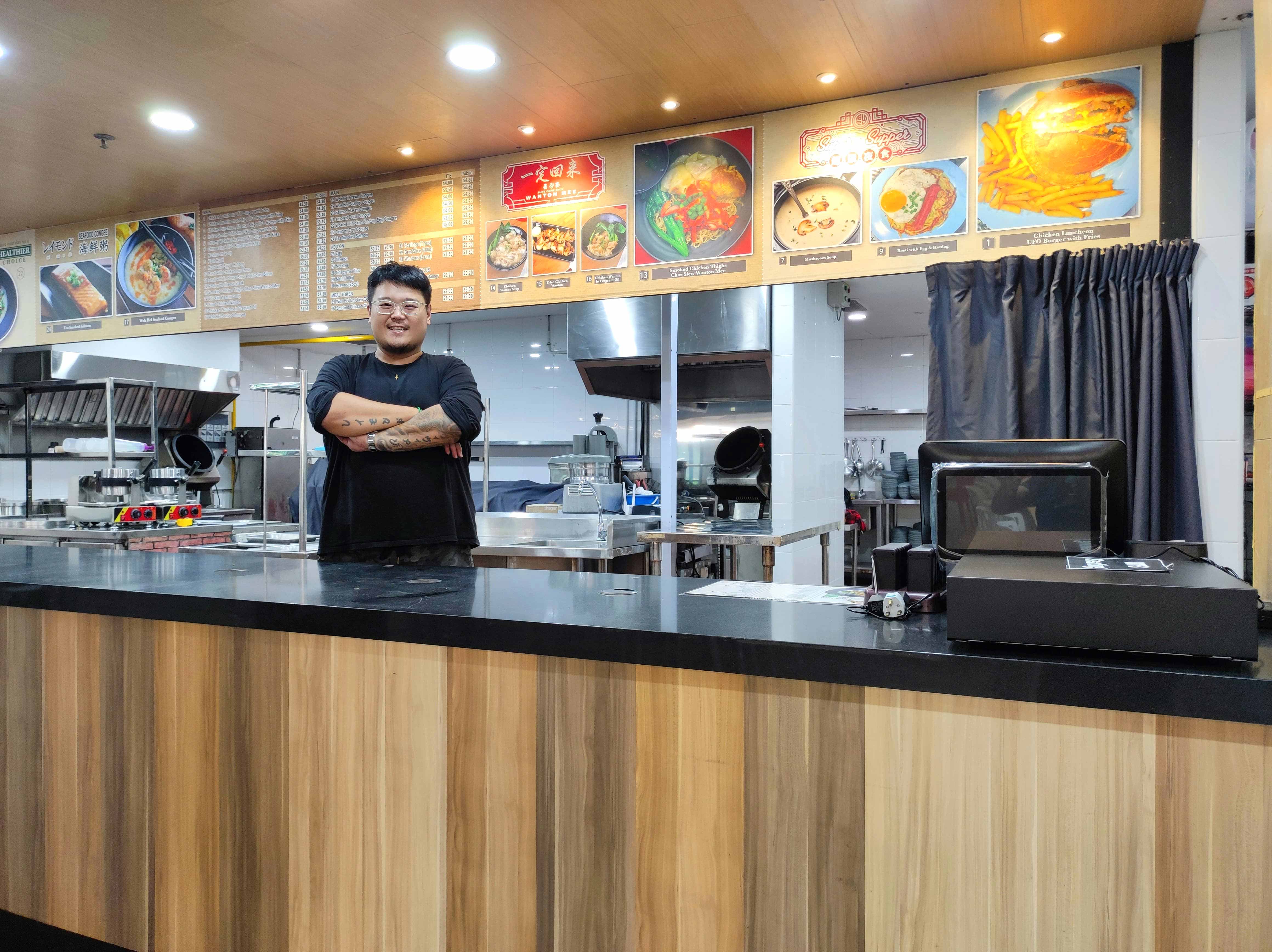 Unexpected comeback
This comeback follows a tumultuous journey for Raymond. Three years ago, the ex-convict and former car rental company and repair workshop towkay began his hawker venture after losing $1Mil to a gambling addiction. He launched Reimondo Congee at Pasir Ris Central Hawker Centre, which quickly gained success thanks to its unique wok hei-heavy seafood porridge. In May 2022, Raymond opened a 100-seat eatery Super Supper at a Desker Road shophouse, which unfortunately closed after five months, leaving him in $280K debt. Undeterred, he opened Sure Come Back Wanton Mee hawker stall in Pasir Ris last September.
Speaking to 8days.sg back in May, Raymond announced that he was permanently closing Reimondo Congee and Sure Come Back Wanton Mee due to slim profits and manpower issues. At the time, he had planned to return to his former job as a self-employed roadside assistance mechanic, which he estimates would bring in "around $10K or more" per month. 
However, shortly after our feature on his stall closures was published, an investor approached the hawker for a partnership. According to Raymond, the investor, who wishes to remain anonymous, is the owner of a local bakery chain. "He's a regular customer [of Reimondo and Sure Come Back]. He likes my food and sees potential in growing the concepts. We also share the same goal of wanting to do good by hiring and training troubled youths," he shares. His investor and silent partner contributed "around $50K" to fund the stall, while Raymond takes care of operations, which includes cooking at the stall daily.
Reaching out to troubled youths
Raymond's commitment to mentoring troubled youths through programmes organised by Prison Fellowship Singapore and Singapore Prison Service played a significant role in his return to the F&B industry.
"This location is ideal as some [of the youths that I mentored] attended ITE College West and got very excited when I told them about opening a stall here. I thought it'd be a good idea to position myself [as a mentor] in a place that they're familiar with. Sometimes, it's hard to keep in touch with them after they are released. With a food stall, they [may be more inclined to] come eat and chat. I'm excited about being able to provide employment opportunities for them too," he explains. Once the stall's business stabilises, Raymond plans to hire young ex-offenders while gradually transitioning from cooking to focusing on training the youths and expanding the business.
The stall is closed on weekends
Another motivating factor for his comeback is the food court's weekend closure, which allows the father of two to spend more time with his family. "My [11-year-old] daughter has been facing difficulties in school and I think I need to spend more time with her. If it were any other stall, my weekends would be gone. So when my investor secured this location, which doesn't require us to open on weekends, everything kind of fell into place," he explains.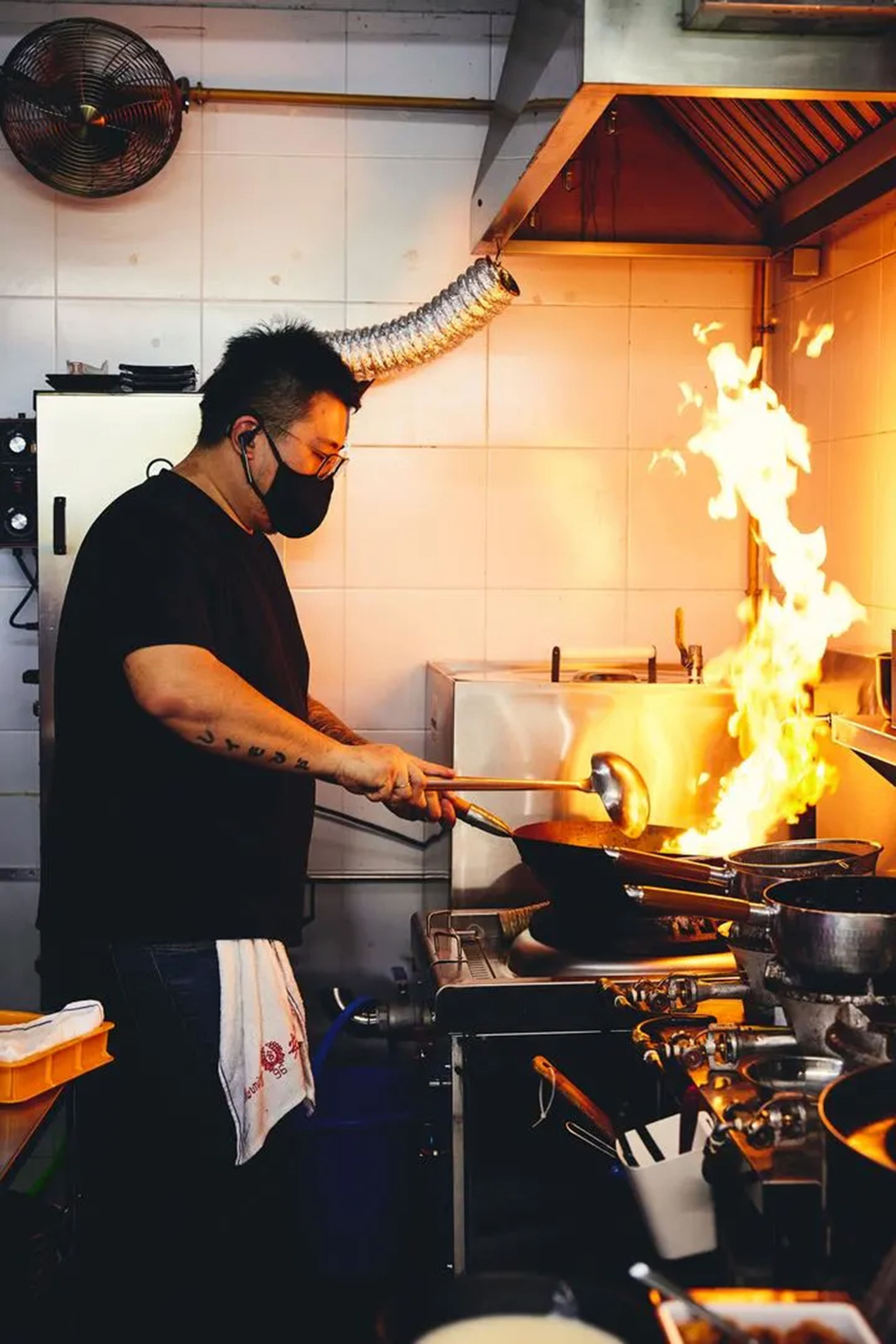 Supplementing income with ad hoc roadside assistance gigs 
Raymond says that for now, he will be drawing a fixed salary of $2,800 as a hawker. The stall operates from 8.30am to 5pm. At night, he plans to supplement his income as a roadside assistance mechanic. He estimates that these ad hoc gigs will bring in an additional "$3K to $5K a month" – most of his earnings will go into repayment for his six-figure debt.
"Opening a new stall is stressful, but it's a 'shared stress' [now that I have an investor]. There's also the perk of having a good partner who can help negotiate better deals for equipment and manpower etc. The anxiety eats at you when it's your money [at stake] and it's 'do or die'. But this time, it's different. I don't mean just because it's not my money then I can do whatever I want, but [the partnership] allows me to work with a better mental state. We see the potential good that can come out [of this venture] and our goal is for the business to be profitable and to provide jobs [for troubled youths]," he shares.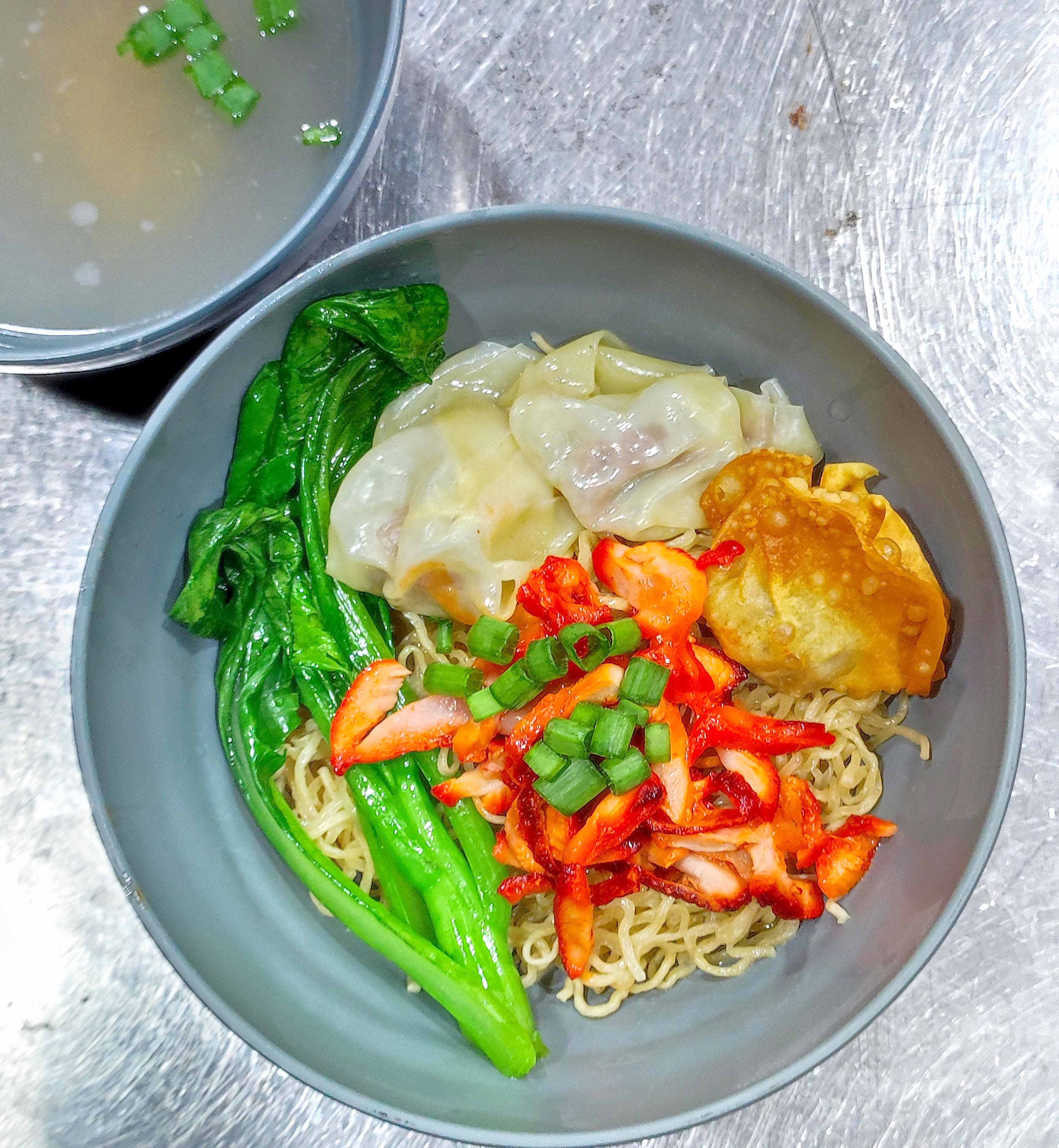 Three-in-one concept, no more pork on menu 
The new stall combines all of Raymond's previous concepts, offering over 20 items on the menu, including signatures like seafood congee, wonton mee and cheese steak burger. Prices start from $4.20 for the public, while ITE students and staff enjoy a discount. "As we are only open on weekdays, we need to attract more customers from outside the school too in order to sustain our business. That's why we're offering more variety on our menu," he says.
To cater to a larger market, the hawker has also tweaked his recipes by removing pork and lard. For instance, his Wonton Mee ($4.20) will feature smoked chicken thigh 'char siew' and wontons stuffed with minced chicken thigh.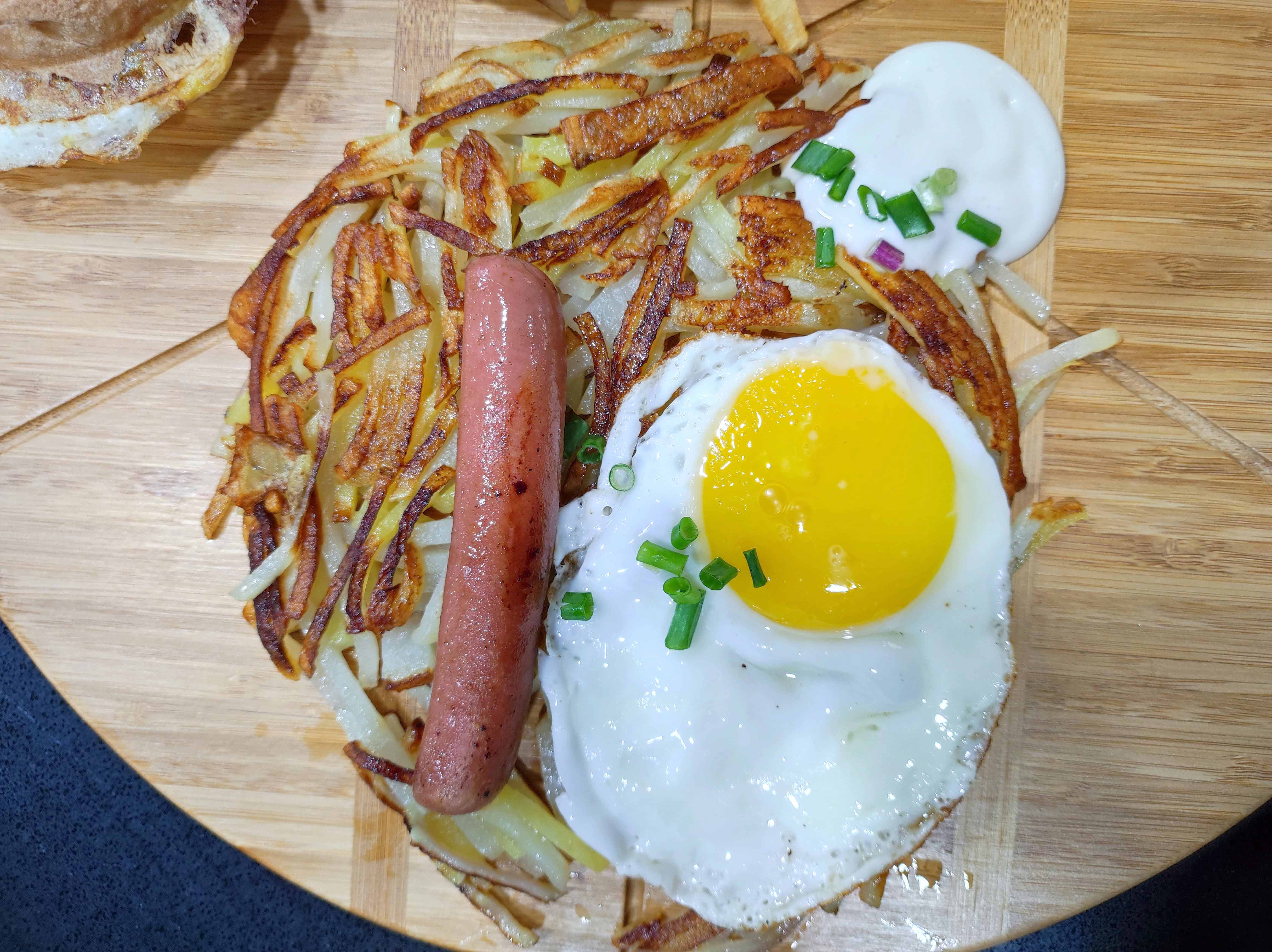 He has also introduced new items like rosti, which is pan-fried to order. You can order yours plain ($4.20), or with toppings like Egg & Hotdog ($6).
Reimondo Congee, Sure Come Back Wanton Mee & Super Supper stall opens 18 Sept. Located at Stall 3, Foodgle, Blk 1 Level 3, ITE College West, 1 Choa Chu Kang Grove, S688236. Open Mon to Fri 8.30am to 5pm. Closed on weekends. More info: Facebook.
Photos: Alvin Teo & Raymond Tan
No part of this story or photos can be reproduced without permission from 8days.sg.
8days.sg is now on #tiktok! Follow us on www.tiktok.com/@8dayseat.