3rd-Gen Hawker Sells Hakka Mee, Yong Tau Foo Under CCTV Supervision By Dad In Malaysia
The senior hawker based in Batu Pahat "monitors daily operations" of the Singapore stall at his son's behest. 
How does a bowl of lard-slicked Hakka noodles tossed with minced pork and spring onions with a side of comforting yong tau foo soup sound? Get it from Hakka Taste SG, a three-month-old stall tucked away in an Ang Mo Kio Ave 5 kopitiam (where the original outlet of popular Thai wanton noodle chain Soi 19 also resides). 
The stall is managed by Fico Tan, 32. The Singapore PR hails from Batu Pahat in Johor, where his family runs a yong tau foo eatery. "I'll be focusing on expanding our brand here in Singapore," he shares. 
Yong tau foo, with its minced meat or fish paste-stuffed vegetables and beancurd in a light broth, can be found in many parts of Malaysia – though some regions, like the Ampang area of Kuala Lumpur, prefer to enjoy the stuffed treats slathered in a sticky brown sauce. 
No part of this story or photos can be reproduced without permission from 8days.sg.
Family recipe dates back to '60s
According to Fico, his Hakka family's stall, also named Hakka Taste, traces its history to the 1960s. His late grandfather established the brand as a humble street stall (above), growing it over the decades into a standalone eatery within a shophouse.
Fico spent much of his childhood helping out at the family joint before his ambitions drew him to Singapore a decade ago, where he found work with a bank as a relationship manager before becoming an independent financial advisor a few years later. 
On why he decided to bring his family's recipe to Singapore, he tells us: "I was stuck here because of Covid – I also missed my family's yong tau foo lah (laughs). In Singapore, Hakka mee isn't as common as in Malaysia. So I thought, why not bring it here so other Malaysians can have it anytime we want?" he adds.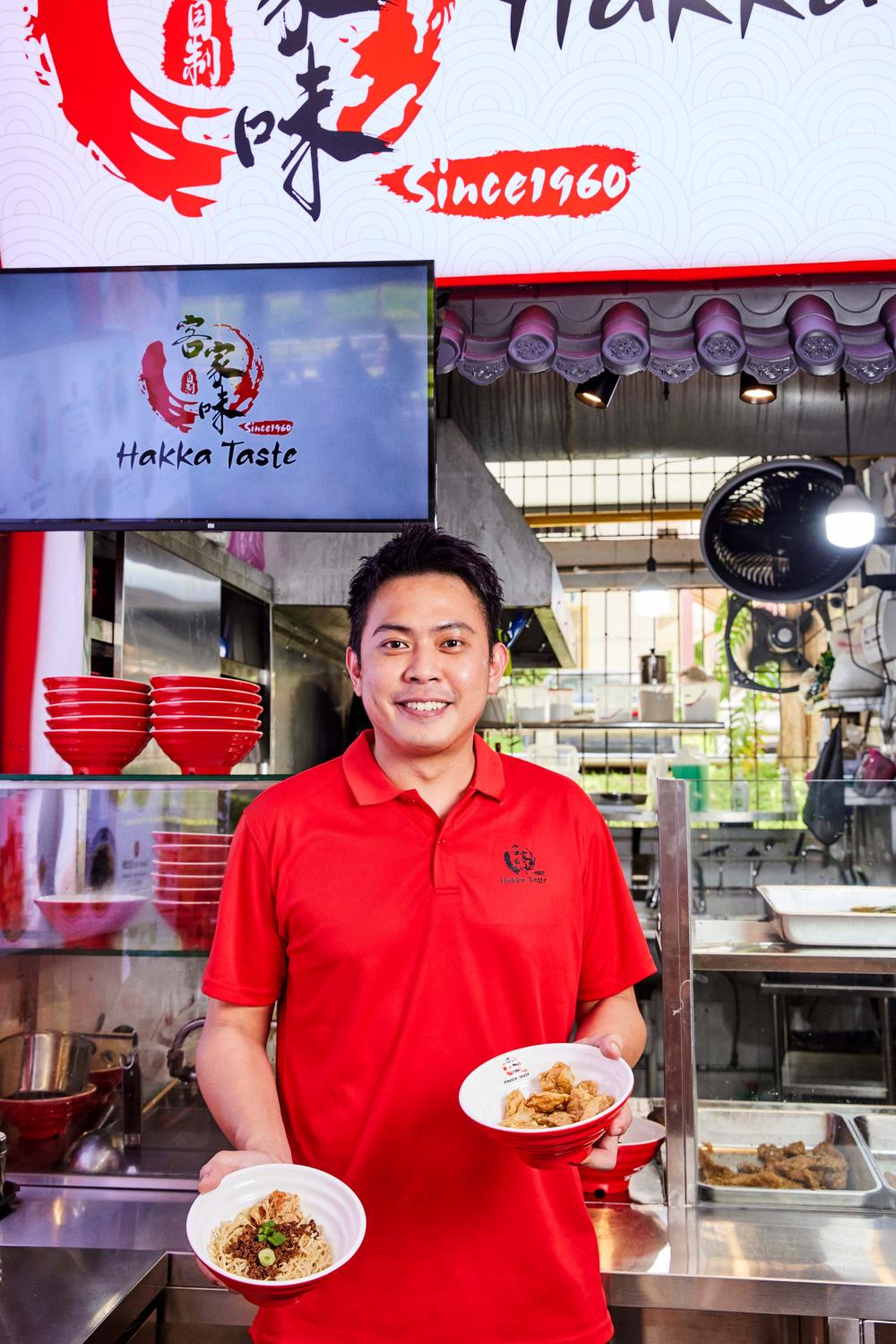 Staff trained for a month in Batu Pahat
It made sense to expand, as Fico (pictured above) already had a time-tested recipe and "lao jiao" (Hokkien for old bird, referring to someone older with more experience) to rely on. "My father was more than willing to teach me. So after I found my staff, I brought them back with me to Batu Pahat to train for a month," he says with a laugh.
"We're trying our best to keep the taste as authentic as possible, with the same recipes and ingredients," he says. "We don't have the capacity to make the wheat noodles ourselves yet, so I am bringing that over from my father's shop (where they are made by machine)." Their signature tau kee (beancurd skin) stuffed with fish paste is also similarly delivered from his family's Batu Pahat eatery, with the items arriving every "three days". The remaining yong tau foo ingredients are prepped daily by Fico's crew every morning (the towkay doesn't cook, instead focusing on operations).
Hawker dad monitors operations via CCTV
The elder Tan, who still helps out at the original stall in Malaysia, visited Fico during his stall's soft-launch in late September to ensure that standards were being maintained. But that apparently wasn't enough, since he continues to "monitor their daily operations" via closed-circuit television (CCTV) in the kitchen. "That day we were making meatballs in the morning and suddenly my phone rang. It was my dad, and he started scolding us: 'Hey, you can't do it that way, you must do it this way,'" says Fico with a laugh. 
He shares that it was actually his idea to install the camera, as "[my dad] can see what we are doing and advise us if we do anything wrong." Rather than being weirded out by the constant monitoring, he says, "I'm happy he's there to help watch out and make sure we're following all of the steps."
Hopes to open "as many outlets as possible" in Singapore
The cheery hawker owns the Singapore stall fully – he spent around $50K getting it started.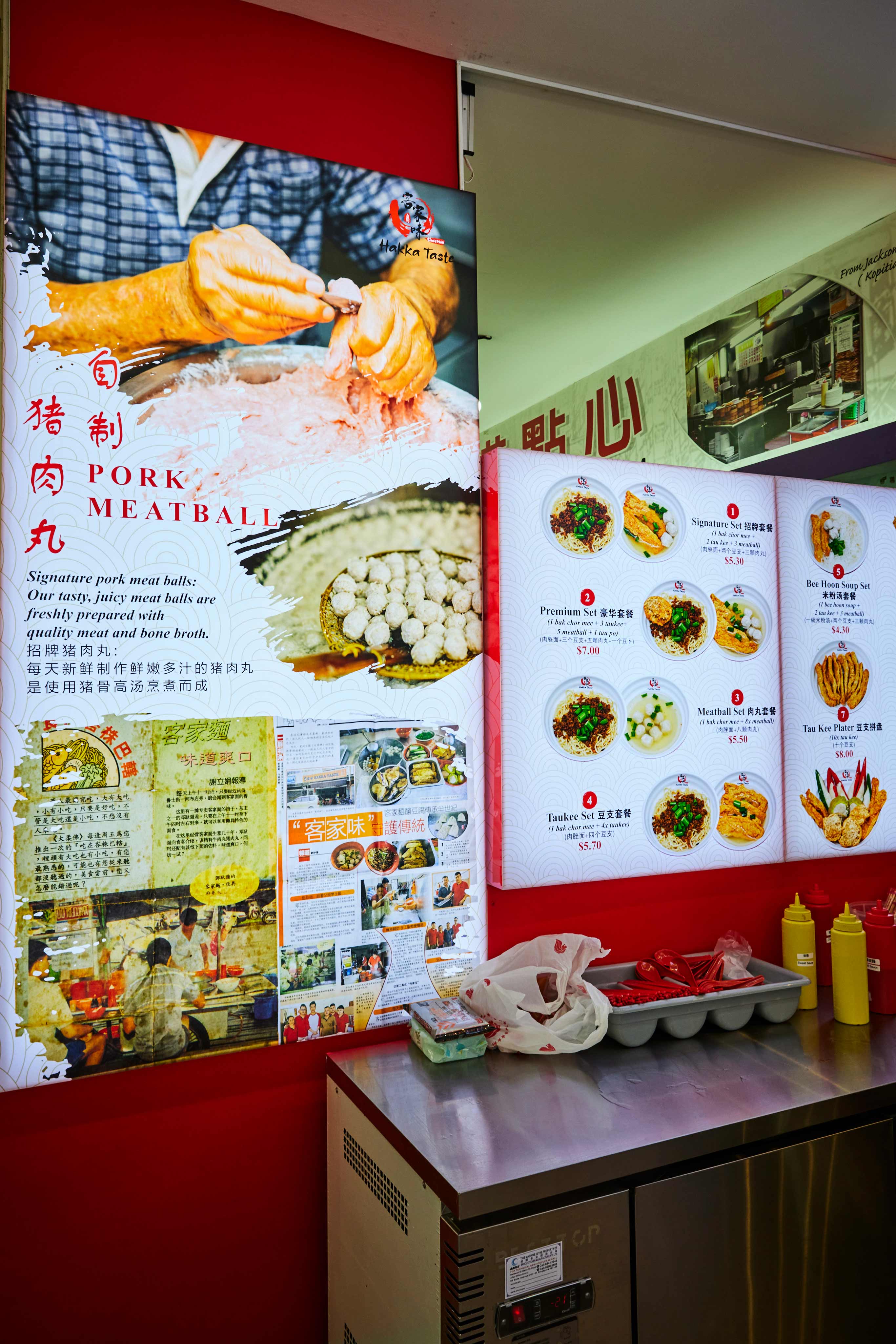 He plans to juggle his full-time job as a financial advisor with daily work at the stall "at least for the first few months" as operations settle in. They sell around 200 portions daily, with visits from "many Malaysian regulars who relocated to Singapore [to find work]." "If business is good, we are definitely looking to expand. Indeed – after our visit, the hawker informs us that he has already opened outlet number two last November at a Canberra kopitiam in Sembawang (where there's CCTV for dad to oversee ops too), with plans for another stall in Punggol come February. 
The menu
Hakka Taste's menu comprises several sets, ranging from $4.30 to $7. You can add other yong tau foo ingredients like fish paste-stuffed bitter gourd or lady's finger a la carte, or swap them out for items already included in the set. All yong tau foo items cost $0.80 apiece.
The 'bak chor mee' is actually Hakka noodles
Included with most sets is a bowl of 'bak chor mee'. Don't mistake this for the vinegar-laden Teochew staple popular in Singapore, as this dish is more correctly referred to as Hakka mee. "I just thought calling it bak chor mee would make it easier for Singaporeans," explains Fico.
Hakka mee typically features a flattish wheat noodle – "sort of like flat mee kia, but without the alkaline" – dressed simply in fish sauce and lard, accompanied by a sprinkling of minced pork (stir-fried with soy sauce, garlic, ginger and more fish sauce) and spring onions. The dish doesn't come with chilli or vinegar by default, but there are bottles on the counter to add them to taste.
We like the smooth, QQ noodles and well-seasoned, moist minced pork, but miss the usual lardy redolence that comes with bowls we've had in Seremban, Malaysia, where the dish is popular. Explains the hawker, "We've had to make some adjustments to the tastes of Singaporeans. In Malaysia, you can say that the food is more "zhong kou wei" (Mandarin for strongly-flavoured). These few weeks, we've been listening to customer feedback to tweak our food." When we come back, we'll be sure to ask for an extra splash of lard oil.
Signature Set, $5.30
Hakka Taste's master broth is made simply by boiling pork bones "for around three hours", before using it to cook the homemade pork meatballs. "By the time those are done cooking, some of the [meatballs'] sweetness has already gone into the soup," explains Fico.
It is light-bodied and homely, with an undertone of that natural sweetness from the meat promised by the hawker. He is contemplating experimenting with other ingredients in the soup base like "anchovies or soya bean" to round out the flavours – so the soup you end up trying might be different from what we had.
The signature set came with three pork meatballs and two pieces of tau kee during our visit, but has since been reconfigured slightly to include one tau kee and one tau kwa instead. The meatballs pack a pleasant, springy bite, though we aren't big fans as they are overly peppery. We much prefer the signature tau kee, which is first deep-fried before being added into the soup. The fish paste, made from minced freshwater eel and "secret seasonings", is nicely savoury and rather addictive.
Tau Kee Platter, $8 for ten pcs (8 DAYS Pick!)
The tau kee tastes even better when it hasn't been soaked in soup, lightly crisp at its edges with nary a whiff of stale grease. Shiok – dip it in the accompanying chilli and sweet sauce if you need some extra zing.
Premium Set, $7
Apart from more pork meatballs, tau kwa and two pieces of tau kee, this set also comes with one deep-fried tau pok (beancurd puff), stuffed with minced pork. While there is a lovely contrast between succulent minced meat and the crispy tau pok, we find it slightly greasier than the tau kee.
Assorted yong tau foo items, $0.80 each
The last tofu option is tau kwa stuffed with minced pork, which isn't as crispy as the others we tried, but it is more substantial. 
For more veggies in your bowl, they also sell red chilli (which has a seriously spicy kick, as not all the seeds were removed), lady's finger and bitter gourd, all stuffed with yellowtail fish paste. All three are fresh-tasting and worthy of a space in your bowl.
Bee Hoon Soup Set, $4.30
If dry noodles don't float your boat, Hakka Taste also provides a soupy version with bee hoon and kway teow. It's simple and comforting, though we'd still rather have our yong tau foo with a side of lard-tossed Hakka mee.
Bottom line
Hakka Taste's minced pork-laden Hakka noodles and yong tau foo soup are worth trying if you're in the area. While it's not as robust as those we've eaten in Malaysia where the dish is popular, it tastes home-made and comforting.
The details
Hakka Taste is at #01-3030, Blk 151 Ang Mo Kio Ave 5, S560151. Tel: 8444-9064. Open daily 8.30am – 7.30pm. More info via Facebook & Instagram. Delivery via Deliveroo.
Hakka Taste's second outlet is at #01-01, Blk 115 Canberra Walk, S750115. Open daily 8.30am – 7.30pm.
Photos: Aik Chen
8days is now on #tiktok! Follow us on www.tiktok.com/@8dayseat
No part of this story or photos can be reproduced without permission from
8days.sg
.