Actress Khaw Xin Lin Spent $100K To Turn Her Punggol 5-Room Flat, "One Of The Most Expensive In The Area", Into Winnie The Pooh-Accented Farmhouse
The Live Your Dreams actress and her husband turned to the resale market after failing to get a BTO flat after five years.
For actress and influencer Khaw Xin Lin, 29, and her husband, Lim Hao Jie (she declines to reveal his occupation), 30, the journey to owning their first home has been a long, but relatable, one.
The couple, who had just tied the knot and moved into their five-room resale flat in Punggol in July, had tried balloting for an HDB flat seven times in the past five years. They either could not get a queue number or there were no units left by the time it reached their turn.
"We had very terrible luck. We went for the big projects but yet we couldn't get anything. So in 2020, we decided to look at the resale market instead 'cos we realised we were not that young to wait another five years for the flat to be built. Also we wanted a place to stay when we got married," the Live Your Dreams actress tells 8days.sg.
After a six-month search and viewing more than 30 units, they finally found "the one". "When we entered the flat, we were like 'wah'. We just knew this was it. I think it's the vibes," says Xin Lin. 
Located near the park connector, the six-year-old flat is quiet, spacious, and has views of the waterway.
While Xin Lin admits that they paid a "very high" price for the unit, it's considered "reasonable for the prices these days". "It was one of the most expensive [flats sold] in the area. But we checked the recent transacted prices and they have gone up around 10 to 15 per cent since we bought our flat last year," she says.
All photos cannot be reproduced without permission from 8days.sg.

Though the apartment was in very good condition, they completely overhauled the 1,200 sq ft unit — including rewiring and plumbing — to create a Scandinavian-farmhouse aesthetic. The transformation took five months and cost around $100,000.
Inspired by the Airbnbs Xin Lin used to stay during her travels, she wanted a bright and airy space with lots of wood accents to give the home a rustic charm and cosy touch.
"I just really like the farmhouse vibe. It's very warm and cosy, and plus I am not a neat person, so having a little clutter is in line with the theme," says Xin Lin. Combined with the clean lines of the Scandinavian style, it gives the house a more modern feel, she adds.
The couple's personalities are also evident through their design choices and accessories scattered throughout. Xin Lin loves anything Winnie the Pooh, which you will find around the house in the form of plushies, hand towels and even kitchen appliances (part of the home also unexpectedly ended up looking like Pooh's treehouse), while Hao Jie wanted a dark aesthetic.
"He really wanted black in the apartment. If he had his way, the whole house would be a lot darker," she says.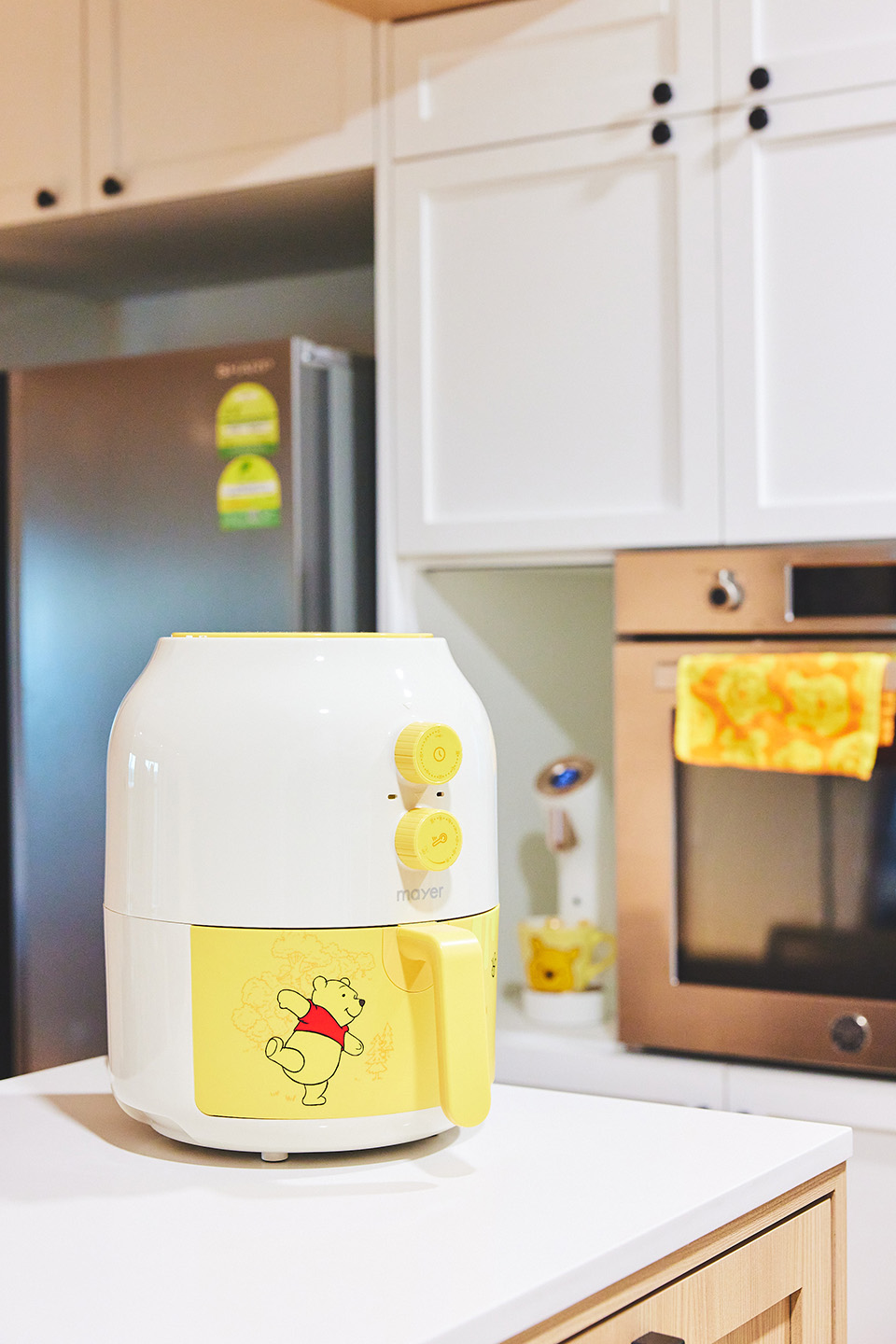 Just some of the Pooh items we spotted around the house.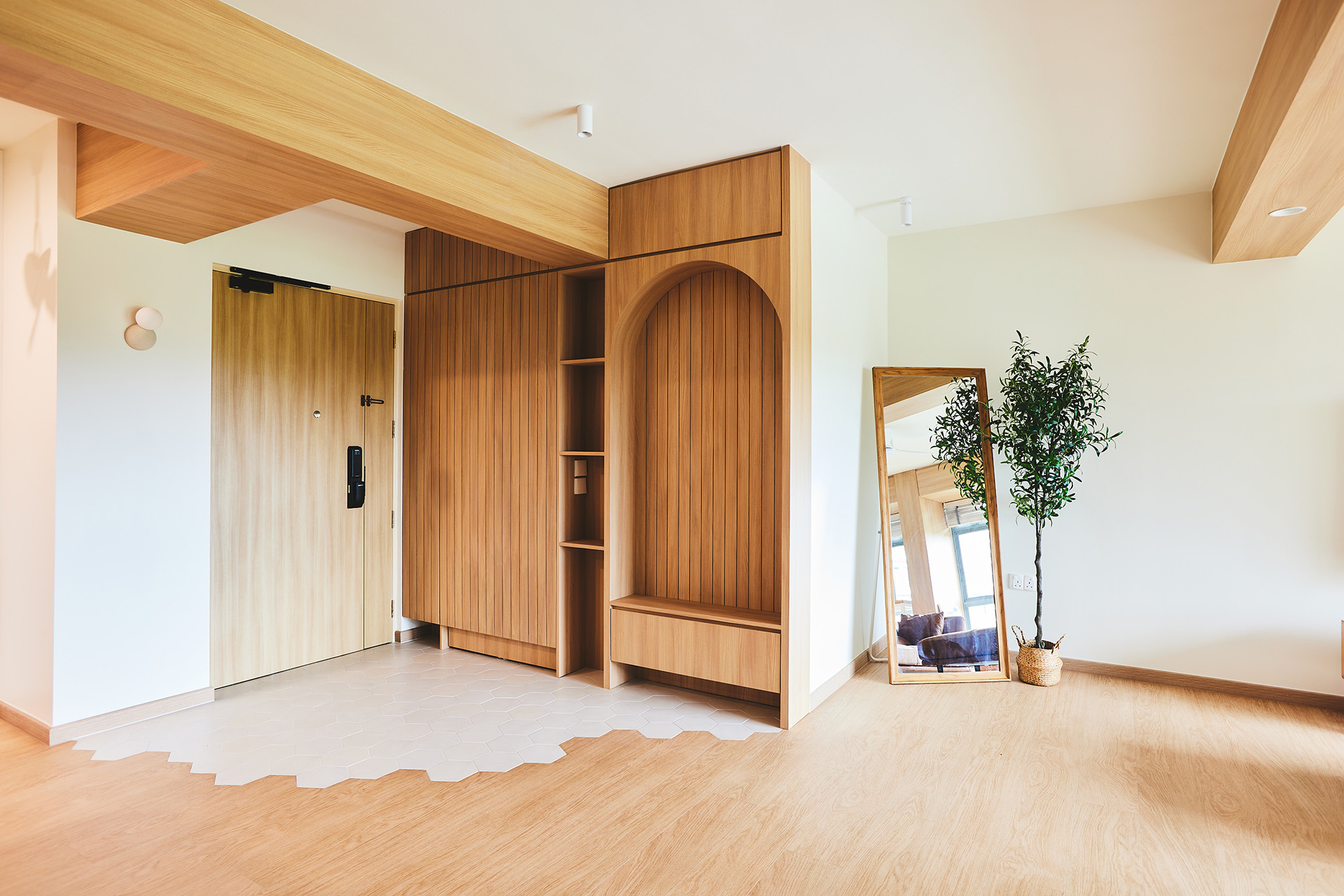 The entryway
Xin Lin went all out to create the farmhouse of her dreams. Much of the apartment is decked in warm wood tones and white, pepped up with pops of grey and black accents. They even covered some of the ceiling beams with timber-style laminate to look like exposed wooden beams. 
"We didn't want to add actual wood beams 'cos then we wouldn't have enough space for our ceiling fan, which is very important to us," explains Xin Lin.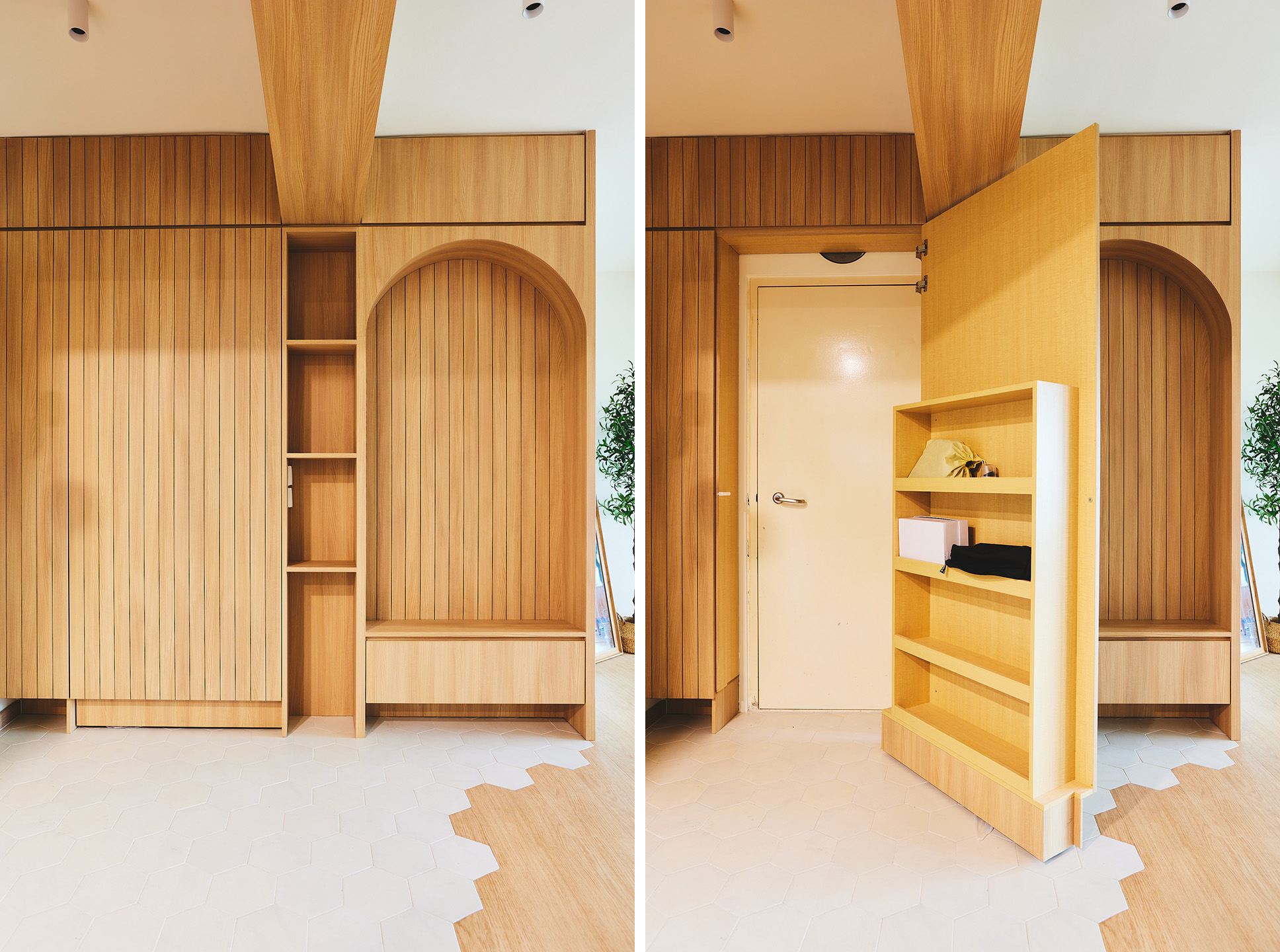 Wood panelling which mimics the shiplap look, another farmhouse mainstay, cleverly hides the bomb shelter and shoe cabinet, and beside it, a little nook for them to sit and put on their shoes. Hexagonal floor tiles were added not just for the aesthetics, but for practical reasons too. 
"Tiles are easier to maintain than vinyl. If our shoes are wet from the rain, we don't have to worry about water [seeping into the flooring]. The tiles also delineate the foyer from the living spaces," says Xin Lin.
Living room
Lined with a wall of large windows and bathed in natural light, the living space exudes a sense of comfort and warmth. The palette is earthy, but uses different textures like leather, rattan and wicker to add interest to the look. 
Xin Lin was very hands-on in the selection of colours and furnishings to make sure they all matched to a T. "All the cabinet knobs, fixtures, and, as far as possible, furniture legs had to be black to match our windows. We also brought our wood laminate and tile swatches with us when we went shopping so we could compare. Some things like our mirrors were bought online so there were some hits and misses, but the shade was close enough," she shares.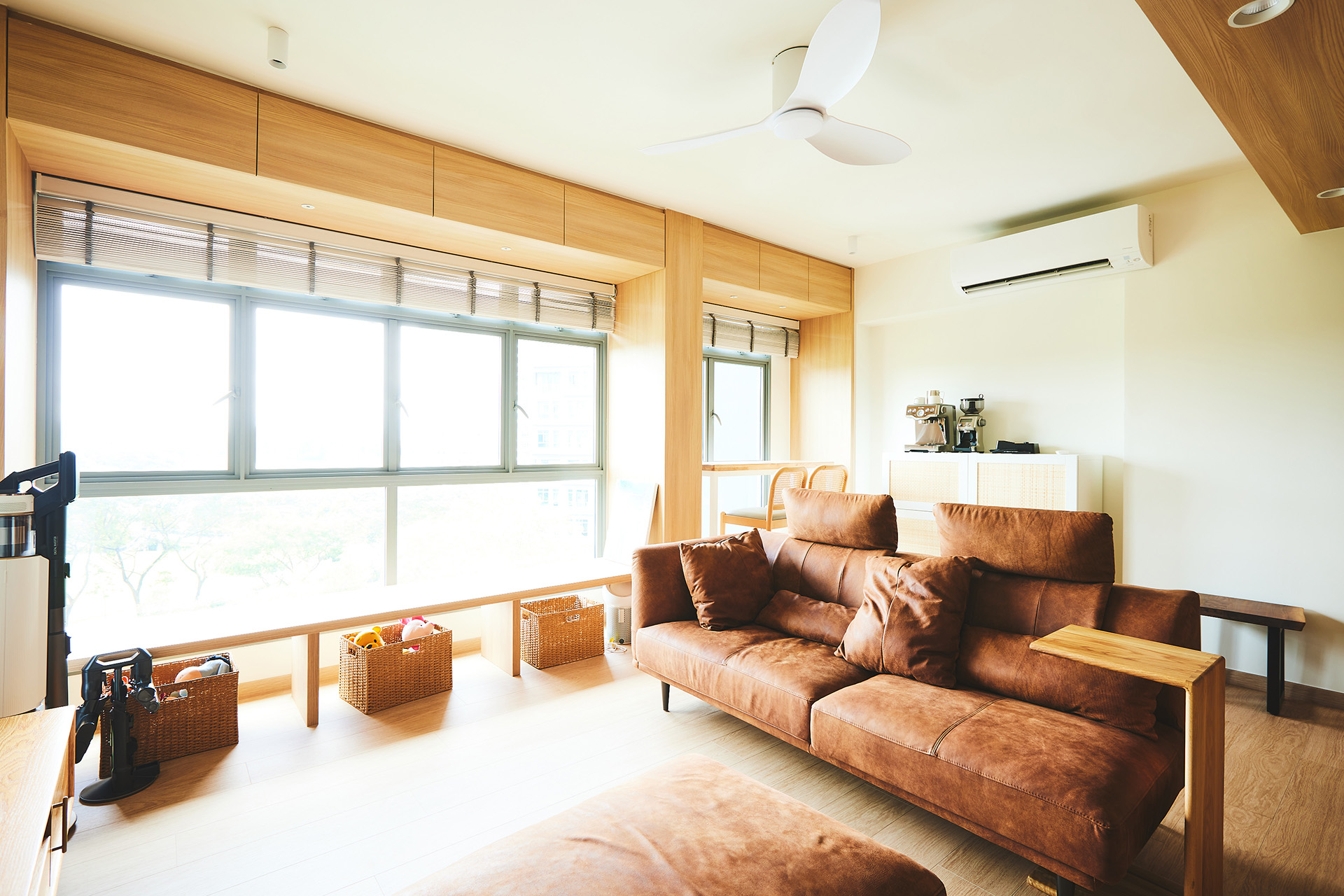 Taking pride of place is the plush leather sofa, which adds to the cosy and homely touch. "This is a custom-designed piece from Grey and Sanders. It was actually a chaise lounge, with only one headrest. We liked it a lot so we customised it by adding another headrest, cushions and ottoman to turn it into a sofa. It cost around $3,000," says Xin Lin.
While most people would think of ways to get rid of the bay window, Xin Lin had one specially built so that she can sit and admire their wedding portrait, a gift from a friend, as well as the unblocked view with which they're blessed. A counter was added by the other window for her mini coffee bar.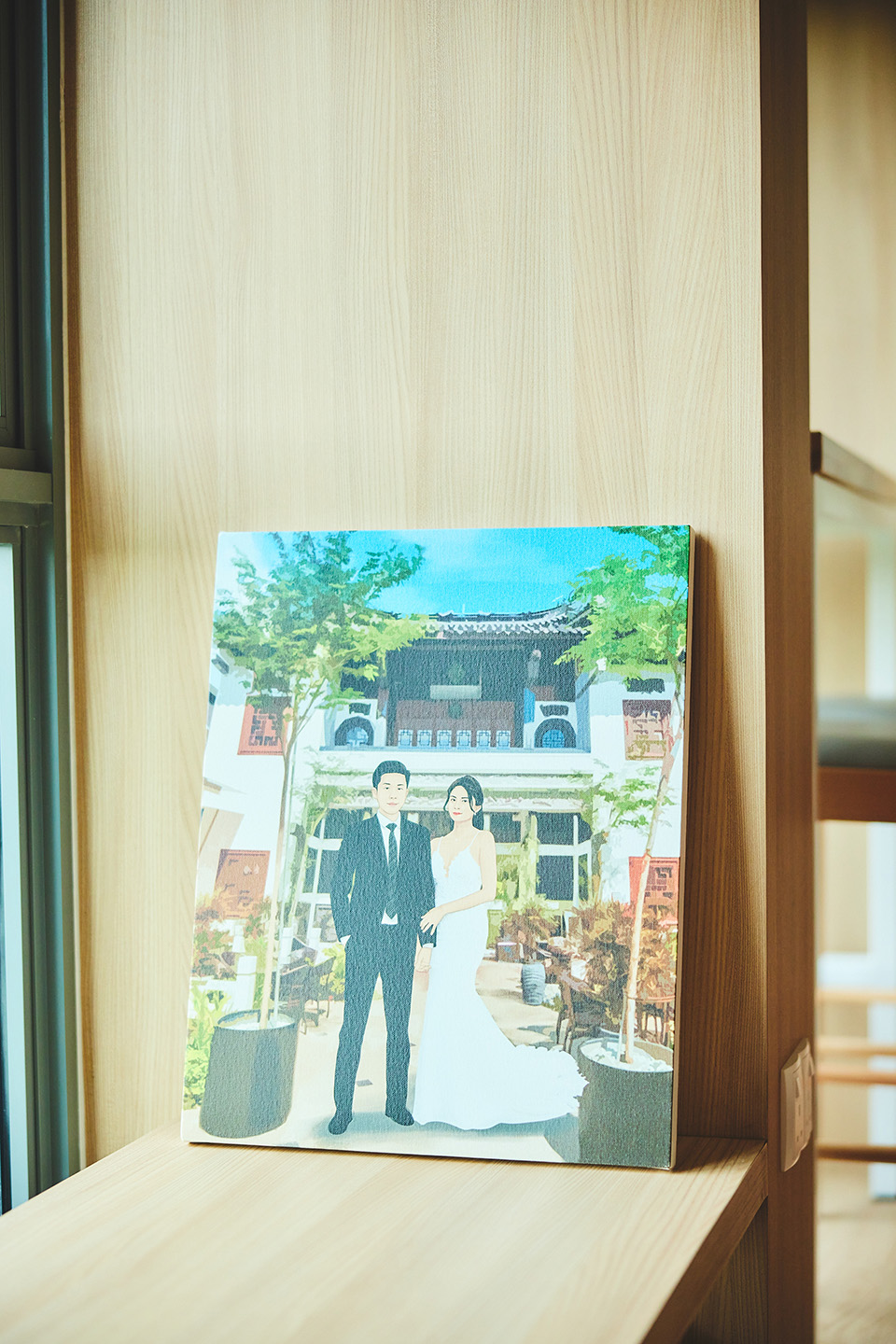 This portrait of Xin Lin and her husband, which was used as their wedding signage, was repurposed for their home.
Dining area and kitchen
Just by the living space is the dining area and kitchen. As the kitchen was very narrow, two walls were hacked to create an open concept kitchen with a small island to separate the wet and dry areas. Cabinets were built to create a pantry and for additional storage in the dry kitchen.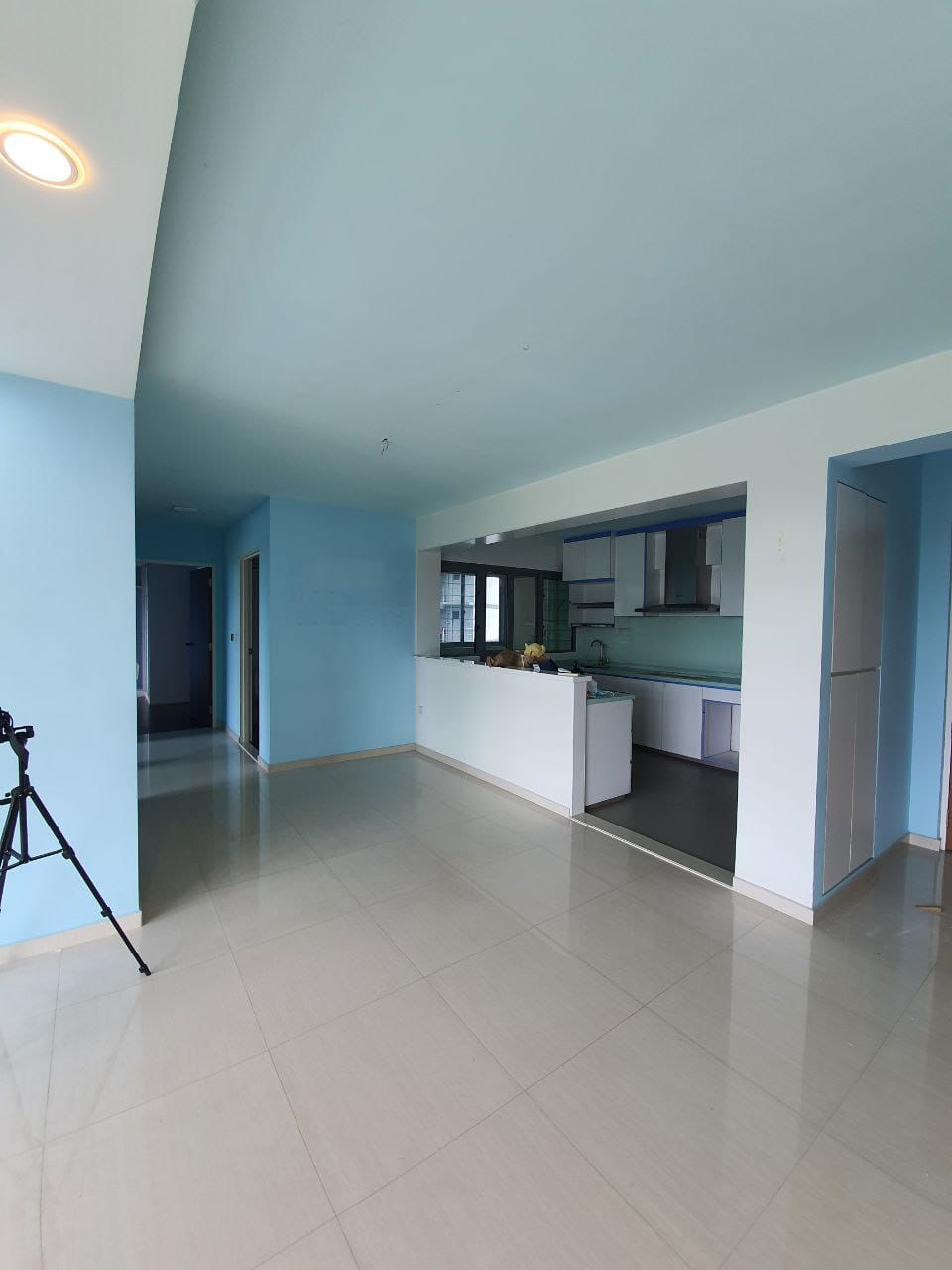 Before: The kitchen was pretty closed off. 
After: Two walls were hacked to create an open-concept space.
In keeping with the farmhouse aesthetic, the dining area was decorated with rustic touches like pendant lamps and solid wood dining table. A faux wooden beam was also added above it.
The dining table, which cost around $3,000, was made from a single slab of American black walnut wood. The couple picked a darker shade for the "reclaimed wood look" and it also lends character and contrast to the space. 
"I like my furniture matchy-matchy so initially, I was a bit skeptical about whether the dining table would go with the rest of the house, but now I love it," shares Xin Lin, adding that this is her favourite spot in the house.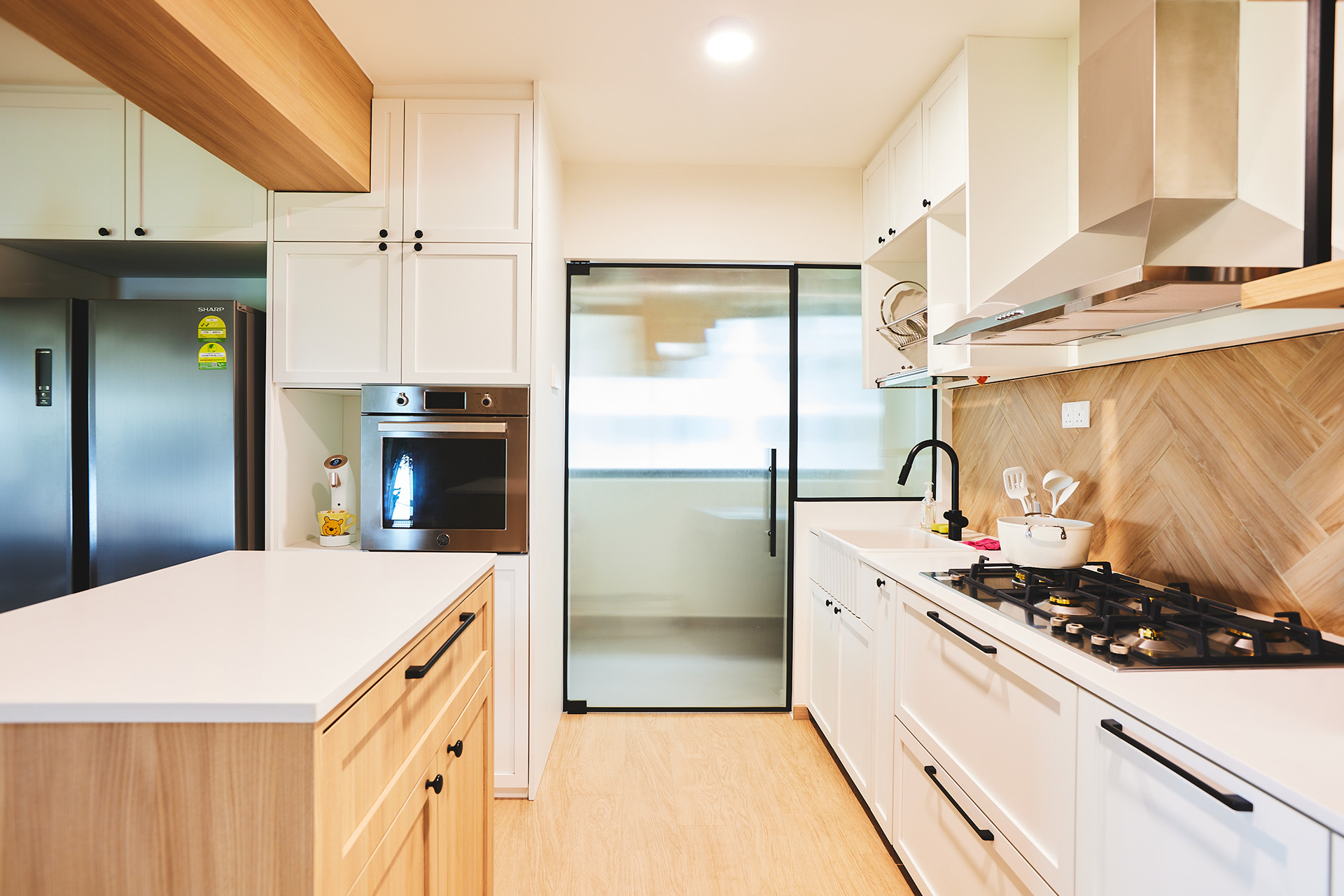 The kitchen has all the hallmarks of a country kitchen with the shaker style cabinets, chimney hood and farmhouse sink. They also opted for a gas stove instead of an induction cooker to fit the theme and included open shelves for Xin Lin to display her kitchenware and crockery.
"All my appliances and pots and pans have to go with the theme. The shelves are empty 'cos we just moved in, but if you come back in half a year, I think they will be filled," she laughs.
The use of wood in the cottage kitchen goes beyond the cabinetry. Timber-look tiles were used to create a herringbone backsplash.
Behind the fluted glass door is the yard area. While Xin Lin admits that it would have been nice to install a barn door here, they couldn't accommodate one as it "eats up a lot of space".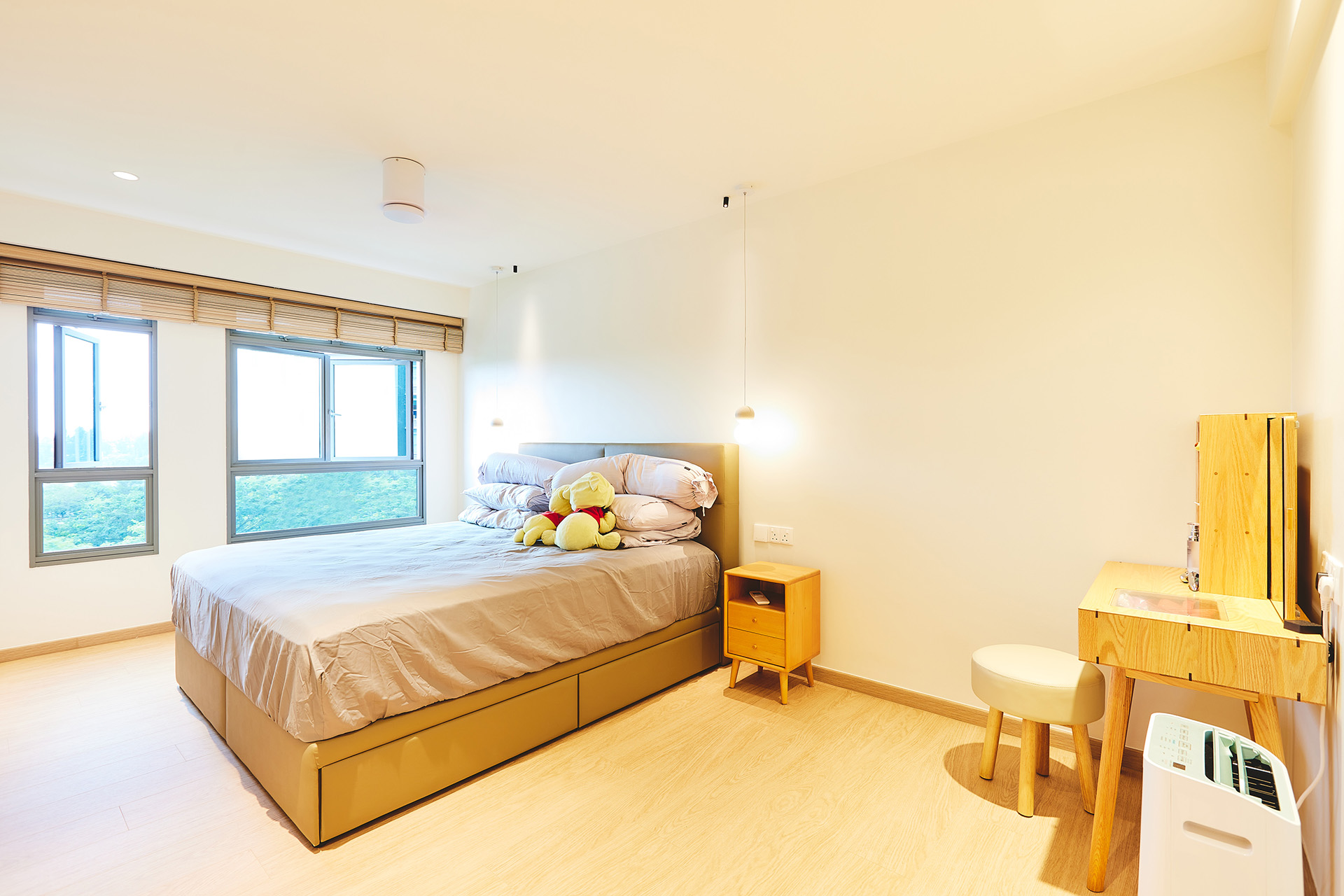 Master bedroom
The master bedroom is kept simply furnished with just a bed, side tables and vanity. The couple's wardrobes are housed in their respective home offices and there is no built-in furniture in this room, so they have the flexibility to move things around when they have kids.

Home offices
Xin Lin and Hao Jie's home offices are as different as night and day. 
Xin Lin's room, which doubles up as a studio for her shoots, is predominantly white, while Hao Jie's looks like Batman's cave with its black and dark wood interiors. Even the door has been painted black to match the space. "This is his 'feature wall'. He's very proud of it," says Xin Lin.
"I will probably have to give up my home office when we have kids and move it here. We can't let a baby sleep in a black room, right," she adds.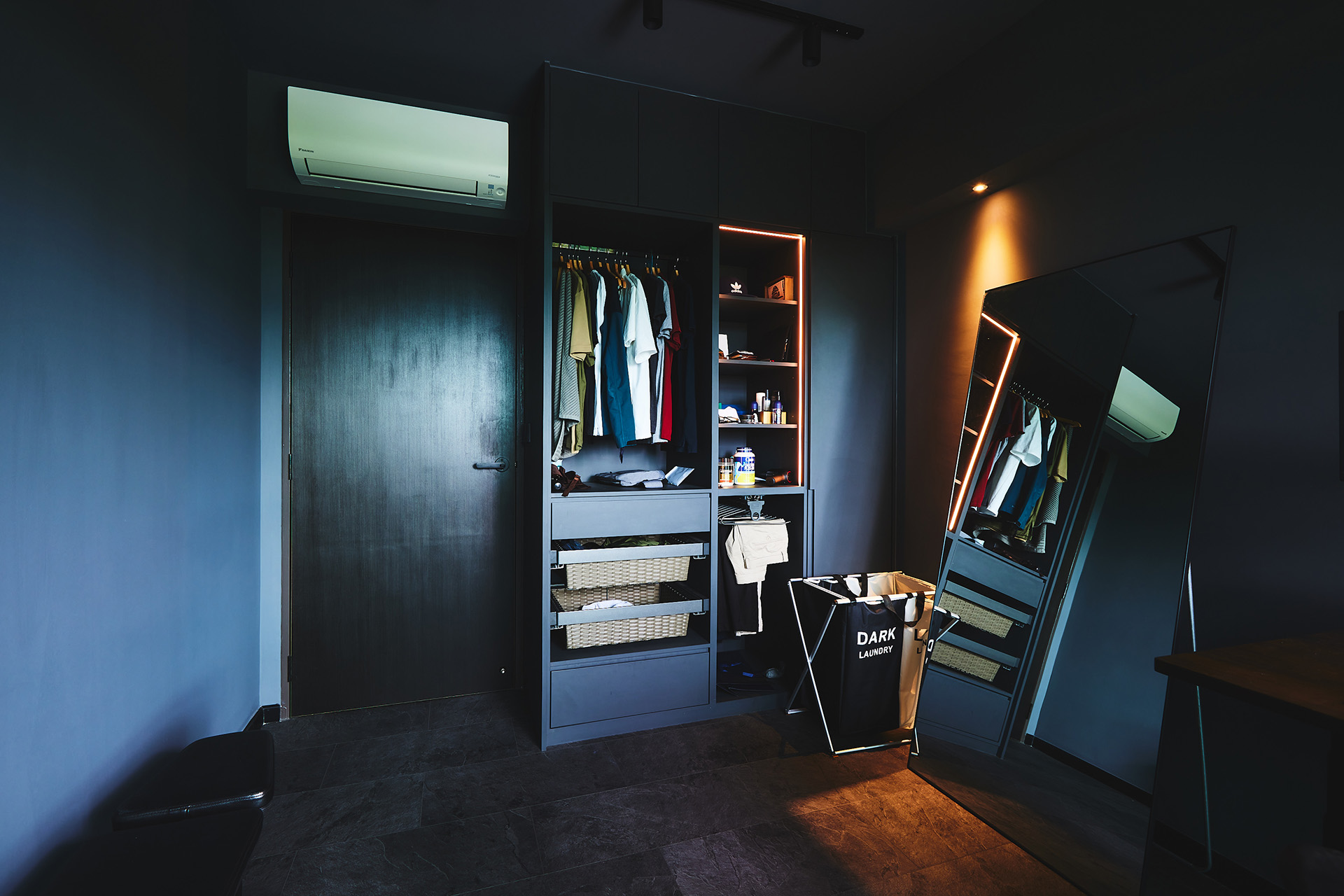 Master bathroom
The design aesthetic of the home follows through in the bathrooms. Grey and wood textured tiles were mostly used, accentuated by matte black fittings and wood vanity counters.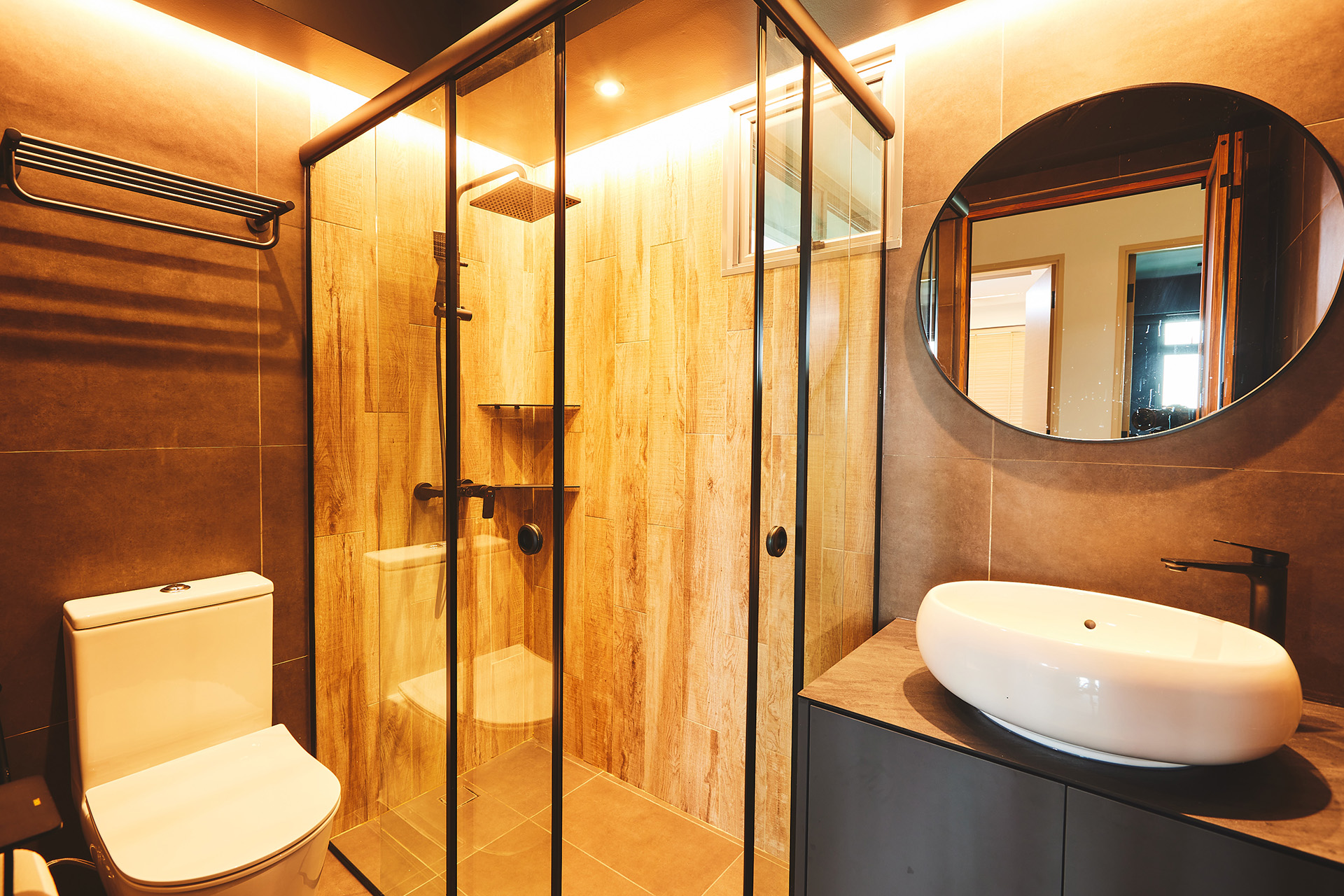 Common bathroom
The common bathroom, which is just across from Hao Jie's study, has a darker palette so it "feels like it is transitioning to match back the rest of the house". Even the door was replaced with one with a dark wood finish for a slightly more uniform look. 
"We saw these PVC bi-fold doors in the new BTO flats and we really like them. We contemplated buying them over from homeowners who didn't want them, but realised we wouldn't be able to install them 'cos they were only selling the door and not the frame, so we were very happy when managed to find these doors," says Xin Lin.
8 DAYS: What were some of the important factors for you when buying your home?
KHAW XIN LIN: The house cannot be west-facing 'cos the both of us rarely use the air-con in the house so it must be bright and breezy. It also has to be spacious. We were only looking at five-room flats 'cos we both wanted our own home offices. I am a homebody, so personal space is important. 
Another thing is we didn't want to pay so much COV (cash-over-valuation) 'cos prices were already so high. The first unit that we viewed when we first started house hunting in January last year was in the same project, but at a different block. We liked it but found the $30,000 COV a bit too high, so we decided to shop around. Though there was no COV for our flat, it cost $100,000 more when we bought it in November. We didn't want to wait already 'cos houses would only get more expensive. Plus, we wanted the place to be ready when we got married.
 
You moved in in July, just before your wedding. It must have been very stressful for you.
I was freaking out the whole time 'cos the house was so dusty and I have sensitive skin. We only managed to move in a week before the wedding. We didn't want to compromise 'cos there were some issues with the carpentry.
Did you always envision your home to look like this?
It's close. I showed Hao Jie pics of the farmhouse theme and he was like, "Oh it's nice." We didn't want the apartment to look overly feminine, so our interior designer suggested we add black accents throughout the home.
 
Vintage wares are a characteristic of farmhouse style, but you don't seem to have any here. 
We didn't want that. We still prefer the space to look clean and we are not into antiques or vintage style. Maybe we will grow to appreciate it in future, but not now.
 
You do shoots from home. Did you design Instagram-worthy spots around the house?
No, but we made sure the entire house is nice so I can photograph everywhere.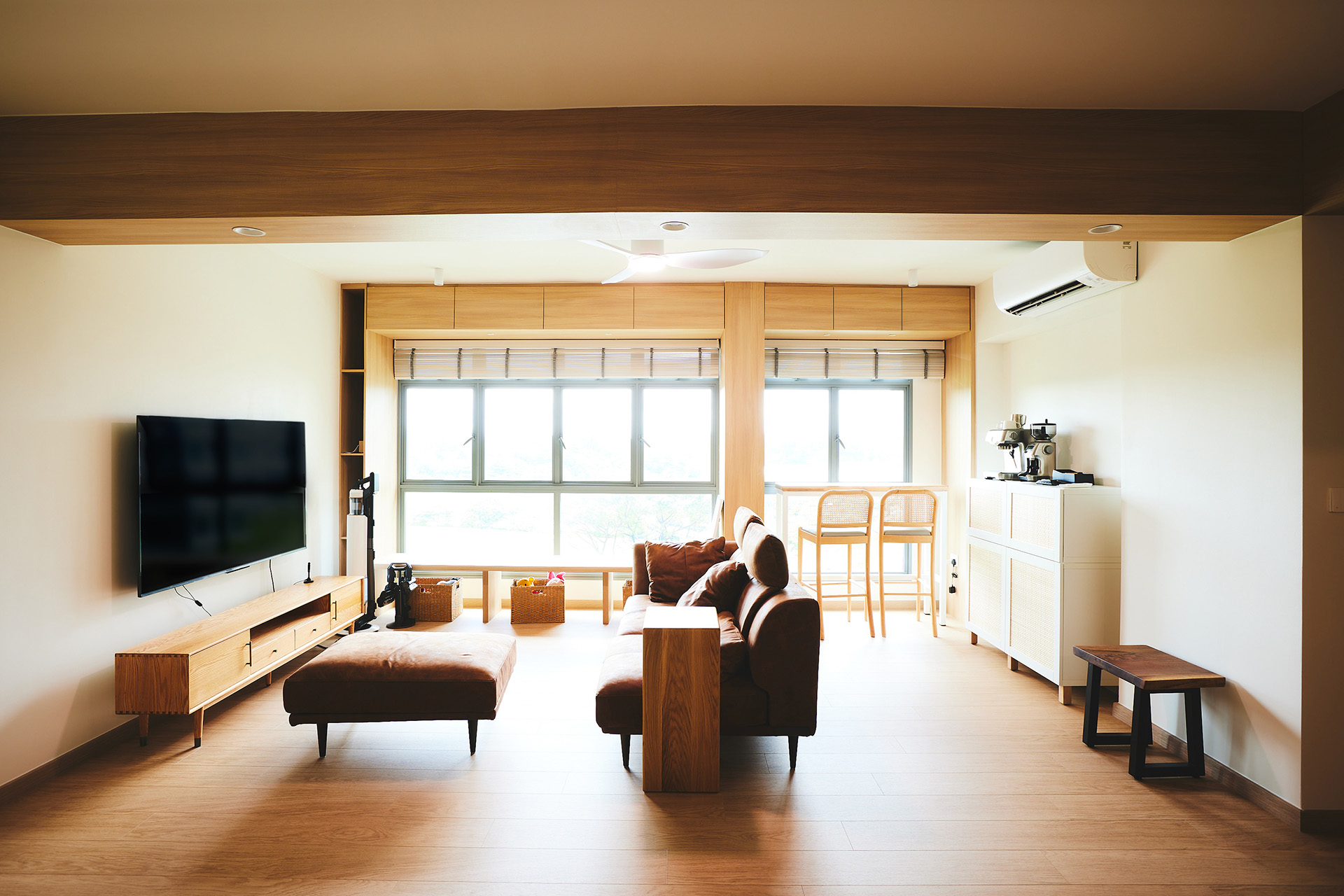 Did you run into unexpected costs along the way?
No, but I was quite surprised that the smart blinds are so expensive. It cost around $7,000 to install blinds around the house 'cos we have a lot of windows and they are huge. 
 
Was there anything that you wanted but changed your mind later?  
I had plans to buy more Winnie the Pooh items like photo frames, cutlery and dining ware to use and decorate the house but Hao Jie's not very open to it. I have around 100 items in my Pooh collection at my parents' home but I only brought two soft toys over 'cos I can't sleep without them. He was like "Calm down. Don't bring so many over." Hao Jie bought the newer ones when he proposed to me.
But Pooh bear suits the farmhouse theme, so I am still looking for more subtle pieces for the house like the ones with the classic Pooh, not the bright yellow ones that are so in-your-face.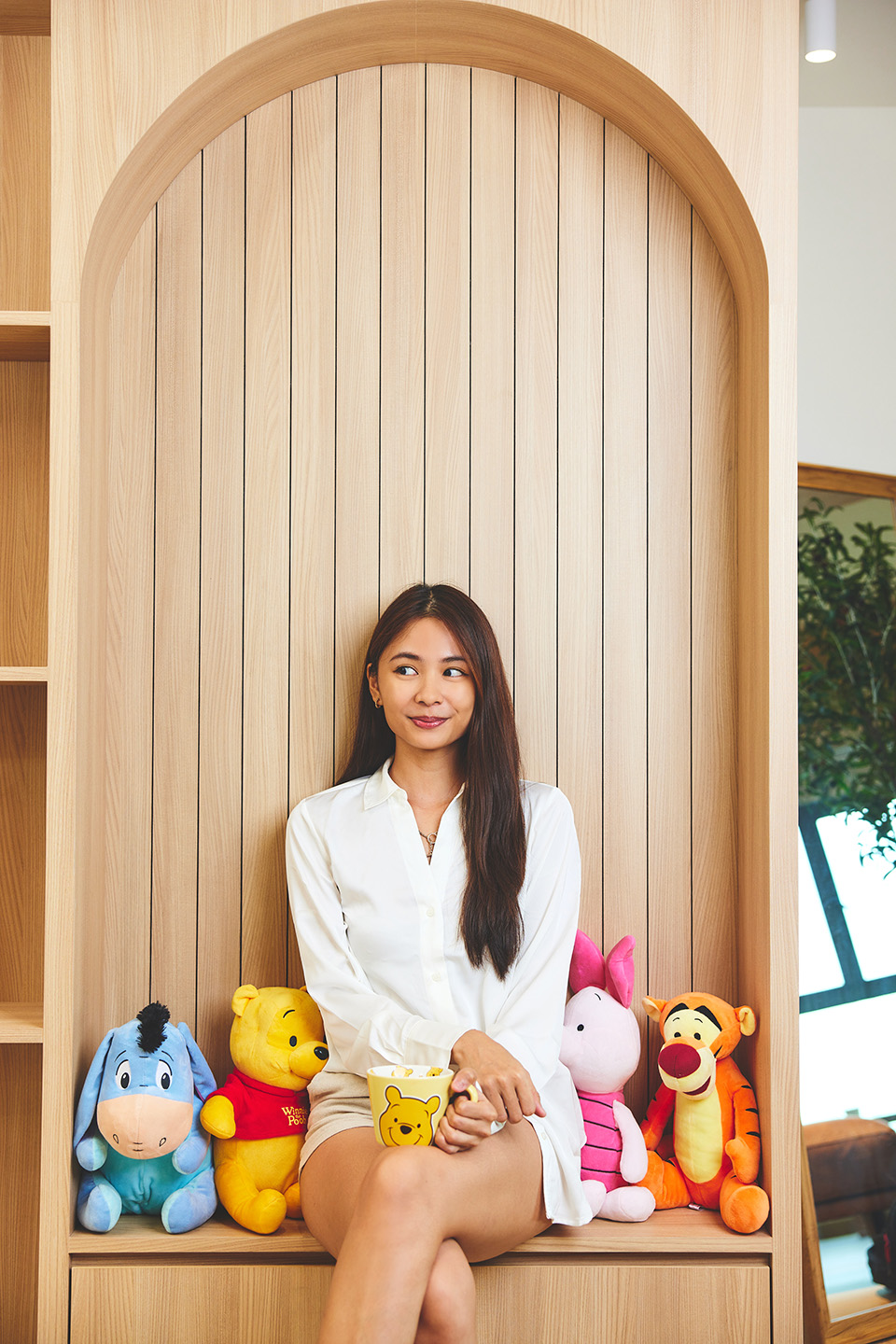 Xin Lin was pleasantly surprised that this nook turned out looking a lot like Pooh's treehouse.
Your husband is happy sharing the bed with your two Pooh chou chous?
They are slowly growing on him. He hugs them sometimes like a cushion.
 
How much do you think you have spent on Pooh stuff over the years?
Probably less than $5,000 'cos I don't mindlessly buy them. But the collection is still growing 'cos I have the financial capability to buy them now. (Laughs) Every time there are Pooh collectibles, my followers will DM me to tell me about it.
 
Watch #JustSwipeLah for a tour of Xin Lin's home.
Photos: Alvin Teo
All photos cannot be reproduced without permission from 8days.sg.