After $100K Loss From Prawn Mee Biz, Hawker Worked As Cai Png Cook For 7 Years To Save Up For Stall Reopening
The towkay behind Da Tou Xia 304 Ubi Big Prawn Noodles ate humble pie for seven years as a cai png stall cook to save money for his comeback biz. He reopened his noodle shop in July with an "improved recipe".
If you're a fan of prawn noodles, you might vaguely remember hae mee stall Da Tou Xia (big-headed prawn in Chinese, or slang for scatterbrain) which used to be located in a Bedok North coffee shop in 2015. 
The stall was featured on many food blogs for its tasty hae mee as well as Alor Setar-born towkay Xiao Ann's drive and determination as a young hawker. Despite positive reviews, it shut down abruptly after operating for just one month.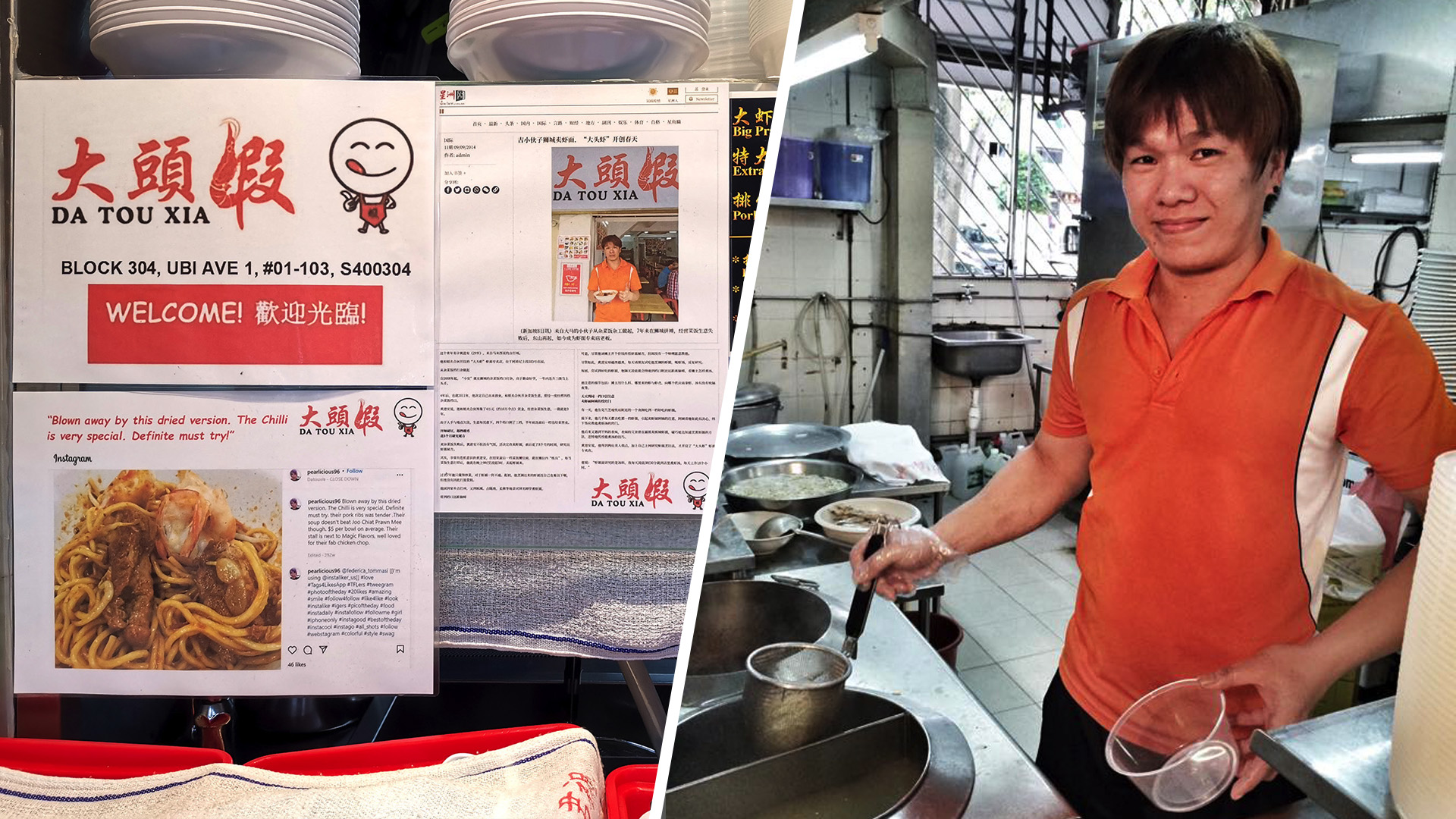 The stall features old clippings of Xiao Ann's prawn mee.
After a seven-year hiatus, the biz, renamed Da Tou Xia 304 Ubi Big Prawn Noodles after its new address in an Ubi kopitiam, is back with an "improved recipe". You can expect Da Tou Xia's menu of prawn mee and pork rib noodles, as well as new additions like laksa.
No part of this story or photos can be reproduced without permission from 8days.sg.
Xiao Ann (right) with his business partner Chung Jia Hao.
What happened to Da Tou Xia?
When Xiao Ann (right in pic) came to Singapore in 2007 aged 22, he landed his first job working at an economic rice stall. He later ran his own cai png stall for a couple years before deciding to start a prawn noodle biz in 2014 despite not knowing anything about hae mee. 
"I like seafood. I also felt it was easier to sell prawn noodles than cai png 'cos you don't have to offer such a wide variety of dishes," Xiao Ann, 37, tells 8days.sg. 
For months, he went around Singapore eating hae mee, secretly observing hawkers to see how the dish was prepared and attempted to replicate the recipe by experimentation. While it would be easier to work at a prawn mee stall to learn the ropes, according to Xiao Ann, the popular and established ones would not take on apprentices.
In 2014, Xiao Ann opened casual standalone prawn noodle eatery Da Tou Xia in a shophouse unit in Aljunied with a partner. His hae mee was modelled after the one at Beach Road Prawn Noodle House, his favourite, though he admits he couldn't quite replicate the taste. Due to the poor location and business, it closed shop after a couple of months and relocated to a kopitiam stall in Bedok, where there were more customers.
Despite brisk business at the new location, that stall too was short-lived. "I couldn't manage on my own. I could not get a work permit for my wife, who is Malaysian, and I didn't want outsiders to help me 'cos then they would know my recipe, so I closed the stall after one month," he says. By then, he had sunk a total of "more than $100,000" into the biz at both locations.
"To be honest, I also felt my prawn noodle broth wasn't up to standard [back then]."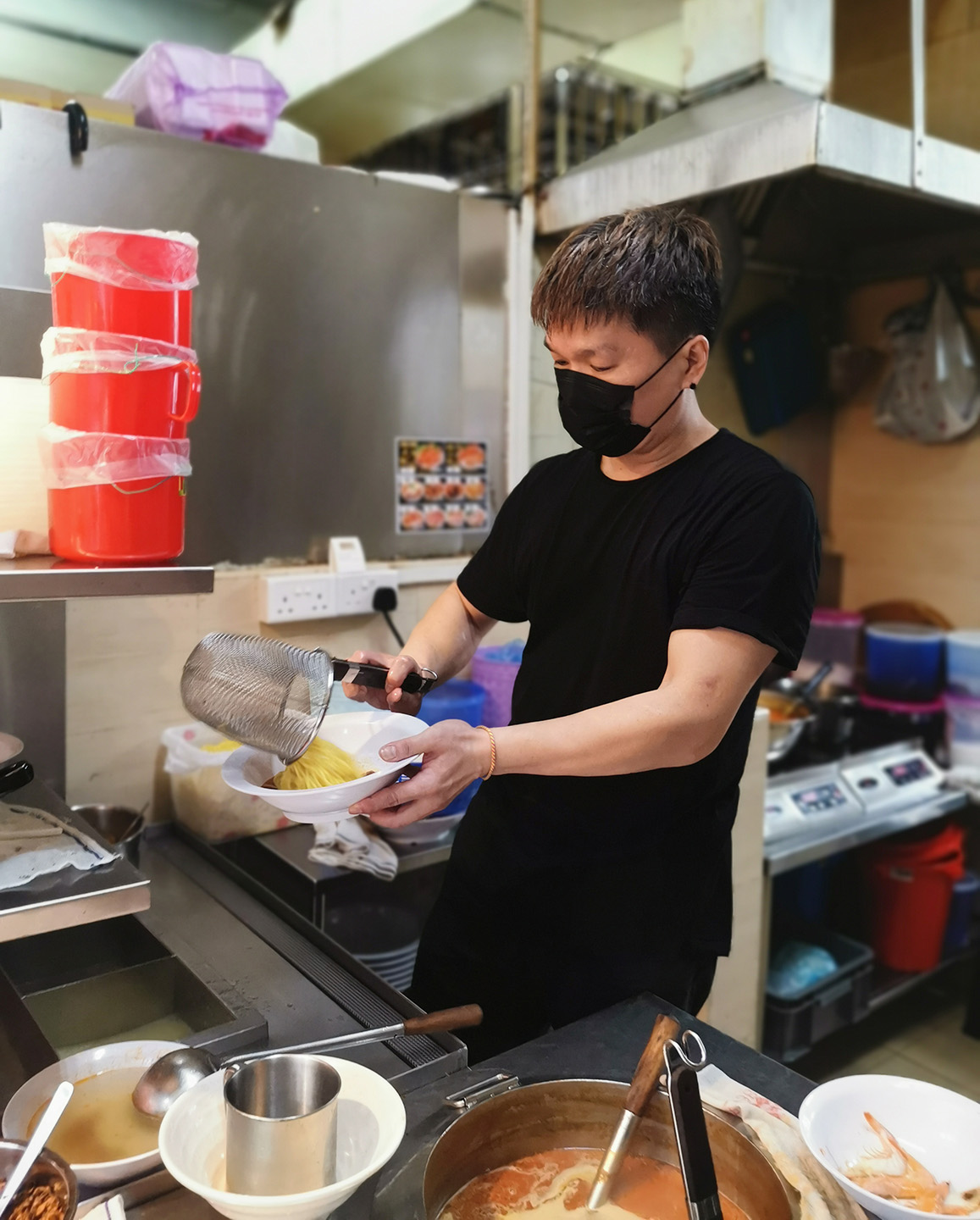 If at first you don't succeed, try again
Despite the setbacks, Xiao Ann was determined to make a comeback. During his seven-year hiatus, he worked at cai png stalls as a cook so he could "save money again" while fine-tuning his prawn broth.
"I never thought of giving up 'cos I feel that there is a market for prawn mee. I watched YouTube videos on prawn noodles and whenever I saw a hae mee stall, I would go try the food and spy on the hawkers as they put together the dish to see if there's anything I could copy. This is how I discovered my new secret ingredient," he says with a laugh.
But just as he was ready to make a comeback in early 2020, Covid happened. "I was already looking for a suitable space. I waited for three months but there was no improvement to the Covid situation, so I went back to my old profession of working at a cai png stall. It was just easier," says the father of two.
After a two-year delay, Xiao Ann and his business partner, fellow Malaysian Chung Jia Hao, 25, whom he used to work with at a cai png stall, finally opened Da Tou Xia 2.0 in July. They invested $20,000 into the new stall. It is nestled in a coffeeshop a five minutes' walk from Ubi MRT station. Though business was a little slow initially, it has picked up in recent weeks after the duo began marketing their food online.
"We sell around 200 bowls of noodles a day, which I feel is pretty good. Some old customers came to patronise our stall after seeing my posts on Facebook. They told me they have been waiting for me to reopen," he shares.
The menu
You can have your hae mee with your choice of three sizes of prawns: Normal, Big and Extra Big. The Normal and Big Prawn Noodles are served with regular-sized and slightly larger wild-caught ang kar (red leg)
prawns, which are known for their sweet flavour, while the Extra Big comes with tiger prawns. Da Tou Xia also offers
Pork Tail or Pork Rib Prawn Noodles.
Prices range from $4 for the Normal Prawn Noodles to $13.80 for the Extra Big version. Customers can also have their hae mee with laksa gravy (from $5.50).
Add-ons like abalone, cockles and lala are also on offer.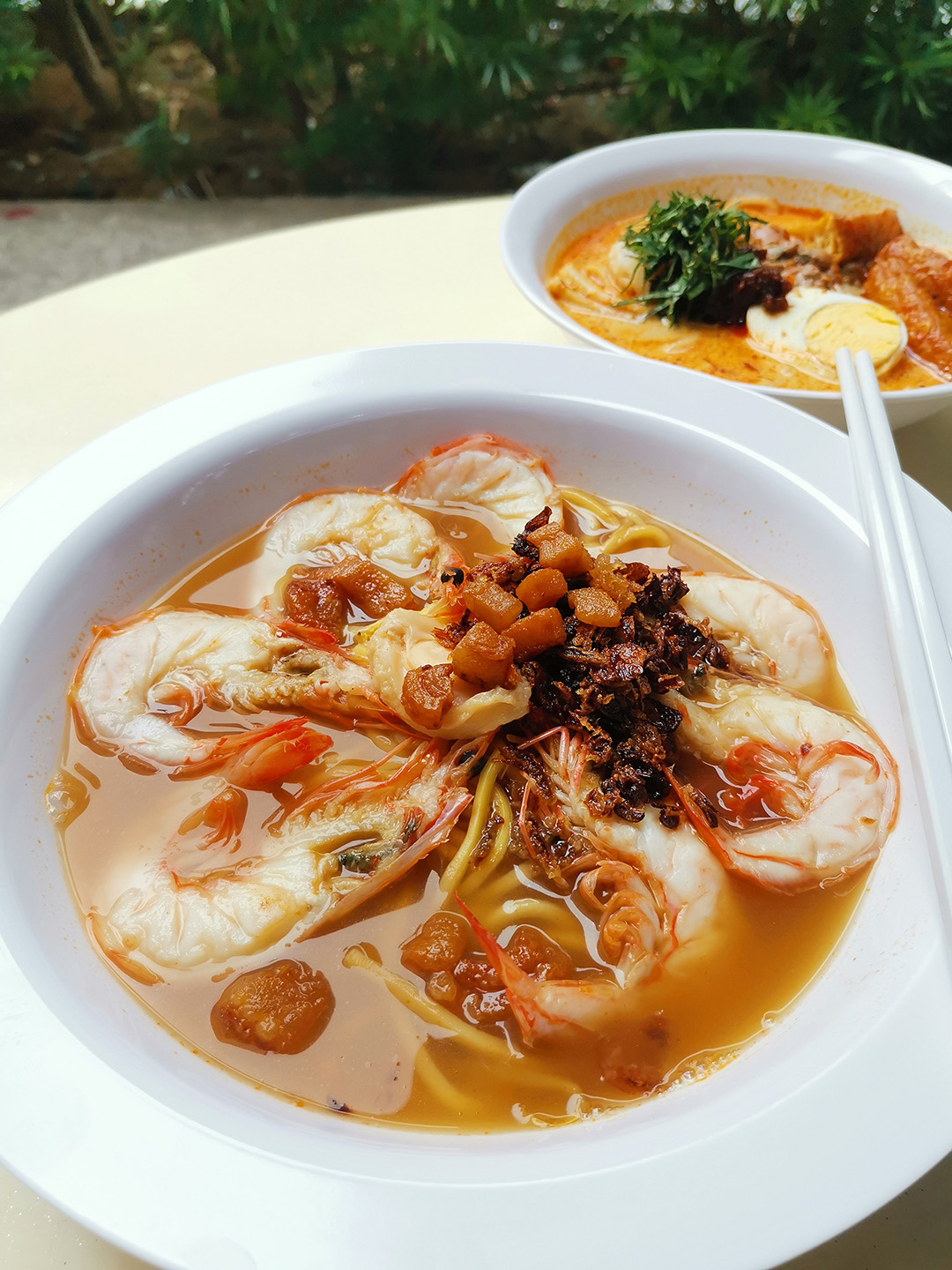 Big Prawn Noodles, $5.50 small; $7 large; $9 large with abalone

(8 DAYS Pick!)
We tried the Normal Prawn Noodles ($4.50) on a previous visit and found it rather satisfying with two decently-sized full prawns, pork and fish cake slices. So we decided to head straight for the upsized Big Prawn Noodles ($9) on our second trip. This was served with seven halved medium-sized ang kar prawns and a tender mini abalone. 
Cooked fresh daily onsite, the brown-hued broth,
prepared by simmering
fried prawn heads with pork broth and Xiao Ann's new-found secret ingredient "that gives it a rich and meaty flavour" f
or hours, is robust and umami with a hint of sweetness and spice. A heap of chunky fried pork lard and
slightly charred shallots add depth to it all. We enjoyed the soup so much, we slurped up every bit of it and tapowed more home.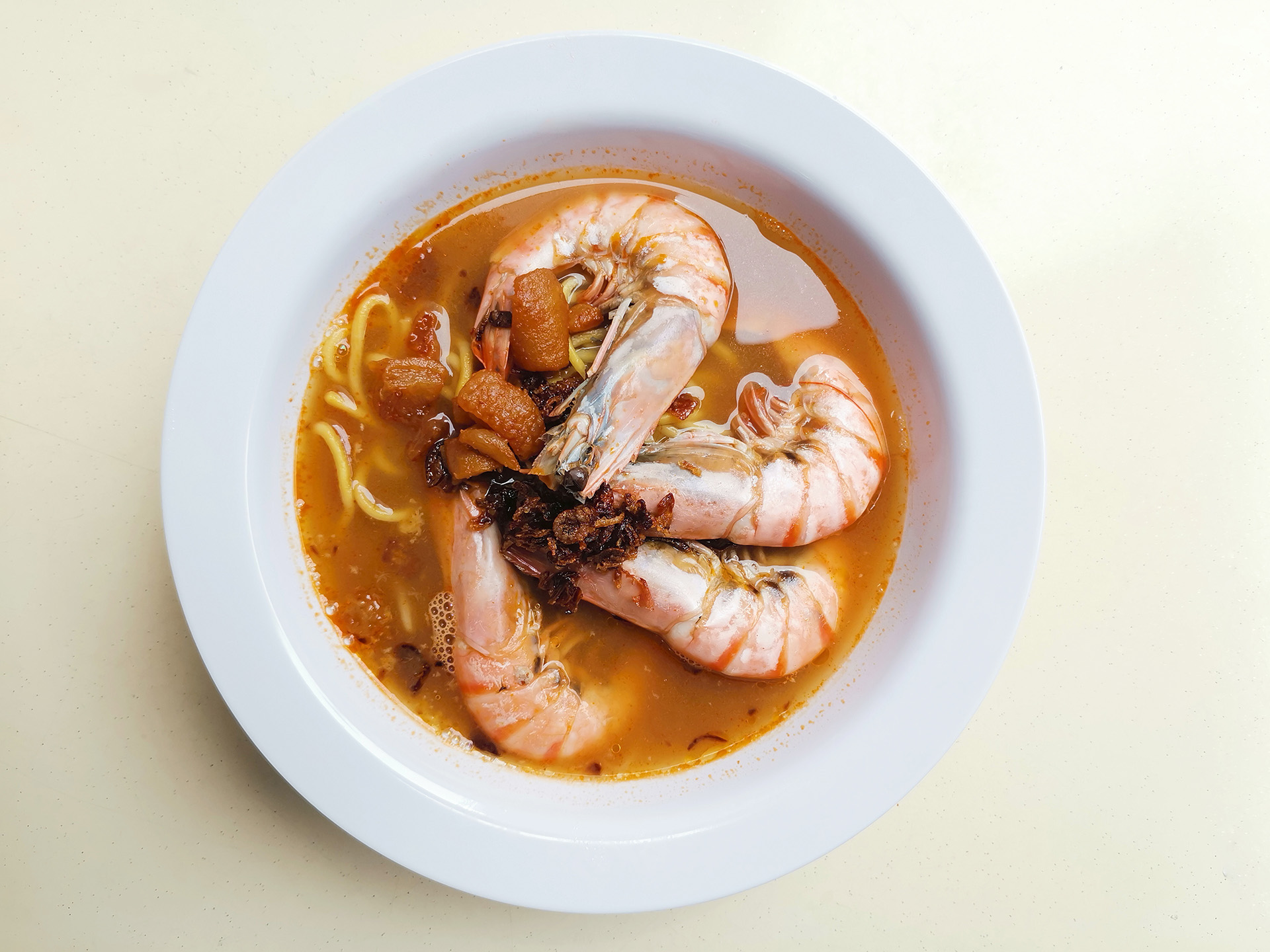 Extra Large Prawn Noodles, $13.80 
The XL version comes with more lavish toppings of four tiger prawns, each almost the size of our hand. The lightly-boiled prawns are sweet, crunchy and succulent, and we particularly enjoy sucking out the briny goodness from the heads. Feeling bougie? Add $4 for two baby abalones.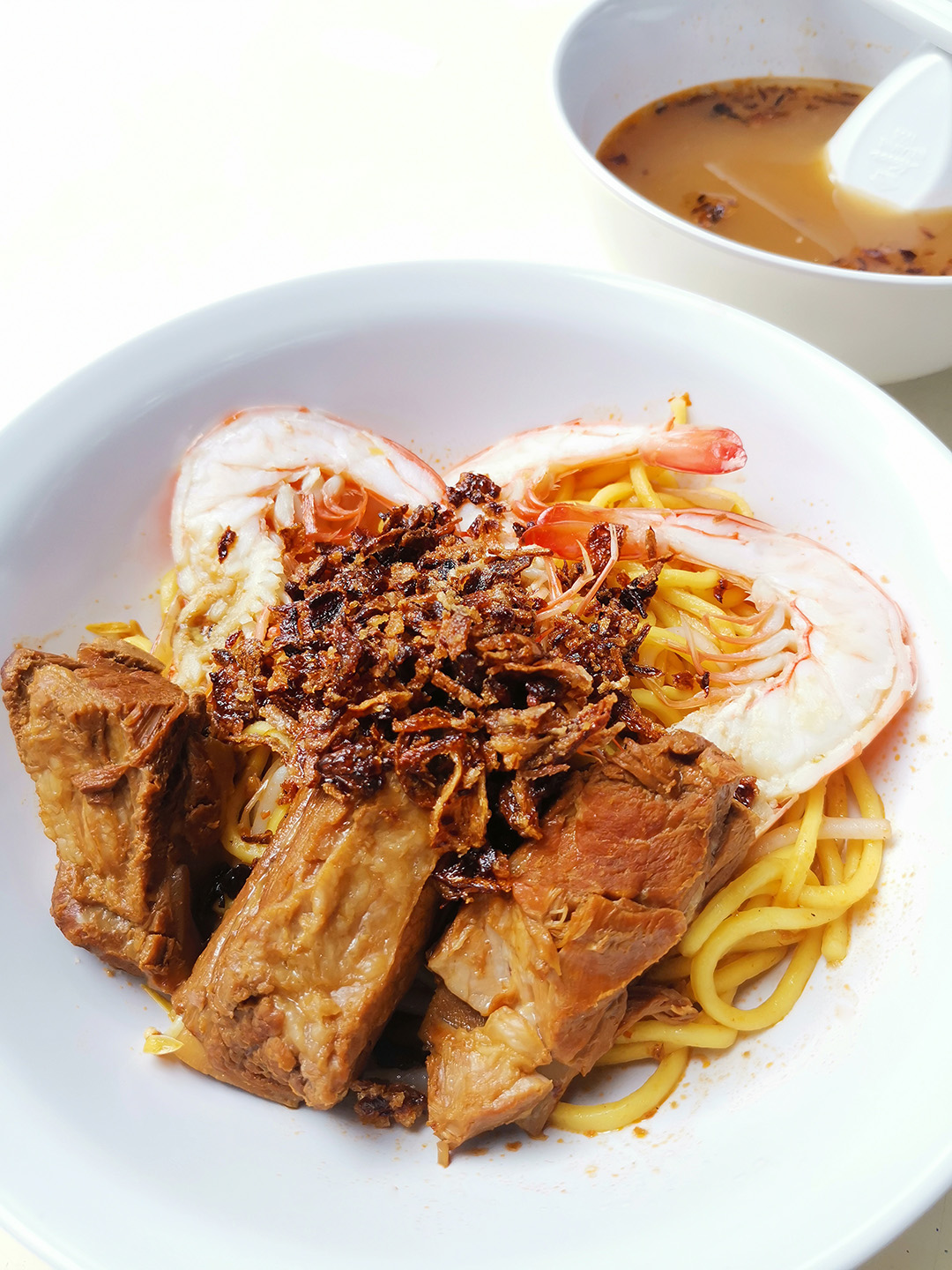 Pork Rib Prawn Noodles, $6 small; $8 medium; $10 large (8 DAYS Pick!)
The Pork Rib Prawn Noodles topped with three meaty ribs and three prawn halves is Da Tou Xia's best-seller. We opt for the dry version at Xiao Ann's recommendation. Unlike previously where the pork ribs were just cooked in broth, Da Tou Xia now serves them braised. The ribs are flavourful and fall-off-the-bone tender. Also very shiok are the noodles, which are tossed with the house-made hae bee-spiked chilli that amplified the umami of the dish. We were also pleasantly surprised by the generous serving of soup on the side. Instead of the usual small serving, the $6 portion came with a medium-sized bowl of soup. You can even go back for refills.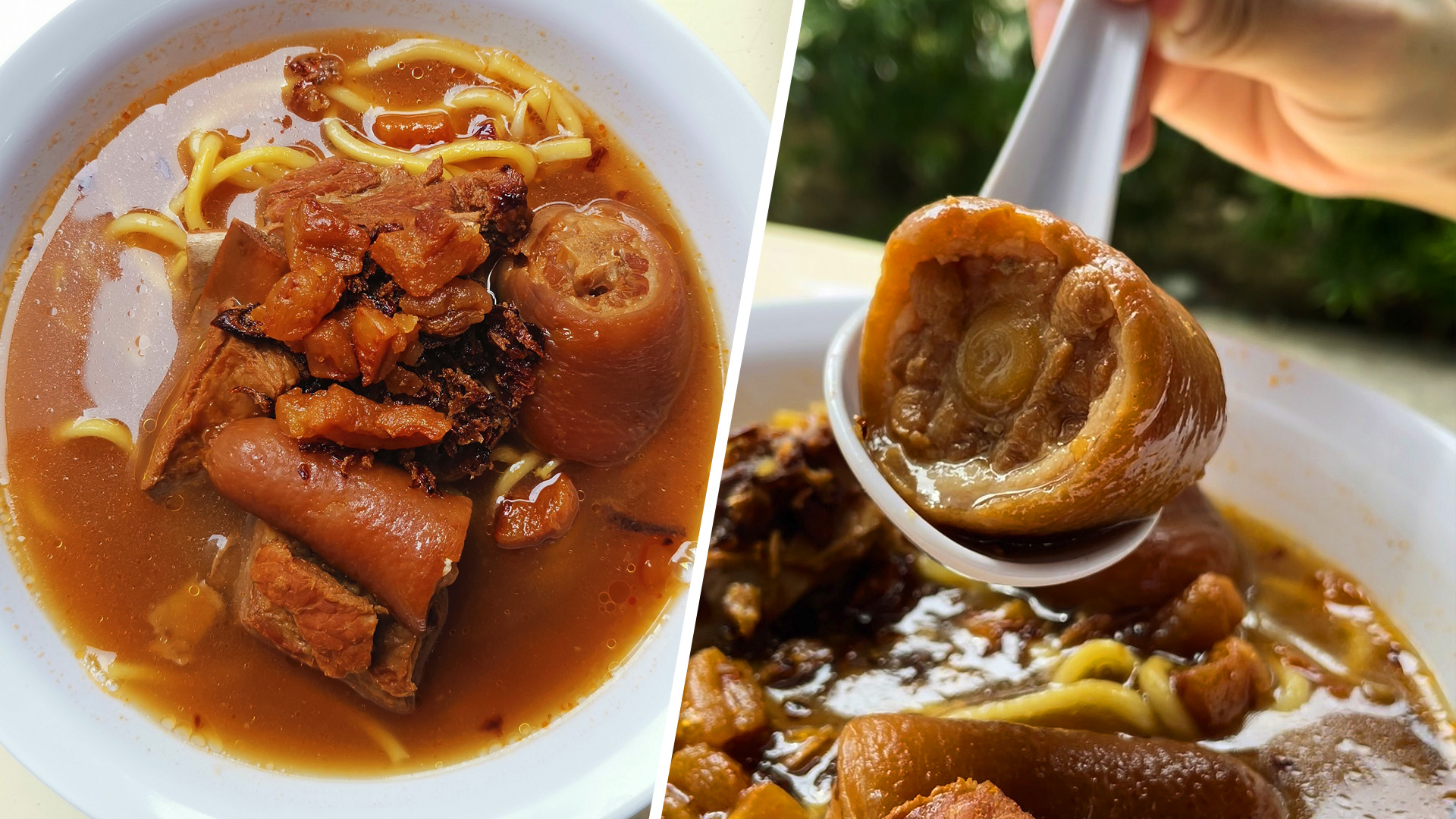 Pork Rib & Pig Tail Noodles, $5.50
We were worried the pig's tail would be gamey, but thankfully it was very fresh. Together with the pork ribs, it is braised till tender and slightly chewy. Pretty satisfying. By the time we were done eating, our lips were sticky from all its collagen.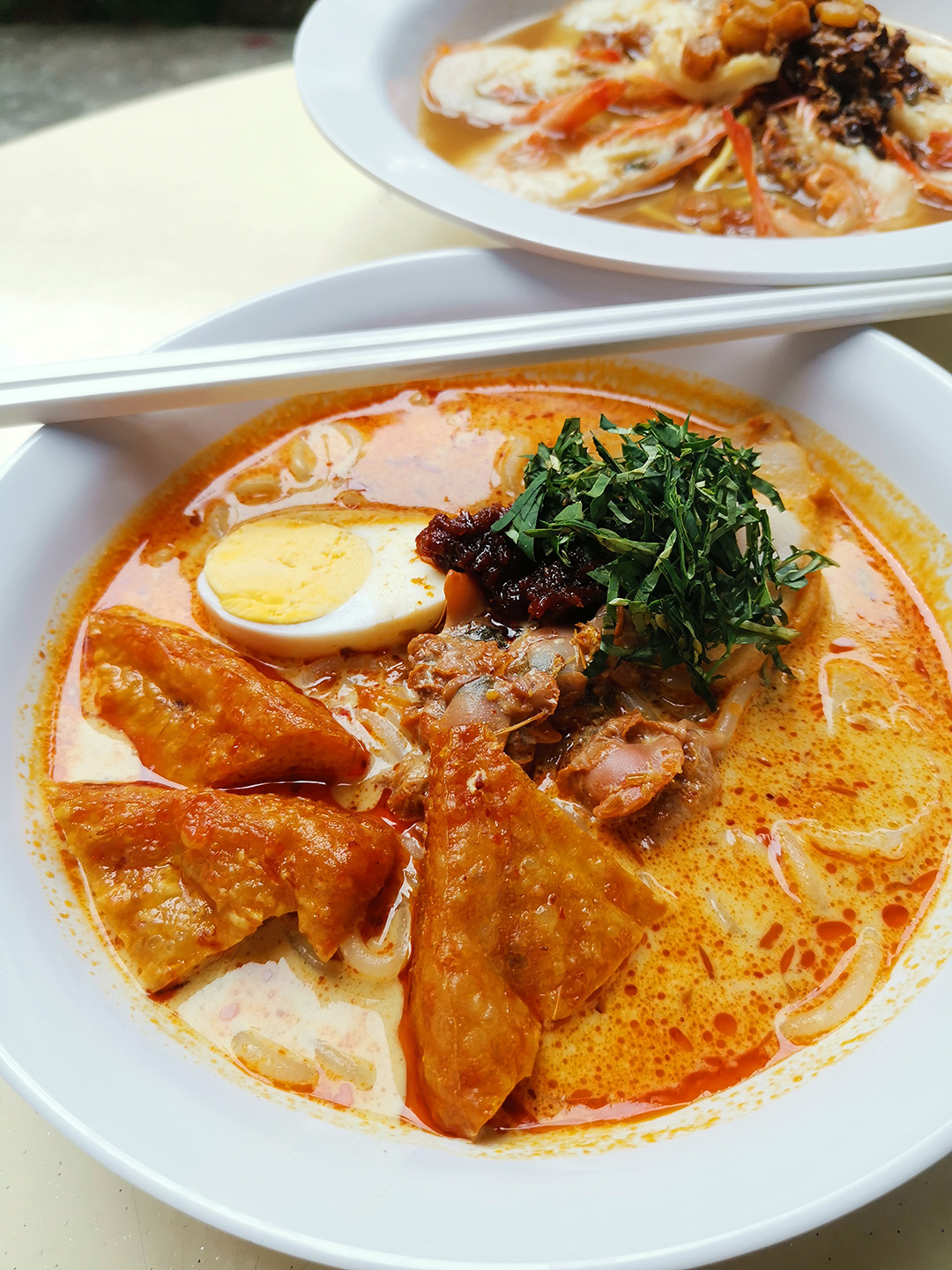 Laksa, $4
As Xiao Ann felt that just offering prawn noodles was too "dull", he decided to add laksa to the menu after coming across one that he really liked. "I went to work for one uncle at his laksa stall for two months 'cos I wanted to learn how to cook it. I didn't get paid while working there," he shares.
The laksa,
made from scratch with homemade rempah and pork stock,
comes with the usual suspects of tau pok, fish cake, half a hard-boiled egg, cockles, and a
generous garnish of chopped laksa leaves.
While the gravy is thick and creamy, we found it a tad sweet and lacked savoury hae bee flavour. Needless to say, go for the prawn mee instead.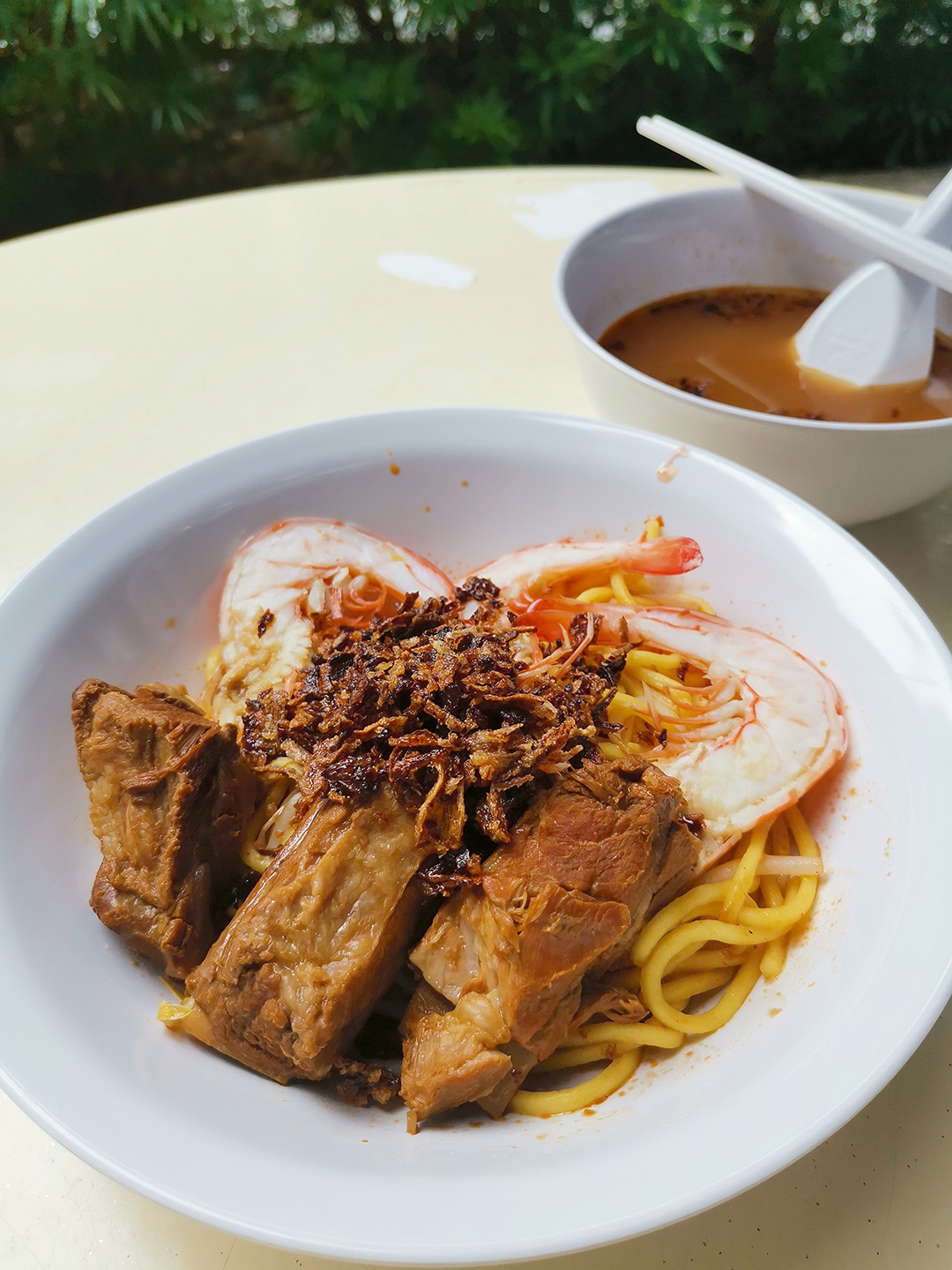 Bottom line
While we didn't try Da Tou Xia's previous iteration of prawn mee, the seven years that its tenacious towkay took to fine-tune his recipe weren't wasted — because version 2 is definitely worth a taste now. We find ourselves enjoying the dry option here more than the soupy one — there's something addictive about the combination of the chilli-tossed noodles with smoky shallots and braised pork ribs at Da Tou Xia. Moreover, you get a generous bowl of heady, umami prawn soup on the side to slurp on anyway.

Da Tou Xia 304 Ubi Big Prawn Noodles is at 304 Ubi Avenue 1, 01-03, S400304. Open daily 7am-7.30pm. More info via Facebook and Instagram.
No part of this story or photos can be reproduced without permission from 8days.sg.
Photos: Pyron Tan