Authentic 'Nose To Tail' Pork Banh Mi Sold At Vietnamese Provision Shop In HDB Estate
Everything — including the baguette — is made in-house by Banh Mi Saigon's Vietnamese boss whose family runs a banh mi shop in Ho Chi Minh City.
At a quiet corner of this sleepy Ang Mo Kio HDB estate lies a humble Vietnamese provision shop selling assorted Vietnamese imports like noodles, spice pastes, snacks and coffee. Interestingly, it also boasts a brightly-lit and busy sandwich counter in front, heaving with colourful platters of roast pork, jellied pork parts, vegetables and condiments. This is Banh Mi Saigon, which dishes out made-to-order Vietnamese baguette sarnies to an eager clientele. We drop by around lunchtime on a weekday, and there's a constant flow of neighbouring office workers and residents, quite a number of them Vietnamese.
All photos cannot be reproduced without permission from 8days.sg
Mini banh mi stall within a provision shop
It's a no-frills operation, with customers chowing down on their takeaway sandwiches at the nearby carpark. With upbeat Vietnamese pop music playing on a radio behind the counter, and the stream of Vietnamese customers chatting with the staff, it almost feels like being in Ho Chi Minh City, sans the bicycles.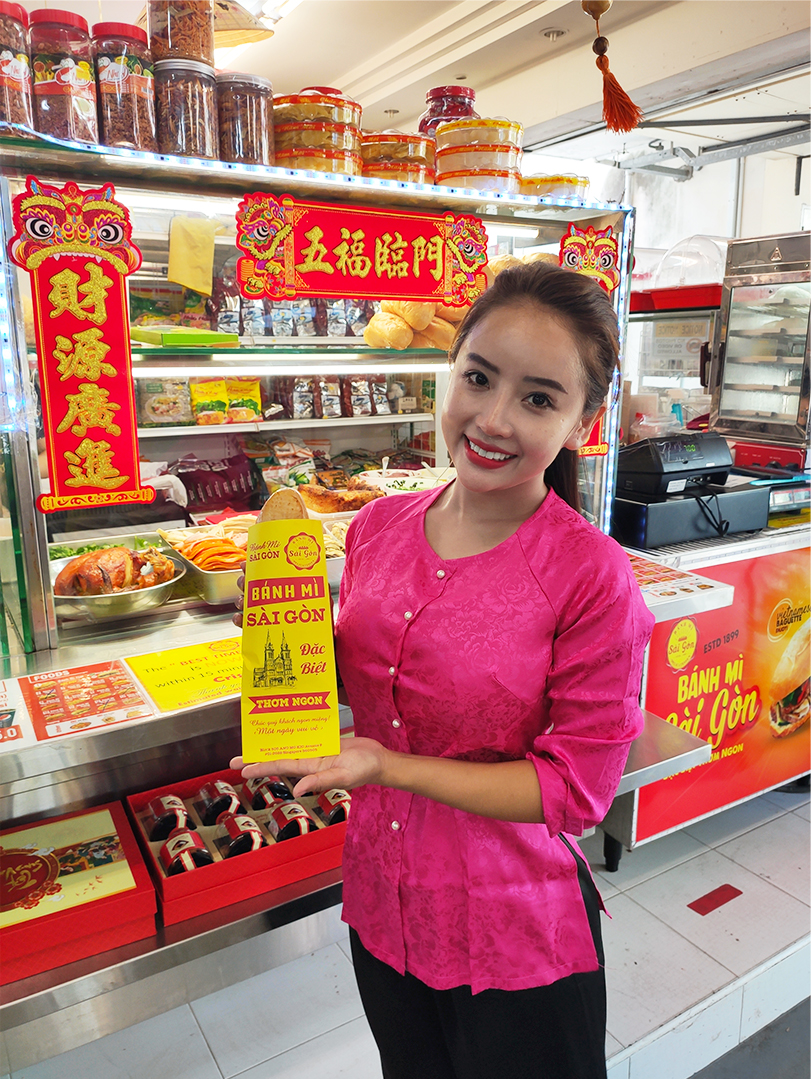 Lady boss comes from family of banh mi shop owners in Vietnam
Banh Mi Saigon is the work of fresh-faced Nhi, 28, who goes by Victoria and is the sole owner here. She also owns and runs a small chain of similar Vietnamese provision shops with locations in Bedok and Sengkang. The Ang Mo Kio branch is the only one with the banh mi stall, though, and is about four months old. Victoria, who's married to a Singaporean, is from Ho Chi Minh City (formerly known as Saigon), and says her family has been in the banh mi business for many years, all the way back to her grandmother and earlier (hence the "established 1899" stamp on the branding).
Photo: Joel Tan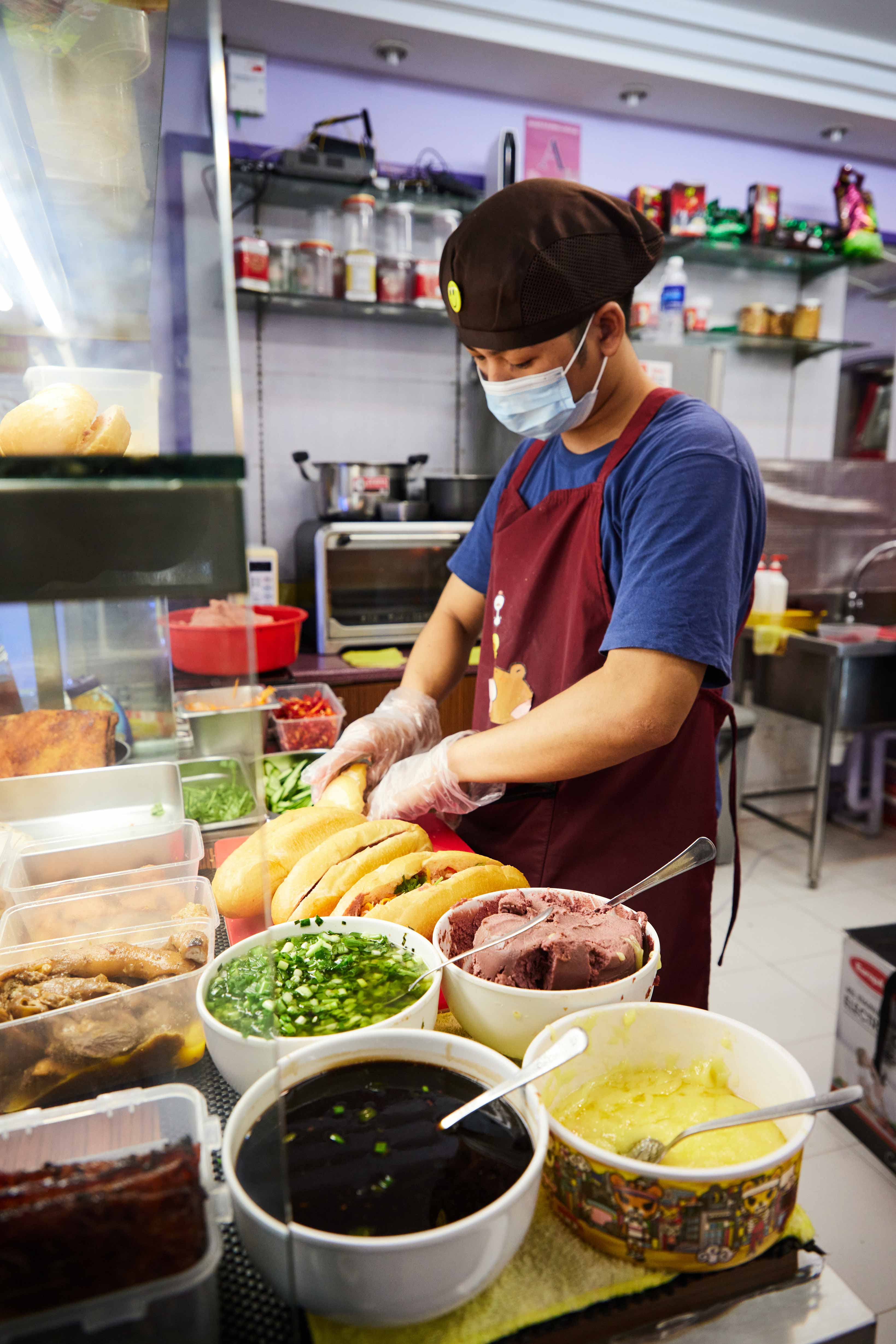 Authentic vibe
Her family still runs a banh mi store in Vietnam, and Victoria recalls working there as a kid. "I never wanted to sell banh mi," she says of her aspirations in Singapore. "But business was not doing so good," she adds, saying that the pandemic hit her provision store business quite badly. And so, to look for an additional income stream, she decided to go back to her family's specialty and launched the banh mi stall just before Christmas last year.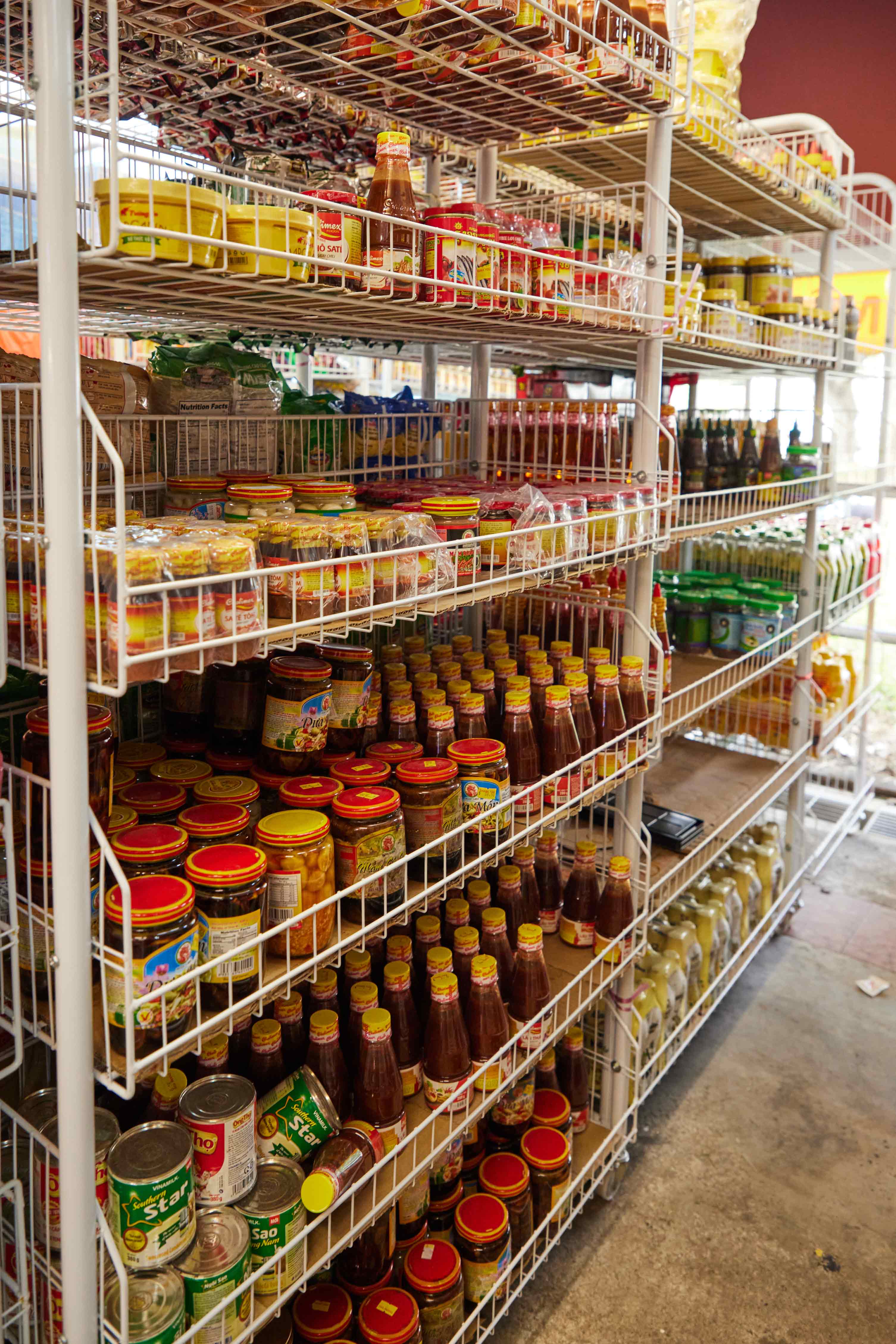 Go grocery shopping while waiting for your banh mi
Thankfully, business has been quite brisk, though it means Victoria is super busy. So busy that she was an hour late for our photo shoot and our photographer had to leave (this writer had to snap her pic with his phone camera instead). She makes all the ingredients here herself, working from an off-site kitchen. And on top of that, Victoria also oversees the back-end of her other two provision shops. The staff here, two friendly Vietnamese twenty-somethings, Christina and Luck, make the sandwiches to order — Victoria is only occasionally at the store herself. Currently, with her heavy workload, she has no plans to expand.
On the menu
The menu here spans fourteen different kinds of banh mi, most of them featuring various parts of the pig and are very traditional. Victoria says this is unusual for banh mi stalls back home, which tend not to offer so many different sandwich varieties, but she says she needs to offer a wide range to appeal to the Singapore market. Here you'll find sandwiches stuffed with barbecued pork, pulled chicken, Vietnamese charcuterie, and assorted off-cuts of the pig like ear, nose and trotter.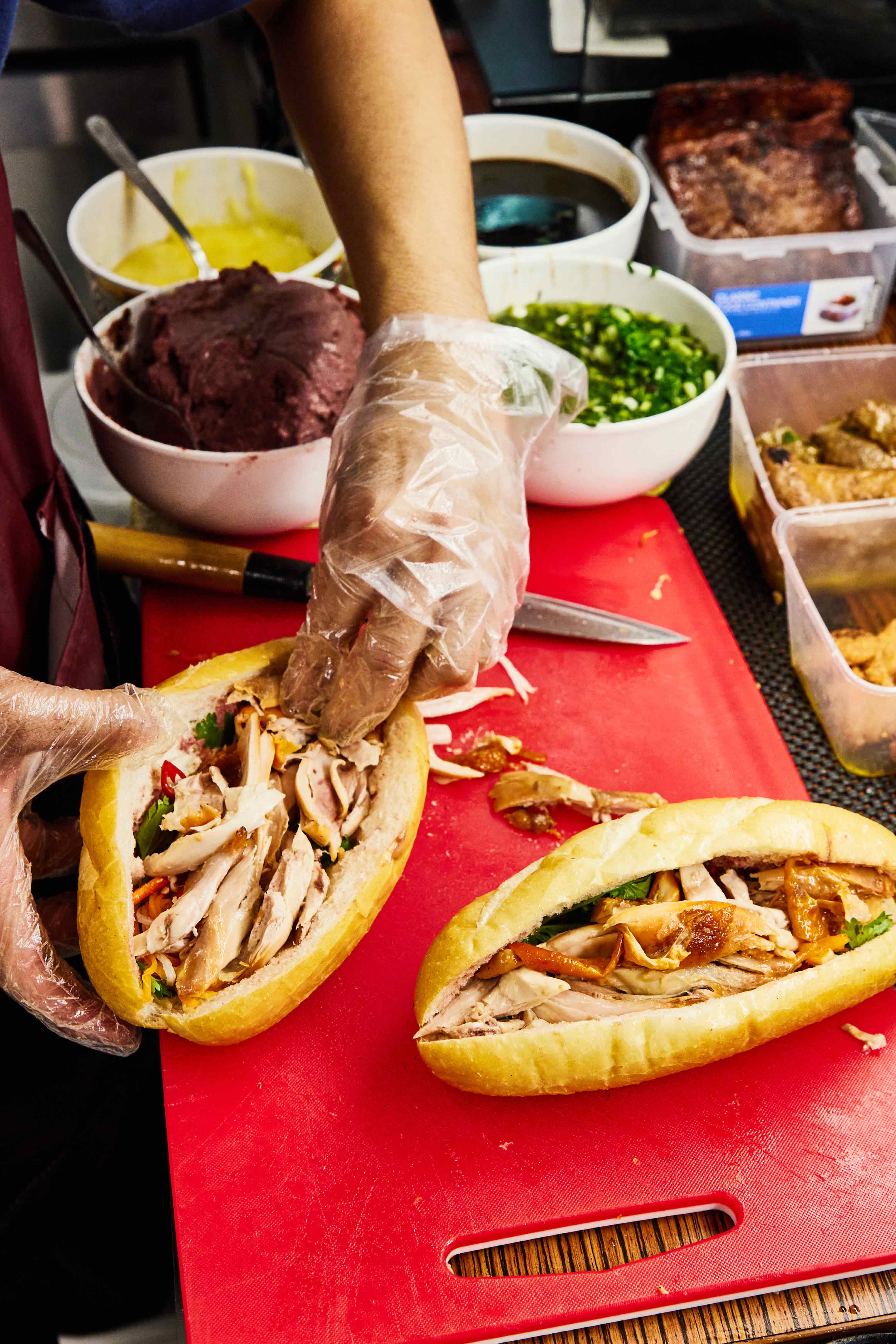 House-baked baguettes
These, along with the house-baked Vietnamese-style baguettes, are all made in-house. There's also Vietnamese spring rolls, but these weren't available when we visited, as well as Vietnamese iced milk coffee ($2.50, made from a premix, but still quite tasty). Each sandwich is given a thick schmear of pate (made with chicken liver to accommodate those who don't eat pork), a slick of margarine enhanced with eggs, topped with crunchy pickled carrots and cucumber, and finished with a drizzle of special soy-based sauce, then packed off in a bright takeaway bag. There are no seats here, so these sarnies are meant to be eaten on the go.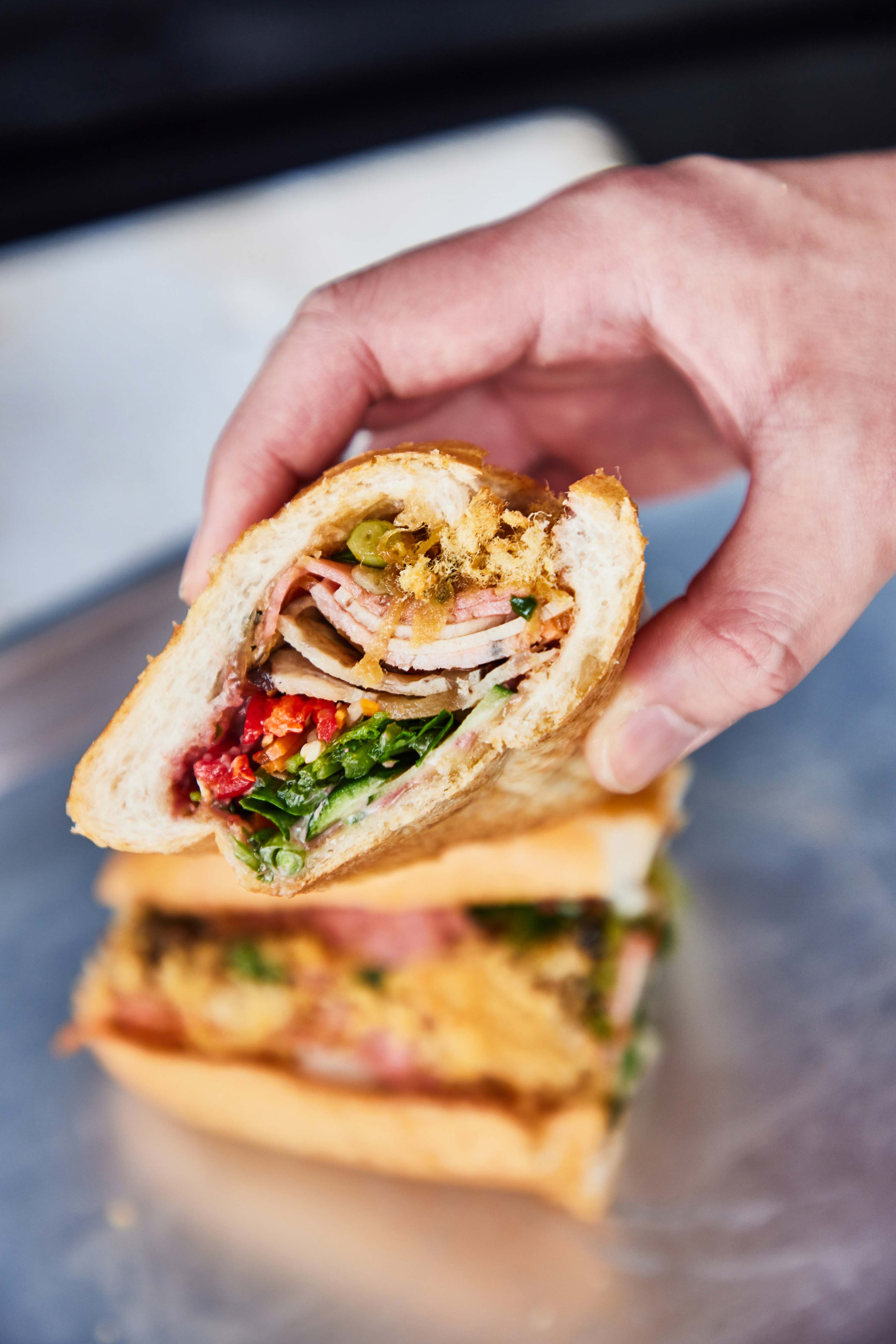 The Special Great Banh Mi (Banh Mi Thit), $6.90 (8 DAYS Pick!)
This one is filled with slices of three different kinds of Vietnamese hams, made variously with finely ground pork and studded with lard, mushrooms, pork skin, and peppercorns. These are all made by Victoria, using a traditional family recipe. From our first bite of this sandwich we knew this was the real stuff: the bread is incredibly light and crispy while retaining a good bite, and it soaks up the eggy margarine and the rich, creamy chicken liver pate, which is a little sweet and pleasantly funky. The sliced ham is tender and meaty, and we enjoy the chewy, gelatinous textures which provide a nice textural contrast with the bread and crunchy pickles. The flavours of this sandwich are bold, complex, punchy, and very satisfying.
The Mixed Pork (Banh Mi Pha Lau Heo), $6.90 (8 DAYS Pick!)
We knew we had to have this when we saw the platter of braised pork bits on the display, and it didn't disappoint. This features bits of jellied pork ear, nose, skin, and trotter that've been braised in coconut water, soy, and caramel for added depth and sweetness.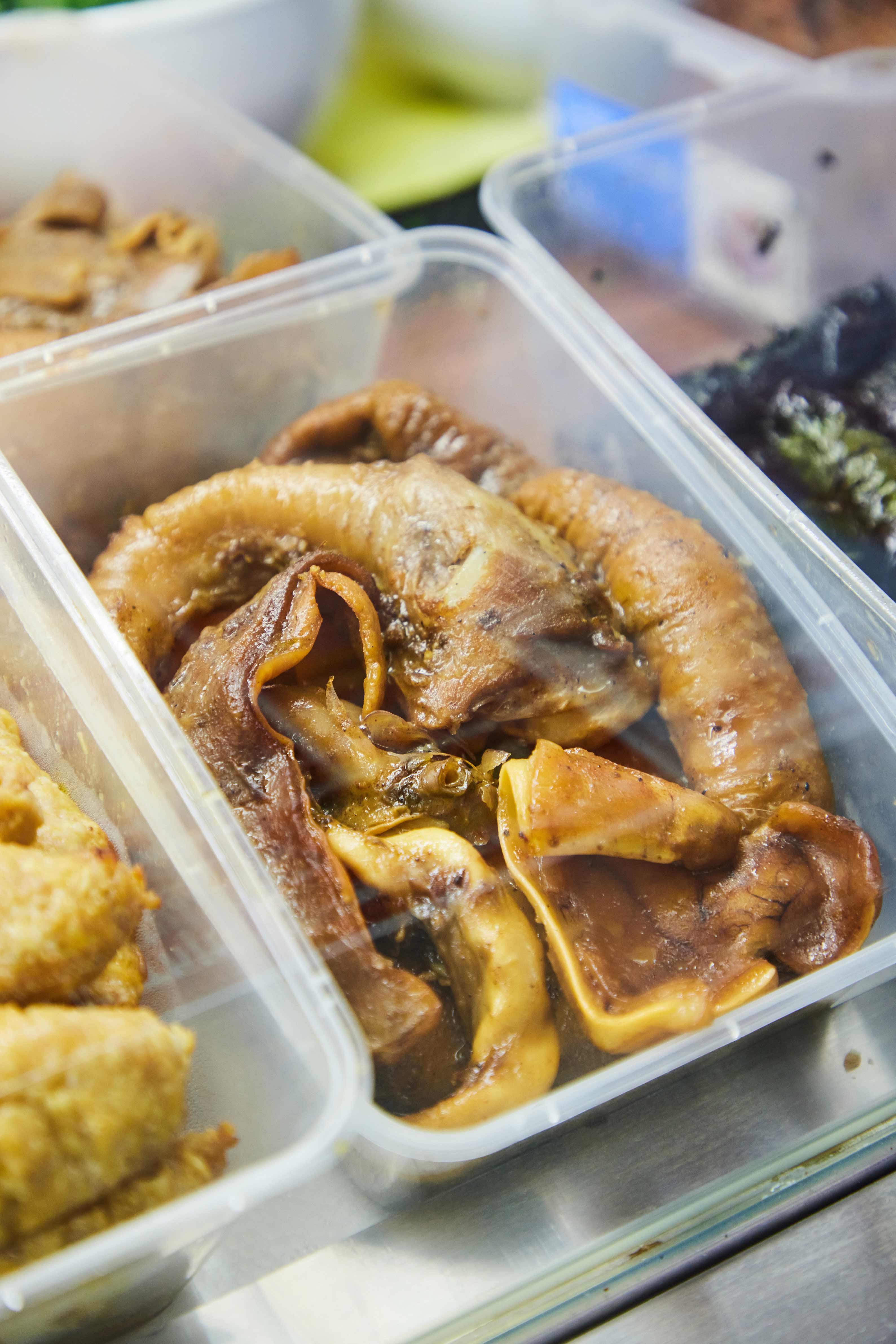 Nose to tail (kinda)
It's incredibly and unapologetically porky, which our photographer, who takes a bite, finds too much, but we love it. The textures, which alternate between gelatinous and crunchy, are perfect with the rest of the sandwich, and there's a deep umami sweetness that comes from the coconut water braise. Together with the rich pate and the tangy pickles, we find this a total flavour bomb.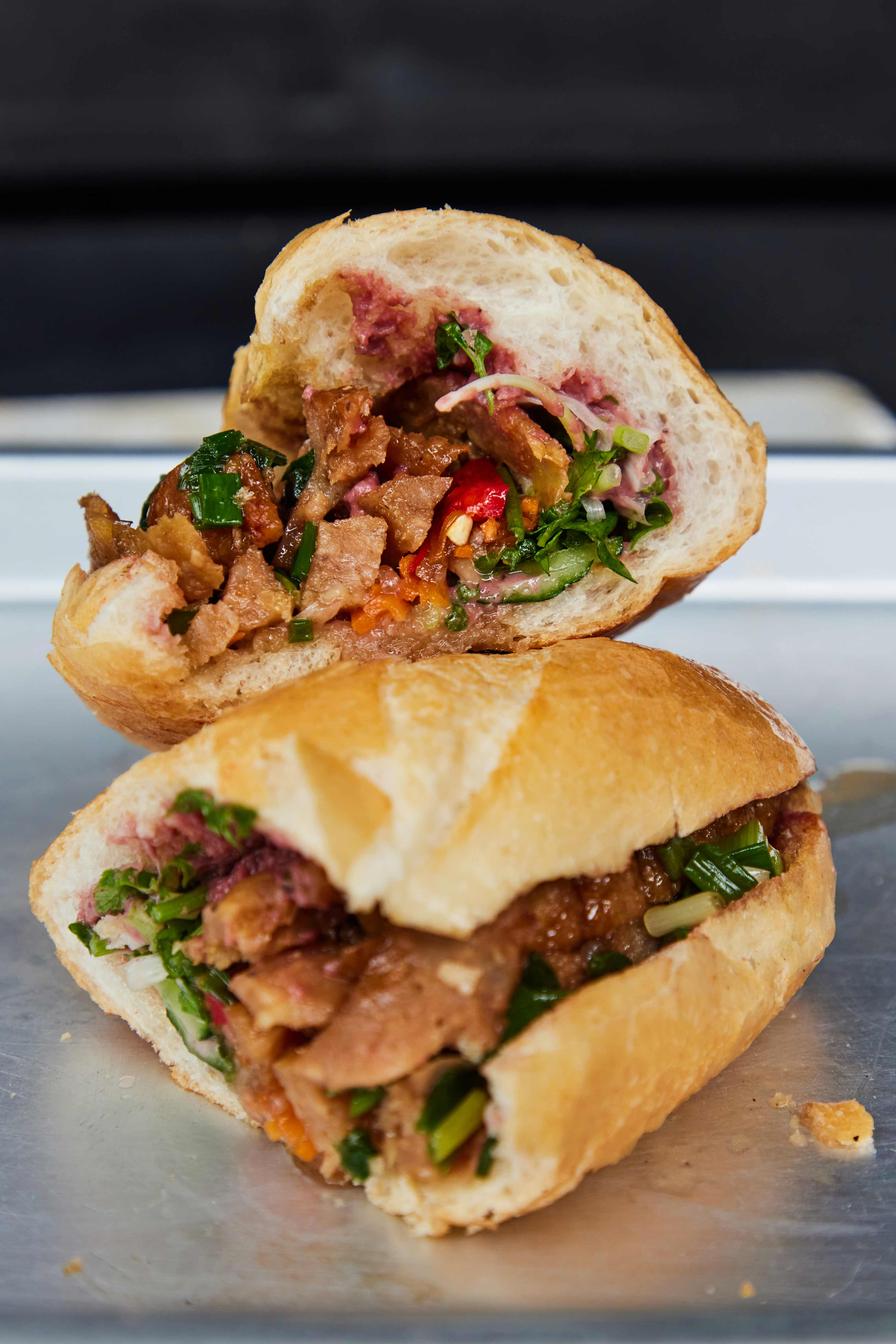 The Roasted Pork (Banh Mi Thit Nuong), $6.50
This features cuts of lean pork that are roasted and glazed with a slightly spicy and sweet soy-based sauce. It's definitely more familiar and approachable than the previous sandwiches: the pork is pleasantly tender and the sweetness of the glaze goes really well in the sandwich. We find it a little too sweet and less complex than the previous offerings, but it's still tasty.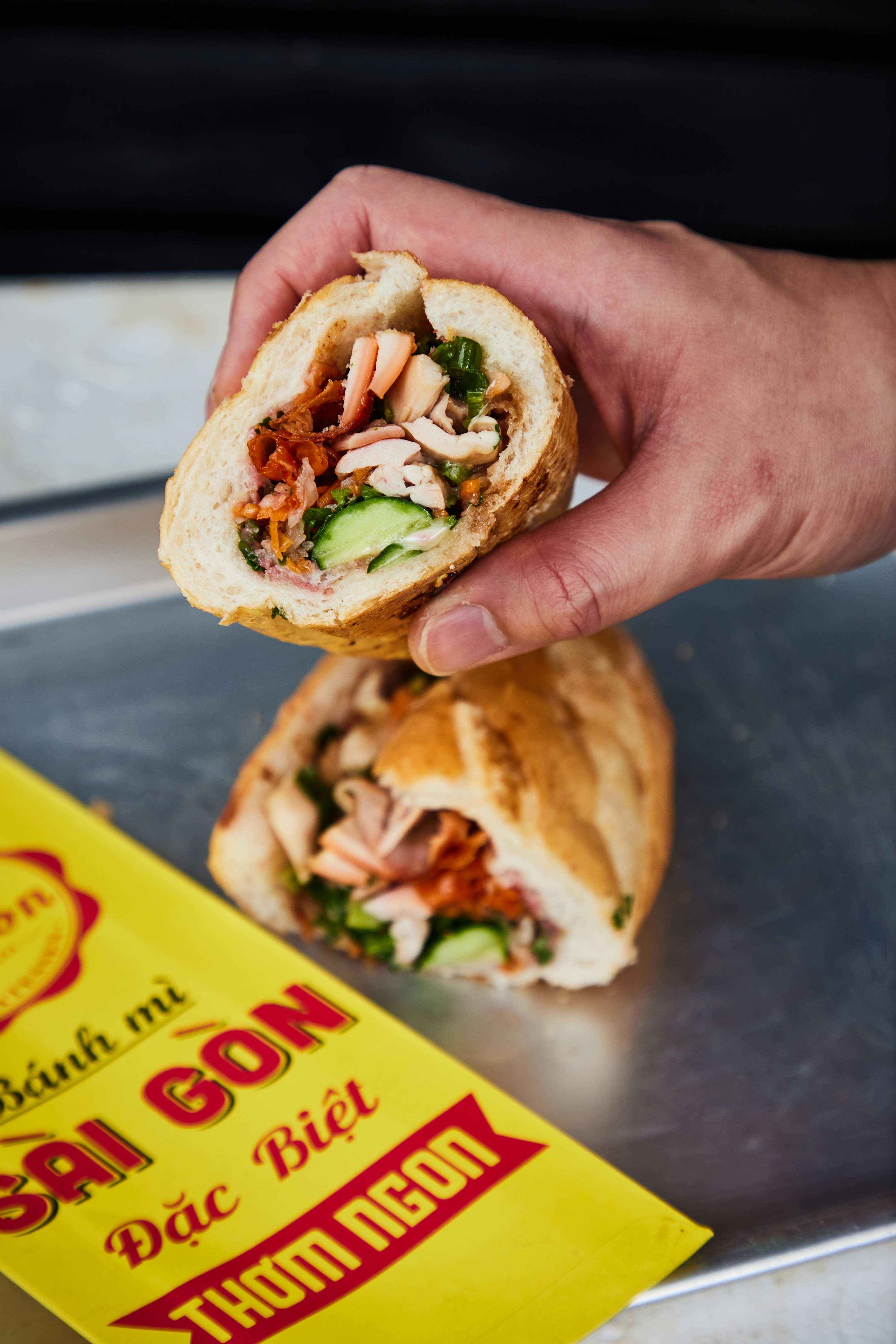 The Shredded Chicken (Banh Mi Ga Xe Phay), $5.50 (8 DAYS Pick!)
Taking a break from the pork, we find ourselves really enjoying this chicken number as well. The chook, which is grilled and pulled, has a nice bite to it, and soaks up the flavours of the pate and other seasonings nicely. This one is lighter and less intense, with lots of good chicken flavour.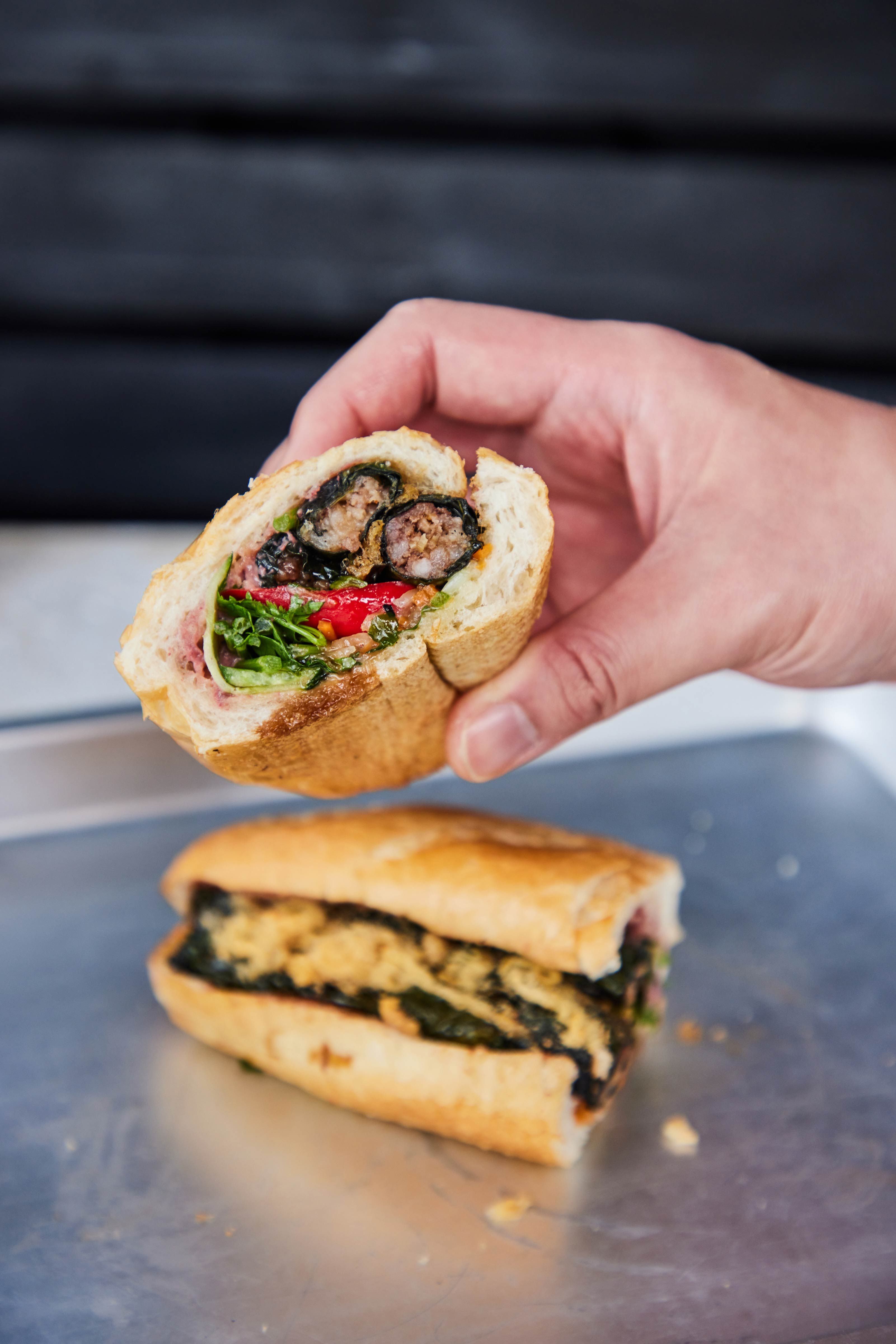 The Ban Mi Bo La Lop, $6.90
We were told, simply, that this was their beef option, but it's a lot more than that. La Lop are little rolls of minced beef mixed with lemongrass and wrapped in betel leaves, then grilled. The flavour of betel leaf, which is hard to describe — herbal, sweet, and almost tea-like — predominates, and the rolls taste mostly sweet, with only a hint of beef flavour.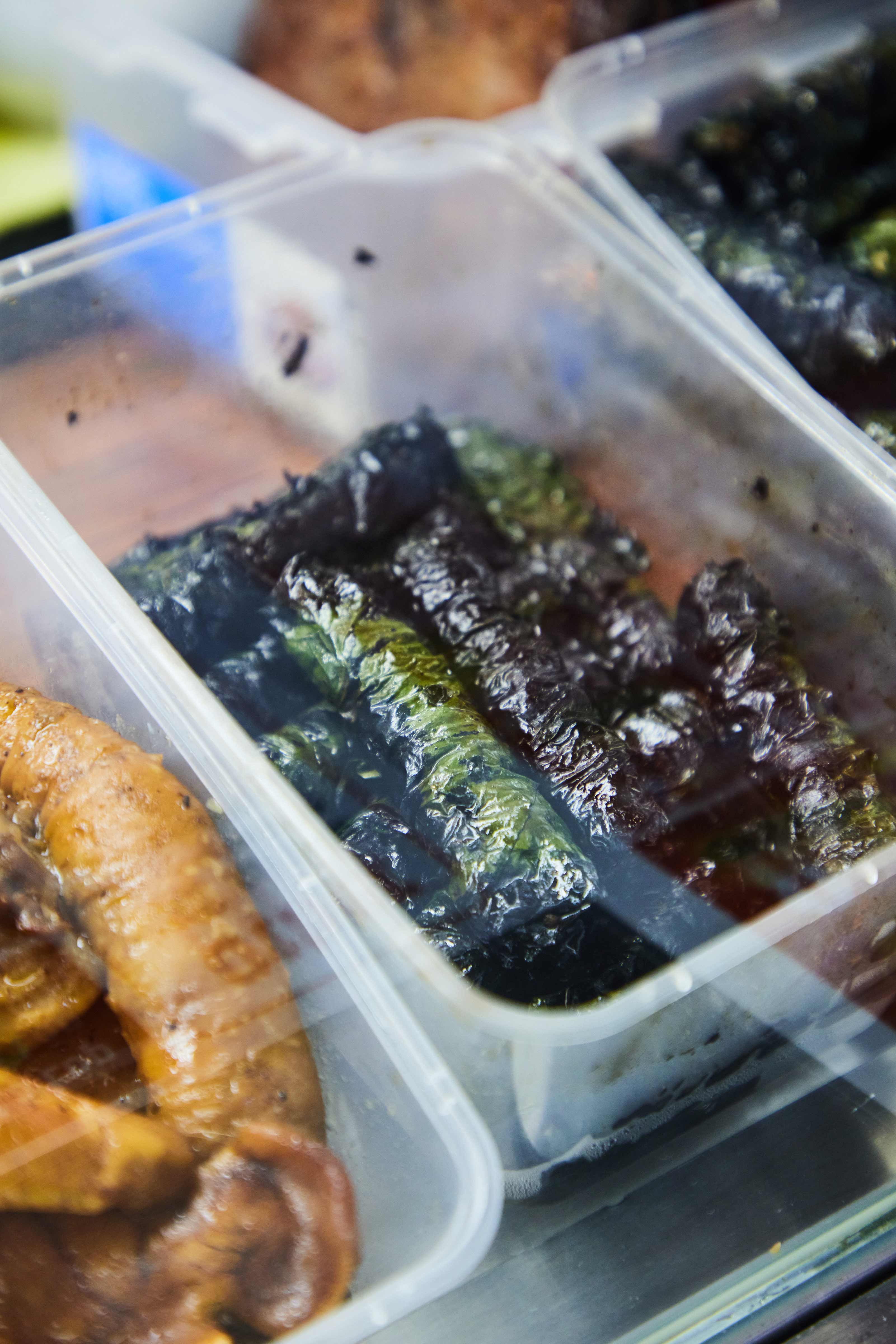 Have you tried betel leaves?
The texture — firm and a little chewy — is almost like Chinese sausage. It's a bit of an acquired taste, but we find ourselves appreciating it for the pleasant mix of textures, and the unusual flavours, which all come together very nicely in savoury-sweet mouthfuls.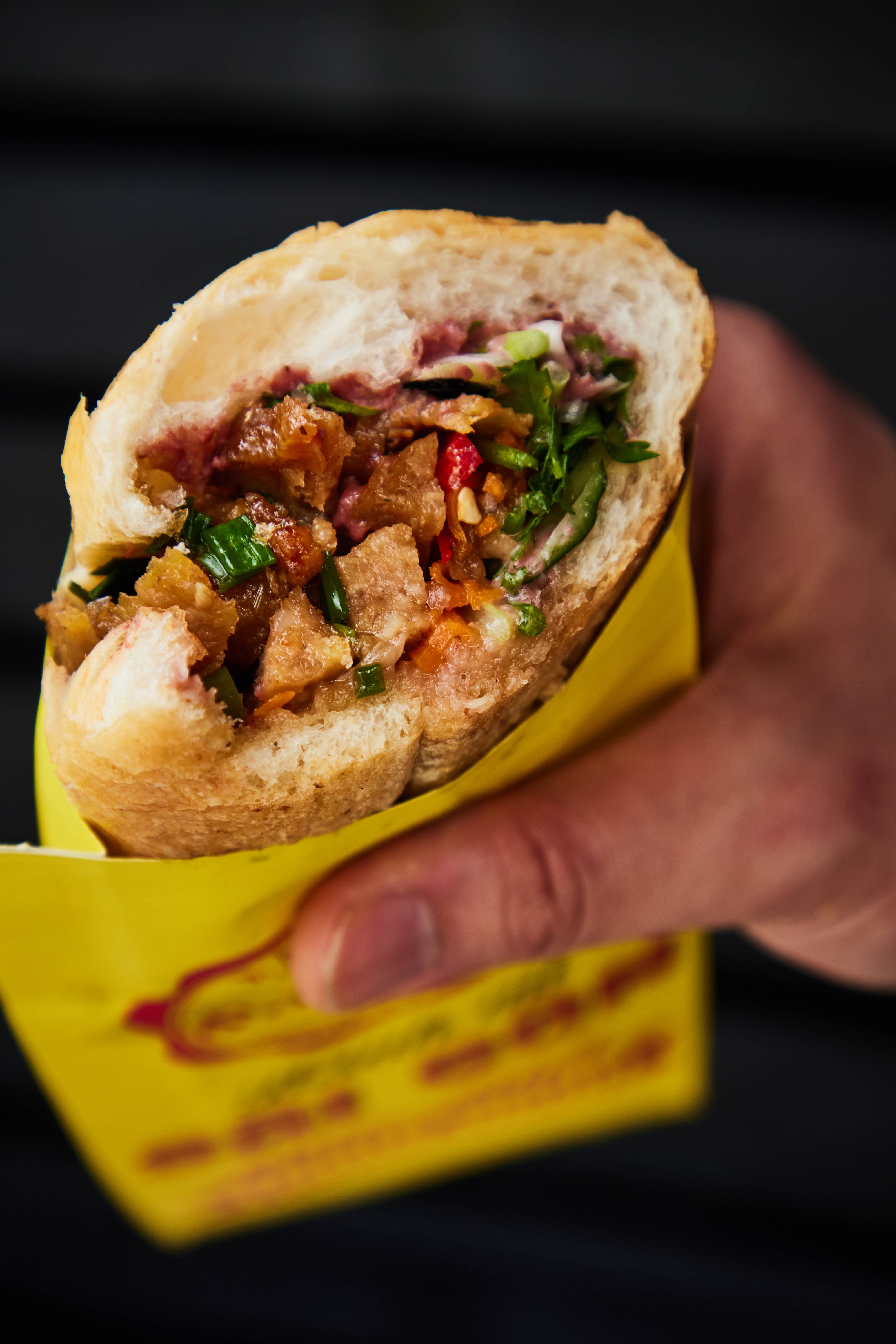 Bottom line
One of the best banh mi we've had in Singapore. Prices aren't the cheapest compared to other Vietnamese sandwich shops, but the flavours here are big, robust, unapologetic, and the offerings more exciting than a typical banh mi shop's. If you love the idea of eating the whole hog, this place with its assorted cuts of pig that are painstakingly prepared (like the ears, nose and trotters braised in coconut water and soy sauce), is for you. The Vietnamese-style baguette almost steals the show since it's so light and crispy. Tip: eat your banh mi ASAP or it'll turn soft, so do like the regulars here and hang out at the nearby car park to wolf down your sandwich. Also, do pick up a couple of Vietnamese groceries while waiting for your sarnie.
The details
Banh Mi Saigon is at #01-2568, 505 Ang Mo Kio Ave 8, S560505. Tel: 9726-1368. Open daily 8am-10pm. www.facebook.com/Bánh-Mì-Saigon-270991086670146/
All photos cannot be reproduced without permission from 8days.sg
Photos: Aik Chen