Awesome pad thai, crispy pork collar from S$6 by Thai hawker who cooked at hip Sydney restaurants
This Clementi kopitiam stall helmed by a chef-turned-hawker serves affordable restaurant-quality Thai dishes.
"Before we opened this stall, I thought of becoming a TikToker," quips Amita Eng, 22. Instead of filming videos, the lanky Singaporean Gen Z-er now runs Nakin Thai Food at a Clementi West kopitiam with her Thai husband Palmy C, 29.
The stall, which opened last month, offers a wide variety of Thai dishes, including popular items like basil pork rice, tom yum and green curry. They also serve Thai-style steamed fish with lime and chilli, fried pork collar and mango sticky rice. Impressively, all the dishes are solely cooked by Palmy, a former restaurant chef who has been specialising in Thai cuisine for a decade. 
No part of this story or photos can be reproduced without permission from 8days.sg.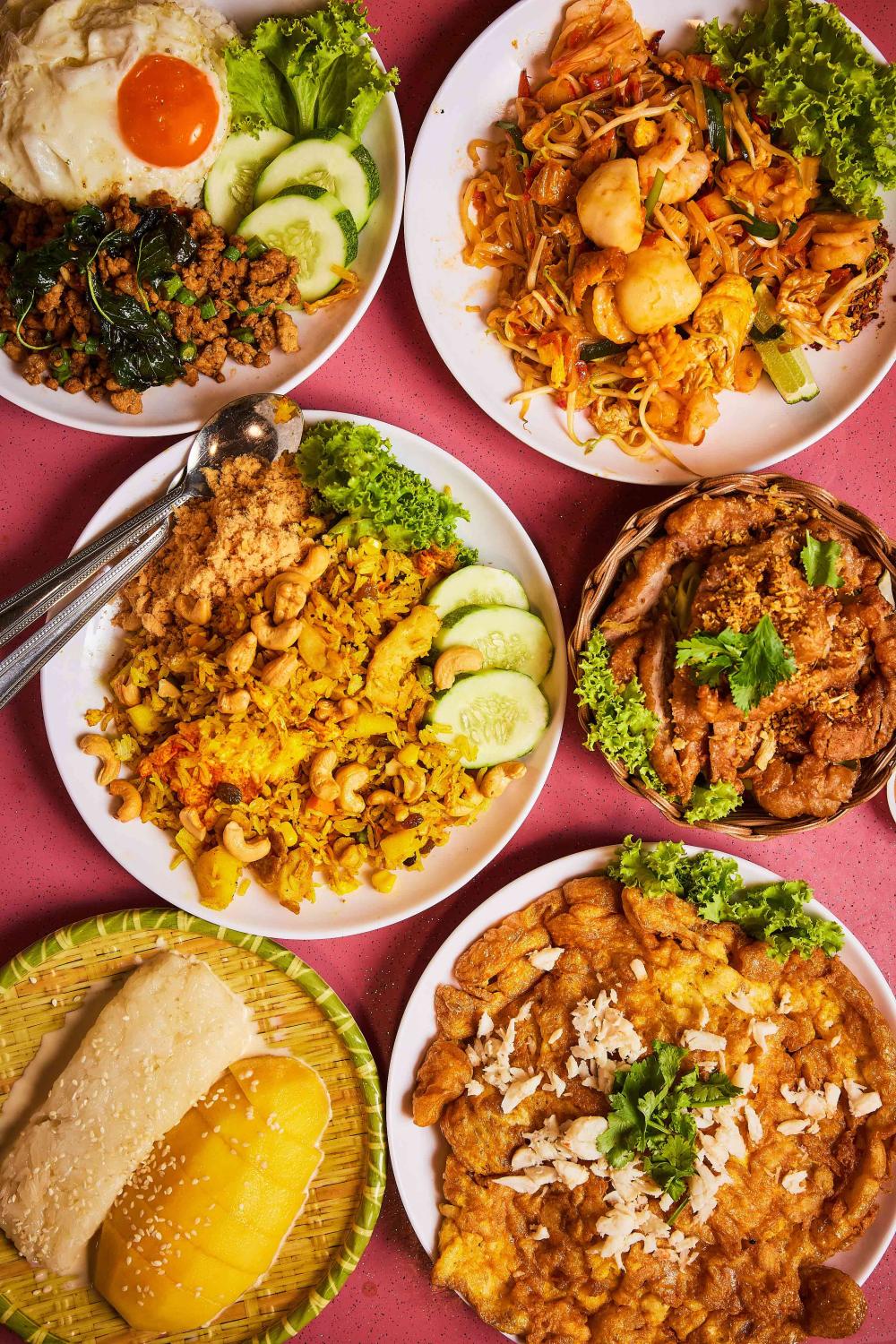 The couple met while working at a Thai restaurant
We noticed the couple conversing in Thai when we greeted them at their stall. Turns out, Amita is half-Thai – her father is Singaporean Chinese and her mother is Thai. Palmy was born in Udon Thani, a city in northeast Thailand, and relocated to Singapore for work five years ago.
They met while working at casual halal Thai food chain Time For Thai's now-defunct Simpang Bedok outlet. Amita was a server and Palmy was sous chef. "I fell for his looks first," she confesses. "He cooked our staff meals. I tried the food and thought it was not bad so I wondered who the chef was." The pair married in 2020 and have no children.
On her decision to marry young, Amita's parents had mixed reactions at first. "My mum questioned it. She asked if I was pregnant," she quips. Her father was more accepting. "My dad met [Palmy] and saw that he's able to take care of me. My parents married young too."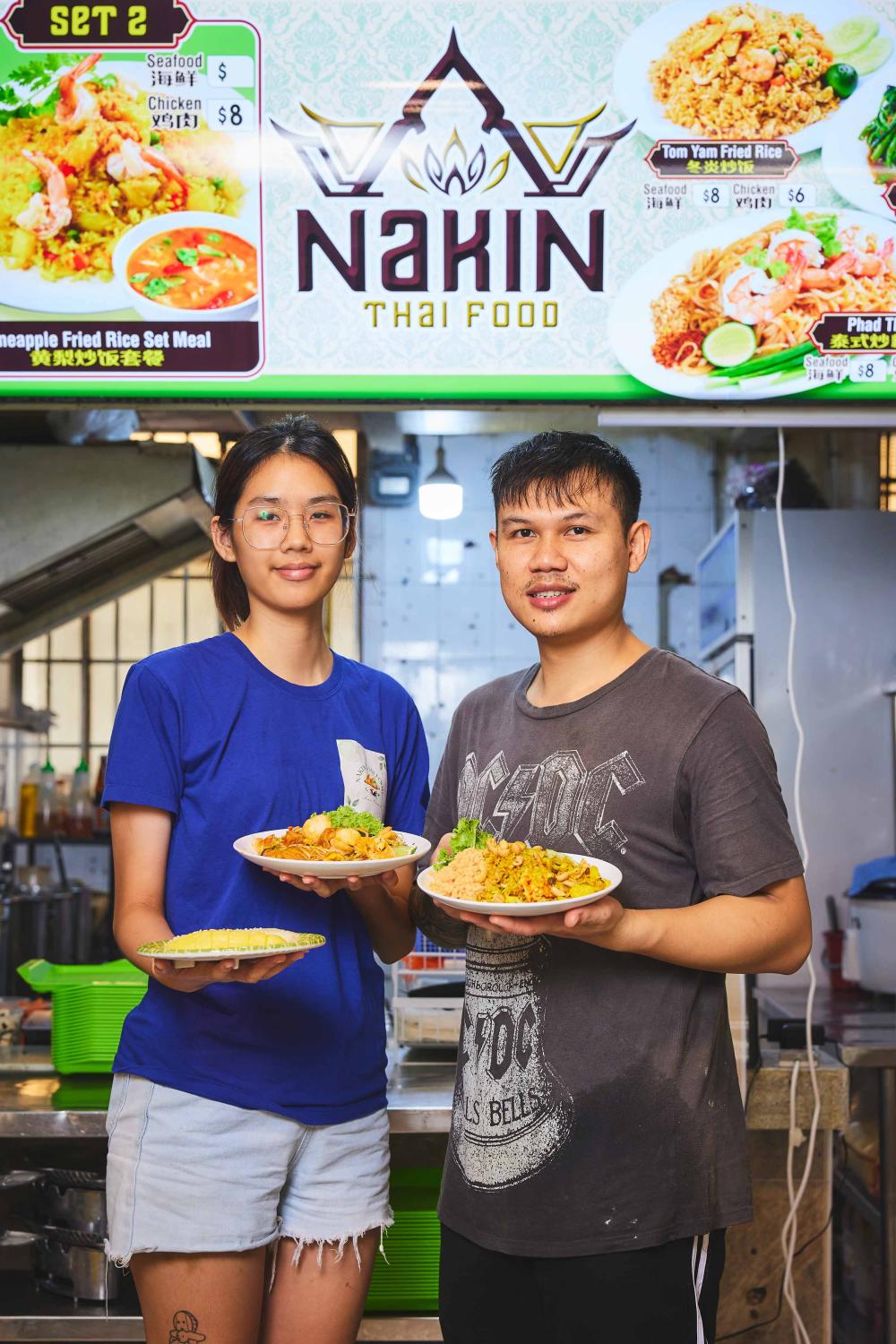 Cooking Thai food since he was 18
Palmy, who is a long-term visit pass holder, left his hometown at 18 to pursue a diploma in Sydney. His studies were initially funded by his grandparents (who had "family money"), but he had to drop out after a year when his older sister was diagnosed with cancer. "His family had to sell all their land to pay for her cancer treatment. Thankfully she's doing much better now," says Amita.
After quitting his studies, Palmy started working as a cook in Australia to help support his family in Thailand. He learned to cook Thai food at restaurants such as Yok Yor Thai Food Factory, a modern Thai establishment in Sydney's CBD. When his student visa expired after five years, Palmy returned to Thailand for a short while before landing a job at Time For Thai in Singapore, where he worked as a sous chef for three years.
The chef "only eats Thai food"
Besides the cuisine being Palmy's specialty, Amita shared an unexpected reason for opening a Thai food hawker stall. "Since he only eats Thai food, the idea of opening a Thai food stall sounded good." Before opening Nakin Thai Food, Amita took on F&B and retail jobs like waiting tables and cashiering. "I feel very stuck when I have to do the same thing over and over [for work]," says the bubbly hawker who dropped out of ITE after two months as "it wasn't for me".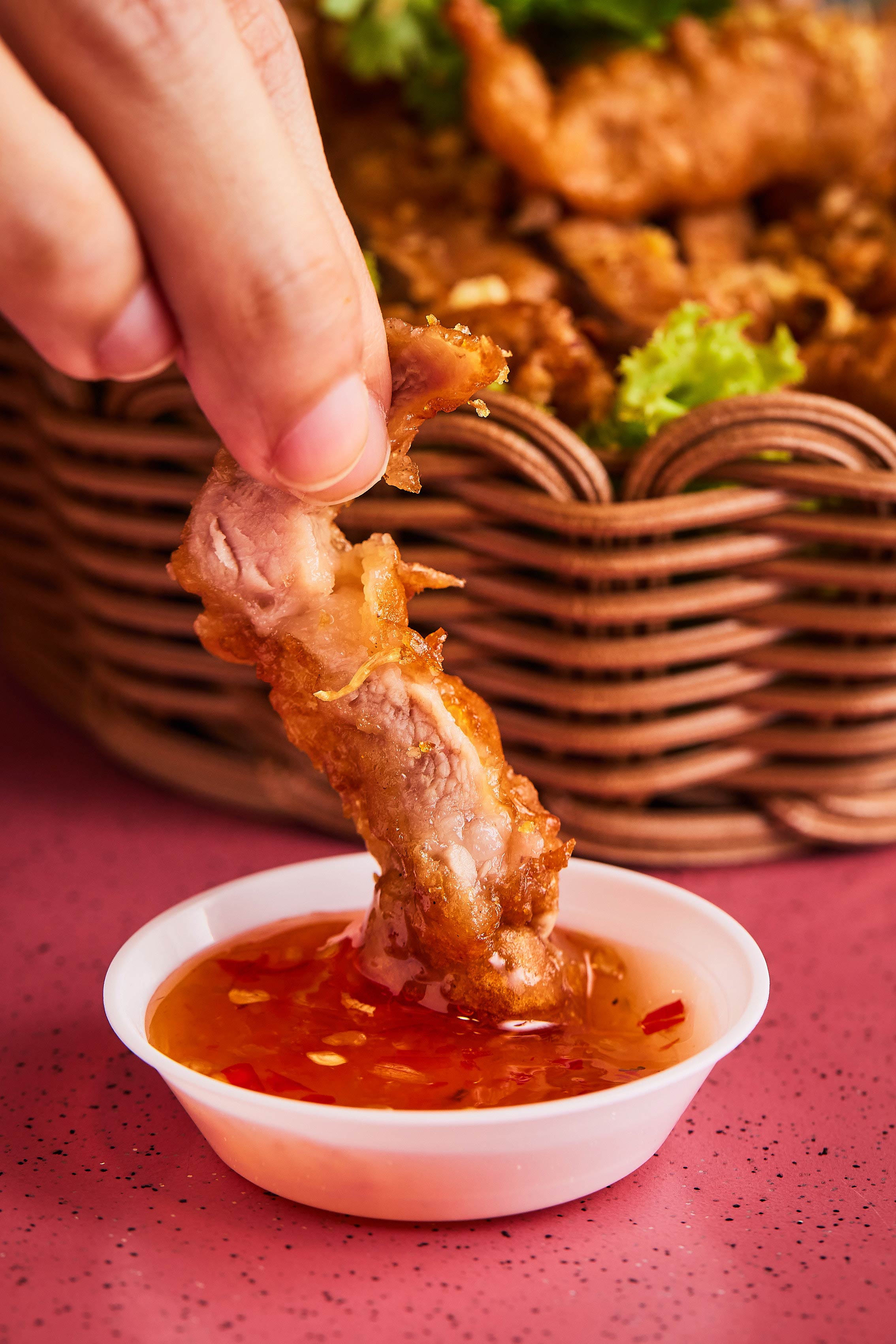 The couple named their stall Nakin as it means "looks yummy" in Thai. It's also the name of a mythical creature that is worshipped in the region where Palmy is from.
Basil Pork Rice, $6 (8 DAYS Pick!)
Right away, we love the generous ratio of verdant basil leaves to minced pork on this hearty plate. The minty, herbaceous Thai basil (they use two varieties – a 'sweet' basil and a 'hot' one) lends a refreshing balance to the piquant fish sauce-forward
pad krapow
dressing. Threaded with fiery bird's eye chilli and chopped long beans, the minced pork mixture pairs perfectly with plain rice and a runny fried egg. Delicious.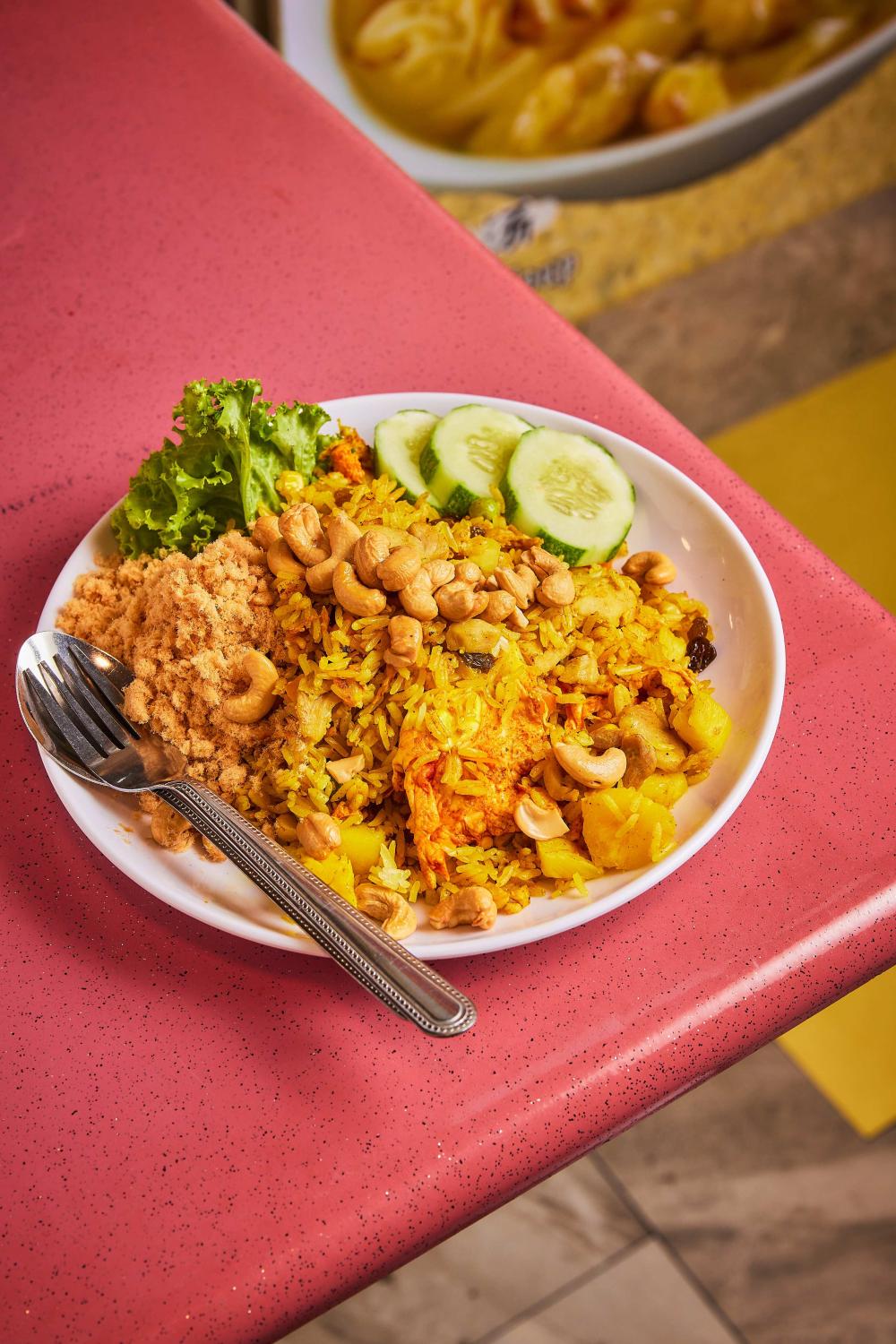 Pineapple Fried Rice (Chicken), $6
The fried rice is fragrant and chewy, but a little too dry. Standard fixings like tender chicken chunks, crunchy cashew, sweet raisin and tangy chopped pineapple work well with the nicely spiced grains.
Pad Thai (Seafood), $8 (8 DAYS Pick!)
Slicked in luscious, tangy house-made sauce
featuring tamarind sauce and palm sugar
, the stir fried flat rice noodles, which come with four prawns, sotong, crab stick, tau pok, fishball and bean sprouts, are superbly well-seasoned and do not require the chilli flakes on the side. Flecked with crispy, dried shrimp for an umami boost and complete with smoky wok hei, this is a must-order dish at the stall.
Fried Pork Collar, $6 (8 DAYS Pick!)
Plush strips of juicy, flavourful pork collar encased in crispy batter. Topped with deep-fried garlic bits, this is an addictive side dish to enjoy with your main course. So good, we'd happily finish this portion on our own.
Crabmeat Omelette, $10
This dish isn't of the bulging cylindrical variety popularised by one-Michelin-starred Bangkok street food stall Jay Fai, but more similar to a flatter zi char-style omelette. Still, it's pretty good – the crispy, lacey edges are especially tasty and the canned crab meat is soft and moist. Best shared among two to three people.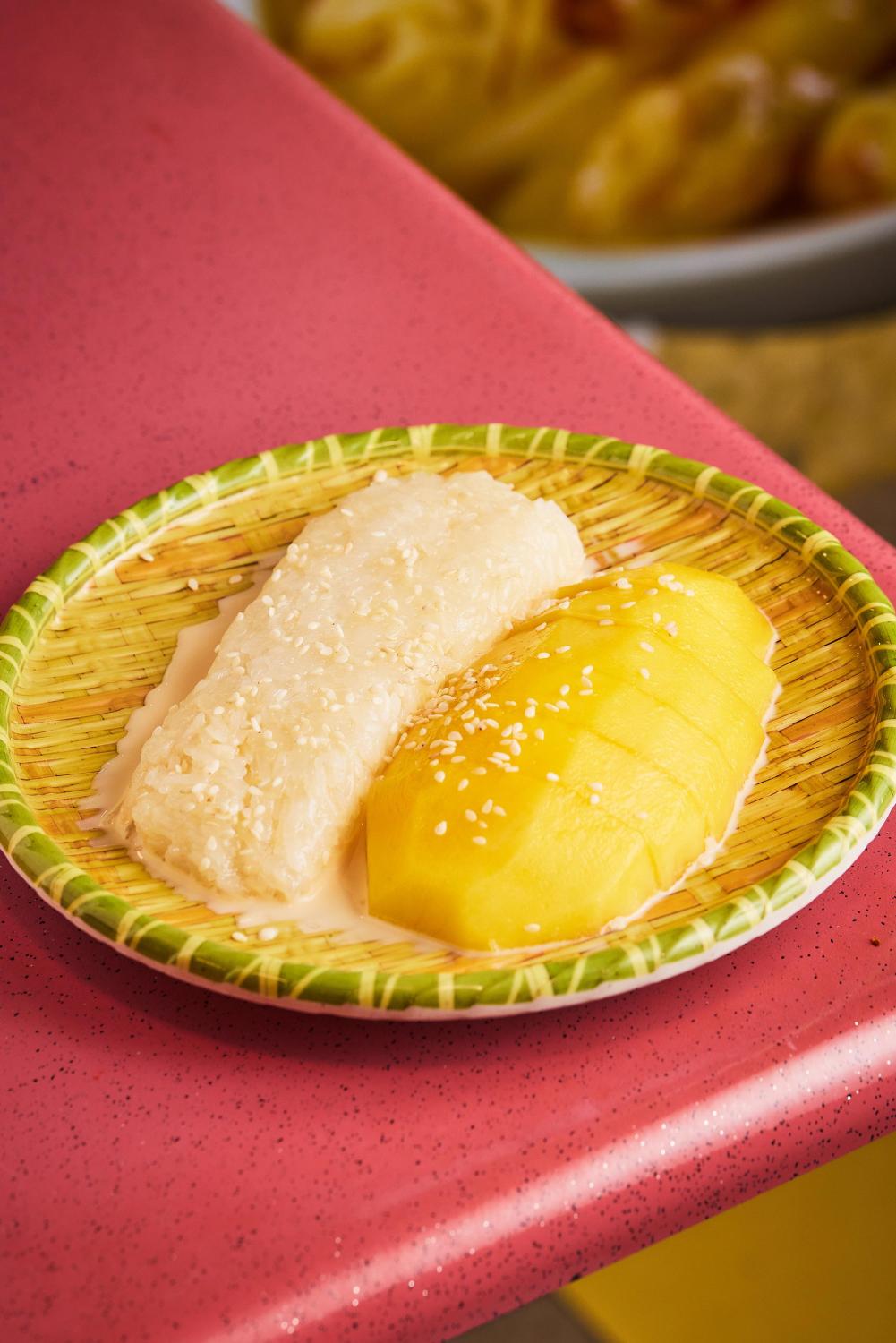 Mango Sticky Rice, $5
The glutinous rice is tender and chewy, while the ripe Thai mango boasts sweet succulence. Evaporated milk is drizzled onto the rice instead of coconut cream (the owners' personal preference). As a result, the dessert is not as rich as other versions, but still carries the requisite aroma as the grains are cooked with coconut milk. A pleasant end to our meal. 
Try the house-made condiments
There are four house-made dips available. Besides the typical sweet chilli and chilli padi in soy sauce, there's a "special sauce" based on a popular condiment in Palmy's hometown. It's a smoky, earthy and slightly spicy dip
using shrimp paste and chilli flakes
that pairs especially well with fried rice and meat dishes.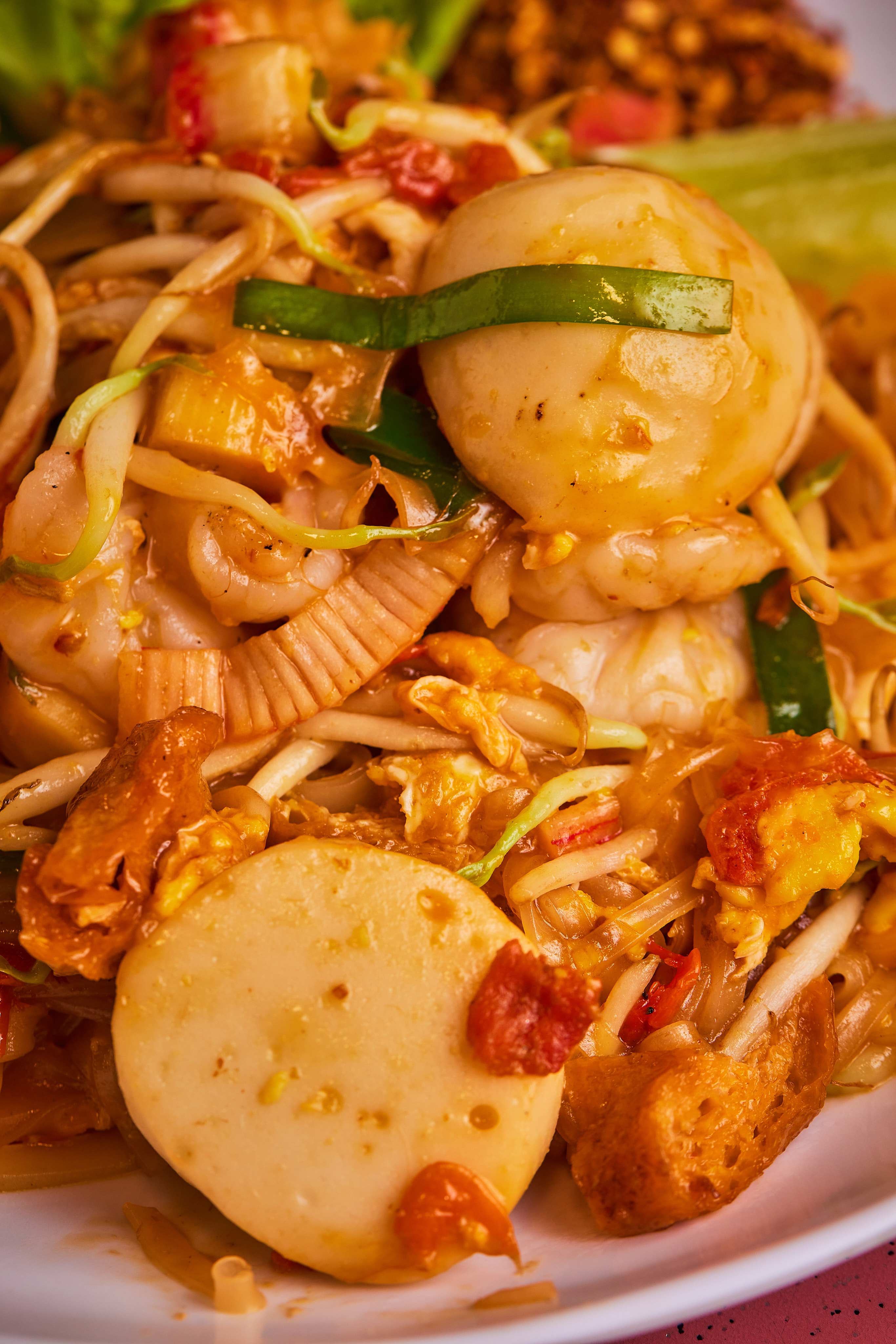 Bottom line
The Thai chef's expertise shines in his well-executed seasoning, which elevates the otherwise no-frills dishes to the next level. We especially enjoyed the saucier-than-usual pad Thai and crispy pork collar, and found the range of house-made condiments an impressive touch for a kopitiam stall.
The details
Nakin Thai Food is at #01-150, Blk 722, Clementi West St 2, S120722. Open daily except Mon 10am-3pm & 5pm-9pm. More info via Facebook & Instagram.
Photos: Alvin Teo

No part of this story or photos can be reproduced without permission from 8days.sg.
8days.sg is now on #tiktok! Follow us on www.tiktok.com/@8dayseat.