Benjamin Tan Sponsored 29 Kids To A Trip To Universal Studios Singapore For A Good Cause
Spreading joy this festive season.
We're only a couple days away from Christmas and one local star has fully embodied the spirit of giving this year.
On Wednesday (Dec 21), Mediacorp actor Benjamin Tan, 29, took 29 disadvantaged kids from local charity organisation Children's Wishing Well on an excursion to Universal Studios Singapore.
Not only did he sponsor their tickets to the theme park, Ben also bought gifts for the children, with some help from generous donors.
Recounting the day in his IG stories, Benjamin wrote: "It was such a great day to hang out with these kids who just completed their PSLE, and are ready to embark on a new journey of their student life. I don't know about them, but I left USS feeling very happy and [with] a heart full of love."
When 8days.sg caught up with Ben through text messages yesterday, he told us that he had "planned the event back in June and approached the organisation in July".
"I came to know about the organisation when I was 23 as they have this Christmas Wish List Campaign for their kids. Since then, it has always been at the back of my mind and I made it a point [to contribute to this organisation] when I have the capability [to do so]," he revealed.
His reason for wanting to help the kids from Children's Wishing Well?
He realised how lucky he is to be in a family where he "doesn't need to worry about placing food on the table, paying [his] school fees, or having a roof over [his] head".
"I believe I have been very fortunate since I was a kid," said Ben. "[I wasn't] spoiled by my parents, but I was given the best they could ever provide me with. And I had a wonderful and happy childhood. These kids may not be able to enjoy experiences such as [drinking] a cup of Starbucks, which a kid did point out she never had before, or they have never been to [places such as] USS before."
Ben with the kids at USS
That's not to say that the children were the only ones who gained something out of the experience. Ben, too, had pretty insightful takeaways from the day.
He learnt that one of the kids did not get his desired results for PSLE as he "wanted to be in Express stream but ended up in Normal Tech [stream]". He was moved by the boy's "aspirations and anticipation" for the future, and sought to comfort him instead.
"I can sense that he felt defeated, and as much as we are brought up to acknowledge that results is everything in this society, I told him this: 'It's okay. This just means that the route you're taking is different from your peers but it doesn't define how your future will be like'," said Ben.
And that's how you make someone's day
Prior to the excursion, Ben also posted an IG story to both his main and plant account "asking for interested donors to chip in to buy [the] kids a souvenir from the USS stores".
And he was super successful in gathering donations. According to Ben, the kids were able to end the day with the gifts they wanted.
"They might not be big ticket items, but seeing how cute the kids were when they were choosing their presents, from discussing with one another about sharing the budget, to leaving the store with smiles and happiness, everything felt worthwhile," he recalled.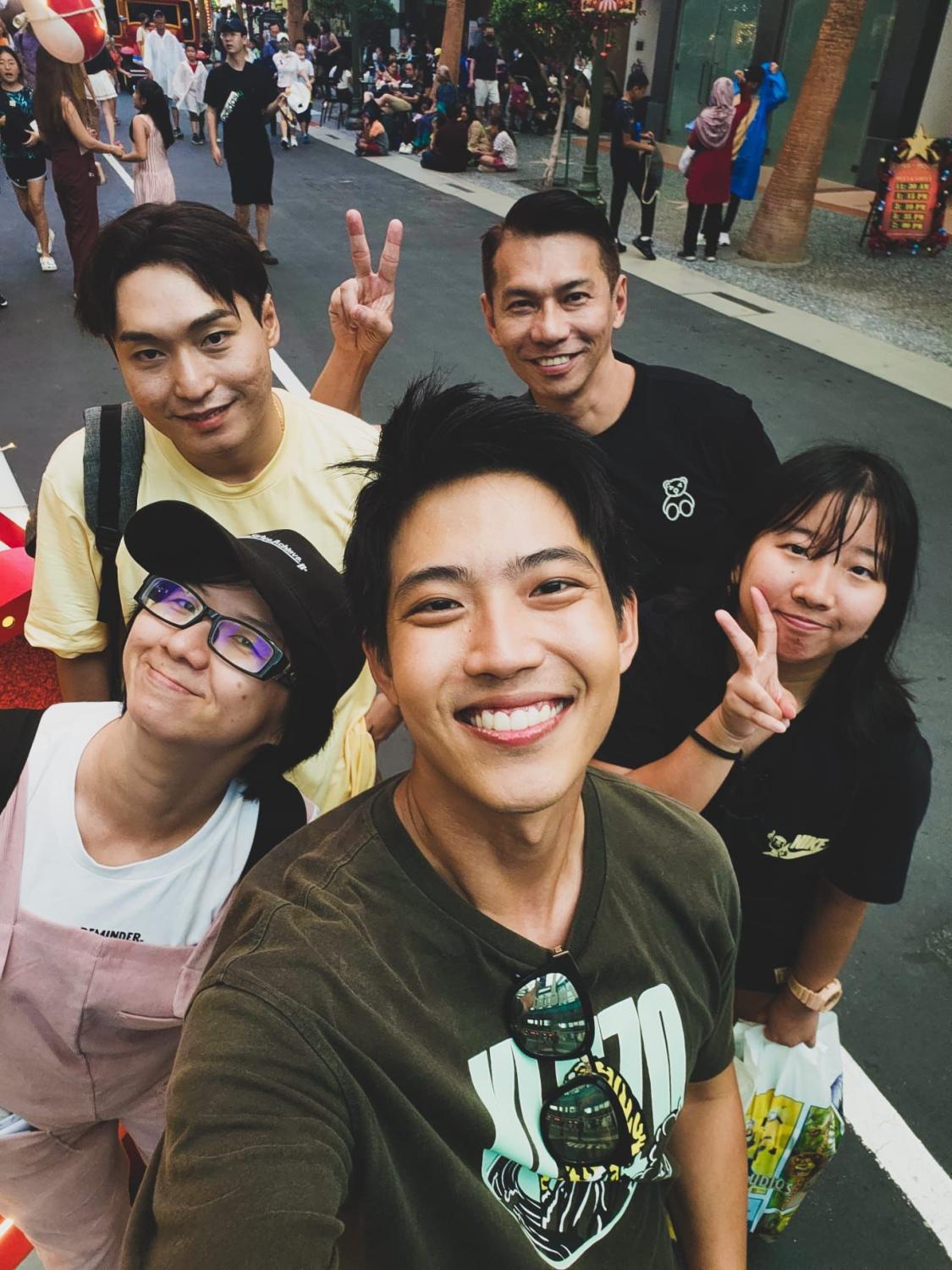 Benjamin got the help of others to make the excursion a success
Of course, Benjamin did not forget to thank those who aided him with the super sweet gesture, including the four other adults who "took leave" to help him out during the excursion.

According to Ben, they also paid for their own tickets, and were "more than willing" to pitch in when informed about the plan.
He also showed his gratitude to the donors who made it possible for him to cover the costs of the kids' presents, and also thanked them on the children's behalf.
"Remember. If you have enough for yourself, try sharing it. At the end, you'll realise that the joy of sharing is priceless," wrote Benjamin.
When asked about the most touching thing he heard from the kids that day, Benjamin told 8days.sg that it wasn't so much about what they said, but how they expressed their gratitude after the event.

For example, some of them dropped him messages via IG to thank him for "making their day".
"The most touching thing is never said or expressed directly. It's the smile on their faces and the happiness they exude when they are choosing their presents and walking away with it," said Benjamin.
Through his actions, Benjamin hopes that he was able to make the children happy, and also bring more attention to the Children's Wishing Well, so it might spark something in others to help those who are less fortunate during this season of giving too.

For more info on Children's Wishing Well, click here.
And we're sure it was an unforgettable day for them
Photos: Benjamin Tan