Benz Hui's Daughter Opens 3rd Eatery, A Mod Cha Chaan Teng With House-Made Egg Tart & Bolo Bun
Prices start from $2.50 for an egg tart at the new Orchard Road cafe.
It's not a sight that people see everyday — Benz Hui perched precariously on a ladder, carefully placing decorative bottles on a shelf. The Hong Kong veteran actor, 73, is putting the finishing touches to his daughter Charmaine's new cha chaan teng Juju (named after the slang term for vibes), which opens today (Mar 5) at Wheelock Place.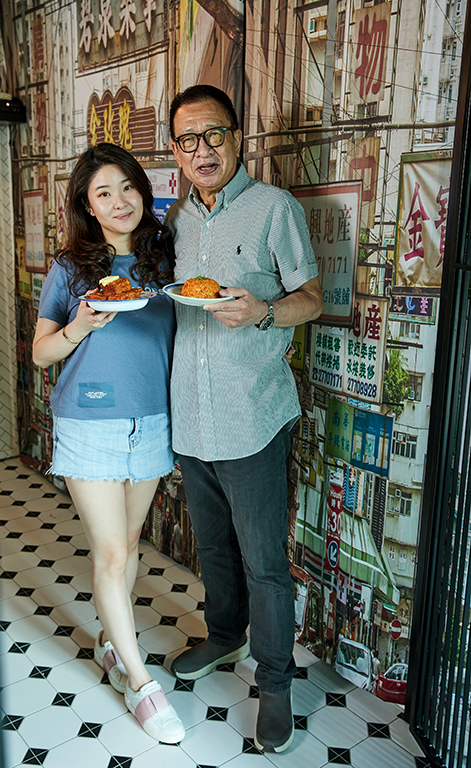 Family affair
The new eatery is just next door to the second outlet for Bakeaholic, the cafe chain that Charmaine Hui, 25, founded after picking up baking during the Covid-19 circuit breaker in 2020. Although the Huis have no experience in F&B, Benz and his Singapore-born wife Angeli Hui, 67, were very supportive of their daughter's plan to open her own cafe, which started as a small unit at The Springside condo near Yishun.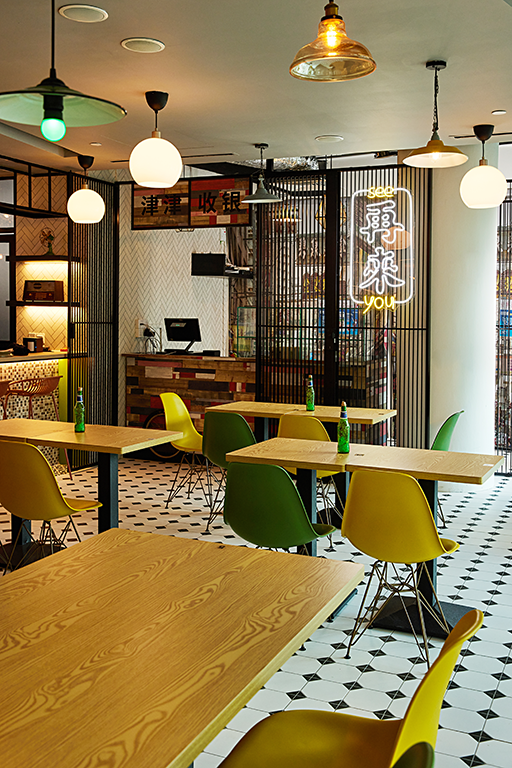 Mod cha chaan teng
When a shop space beside Bakeaholic at Wheelock Place opened up, Charmaine took the opportunity to launch a new concept, which she describes as a fusion cha chaan teng which also serves a small selection of tipples like Hong Kong craft beers, plus boxed snacks from a relatively new HK snack brand called Yuen Long Souvenir.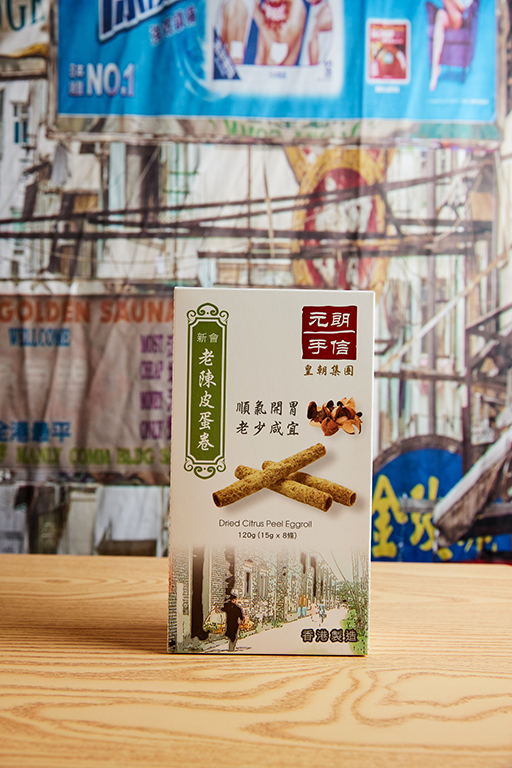 Dried Citrus Peel Egg Rolls, from Yuen Long Souvenir
The cha chaan teng also serves uncommon specialty drinks like sparkling lemon tea and chocolate milk from HK beverage giant Vitasoy (we can attest that the latter is insanely good, though almost impossible to find in Singapore). "We set up a trading company to bring in all this hard-to-find food – we try to use as many HK ingredients as possible," explains Charmaine, who is also planning to serve imported prawn roe noodles "where the roe is already mixed into the noodles".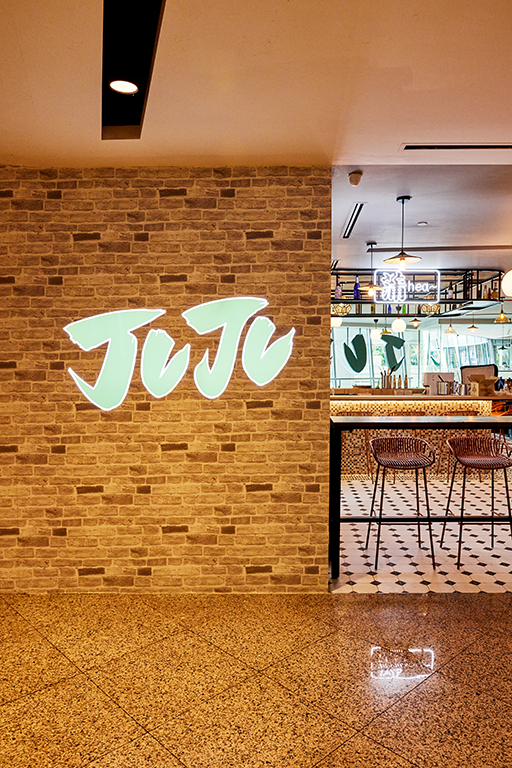 The menu
As the shop's kitchen does not allow for extensive cooking other than preparation of basic dishes (the unit used to be a Delifrance outlet), Juju's menu is kept simple. There's a small selection of cha chaan teng classic mains like Soup Macaroni with Ham ($7.90), Egg Luncheon Meat Noodle ($8.90) and Fried Chicken Thigh with Fries ($8.90). In keeping with the fusion theme, there's a tomato-based Hawaiian Fried Rice ($8.90) and sweet-savoury Nagoya-style fried Juju Wings ($7.90), a dish which the Huis got hooked on during a pre-pandemic holiday in Nagoya.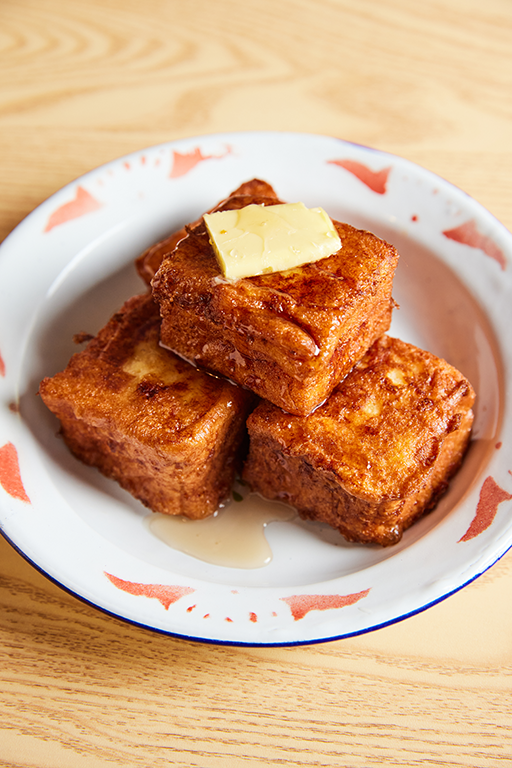 HK toasts
You can also get a selection of HK-style toast here, like Toast With Corned Beef Egg ($7.30) and French Toast ($5.90), plus light snacks such as curried Fishballs and Pig Skin ($6.90). And Charmaine is rolling out house-made pastries like Egg Tart ($2.50), Milk Tart ($2.50), Bolo Bao ($3.80) and Cocktail Bun ($3.50). The butter cookie crust egg tart is unusually square-shaped. "And we add a little special something to make it extra [crunchy]," says Charmaine.

The bakes are meant to go with beverages like Juju Milk Tea ($3.30 for hot, $3.80 for iced) and three types of classic soda floats with vanilla ice cream, which are nicknamed by Hongkongers as Yellow Cow (Schwepps cream soda, $5.20), White Cow (7-Up, $4.50) and Black Cow (Coke, $4.50). There's also a hot weather-friendly 7-Up with Preserved Lime ($4.50), a traditional favourite to soothe scratchy throats.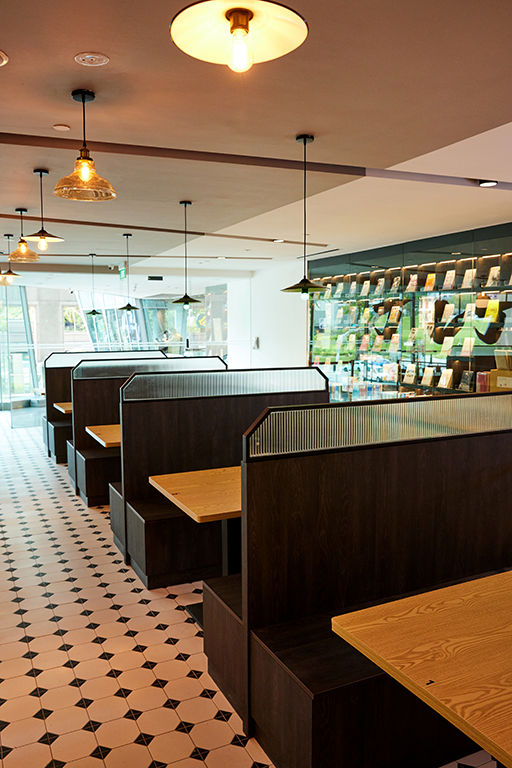 The look
At a glance, Juju has all the elements of a cha chaan teng, like gritty metal grilles, mosaic tiled floor, and bench seats which open to reveal extra storage space (a prized feature in space-starved HK).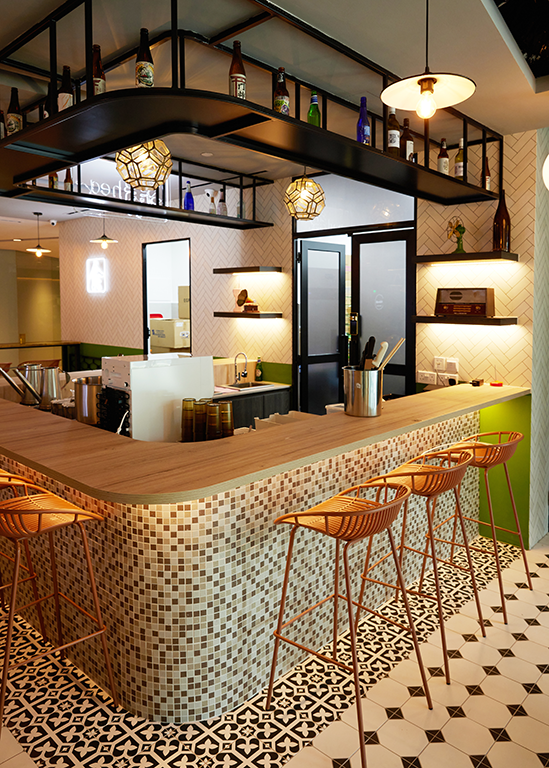 Cha chaan teng with a bar
But it also has mod elements that Angeli says makes the dining experience more "comfortable", such as Eames-style chairs and a sleek bar with counter seating.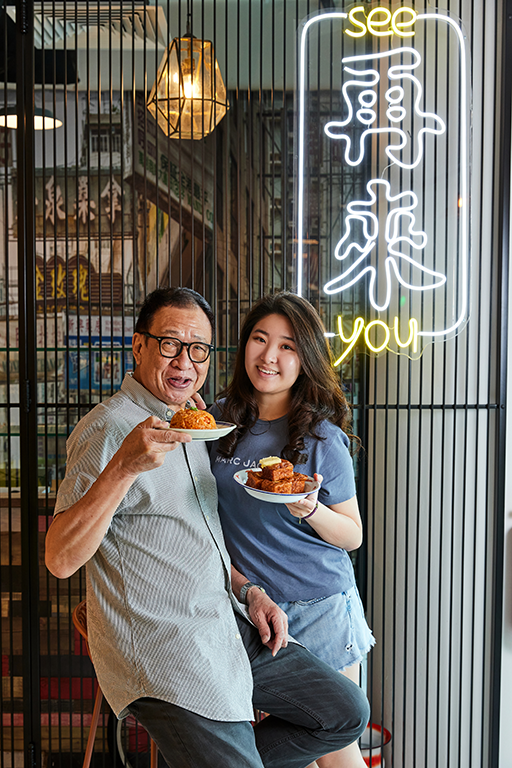 Parents' funding
Hong Kong media recently reported that Benz had splashed "HK$6-7mil" (about S$1mil-$1.2mil) so far on Charmaine's three eateries, though Bakeaholic has yet to break even. Charmaine tells us that the reported sum is "fake news", but Angeli shares that the amount forked out was "close to S$1mil". Not exactly a wild number, considering that it's notoriously costly to open eateries in Singapore, especially in Orchard Road. "Renovation is very expensive," Charmaine points out, though she adds that her dad's friends had sponsored some items like digital locks and grilles.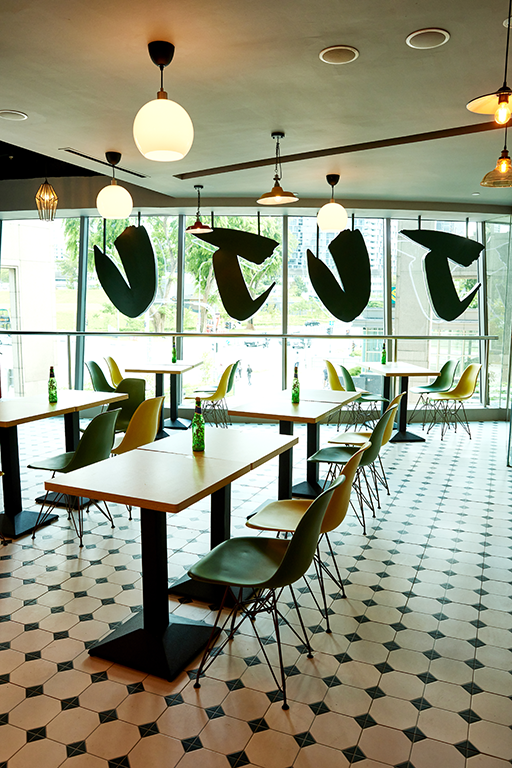 The struggle of being in F&B
Why open three eateries in two years as a novice, we ask, a move which Charmaine says boils down to seizing "opportunities". But such ambitious expansion comes with a lot of pressure, she admits, especially when she's hustling to make her cafes financially viable during uncertain pandemic times.

"I feel so bad if we do badly. There were days when we had a lot of leftovers which took me and my team a lot of effort to bake, but we were forced to take them home or give them to our neighbours. And I start to think, am I wasting my parents' retirement fund?" she says, choking up.
Steep learning curve
Her cafes have decent turnouts and occasionally, even queues. Charmaine candidly notes that "some of [the customers] were there because they wanted to take photos with my dad", though she also saw some of them becoming regulars. She had learnt a lot in her two years as an F&B business owner, she shares, running her cafes with a very lean team.

On top of baking and settling nitty gritty details like obtaining a fire safety permit for her shop, Charmaine – who has a bachelor's degree in organisational communication – also picked up operational skills like cashiering despite "not being good with numbers – I learnt how hard it is to tally cash".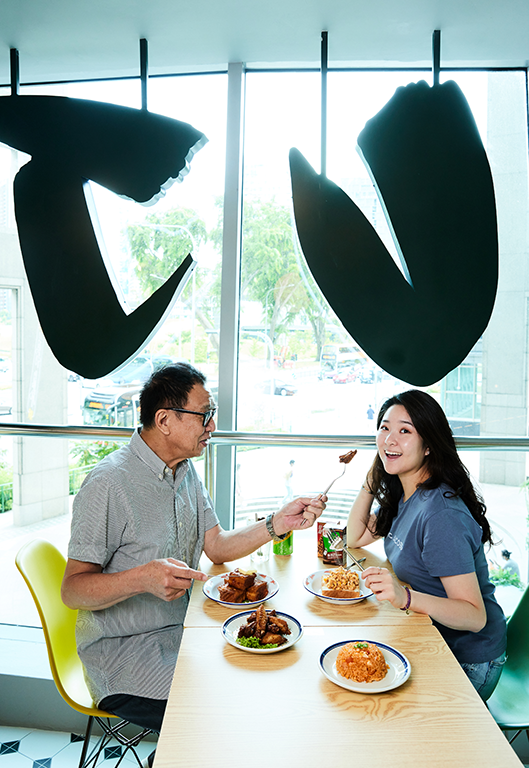 On giving it her best shot
But she admits that "it's impossible for me to do everything by myself". And her loving folks step in to help her out, which Angeli says is a natural move as a parent. "We're not super rich or anything, we're just lucky that Benz has worked hard all these years," she shares. While Charmaine's parents lend a hand financially, Angeli maintains that it's important that her daughter gives her best in her chosen career.

"All the overheads [and costs of running a business], Char[maine] knows. But as parents, we don't want to give her too much pressure," she says, adding that she also imparted life lessons to her daughter along the way. "My mother taught me not to expect anything from my team that I cannot do myself," reveals Charmaine, which prompted her to be hands-on with every aspect of her business. "I won't know what's wrong with something if I don't know how to do it," she laughs.

Meanwhile, Benz is famously known as a devoted family man in the entertainment circle. His family's close-knit bond is apparent, especially when he gets teased by Charmaine and Angeli for eagerly trotting over sugar syrup – instead of maple – for French toast. "I don't know about such things lah!" he protests good-naturedly in Cantonese, though the doting father (clad in dad sneakers) willingly climbs ladders and wipes tables in his 70s to help his daughter's biz.

Check out some of Juju's dishes below:
Hawaiian Fried Rice, $8.90
Juju Wings, $7.90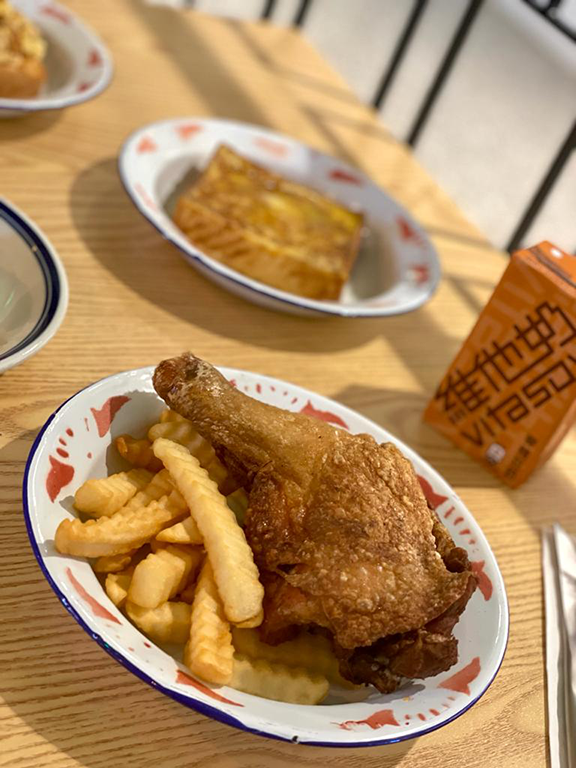 Fried Chicken Thigh with Fries, $8.90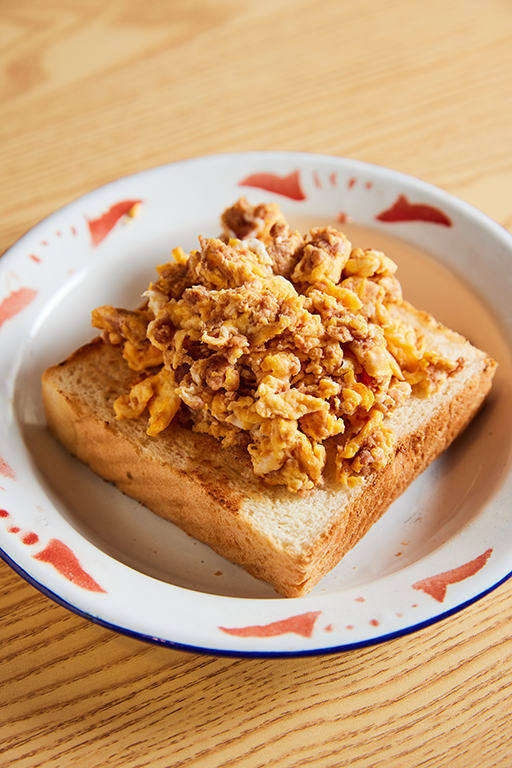 Toast With Corned Beef Egg, $7.30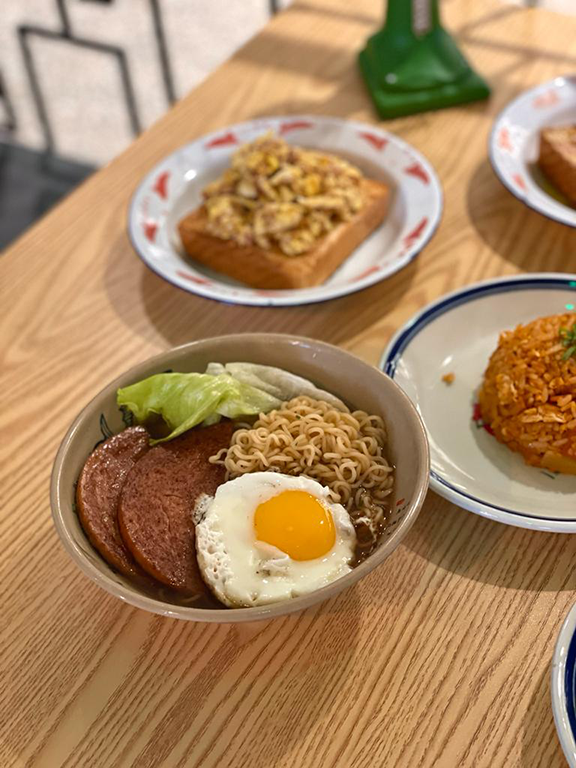 Egg Luncheon Meat Noodle, $8.90
Curried Fishballs, $4.90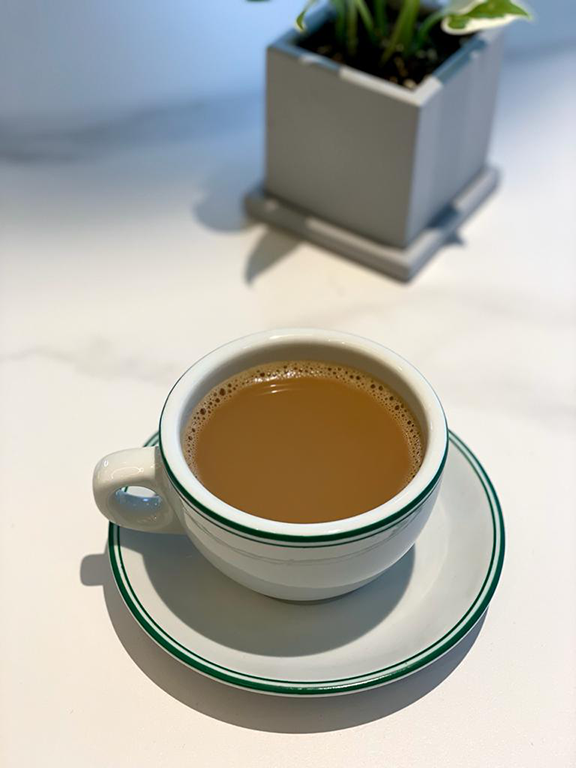 Juju Milk Tea, $3.30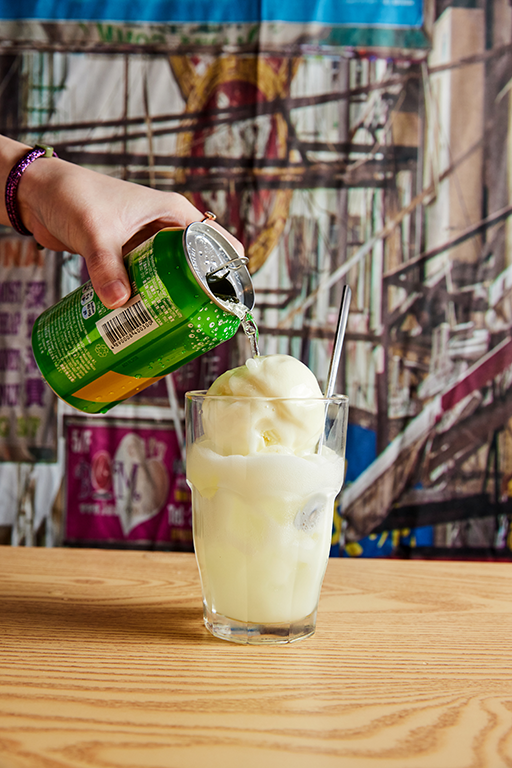 Yellow Cow, $5.20
White Cow, $4.50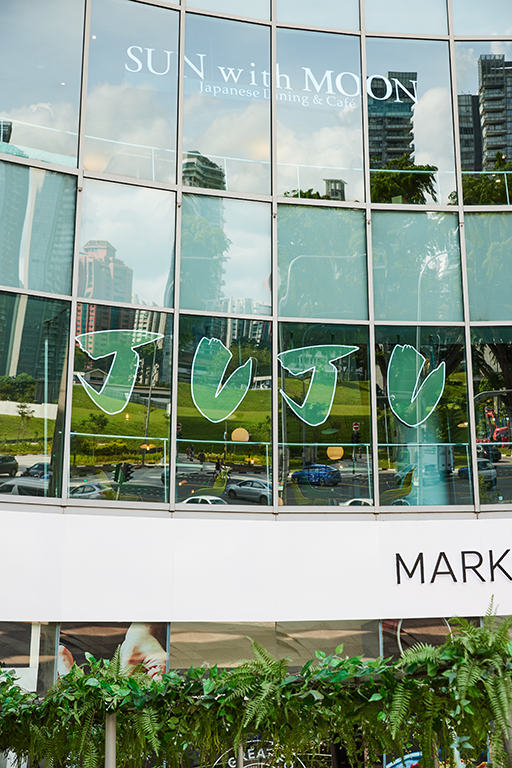 Address and opening hours

Address: #02-17/17A Wheelock Place, 501 Orchard Rd, S238880.

Opening hours: 10am-9pm

Instagram

Photos: Aik Chen/ Charmaine Hui