'BRB crying': Local photographer's touching video of him spending time with his grandparents is giving TikTok all the feels
When was the last time you took your grandparents out?
Singaporean photographer Walter Tan is perhaps best known for his work with local stars, including Mediacorp actor Desmond Tan, whose super stylish Instagram shots in Milan were all shot by him.
It seems Walter is a whiz at tugging at our heartstrings on TikTok too. 
He recently posted a TikTok about how he had spent a day with his grandparents, and was left with what he called "new core memory".
Netizens loved the vid, which showed the photog taking his grandparents out for lunch and buying them new shoes. In fact, they loved it so much, it now has over 760K views and 140K likes.
The rest of the clip saw him speaking to his grandparents in fluent Hokkien, though he included subtitles, so everyone watching could get the feels. That, and the soft piano background music, was what did it for us. 
He first took his grandad to Sperry's to get him a new pair of boat shoes, as the latter had said that his old shoes were about to "give way". 
"Not a sponsored post," he reminded his followers.
His grandma then had her turn at Skechers, where she also bought a new pair of sneakers upon getting recommendations from Walter and his grandad. 
"You told me your shoe size was eight, is it because you like the number, you like to huat is it?" asked Walter, who explained in his caption that his grandma had given him a "random number" as she wasn't sure of her size. 
Perhaps the most adorable part of the vid was when his grandma thanked Walter by saying in Mandarin: "Thank you for your love."
She also attempted to make a heart sign with her hands, but got teased by Walter, who asked: "Is it raining Ah Ma?"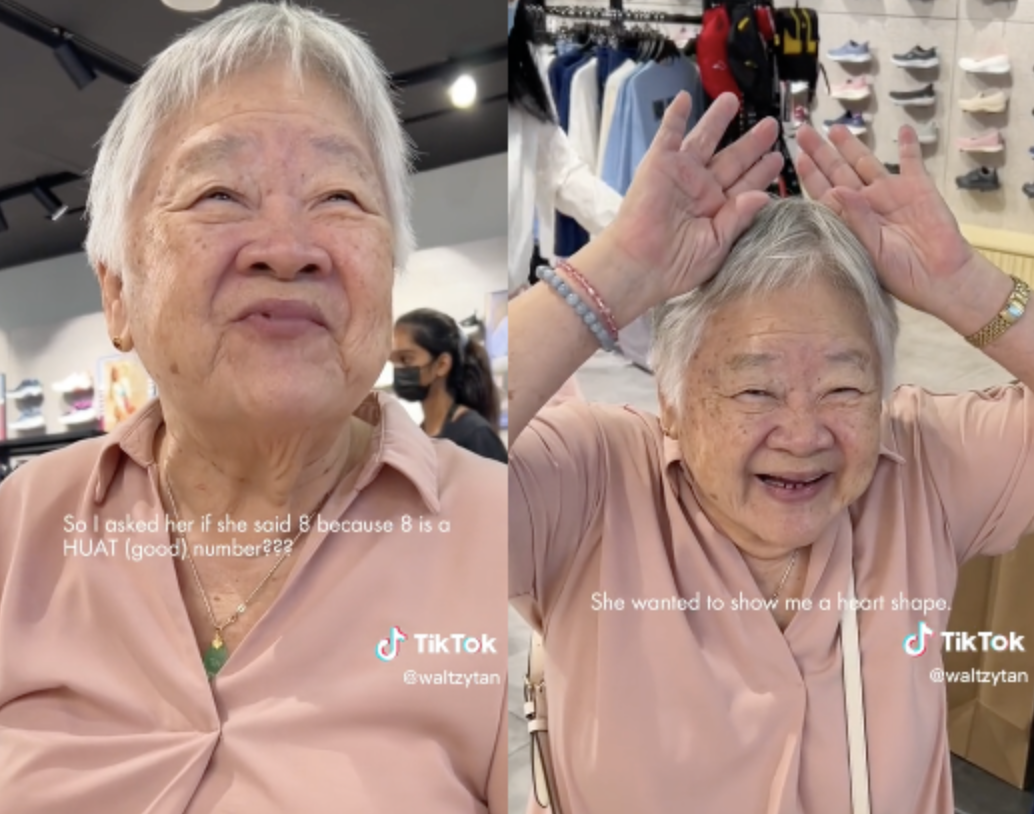 How cute is his grandma?
The end of the vid showed a table full of Polaroids that Walter had snapped with his grandparents.

"As much as I would love to, I don't get to spend as much time with them these days. They raised me up all by themselves since I was one. So... this memory really means a lot to me," wrote Walter.
Netizens were moved by his video, with many saying it left them in tears. They also thanked Walter for sharing such a sweet, wholesome moment with everyone.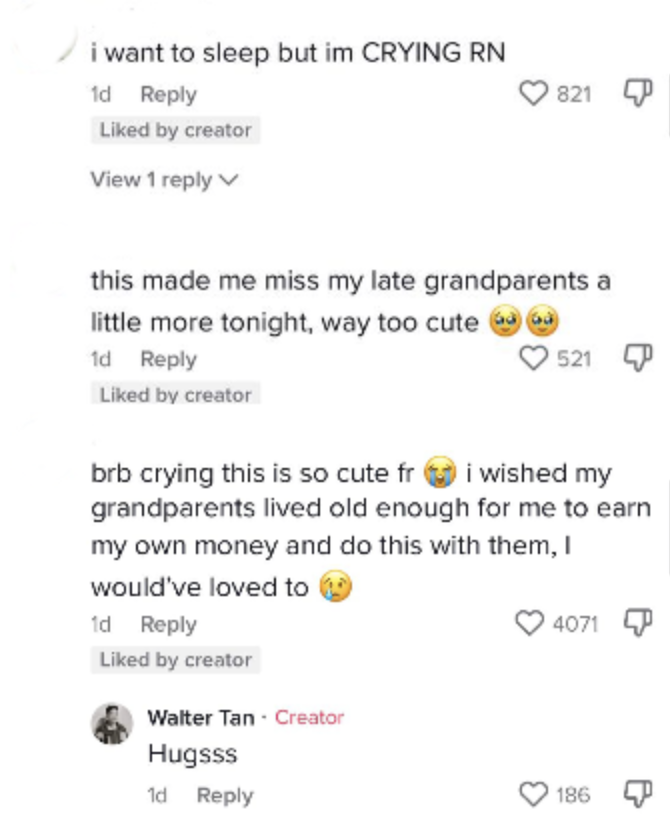 Many netizens were moved by the vid, and were reminded of their own grandparents too
Photos: Walter Tan/ TikTok, Walter Tan/ Instagram