Celebs, Including Chantalle Ng And Nathan Hartono, Celebrate Repeal Of 377A; Call It A Step "In The Right Direction"
In his speech during the National Day Rally, Prime Minister Lee Hsien Loong said that he believes the repeal is "the right thing to do".
After months of speculation that the government will repeal Section 377A of the Penal Code, which criminalises sex between men, Prime Minister Lee Hsien Loong confirmed that the repeal will indeed happen during his speech on Sunday (Aug 21).
PM Lee was addressing the nation during the National Day Rally, and in his speech, he said: "We need to find the right way to reconcile and accommodate both the traditional mores of our society, and the aspiration of gay Singaporeans to be respected and accepted."
He added: "I believe (repeal) is the right thing to do, and something that most Singaporeans will now accept. This will bring the law into line with current social mores, and I hope, provide some relief to gay Singaporeans."
Section 377A was originally introduced in the 1930s by the British colonial government. Earlier this year, the Court of Appeal ruled that Section 377A of the Penal Code was unenforceable in its entirety.
At the same time however, PM Lee added during his National Day Rally speech that the government will also amend the Constitution to protect the definition of marriage as one between a man and a woman to stave off future legal challenges.
Nevertheless, the repeal was celebrated by several local celebs and influencers, who took to social media to express their joy. Many lauded the move, calling it a step forward, as well as a sign that signals a shift in the right direction.
Here's what some of our local celebs and influencers had to say.
Nathan Hartono
Nathan Hartono wrote: "Currently overseas and overwhelmed by the news. The optimist in me always wanted to believe it would happen in my lifetime, but the realist in me couldn't help but feel like it was wishful thinking. What a world," along with a pride flag and and smiling with tears emoji.
"[Let's ******* go] la Singapore. Here's to the future," he added.
Nathan, who was Pink Dot's ambassador in 2017, also added a picture of him from then, along with the caption: "WHAT A TIME TO BE ALIVE".
Over on Facebook,
Hossan Leong
 had a timely reminder for everyone: "
Good morning friends. 
Today there will be heated exchanges, different opinions and views on the 377a issue. 
I pray for kindness and temperance in our speech, with our words, and deeds. From both sides. 
Have a peaceful week ahead," along with the hashtag, "
love wins".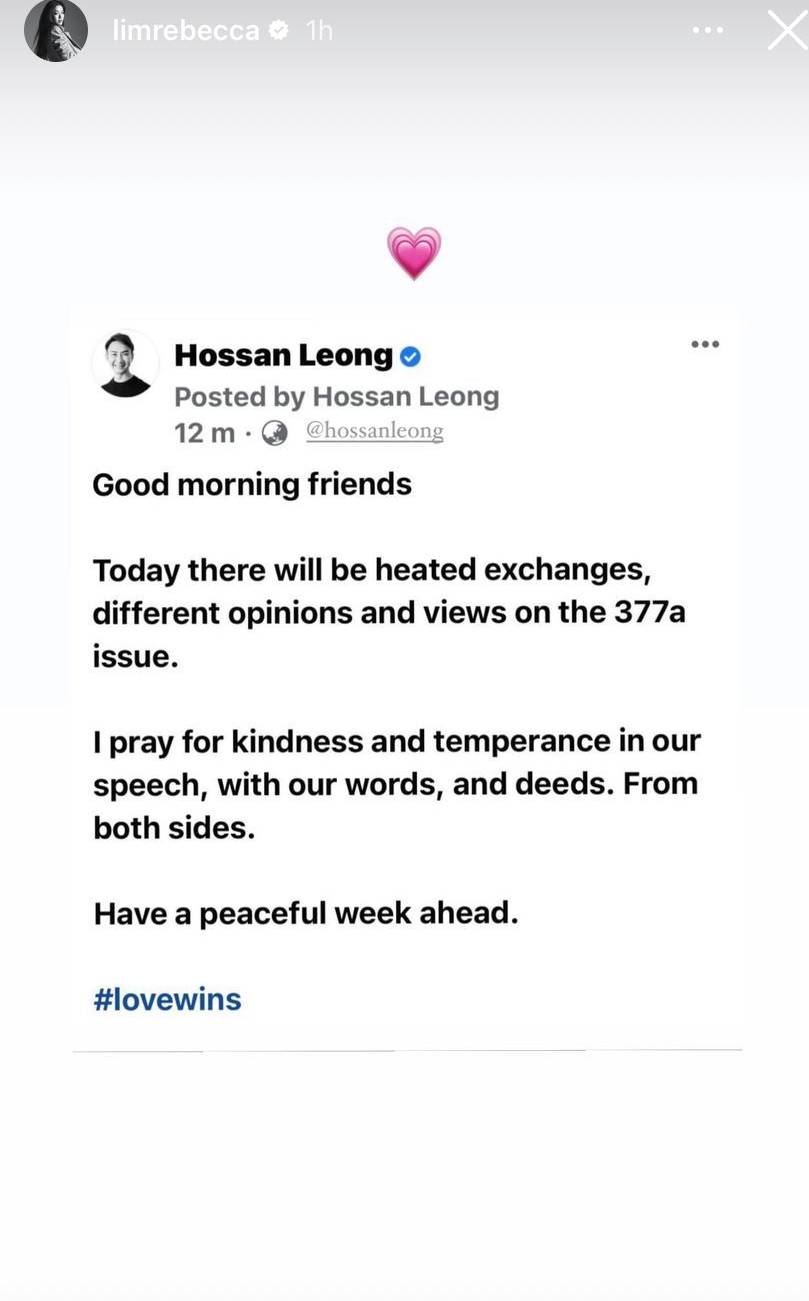 Rebecca Lim
Rebecca Lim
clearly echoed Hossan's thoughts, sharing his post on her IG Story, along with a heart emoji.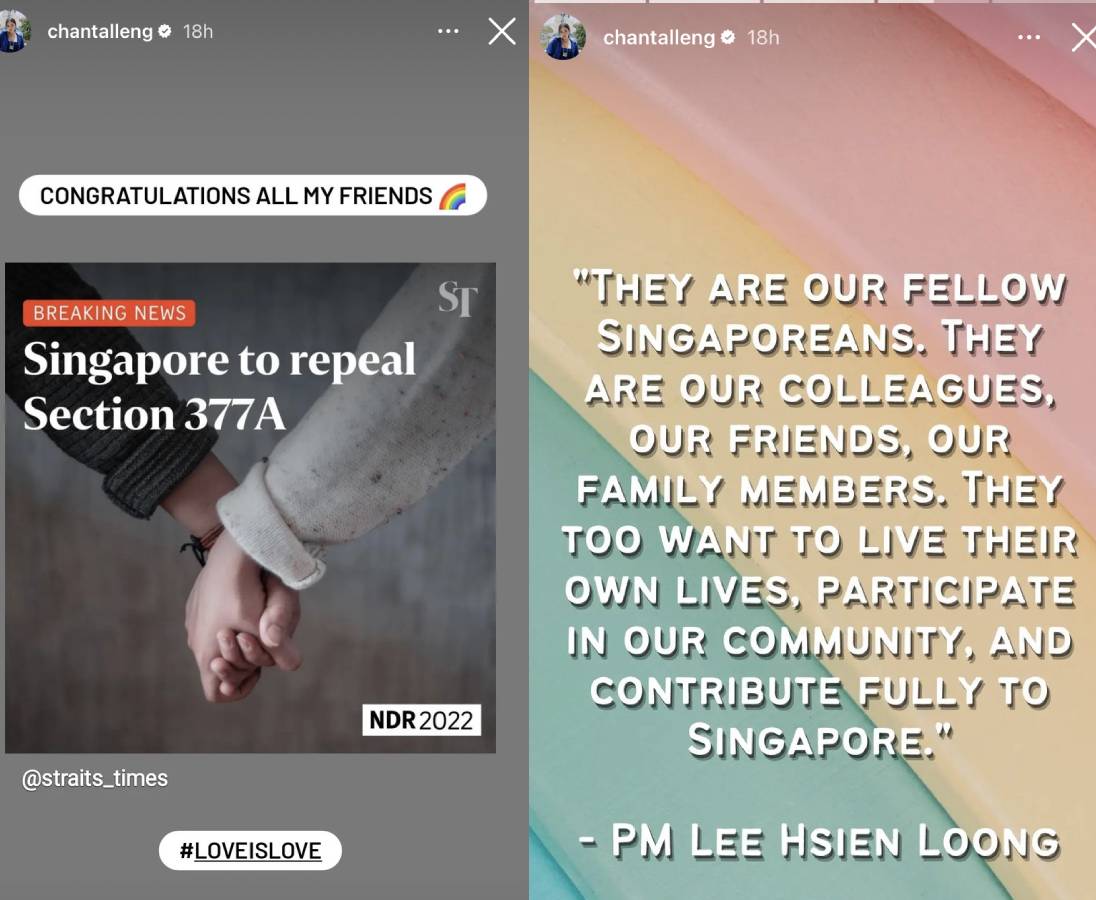 Chantalle Ng
Chantalle Ng clearly was in a celebratory mood as she reposted the news on her Instagram Story, along with the caption: "Congratulations all my friends".
She also shared an excerpt from PM Lee's speech on Sunday.
"They are our fellow Singaporeans – our colleagues, friends & family members. They too want to live their own lives, participate in our community & contribute fully to Singapore."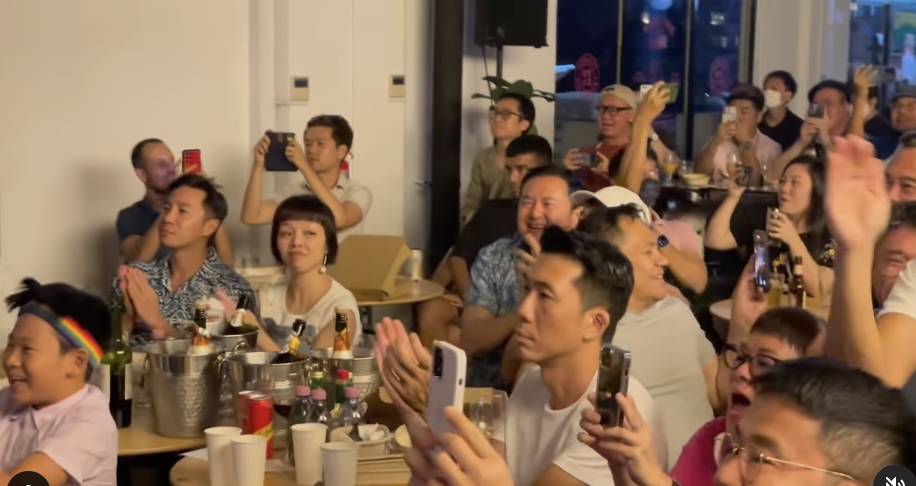 Boo Junfeng
Local filmmaker Boo Junfeng shared a short video capturing his surroundings the moment the repeal was announced.
"The moment it happened. I too was choking up holding the camera," he wrote.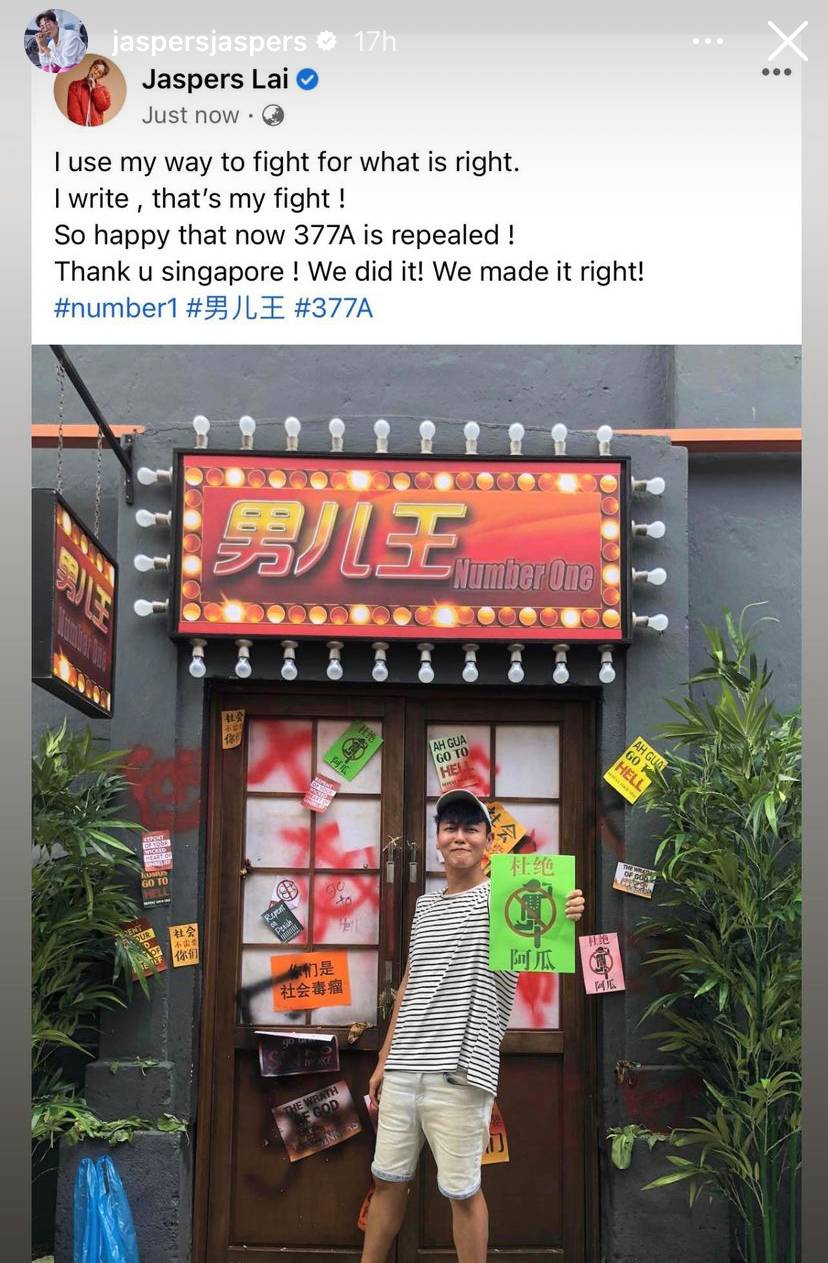 Jaspers Lai
Jaspers Lai wrote: "I use my way to fight for what is right. I write, that's my fight! So happy that now 377A is repealed! Thank [you] Singapore ! We did it! We made it right!"

He also shared a picture of him on the set of the Golden Horse Award-nominated movie Number 1, which he wrote.
The movie is about a retrenched middle-aged man, played by Mark Lee, who accidentally becomes a night club drag queen sensation.
Mark was nominated for a Golden Horse award for Best Actor for his role.
Fang Rong
Mediacorp actress Fang Rong was one of many who were celebrating last night.
"For some crazy reason,
I never thought we'd see it in this lifetime;
so happy for all
who finally feel seen by those that govern

this gives me hope
of a more inclusive, respectful, and loving 
Singapore
one that truly celebrates our unique differences 
and seeks not to silence
but to let them coexist
and thrive
in true harmony
something's shifting...
& IT'S ABOUT DAMN TIME! (sic)" she wrote in her caption.
Brenda Tan (wordweed)
Local content creator and influencer Brenda Tan (better known as wordweed), took to the streets hours after the repeal was announced, to celebrate, with a pride flag in hand.
"About damn time!!!!!!" she wrote in her caption on Instagram.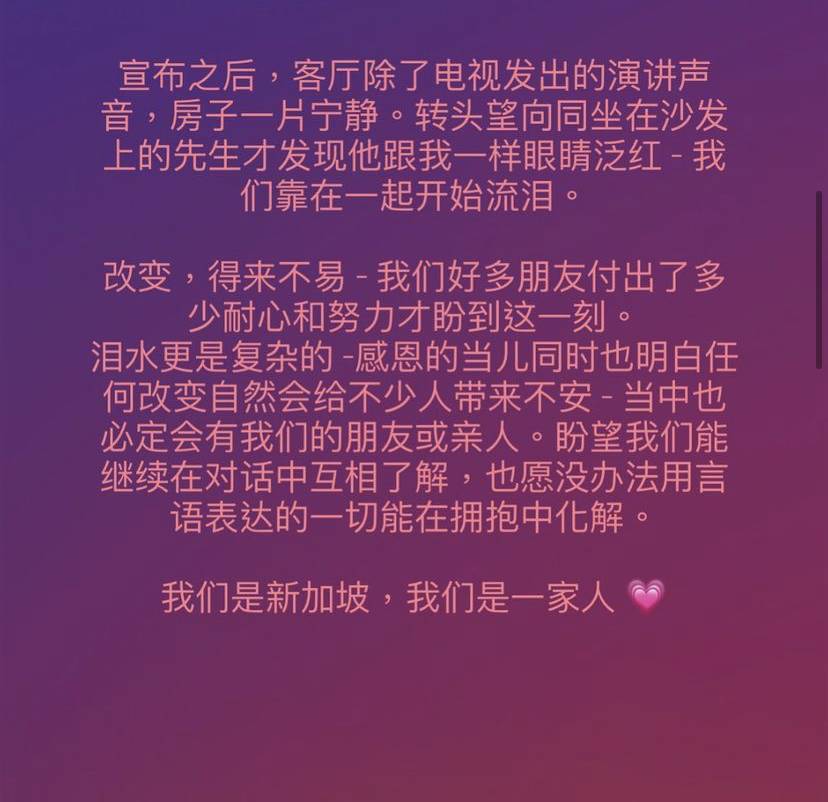 Joanna Dong
Joanna Dong's heartfelt post came a few hours after the announcement, and was full of wise words to remember.
"After the announcement, apart from the sounds of the speech coming from the television, the living room, and the house were silent. I turned my head to look at my husband who was sitting beside me on the sofa, only to find out that his eyes were red, just like mine — we leaned on each other and began crying." Joanna wrote.
"Change does not come easy — we have so many friends who've forked out so much patience and hard work, in order to reach this moment. Tears are a complicated thing — [we were] grateful, and at the same time, we understood that any type of change would bring about unease to a number of people, which will include our friends and family. I hope that we can continue to understand each other through a conversation, and I wish that for the things that cannot be expressed through words, will be resolved with a hug. We are Singapore, we are a family," she added.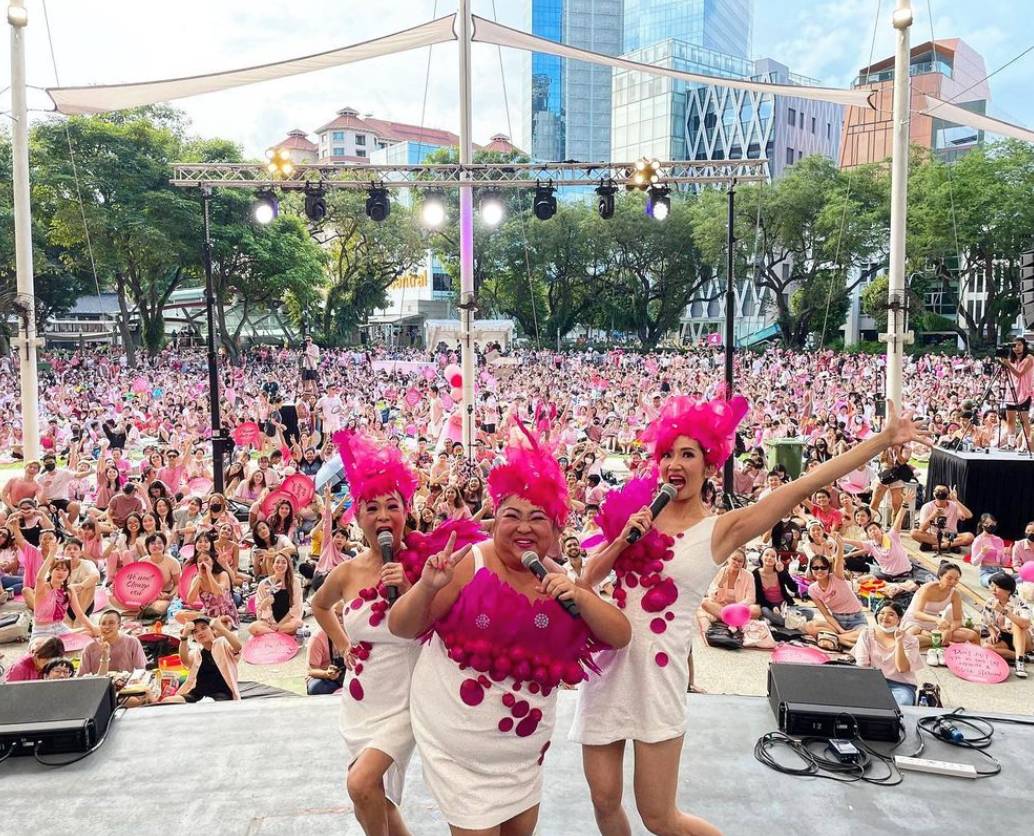 Dim Sum Dollies
The Dim Sum Dollies, who were Pink Dot's ambassadors in 2011, took to Instagram to share their joy.
"Section 377A finally repealed! MAJULAH SINGAPURA. LOVE WINS! (sic)" they wrote in their caption.
The Dollies will be staging a cabaret comedy show, Dim Sum Dollies Still Steam, from August 26 to September 10 2022 at the Capitol Theatre. Tickets are prices from $20, and can be purchased here.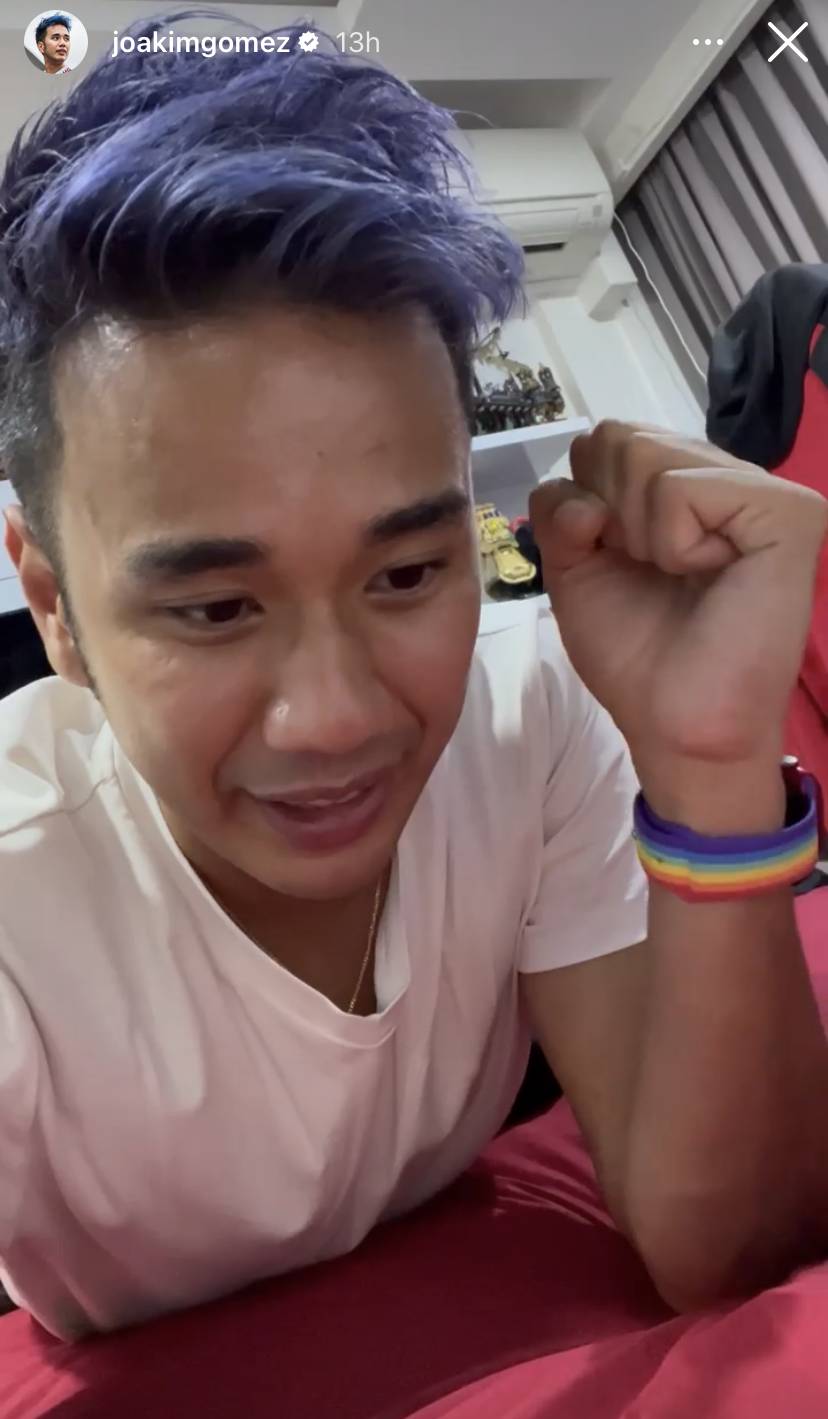 Joakim Gomez
The 987 jock Joakim Gomez shared his thoughts in a series of videos on his Instagram Story.
"As a lifelong ally, please allow me to personally say congratulations," he said.
"This one is going out to the people who have fought for this for many years, for so many years. I've witnessed it myself personally, I know industry professionals, I have close friends of mine, some of the best in the industry, people that I've grown up with, who have really, respectfully, fought this battle. Presented research after research, [and] facts," he added at the end of his video, adding that he will share more of his thoughts later today.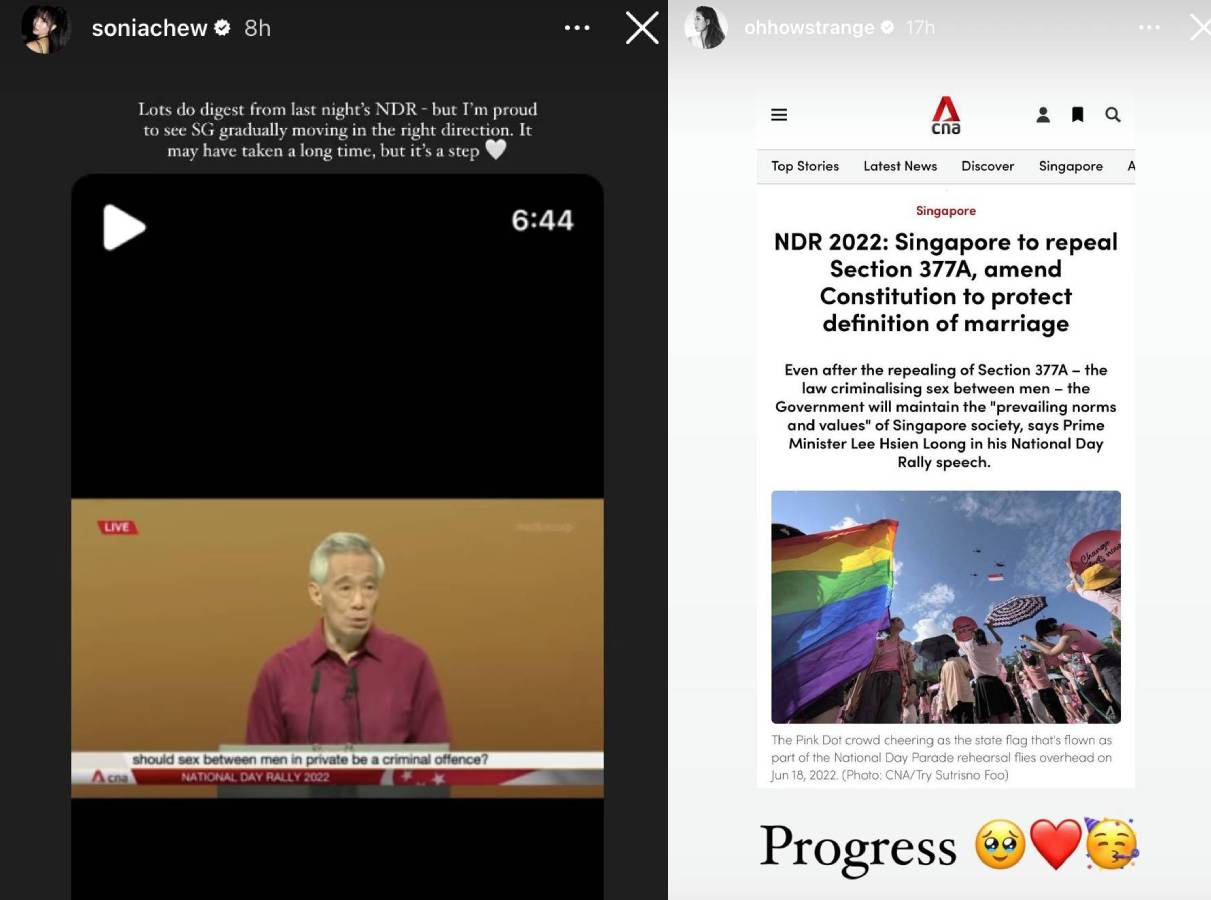 Sonia Chew, Kimberly Wang
Joakim's fellow 987 DJs, Sonia Chew and Kimberly Wang also lauded the repeal of 377A on their respective Instagrams.
"I'm proud to see [Singapore] gradually moving in the right direction. It may have taken a long time, but it's a step," Sonia wrote, while Kimberly opted for a simple "Progress" with emojis showing her celebratory mood.
Sebastian Tan
Perhaps better know as Broadway Beng, theatre actor Sebastian Tan was full of love on Instagram, writing: "Section 377A finally repealed! MAJULAH SINGAPURA. LOVE WINS! (sic)"
Seow Sin Nee
Seow Sin Nee
 shared her thoughts with a very succinct caption, writing: "Love is love. [Even if] you don't understand, it doesn't mean that they don't exist".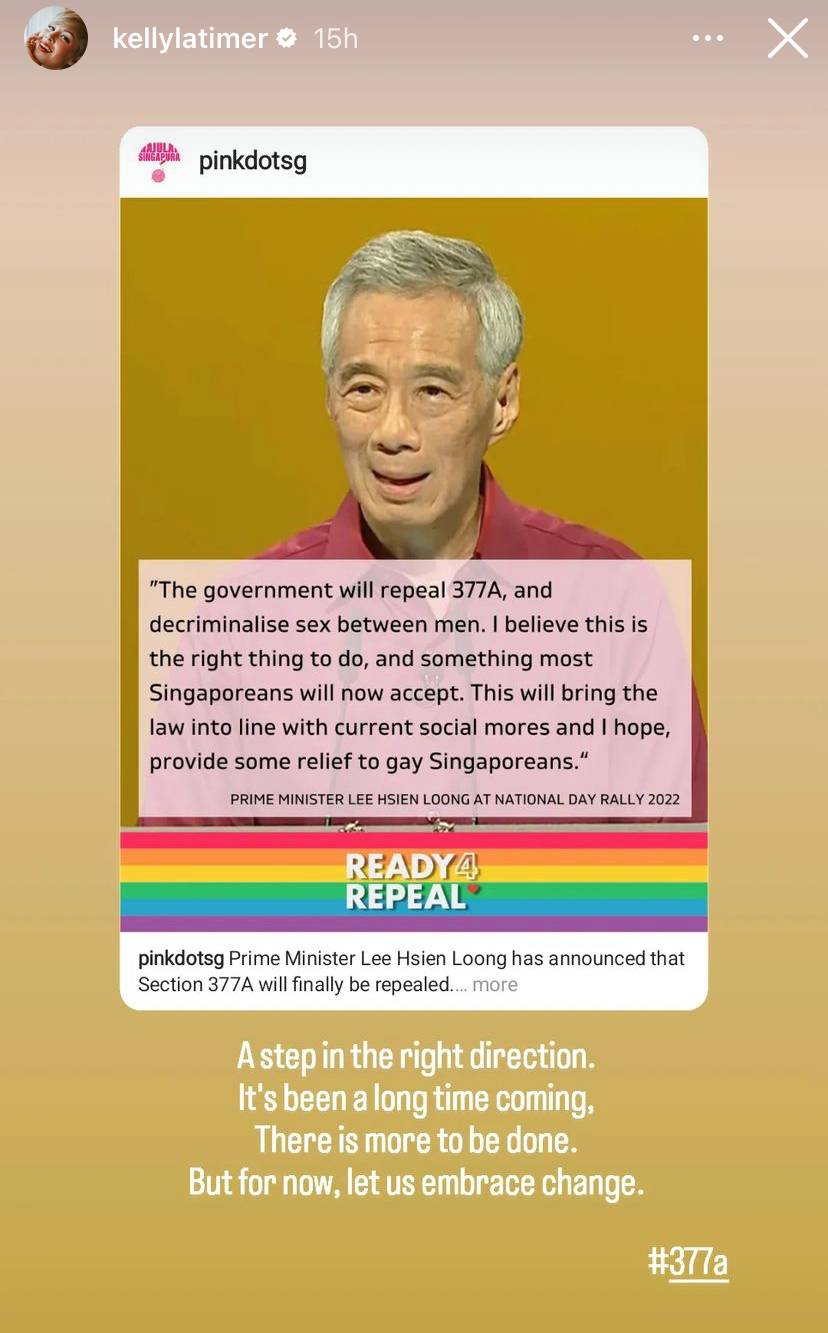 Kelly Latimer
TV host and presenter Kelly Latimer was one of many who called the repeal a "step in the right direction".
She also added: "It's been a long time coming. There is more to be done. But for now, let us embrace change".
Cynthia Koh, Ann Kok, Fiona Xie
For these three actresses, they chose to let the Instagram GIFs speak for them.
Cynthia Koh shared a "Love Wins" heart-shaped GIF on her Story, while Ann Kok opted for an "all genders are valid" GIF, along with loads of hearts. Fiona Xie chose a simple "love is love" GIF to express her thoughts.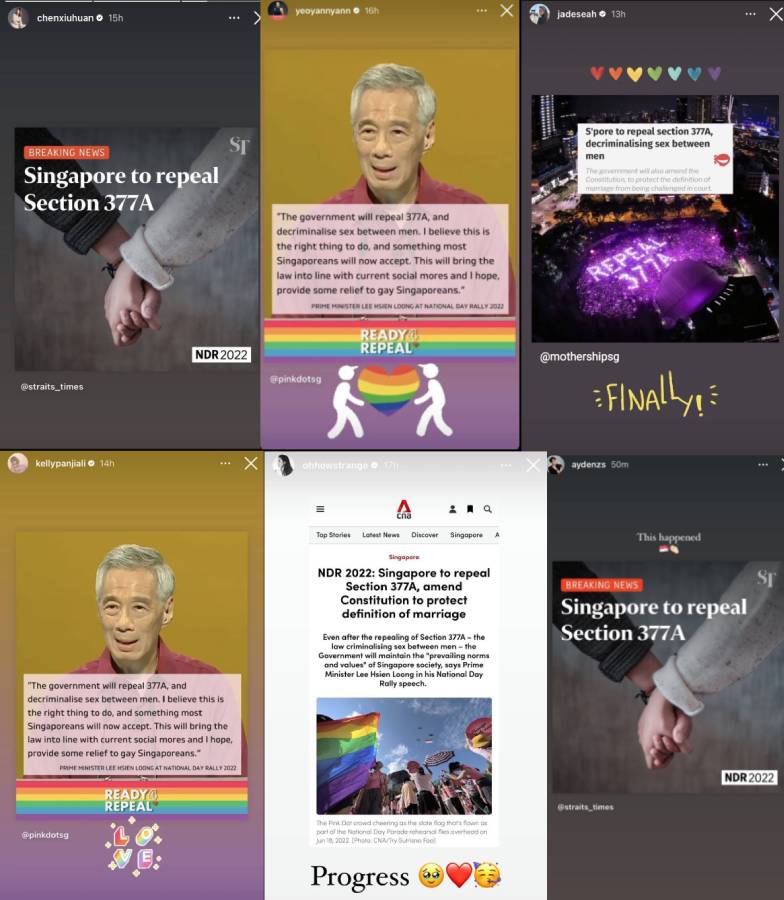 And all the others.
From
Chen Xiuhuan
, to Jade Seah,
Yeo Yann Yann,
Ayden Sng
, Kelly Poon and more, these celebs showed their support by sharing news articles on their Instagram Story.