China's Viral Hairline Challenge Has Stars Like Cecilia Cheung Flexing Their (Almost) Perfect Hairline
Do you have a perfect hairline according to this chart?
There have been many viral challenges in China over the years — remember the 'Manhua Waist Challenge', 'A4 Waist Challenge' and 'Belly Button Challenge'?

These trends, most of which aimed to prove how slim or flexible one is, were blasted for promoting a certain type of body image.
With the Cyberspace Administration of China reportedly cracking down on such "extreme grandstanding", these crazy trends could be a thing of the past.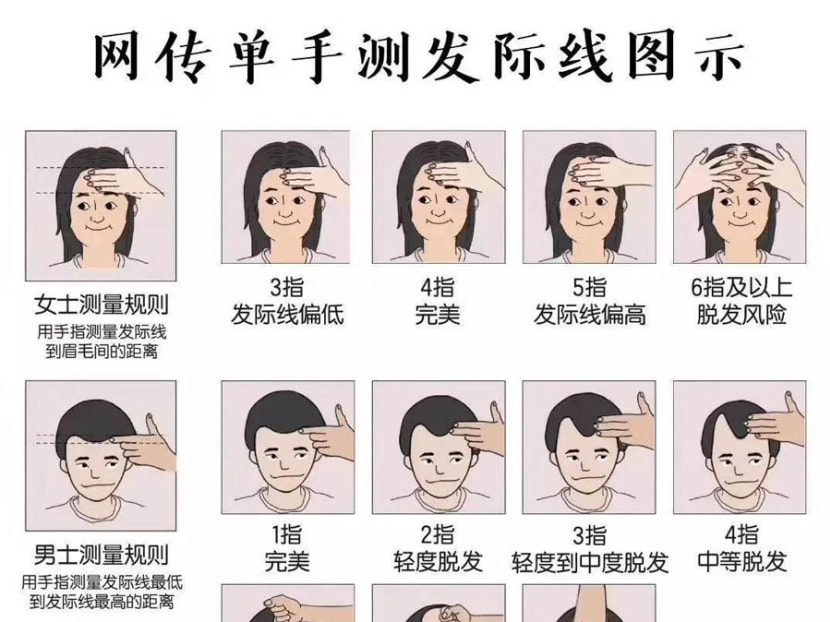 The internet, however, will always come up with new viral trends, with the latest being the Hairline Challenge, which is thankfully a lot tamer than its predecessors.

All you have to do to is to check the number of fingers you can place on your forehead to your hairline, with the bar set differently for males and females.

Although this challenge was first started in 2019, it gained traction in recent weeks, thanks to netizens who have been flexing their 'perfect' hairlines on social networking sites.
Among the celebs who have joined in the fun is Cecilia Cheung, who posted shots of her doing the challenge yesterday (Oct 20). Although she fell slightly short of the 'perfect' hairline standard, netizens praised the 41-year-old mother of three for having a head full of luscious locks.

Said one netizen: "I've only given birth once and I lost so much hair! Ceci either has really good genes or takes care of herself really well to look this good after three kids."