Chinatown Hawker Stall Offers Wallet-Friendly 8-Pax Abalone Yusheng For $50, Open Through CNY
"We make lohei available throughout Chinese New Year so that everyone gets to enjoy it at affordable prices," says the stall's third-gen owner.
Chinese New Year is upon us this weekend, and most folks would be looking for yusheng to complete their reunion dinner spread. If you are a last-minute shopper, take heart that this charming Chinatown Complex hawker stall will be serving lohei through the whole 15 days of CNY at very wallet-friendly prices.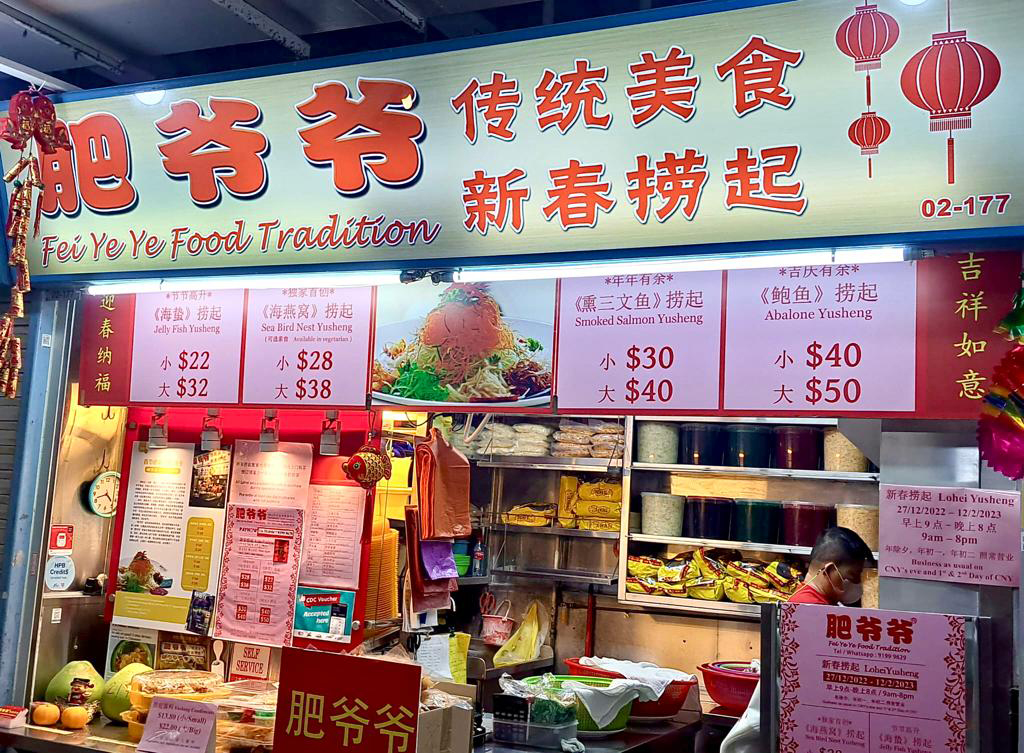 Photo: Fei Ye Ye Food Tradition
Yusheng sold by a wonton mee hawker
Called Fei Ye Ye Food Tradition (which translates to "Fat Grandpa" in Chinese), the stall has been in business since the '70s. It is now run by husband-and-wife Sebastian Ang, 61, and his wife Leong Soo Mei (whom regulars know as "Mrs Ang"), 59.

The couple carry on the tradition started by Sebastian's grandfather, a wonton mee hawker. The veteran began selling CNY yusheng in the '70s for customers who preordered it at his roadside stall, which was located near the historical Thye Hong Biscuit & Confectionery Factory.

Sebastian — who used to work as a Chinese restaurant chef in New York in the '80s and '90s — took over his grandfather's business with Soo Mei in 2015. "There was no branding for the business, so when we eventually took over we named the stall Fei Ye Ye Food Tradition. According to my husband, his grandfather is a fat and bubbly old man," Soo Mei explains.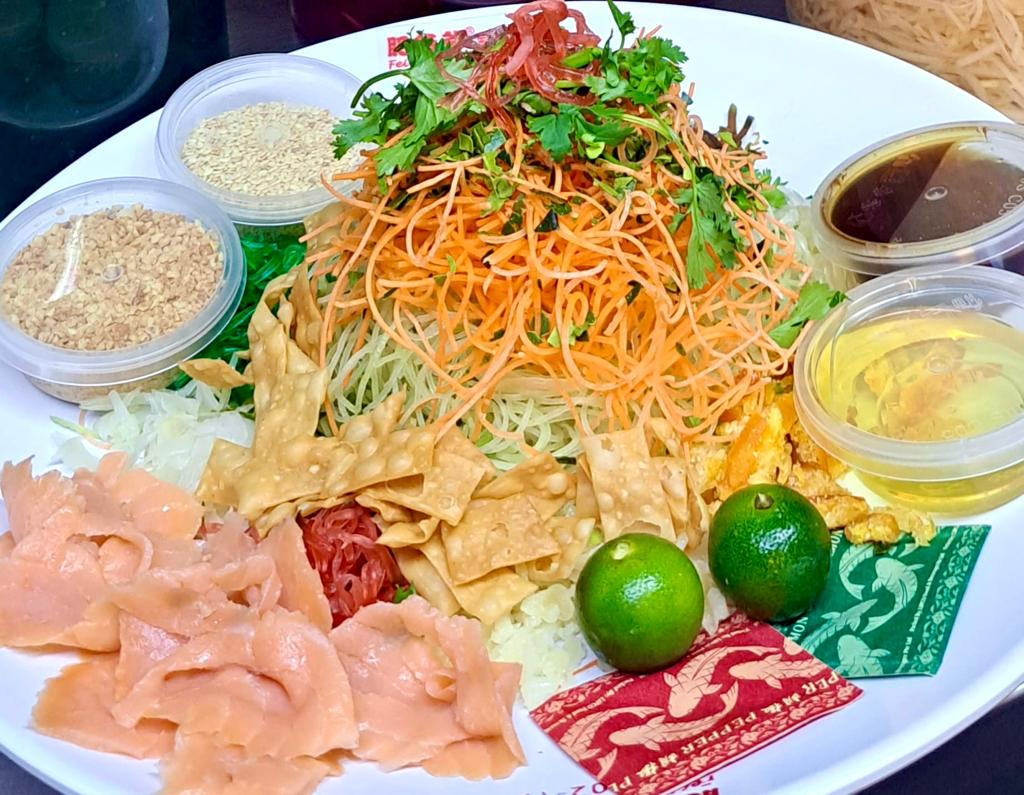 Photo: Fei Ye Ye Food Tradition
Open through CNY
Fei Ye Ye's stall operations is rather unusual in the sense that when it's not the CNY festive season, Sebastian and Soo Mei serve their well-known dry wonton mee with soy sauce chicken.

But they stopped serving soy sauce chicken after Malaysia's export ban on fresh chooks. "We streamlined our menu in mid-2022 and now focus on wontons, dumplings, char siew and braised chicken feet," says Soo Mei.

Right after Christmas, the hawkers transform their stall decor and menu to sell only lohei for a good two months till after CNY. For 2023, they started offering yusheng on Dec 27 last year, till Feb 12 this year.

"We specialise in lohei only. We will resume our wonton noodle menu after taking our [post-CNY] break. Our stall will be closed from Feb 13 to Mar 7, that's when we will catch up with friends and relatives," Soo Mei says.
Photo:
Preston Yu
Interestingly, Fei Ye Ye will stay open through CNY. Yes, even on CNY Eve, Chu Yi and Chu Er, which are days when businesses typically close for the holidays. "Lohei is a festive dish, we make it available throughout CNY so that everyone gets to enjoy it at affordable prices as compared to restaurants' prices," shares Soo Mei.
Photo: Fei Ye Ye Food Tradition
Lohei from $22
Prices for the couple's four yusheng options are very wallet-friendly, starting from just $22 for Jellyfish Yusheng that feeds two to four pax ($32 for the Large size for four to eight pax). There's also Sea Bird Nest Yusheng ($28/$38) topped with the translucent bird's nest-like seaweed, Smoked Salmon Yusheng ($30/$40) and Abalone Yusheng (pictured, $40/$50).

You can also top up for more ingredients to jazz up your lohei, including Jellyfish ($5), Smoked Salmon ($10), Sea Bird Nest ($10) and Abalone ($20). But the yusheng is for self-collection only. "No delivery, as we still haven't found a reliable delivery partner," Soo Mei shares.

Fei Ye Ye Food Tradition is at #02-177 Chinatown Complex Market & Food Centre, 335 Smith St, S050335. Tel: 9199-9629 (call or WhatsApp for preorder). Open daily 9am-8pm (operating hours remain the same through CNY). Closed from Feb 13 to Mar 7, 2023.