Chinese Netizens Call Carina Lau "Despicable" After She Pays Tribute To Queen Elizabeth II
They believe there's no need for a Chinese person to have "so much love" for the late Queen.
Britain's Queen Elizabeth II, passed away on Sep 8, at the age of 96 and her state funeral is today (Sep19).
Many celebs have since taken to their social media pages to pay tribute to the longest-reigning British monarch.
Not all posts, however, were met favourably by netizens.
Carina's Facebook post drew the ire of Chinese netizens
One such example is a post by Hong Kong-Canadian actress Carina Lau, 56.
Carina took to her Facebook and Instagram to post a picture of The Queen in her youth, coupled with the text: "In homage to Queen Elizabeth. This exemplary female has kept the peace in society despite its ever-changing landscape. Her passing is a loss that this generation will never be able to replace."
Although Carina did not share the post on Weibo, it was still read by many Chinese netizens. They then took to her recent Weibo post — one that is completely unrelated to The Queen's passing — to express their unhappiness.
Said netizens felt it wasn't Carina's place to mourn the passing of The Queen and left comments such as "What has The Queen's death got to do with you?".
There were also some harsher comments, saying that "as a Chinese", Carina was "despicable" for "having so much love" for The Queen.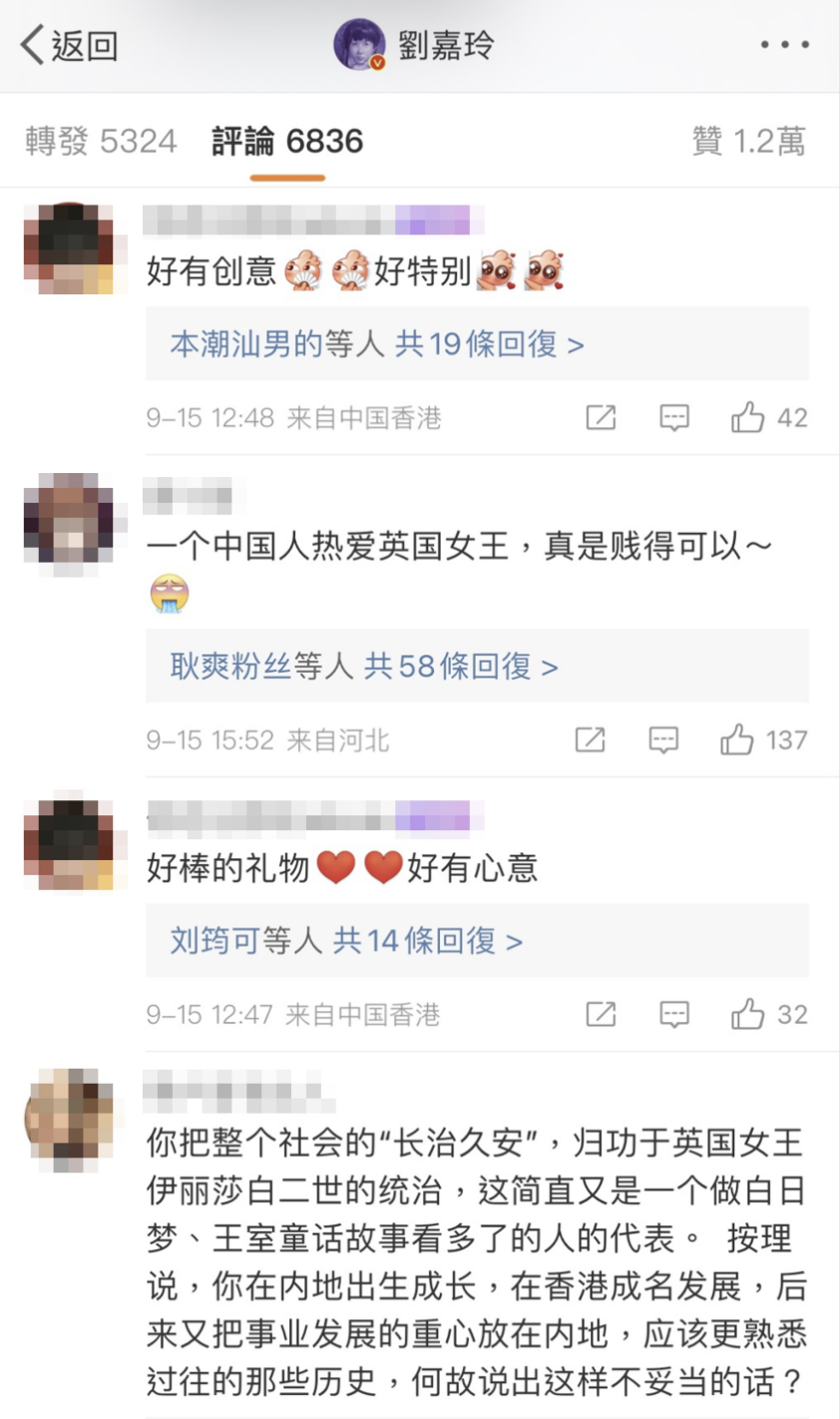 Netizens left harsh comments, criticising Carina for expressing her respect for Queen Elizabeth II
There were, however, some who felt that Carina's post was harmless, and defended her by saying that she was just sharing her feelings and that there wasn't a need for others to "overreact".
As of press time, Carina has yet to respond to any comments on her Weibo page. 
Carina is not the first celeb to have drawn criticism for paying tribute to the late  Queen.
Hong Kong actor Law Kar-ying initially wrote a similar post, but soon took it down after he was slammed for the same reasons. He then posted a video apologising to netizens and admitting that his post was "inappropriate".
Photos: Carina Lau/ Facebook, Carina Lau/ Instagram, Chinapress