Christopher Lee, Fann Wong, Rebecca Lim Chat About Why It's "Unfair" That Only Women Get Asked If They Would Make Changes To Their Career After Marriage
Chris, who was a surprise guest on the first episode of new Mediacorp variety show With Love, Becks, tells Rebecca not to give up on the things she loves to do after she gets married, as it would make life more worthwhile. 
The first episode of With Love, Becks saw Rebecca Lim baking with Ah Jie Fann Wong and chatting about relationships, marriage and her fiancé, Matthew Webster.
For those not in the know, the new variety show follows Rebecca as she meets a few (very familiar and very famous) married women to find out how they juggle being mothers, daughters, wives and careerwomen.

Gracing the first ep was Becks' idol Fann.
What Becks didn't expect though, was an appearance by Fann's other half, Christopher Lee.
To say Becks was surprised by Chris' presence will be an understatement, and she had to take a few seconds to calm down and internalise that she had one of showbiz's most-loved couples as her guests.
But the surprise soon turn to worry when Chris revealed that he was given free rein to ask her any three questions of his choice.
Rebecca said she knows Chris to be a "#nofilter kind of person" and was afraid of what he might ask since he's "aware of many of her secrets".

Interesting...
Chris sought to find out some answers from Becks
Thankfully for Becks, it turned out that Chris' questions mostly stuck to discussing her impending nuptials.
Chris said Becks has always given him the impression that she wants to settle down and have a happy family of her own because she comes from a tight-knit family. He then jokingly asked if her engagement came so quick because she was "desperate to get married".
"After dating for a short period of time, we started to discuss marriage. Because if he wasn't keen on marriage, or we felt that the relationship couldn't go anywhere, we wouldn't waste each other's time and split amicably," said Rebecca.
"So you were dating with marriage in mind?" responded Chris.
Becks said yes then cheekily revealed that whenever they were out for dates at places that had a romantic vibe, she would ask Matthew if he was about to pop the question.
Rebecca then told Chris that he had a part to play in her engagement.

Turns out, the day she visited Chris in Pulau Ubin to shoot Dishing With Chris, was the day Matthew took the opportunity to seek her parents' permission for her hand in marriage.
On the night of the proposal, Becks said Matthew asked her to doll herself up for dinner.

She then suspected that it was going to be "the night", and called her younger sister to tell her the exciting news. Her sister, who was already in on the plan, told her it was "impossible" as Matthew had yet to speak to her parents.
And that's how Rebecca's surprise proposal managed to remain a surprise.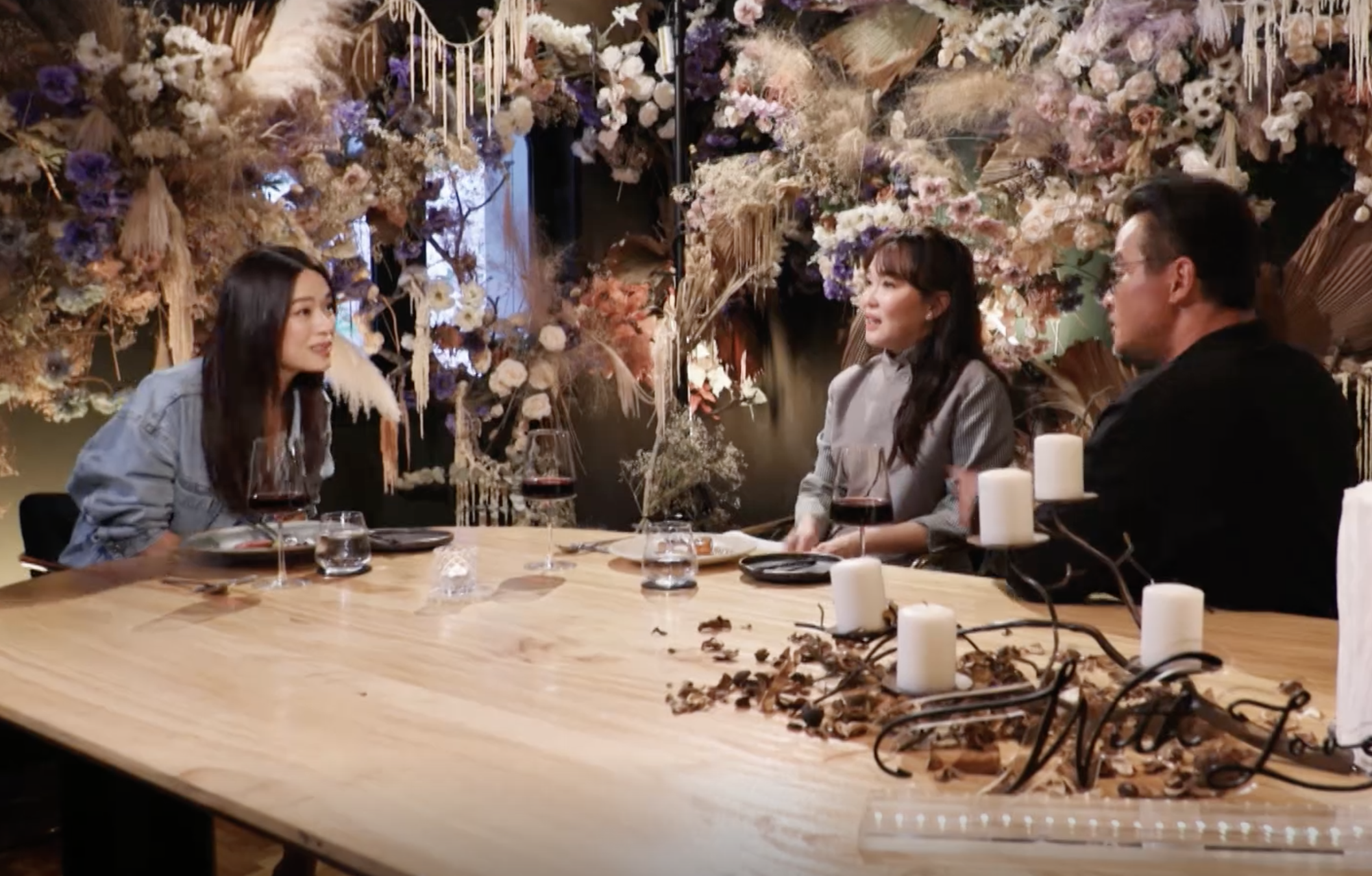 Becks chatting with Fann and Chris
"Would you make any changes to your career after getting married?" was another of Chris' questions.
Rebecca immediately countered: "That's a question that many women are asked. I think it's very unfair. Why [are we] only asking the ladies this question and not the men?"
Fann, who has taken a step back from her showbiz career herself to spend more time with her son, jumped in to answer the question.

"It's 'cos it's usually women who will choose to give up their careers for their family. It is impossible for men, barring some unique cases," she said.
Chris then gave his reason for asking Becks the question. He advised her to not give up on the things she loves to do, as it would make life more worthwhile.
Fann also hopped in to give Becks advice on choosing between her future family or career.

"Whether or not you choose to give up [on your career], the most important thing is that you're happy. You know what you want to do best. But after making the decision, don't think about what others have to say. Just follow your heart and do what you want to do," she said.
She was moved to tears
Chris then had a short but really sweet blessing for Rebecca.

"My wish [for you] is simple, I hope that you'll be happy and blissful in the future. It's more important than anything."
So touched was Rebecca by Chris' words, she started to tear up, at one point even using a napkin to cover her face.
"There are too many flowers in here, I'm allergic to flowers," joked Rebecca, who later revealed in a b-roll interview that she never expected herself to react that way.

"I could really feel the sincerity in his blessing, such sincerity is hard to find in this industry," said Becks.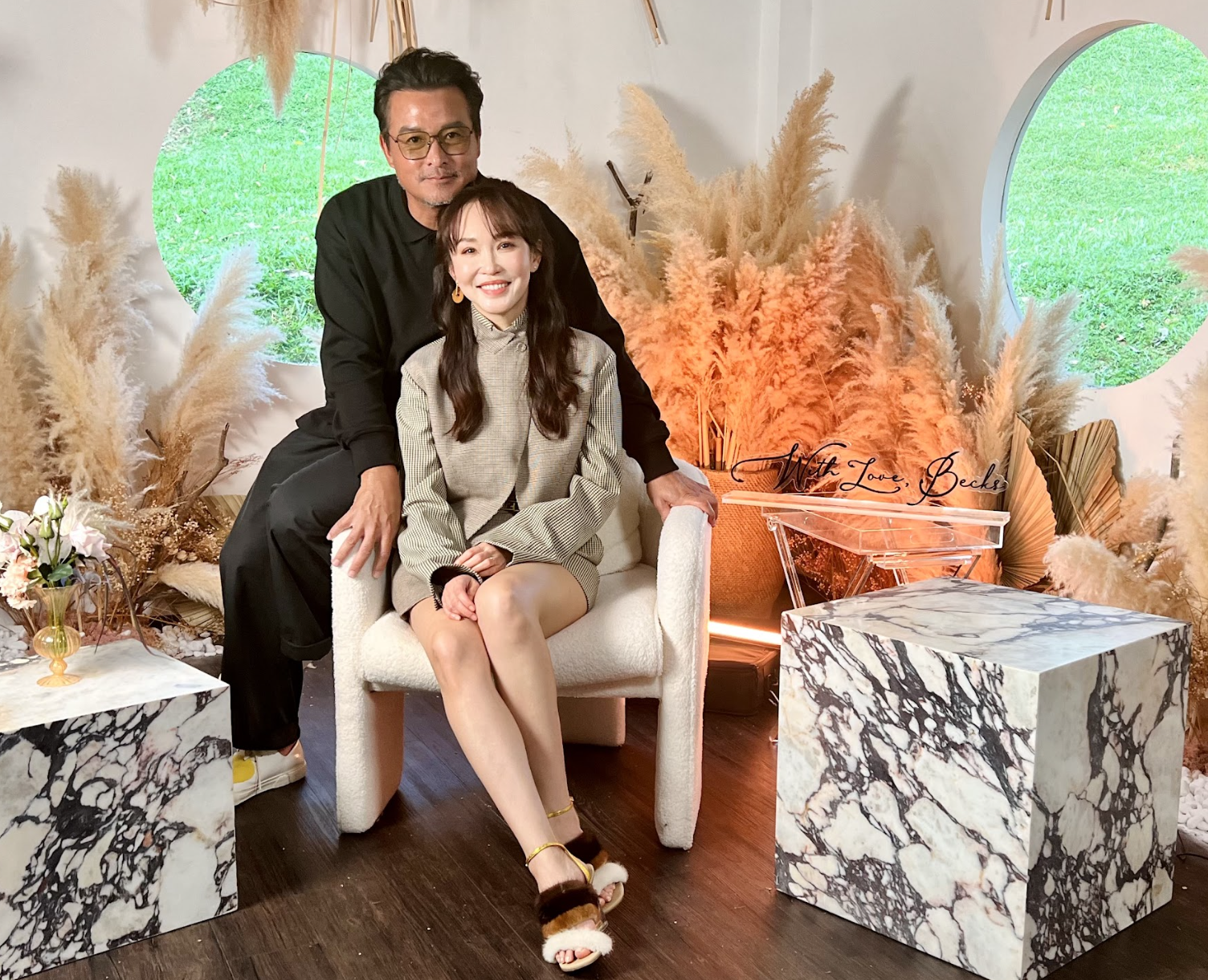 It's not every day you get advice from Chris and Fann
Photos: meWATCH
To find out more about the advice Chris and Fann have about hosting a large wedding, Catch With Love, Becks on meWATCH, or watch it below.
It also premieres tonight at 8pm on Ch 8.